What does a 20-year Disney Vacation Club member think of a 7-night voyage aboard the Disney Fantasy?
Editor's Note: This is part of an occasional series of features highlighting Disney destinations which are outside of the traditional collection of DVC resorts. Many of these destinations can be booked using DVC points. For details, see our information regarding Using DVC Points for Non-DVC destinations.
It had been 11 years since our last cruise. That cruise was a brief 3-night sailing on the Disney Dream. With 3 restaurants to experience, 3 Broadway-style productions and our unfamiliarity with the ship it was...a lot to absorb. While those shorter cruises were a better fit for our time and budget, we resigned ourselves to making the next trip a longer one. That cruise came in the form of a 7-night sailing to the Western Caribbean on board the Disney Fantasy.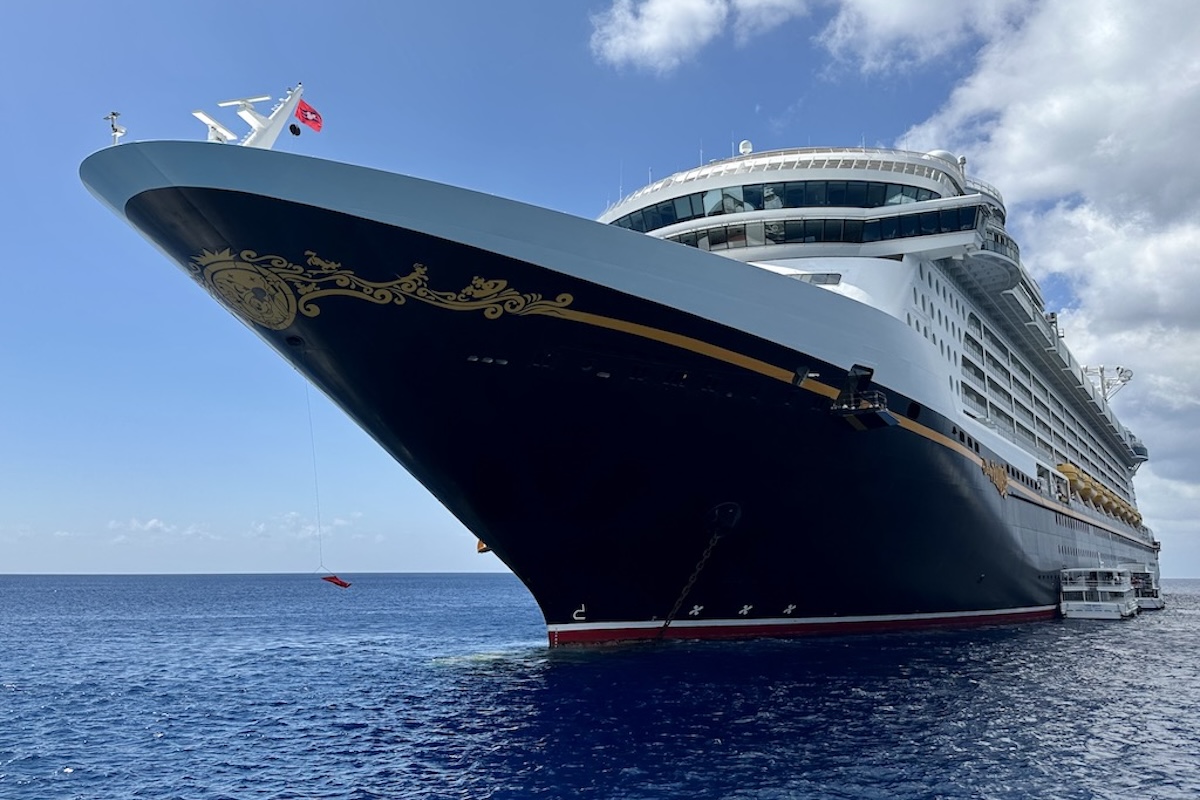 Like many Disney cruises, this sailing of the Disney Fantasy departed out of Port Canaveral. Tip for DVC members: Disney's Vero Beach Resort is less than 90 minutes away from Port Canaveral and makes for a great stop immediately before or after cruises.
Arrival on board every Disney ship includes a grand introduction in the Lobby Atrium followed by a sail away party on the pool deck.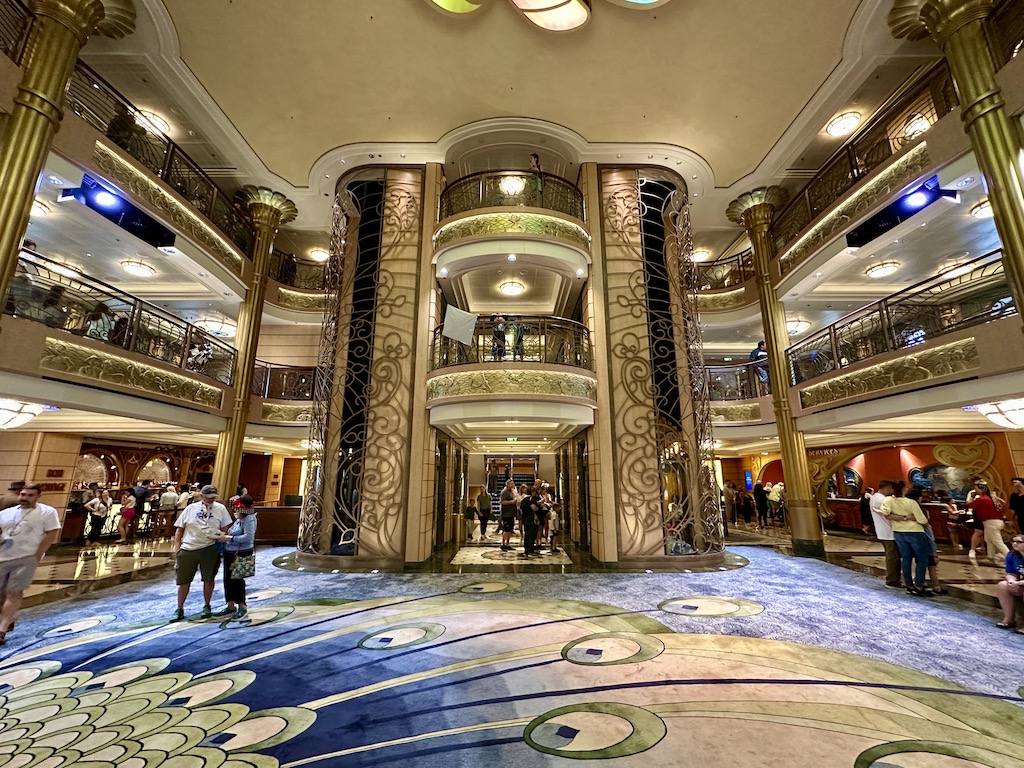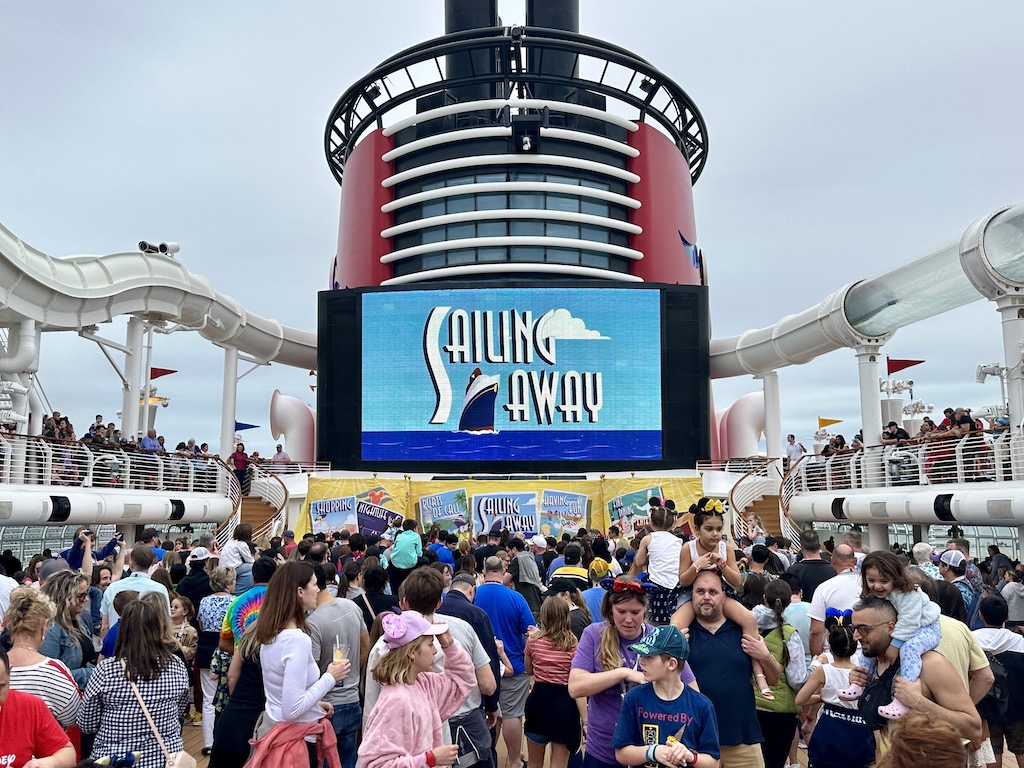 Our cabin featured a queen-size bed and sleeper sofa with a private verandah. The split bathroom found on Disney cruise ships is wonderfully handy with the tub/shower and vanity in one room and a second vanity and commode in a separate room. Whether cruising on points or paying cash, DVC members are treated to unique magnets on their stateroom door and free gifts throughout the voyage.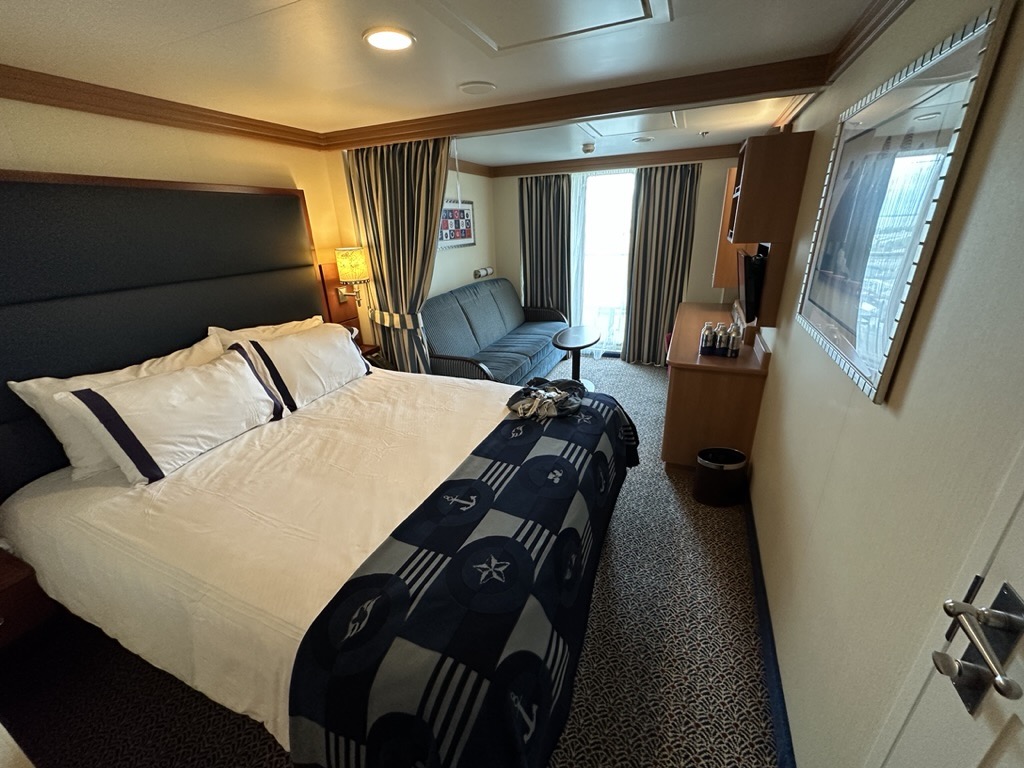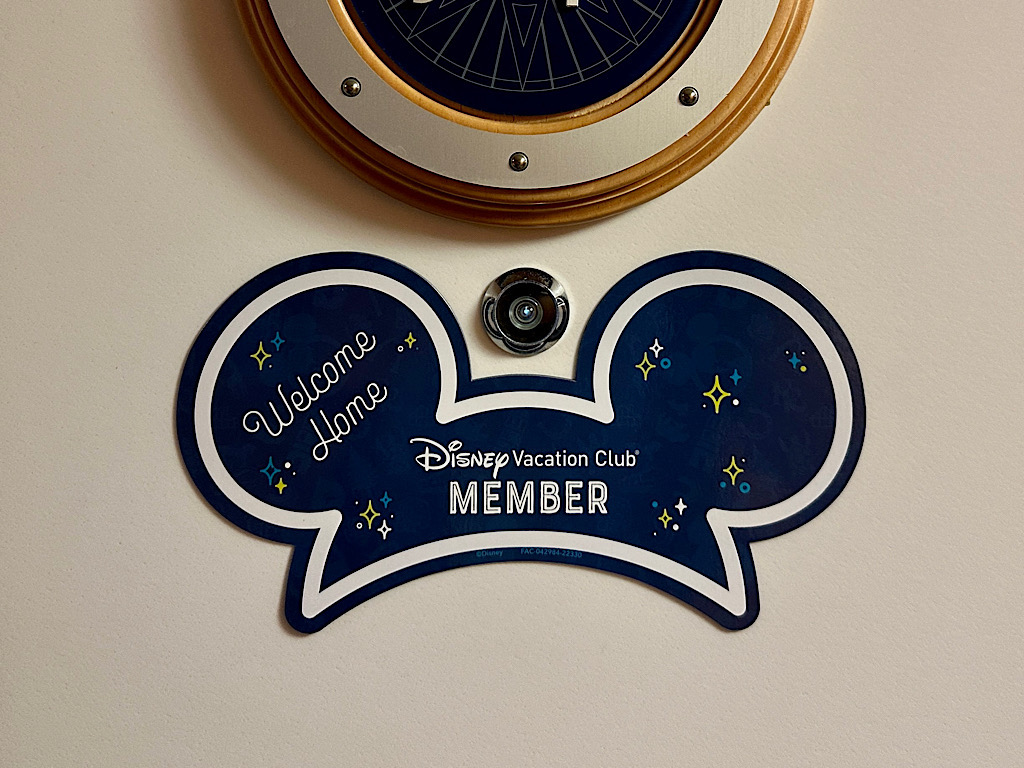 This particular cruise featured a Pixar Day at Sea. Nearly every aspect of the on-board experience was influenced by Pixar characters and films on this day including family games and dance parties, crafts, "learn to draw" sessions, on-board movies, custom cocktails and beverage sippers available for purchase, and more.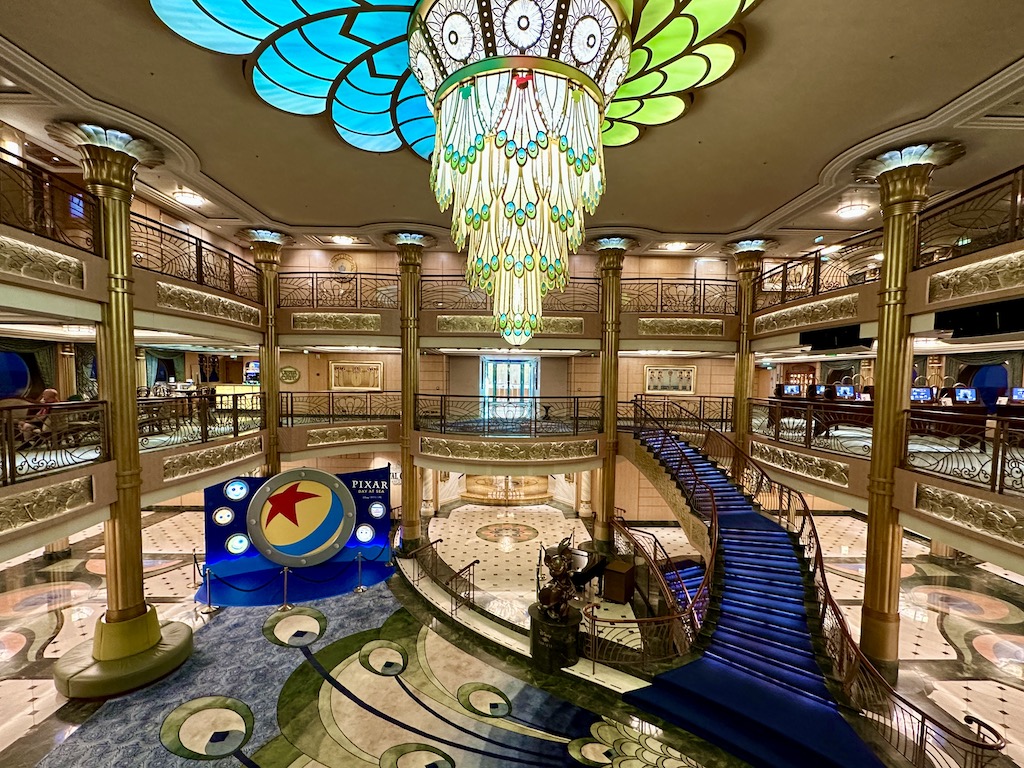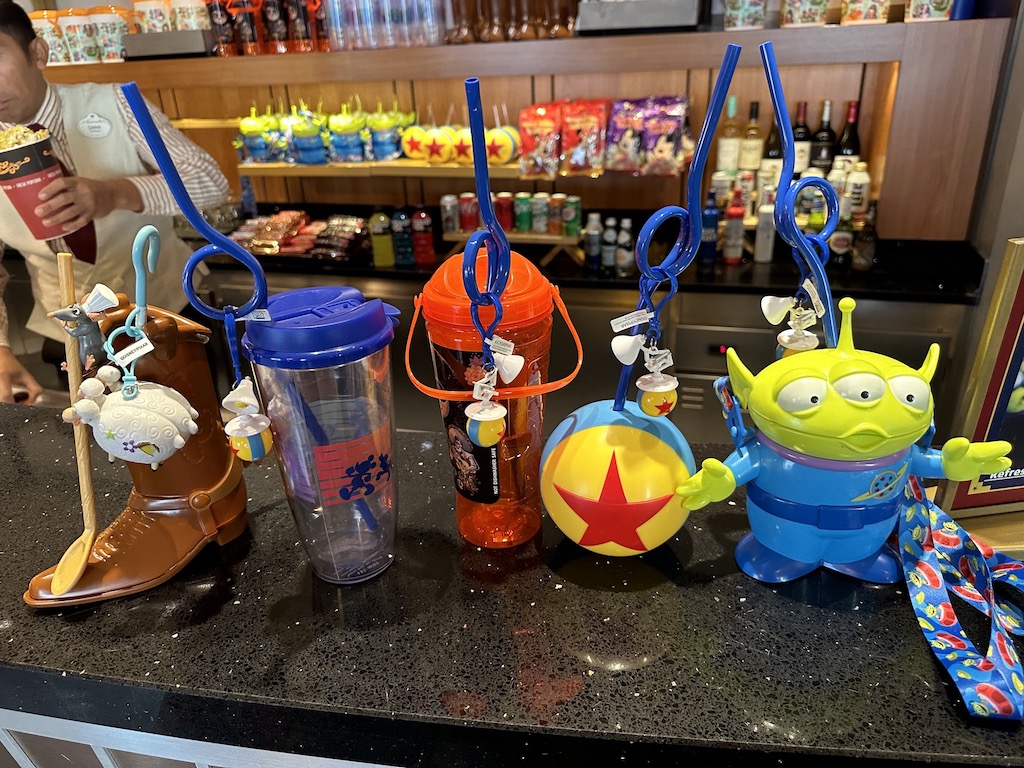 Pixar animators shared their experiences with guests in a live presentation dubbed "Inside Pixar: Meet the Storytellers. The Tube played host to Monsters Inc. "Open Mike Night" while a pianist in the Lobby Atrium treated guests to music inspired by the movie "Soul."
At night, guests enjoyed a unique deck party featuring The Incredibles followed by a fireworks presentation. Dinner menus featured a Pixar influence including the Pixar Ball-themed cheesecake dessert.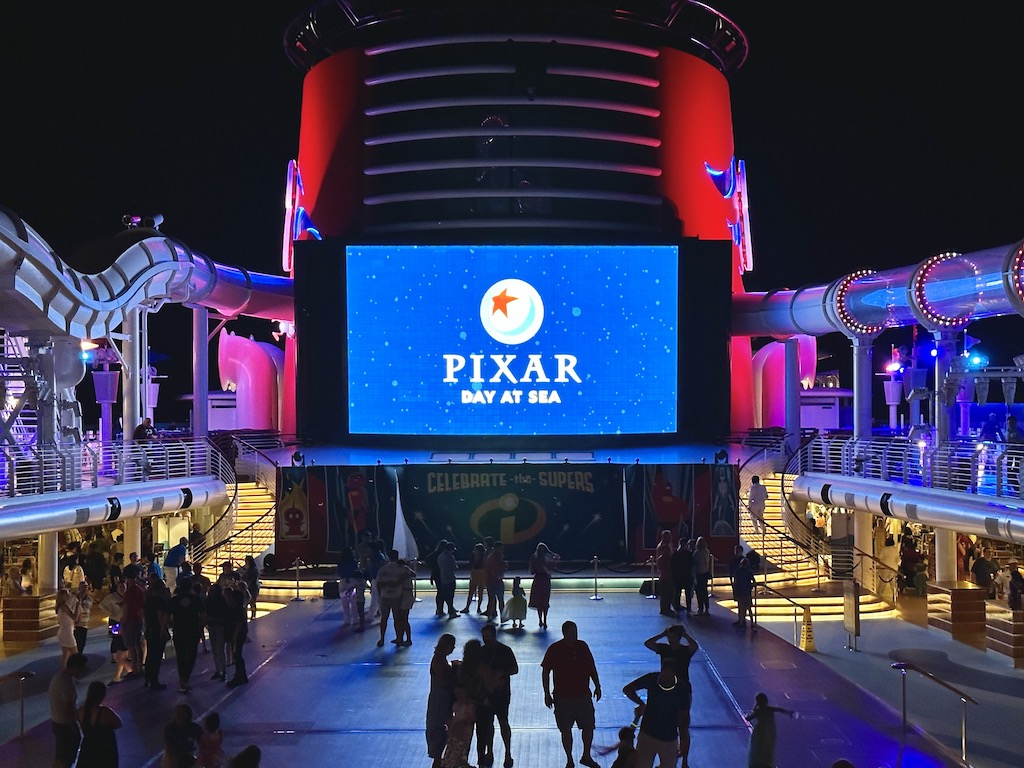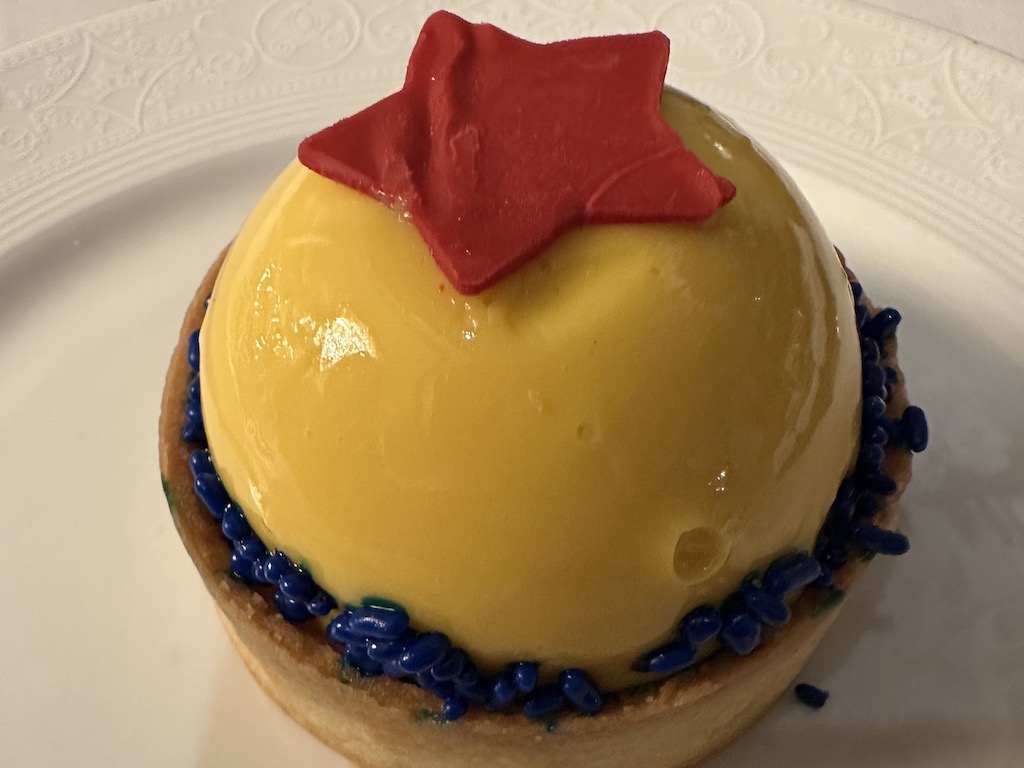 And then there were charactrers. Familiar favorites like Mickey and Minnie were dressed in custom outfits. Other scheduled appearances throughout the ship included Joy and Sadness from "Inside Out", Russell and Dug from "Up", Remy, Buzz Lightyear and Woody, and Mike and Sully.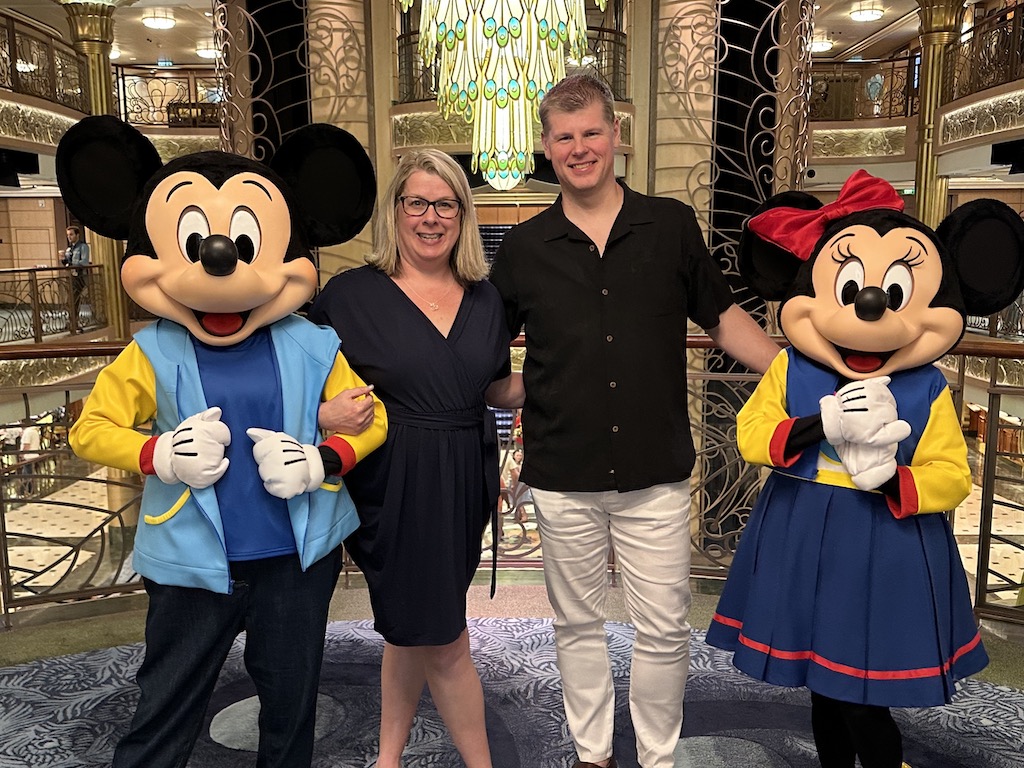 Every night, guests dine at one of three rotational dining restaurants. On the Fantasy, those three restaurants are Enchanted Garden (below), Royal Court and Animator's Palate. Each dinner is a 4-course meal with a choice of starter, soup or salad, entree and dessert.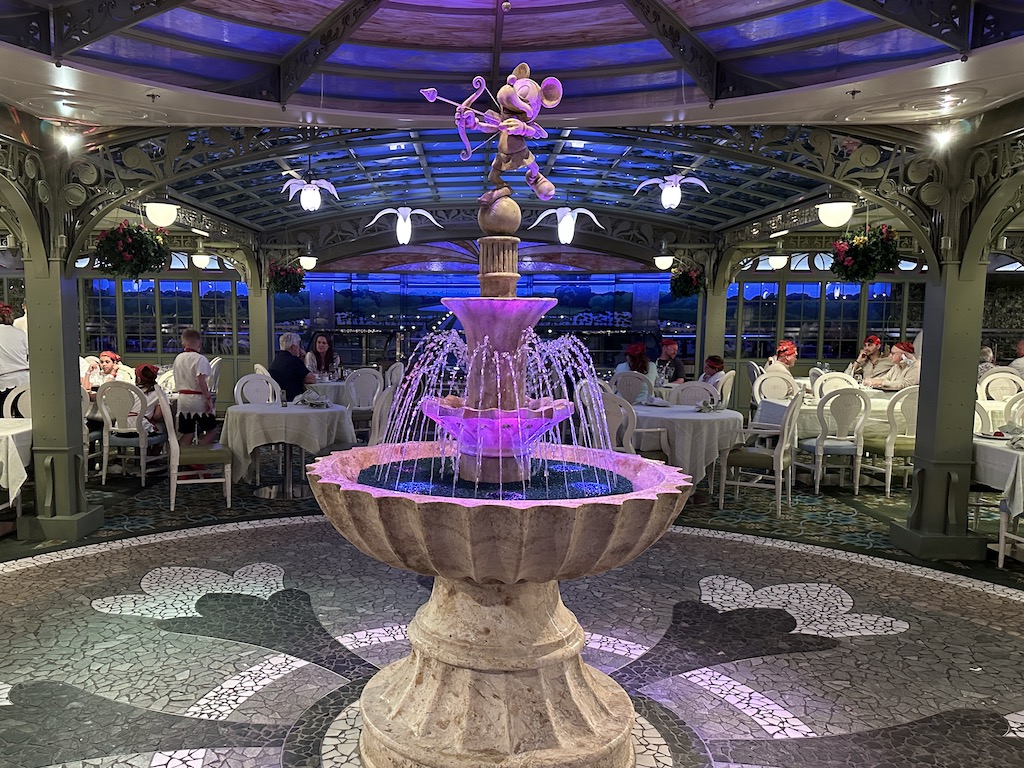 For the benefit of cruise novices, all meal expenses are included in the cruise fare including the nightly dinners, breakfast and lunch buffets in Cabanas, a variety of quick service locations on the pool deck, unlimited soft drinks and soft serve ice cream. Most days, Royal Court is also open for breakfast and lunch. Even room service is included, though gratuities are expected.
Dining at Animator's Palate may prove to be an interactive experience with Crush the turtle from "Finding Nemo" visiting tables throughout the meal and a feature that makes guests' self-portraits come to life.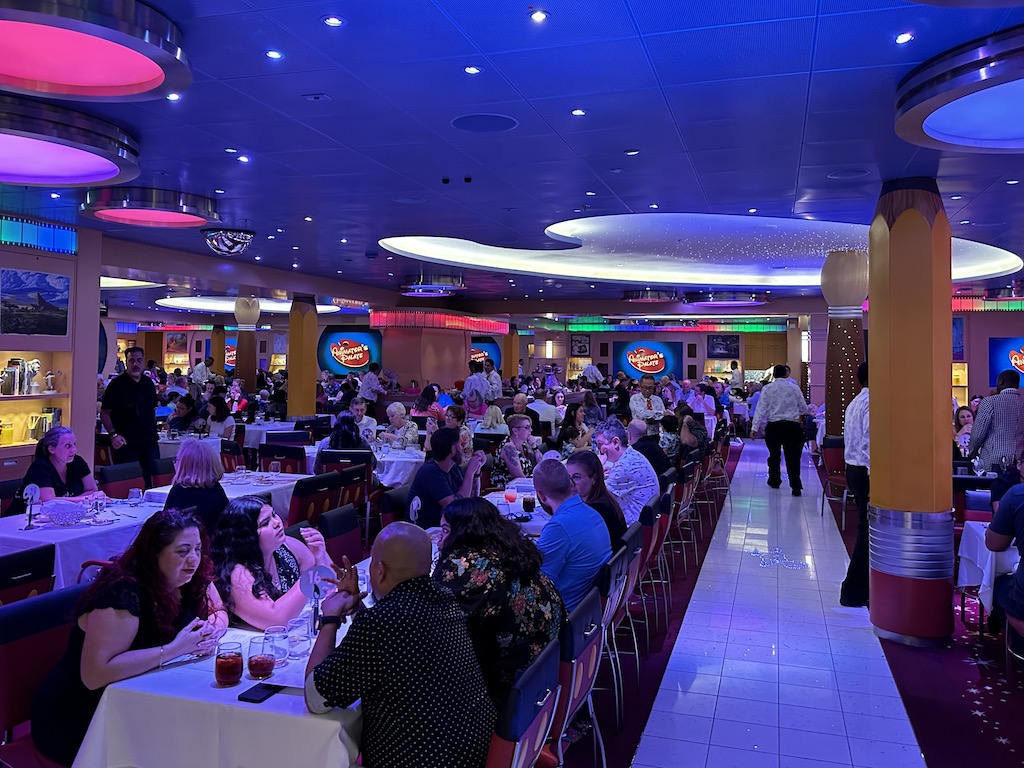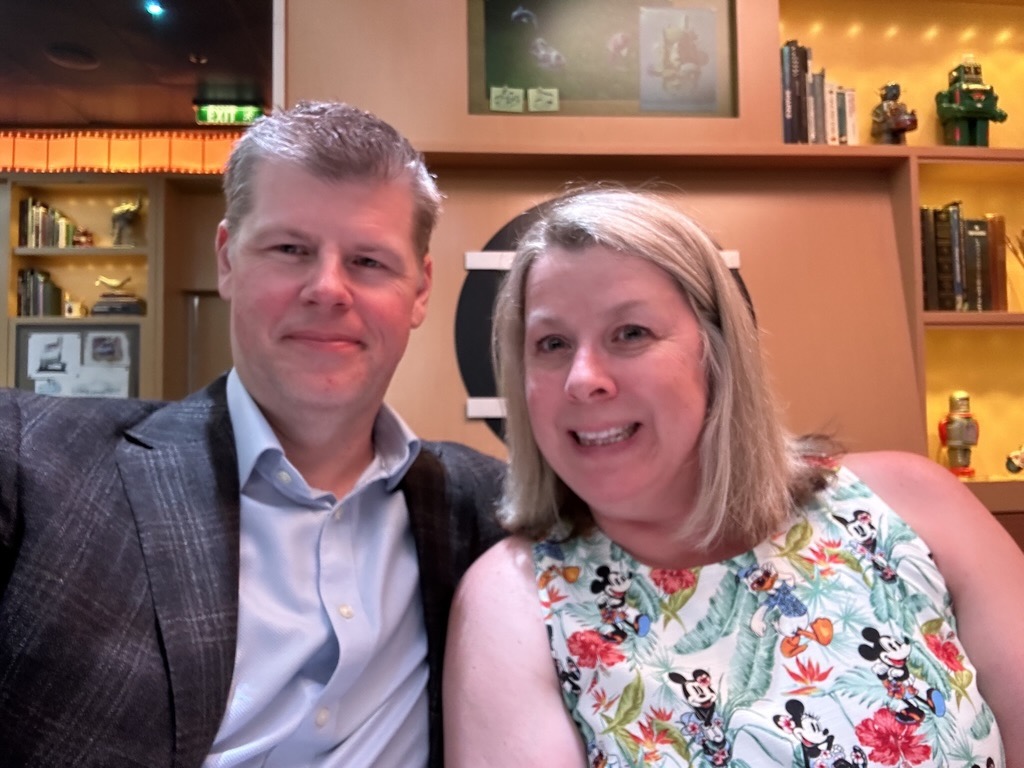 But cruises are about more than just food. Every Disney cruise ship features themed lounges for all groups. D-Lounge is one of the more family friendly locations, often hosting games, dance parties, trivia contests and other activies for all ages. It is also home to the Disney Vacation Club member meeting held during each cruise.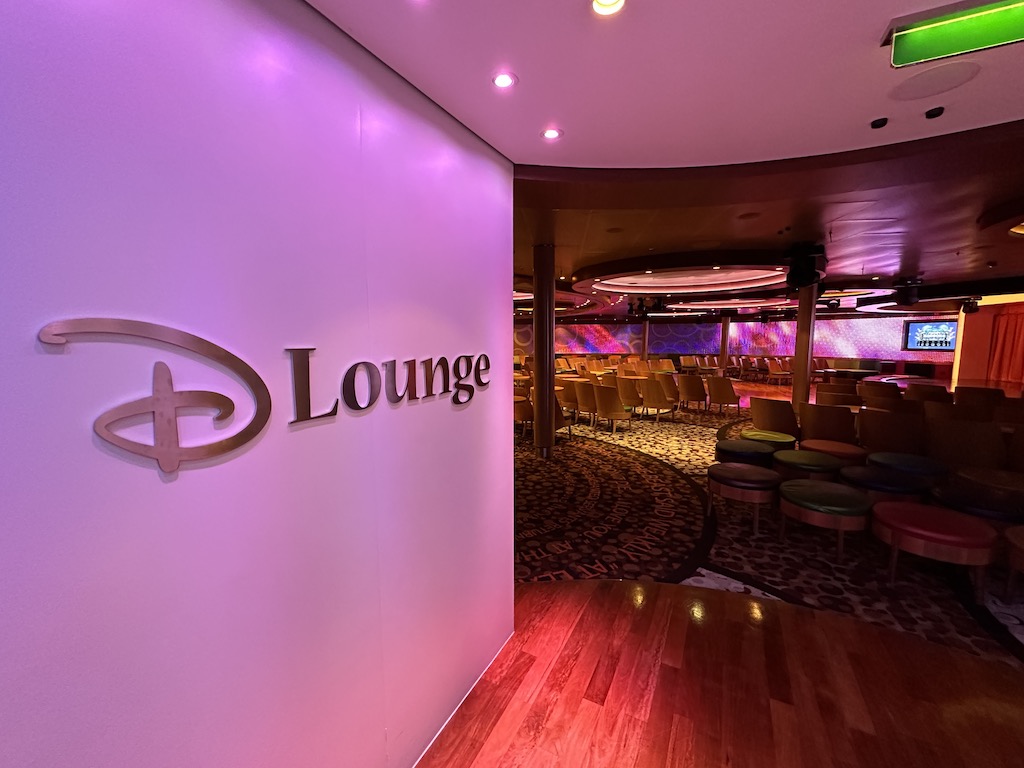 Adults can enjoy a collection of clubs with unique themes and live entertainment. La Piazza and Ooh-La-La are just two of the night spots, also hosting beverage tasting seminars and other activities during the day.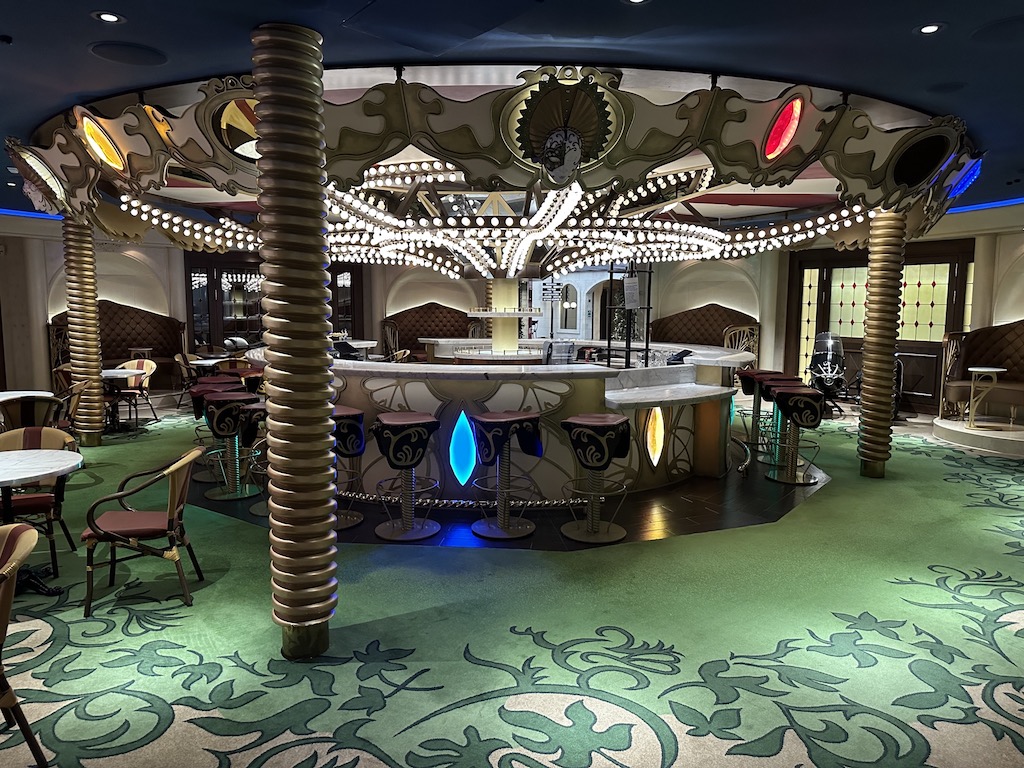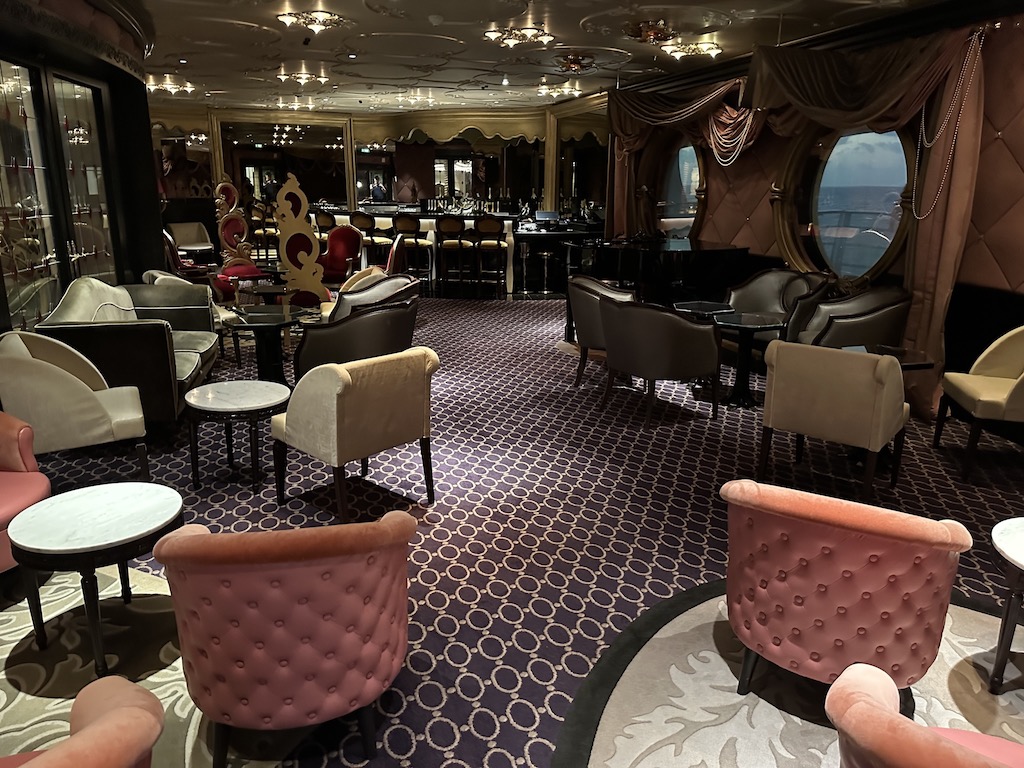 O'Gills Pub is the Disney Fantasy's irish pub / sports bar. The spot also plays host to many trivia games during the afternoon and evening. If you're really good, you just might win a first place medal in 80s music trivia like these two crazy kids.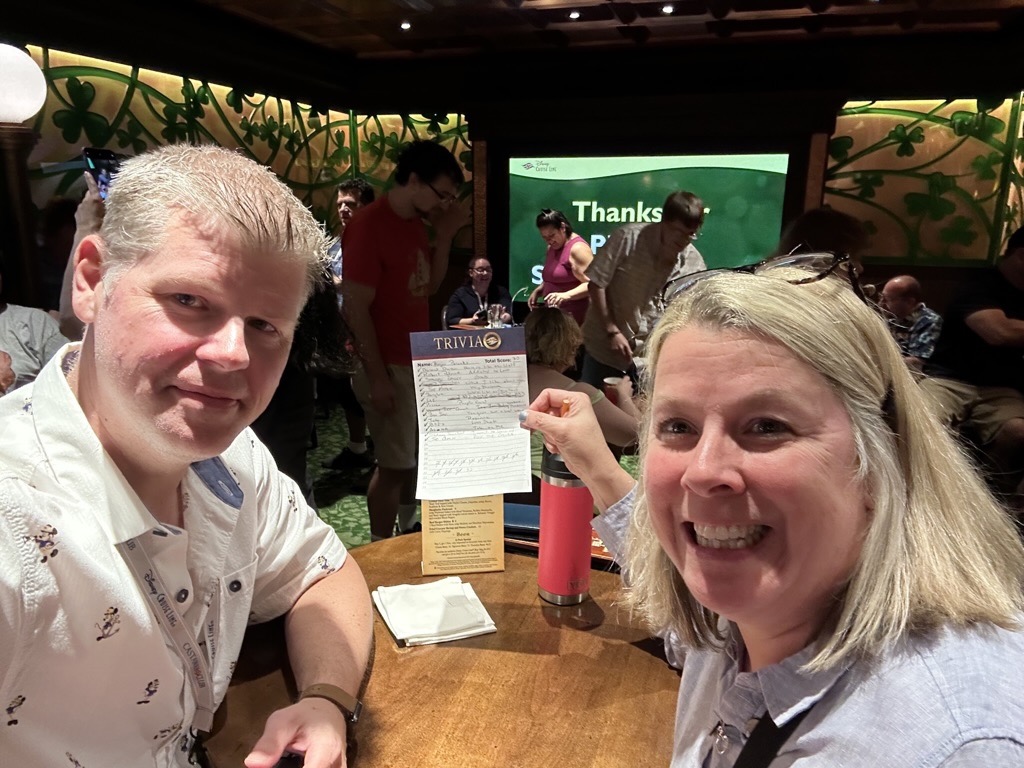 The 2-story Walt Disney Theater plays host to the ship's Broadway-style stage shows with movies and other events on many days.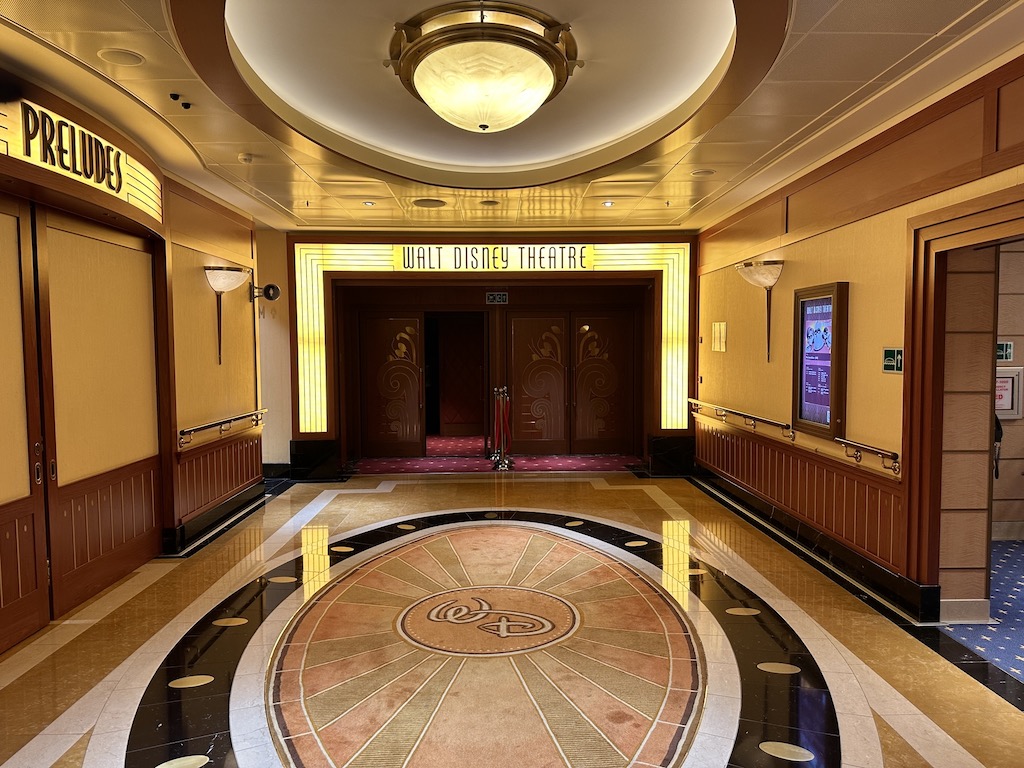 The smaller Buena Vista Theater plays first run movies throughout the entire journey. The schedule typically features recent releases like "Black Panther: Wakanda Forever" and "Avatar: The Way of Water" both showing in early 2023. Movie screenings are included with the cruise, however nearby snack bars offer popcorn, candy and beverages for a fee. On this particular evening, cruisers were able to enjoy live NFL playoff coverage in the theater.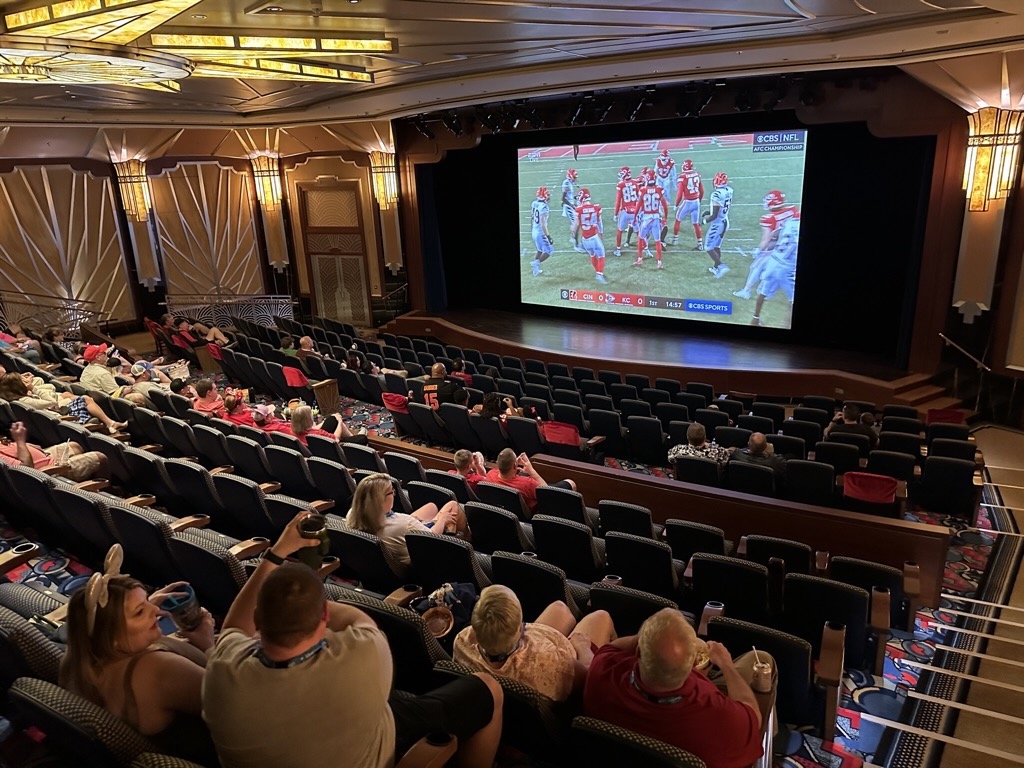 Deck 10 is home to a variety of pools and water activities. There are multiple family friendly pools and a twisting slide just for younger kids. Surrounding the pool deck is the Aqua Duck water tube ride. Similar to Crush N Gusher at Disney's Typhoon Lagoon waterpark, Aqua Duck sends guests on a 1-2 person raft ride on what is best described as a water rollercoaster.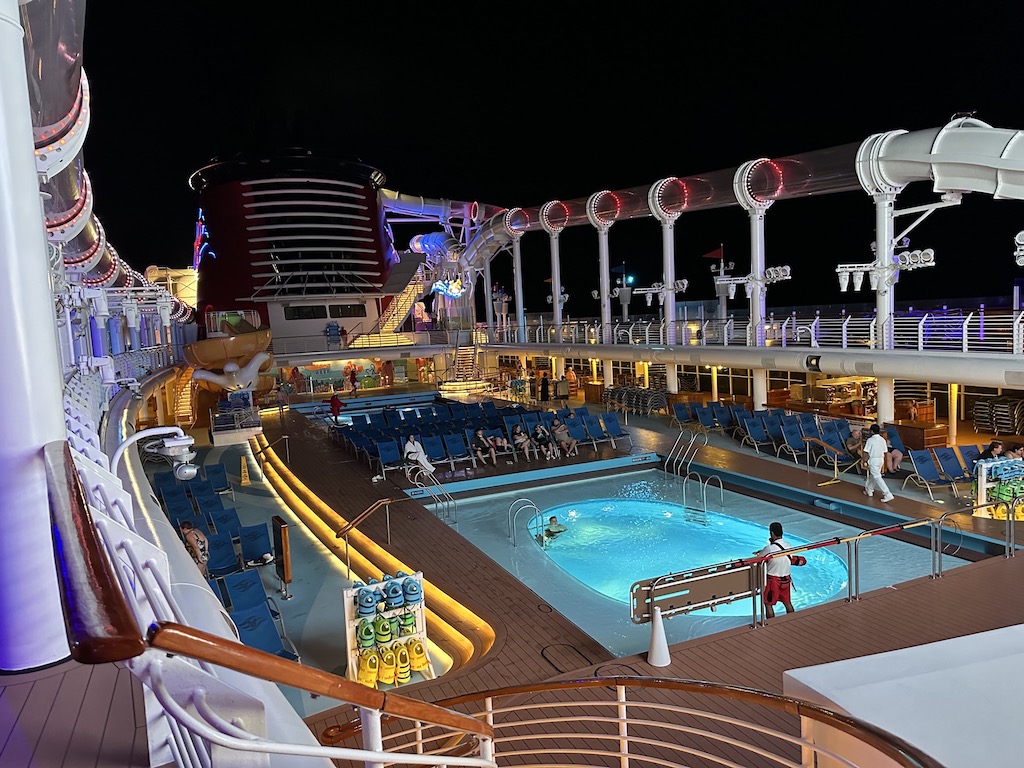 The Aqua Lab water play area features founains, "leaky pipes" and other water-based activites to thrill older kids while Nemo's Reef offers a similar experience for toddlers. The Disney Fantasy also features two adults-only pools with a variety of seating options and bar service conveniently located nearby.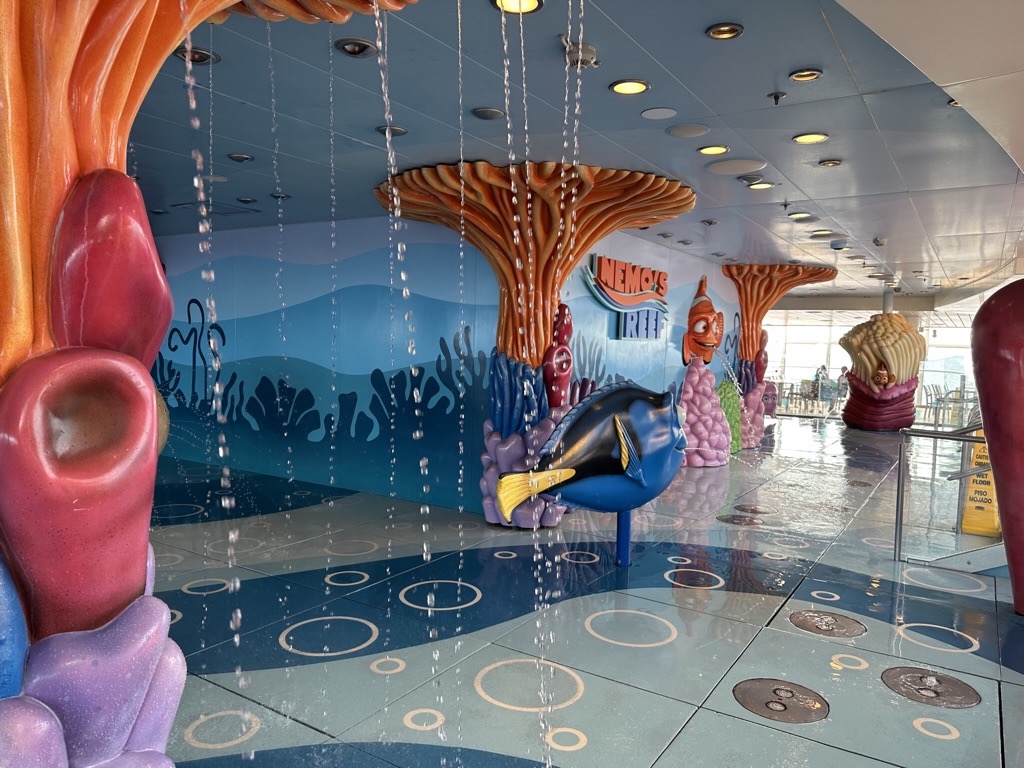 And we've only scratched the surface on what Disney cruise ships have to offer. Adult dining at two unique restaurants--Palo and Remy--a wide range of spa services at Senses Spa & Salon, no less than four unique kids clubs for toddlers up to teens and so much more. Cruisers of all ages will enjoy the Midship Detective Agency scavenger hunt. Make sure you stop by the cabin of Pepe the King Prawn for clues!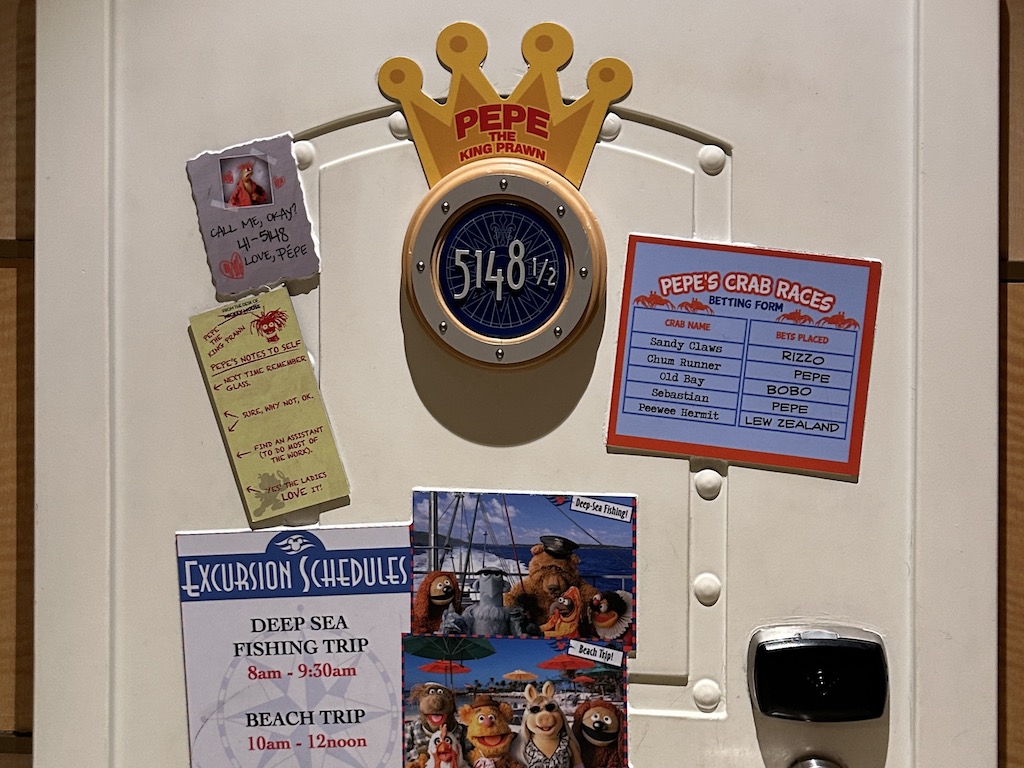 But don't forget about the port excursions. This particular cruise featured stops at Grand Cayman, Jamaica and Cozumel. If you take a cruise, do yourself a favor and do a little exploring while at the ports. Adventurous souls are welcome to explore on their own while Disney Cruise Line offers a variety of excursions at each port for those who prefer a more managed experience. Activites include sightseeing adventures, water sports, beverage tastings, ziplining and so much more.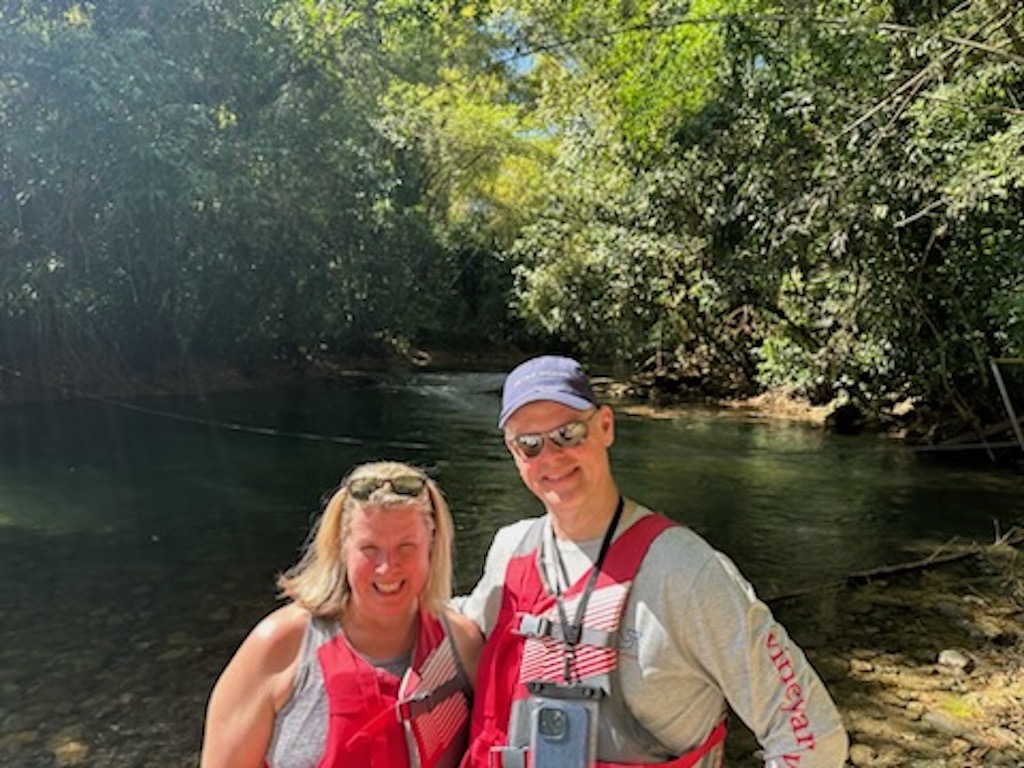 For many, the highlight of any cruise is a visit to Disney's private island Castaway Cay. There are multiple beaches on the island, accommodating both families and adults. Activites range from bicycle rentals to snorkeling to parasailing. Private cabanas are available to rent (added fee) while a barbecue lunch is served to all cruisers on the beach.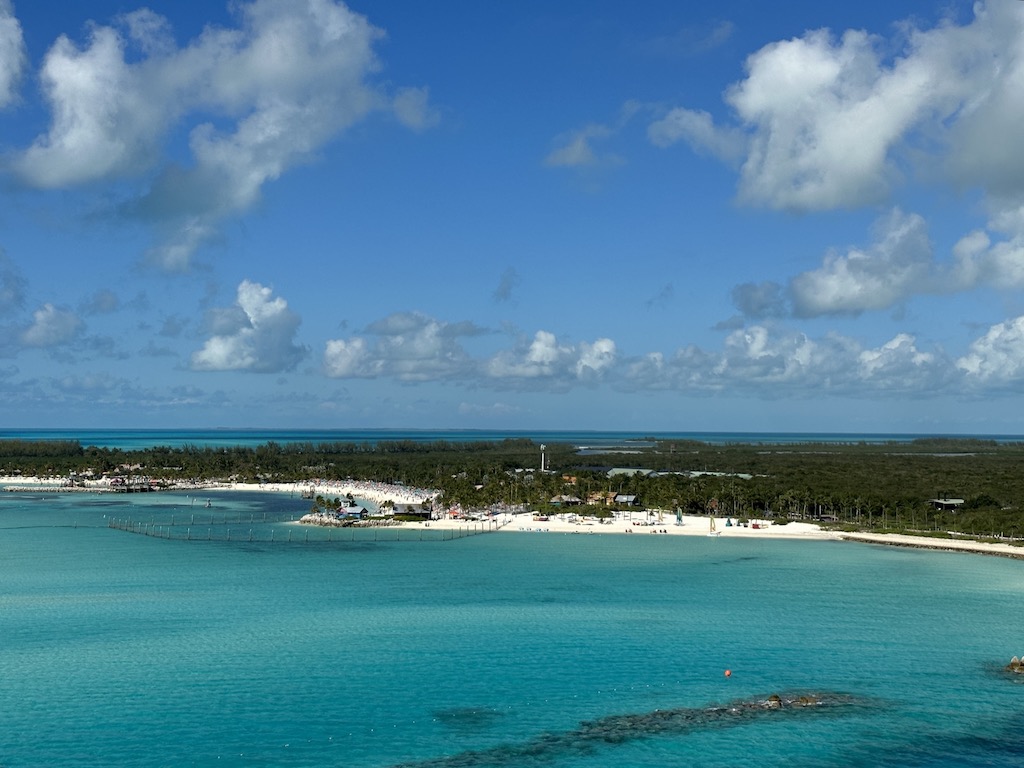 Cross an item off your bucket list by running the Castaway Cay 5k and pick up your complimentary completer medal.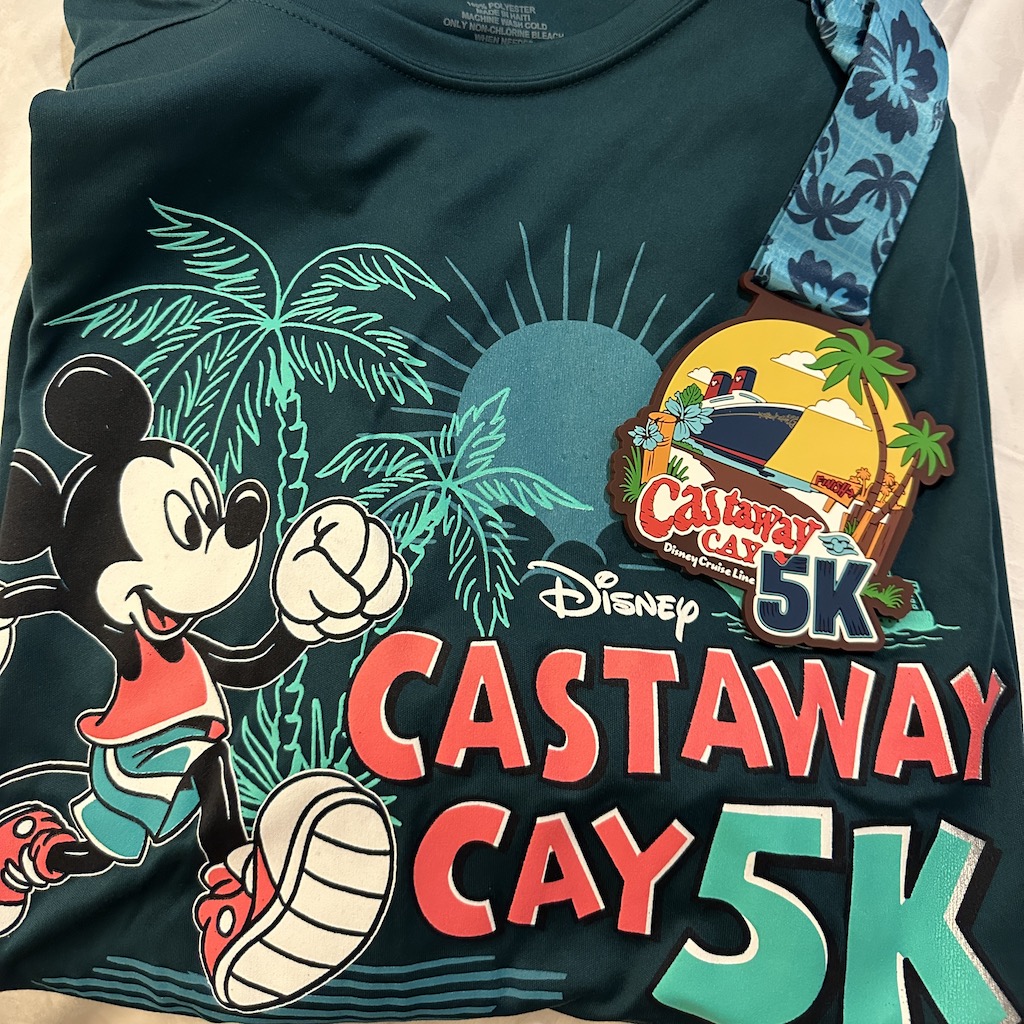 As Disney Vacation Club members we all love the theme parks. But Disney offers many other experiences with similar quality and vibe that members have come to love at Disney theme parks and resorts. Check out our Using Points for Non DVC Destinations page for details on how some of these options can be more affordable for members.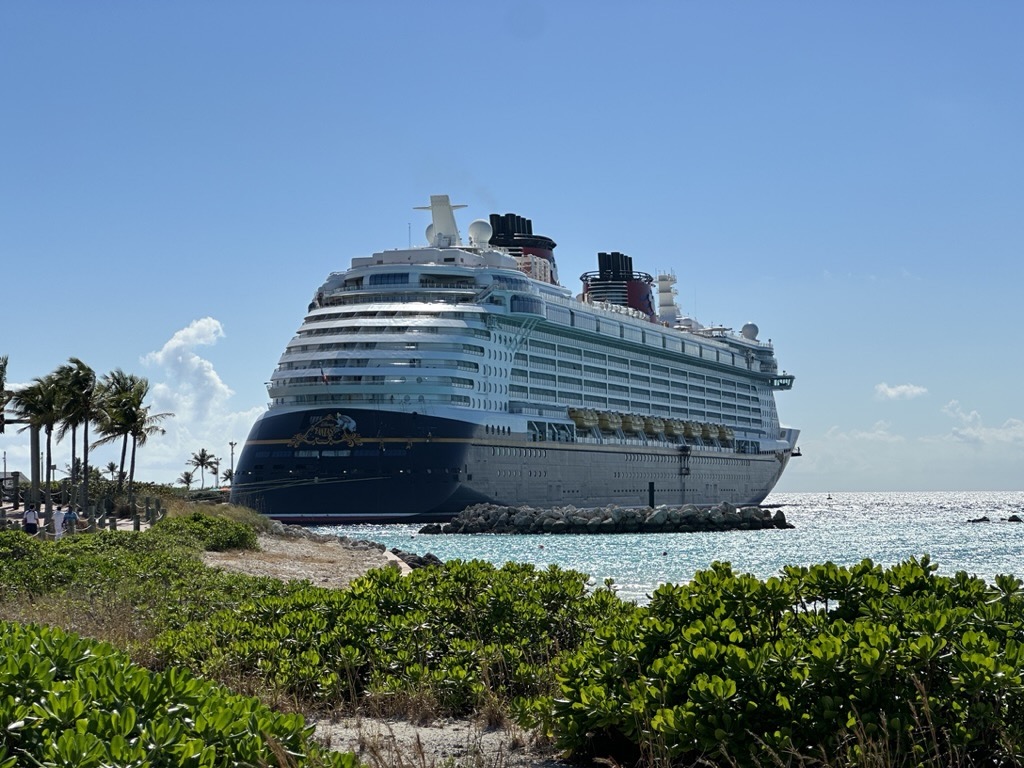 For more than a decade, DVCNews has trusted travel agent Sandy Nussbaum to manage our non-DVC travels. Book your Adventures by Disney trip, Disney Cruise Line voyage or anywhere on your bucket list and save so much money today! For details, contact Sandy at ezdisez.com or by calling 877-ezdis-ez (877-393-4739.)

BLOG COMMENTS POWERED BY DISQUS