Check out our latest video where we attempt to answer a frequent guest question: Can I enjoy fireworks on my Disney Vacation Club villa balcony at Disney's Wilderness Lodge?
Viewing firewoks from one's hotel or villa balcony is a popular request among Walt Disney World visitors. Many resorts offer an excellent view of one or more parks, with some resorts like Bay Lake Tower at Disney's Contemporary Resort and The Villas at Disney's Grand Floridian Resort actually having Disney Vacation Club villas designated as theme park view.
Copper Creek Villas & Cabins at Disney's Wilderness Lodge is considered a "Magic Kingdom" resort. However its relative isolation makes it difficult to see much from the theme park itself. The video below was captured from villa 2131, a dedicated Two Bedroom in the Copper Creek villa wing. This room is toward the end of the wing, on the north eastern side of the resort. As such, it provides one of the better angles to see fireworks above the resort's hotel wing.
The red flag on the image below provides a good indication of where this room is located, with the Magic Kingdom itself located to the northwest beyond the other resort wing. Copper Creek rooms on the opposite side of the building overlook the Boulder Ridge pool, facing away from the Magic Kingdom. Rooms on the same side as 2131 but closer to the main lobby (left) face further obstructions from trees.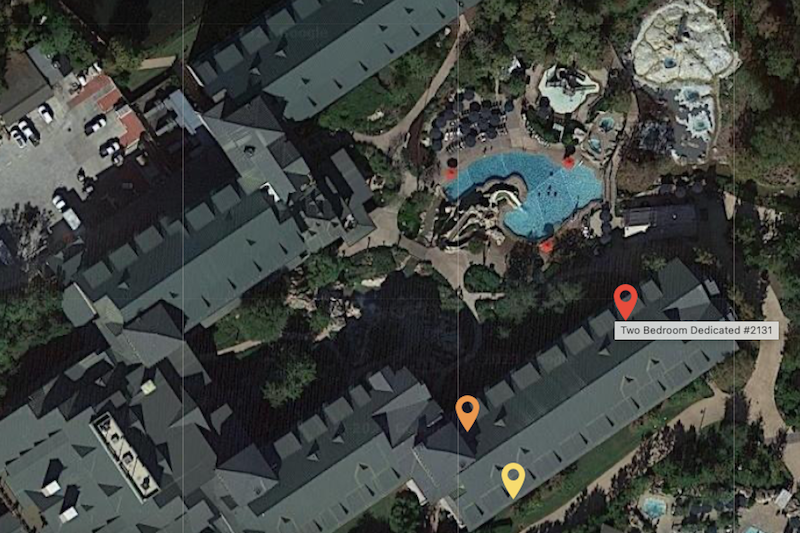 As the video showcases, unfortunately even room 2131 does not have much of a view of the Magic Kingdom fireworks. The room is located on the second floor. As such, the roof of the hotel wing obscrues all but the highest bursts due to the low angle. The building rises to 6 stories in this area. Rooms on floors 3-6 would have a nominally better view. However, given that Copper Creek consists of 220 DVC villas, the odds of being assigned to one of a handful of rooms in that "sweet spot" where fireworks may be visible are rather remote. On the brighter side, Copper Creek does not charge a premium for any sort of fireworks view, meaning those who are lucky enough to receive such a room will not pay extra. And, as you can hear on the video, the audio from "Happily Ever After" is piped into the Copper Creek Springs pool complex.
For those able to splurge on a Cascade Cabin, cabins 8001 to 8012 line the shores of Bay Lake on the Magic Kingdom side and would provide an excellent view of the nightly show.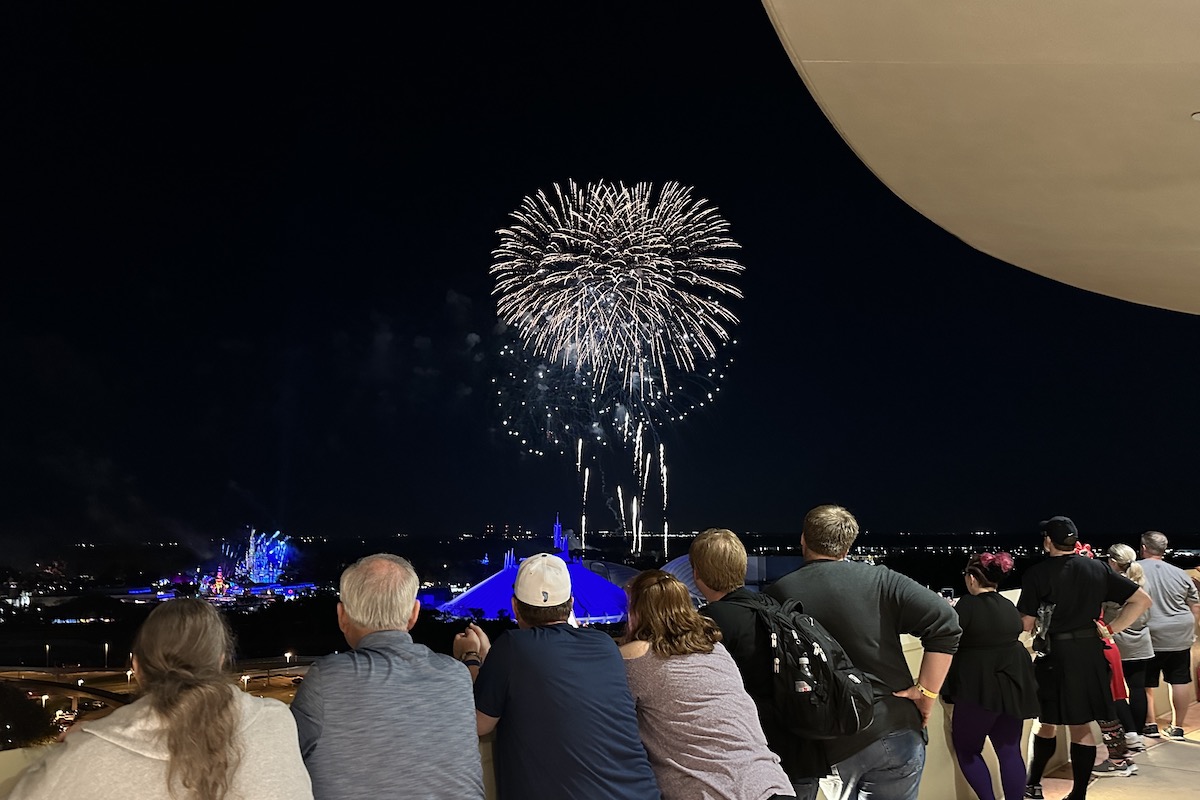 Another alternative for Disney Vacation Club owners is to head over to Top of the World Lounge at Bay Lake Tower to view the show from the members-only outdoor deck (above.) Access to the deck is free to all owners who qualify for Membership Extras.
BLOG COMMENTS POWERED BY DISQUS