Plans have been filed to begin work at Disney's Caribbean Beach Resort. While the full extent of these modifications is unclear, the resort has been linked to Disney Vacation Club rumors in recent years.

Primary construction zone at Disney's Caribbean Beach Resort
Poster "danlb_2000" at WDWMagic.com uncovered a series of permits filed with the South Florida Water Management District highlighting significant changes to Caribbean Beach. Several new structures are to be built, including a large building on the western side of the property.
Numerous existing buildings will be demolished to make way for the new facilities or changes to the resorts water system. According to permits, Ponds 'E3' and 'E4' are being proposed as new stormwater ponds. 'Pond E3' sits on land currently occupied by three buidlings in the Martinique section of the resort.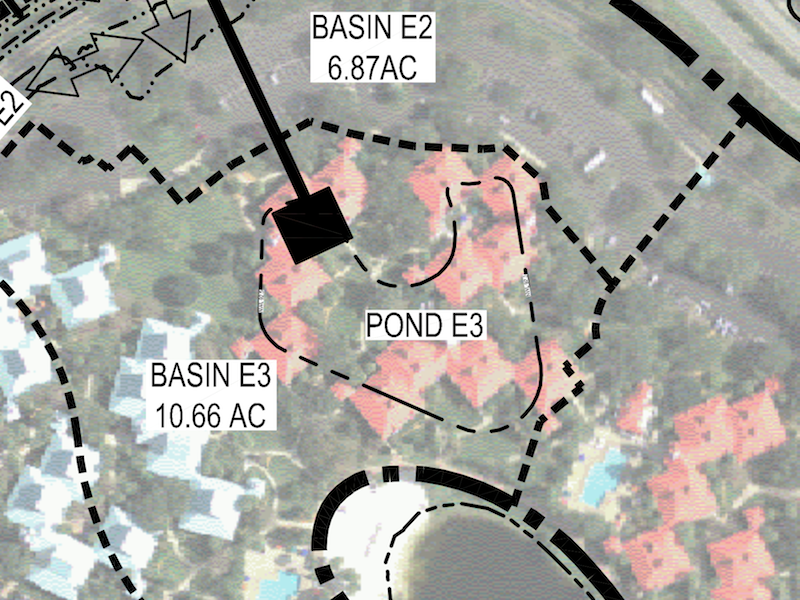 Proposed 'Pond E3' on the site of several current guestroom buildings
The large new building would necessitate removal of at least 2-3 buildings in Barbados.
The permits do not provide any indication as to the use or height of the new structure. It's size suggests it could be a multi-story building designed to house several hundred Disney Vacation Club villas.
Disney's Caribbean Beach Resort has been identifed as a possible Disney Vacation Club destination for at nearly 3 years now. Late last year those rumors gained some new steam with Disney reportedly using height test balloons to gauge how a tall building would impact the skyline.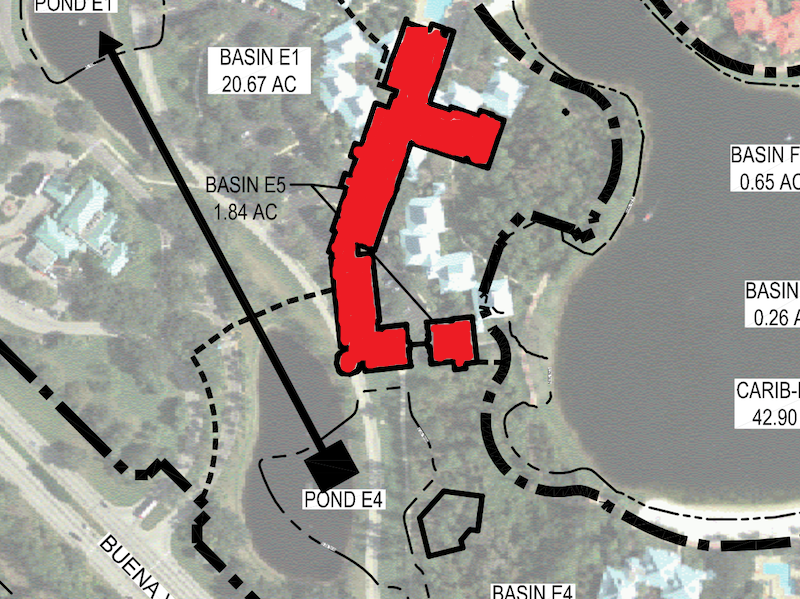 The largest new structure in red with proposed 'Pond E4' also indicated
Over the years, no fewer than seven existing Walt Disney World were converted in whole or part to Disney Vacation Club villas. Two others--Disney's Old Key West Resort and Disney's BoardWalk Inn & Villas--had DVC villas included in their design. If this work at Disney's Caribbean Beach Resort does represent the first steps toward the addition of DVC villas, it would be the first instance of timeshare villas added to a Disney moderate class resort.
Disney reportedly considered expanding its waterways to allow watercraft service between Caribbean Beach, Disney's Hollywood Studios and Epcot. However, no evidence of such modifications is present in these recently filed plans.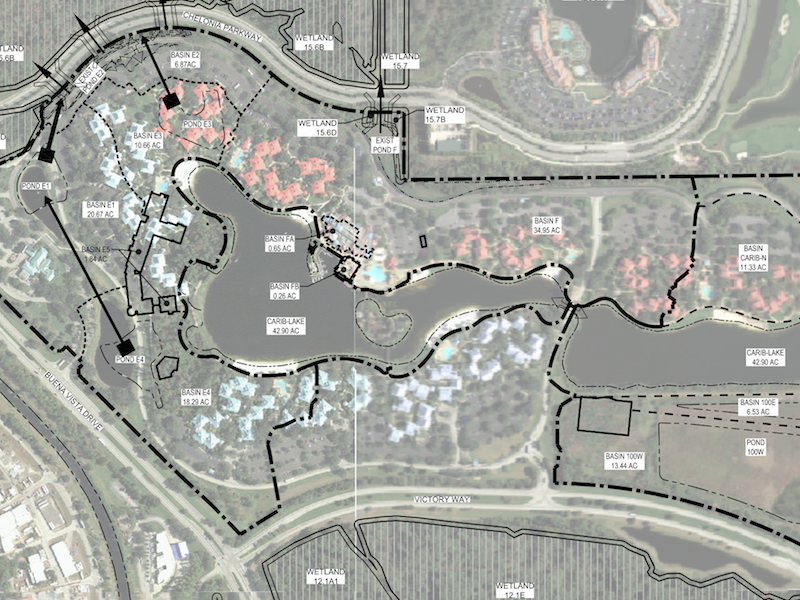 Resort overview
Other new structures are earmarked for the current feature pool area, located near the center of the image above.
The permit application indicates a construction period of 2017 to 2019. However that timeframe could be limited to waterway modifications, not necessarily physical construction on the resort-wide enhancements.
Disney Vacation Club is currently in the process of adding new villas and resort amenities to Disney's Wilderness Lodge. Those units are expected to open to guests later in 2017.
BLOG COMMENTS POWERED BY DISQUS