As Disney Vacation Club prepares to reopen sales for the Villas at Disney's Grand Floridian Resort & Spa, enjoy this overview of everything we currently know about the resort expansion, as well as its impact on current and future owners.
In October 2013, the Villas at Disney's Grand Floridian Resort & Spa debuted as the 12th DVC destination, the 7th located at Walt Disney World. With just 100 two bedroom equivalent rooms, it was the smallest DVC development at the central Florida resort complex. The 2022 expansion moves Grand Floridian into the middle of the pack relative to other DVCs, adding an estimated 1.8 million points to the 2.5 million from Phase 1.
Resort Makeup
Including both Phase 1 (2013) and Phase 2 (2022), the Grand Floridian consists of between 302 - 359 villas depending upon lockoff status:
202 Resort Studios
47 Dedicated Two Bedroom Villas
47 Lockoff Two Bedroom Villas (bookable individually as One Bedroom + Deluxe Studio)
6 Three Bedroom Grand Villas
The Resort Studios are located in the Big Pine Key building just east of the resort's main lobby. All other villas are in the stand-alone DVC facility on the south side of the resort.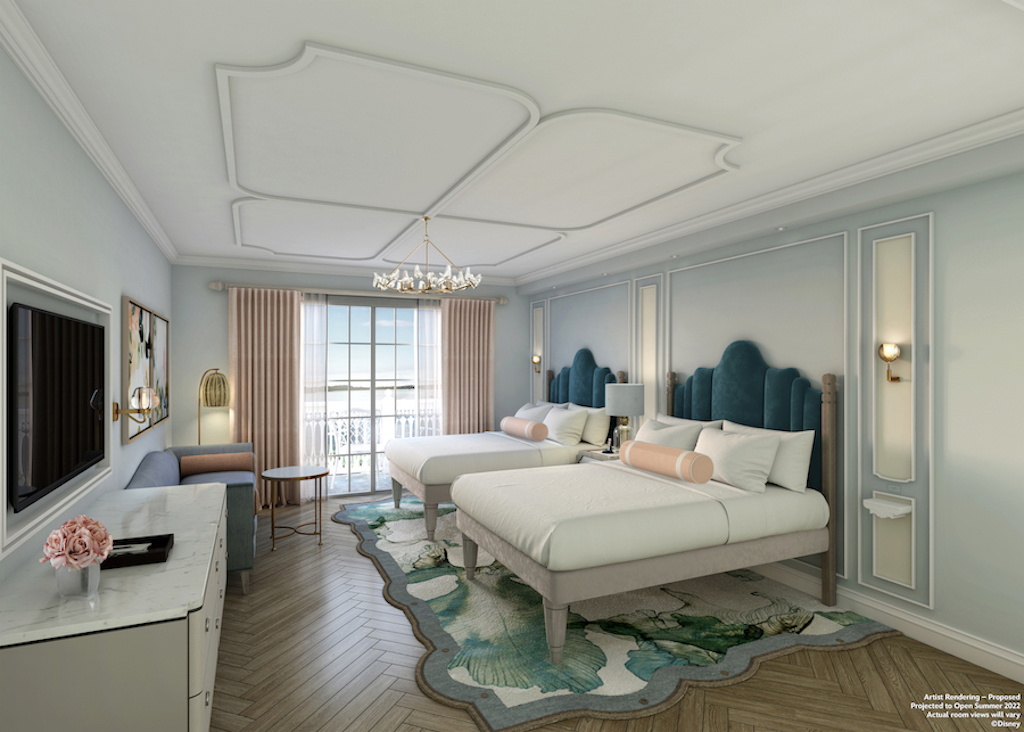 Resort Studio Concept
All Grand Floridian owners, regardless of where their points are deeded or when they purchased, will have equal 11-month booking rights for all Grand Floridian villas.
Resort Studio Details
Big Pine Key Resort Studio opening date: Late-June 2022
The new Resort Studio rooms are up to 447 square feet, sleeping a maximum of 5 guests with the following features:
Two Queen-size Beds
Sofa / convertible twin bed
Split bathroom with vanity in one room and tub/shower/commode in another
Dual-sink bathroom
Dressing table / vanity with chair
Beverage center with cooler and coffee maker
Armoire + dresser for clothing storage
Flat screen television
Private porch or patio (most rooms)
As converted hotel rooms in the Big Pine Key building, Resort Studios will consist of a variety of different villa layouts and sizes. Resort Studios are up to 20% larger than Grand Floridian Deluxe Studio villas. A very small number of Resort Studios will not have a balcony or porch. Refer to our prior coverage for additional details on room configurations.
82 of the 202 Resort Studios have an interior connecting door, allowing up to 41 pairs of connecting rooms. This setup also exists at Disney's Polynesian Villas & Bungalows. Connecting rooms are considered a request only, and are not guaranteed at the time of booking.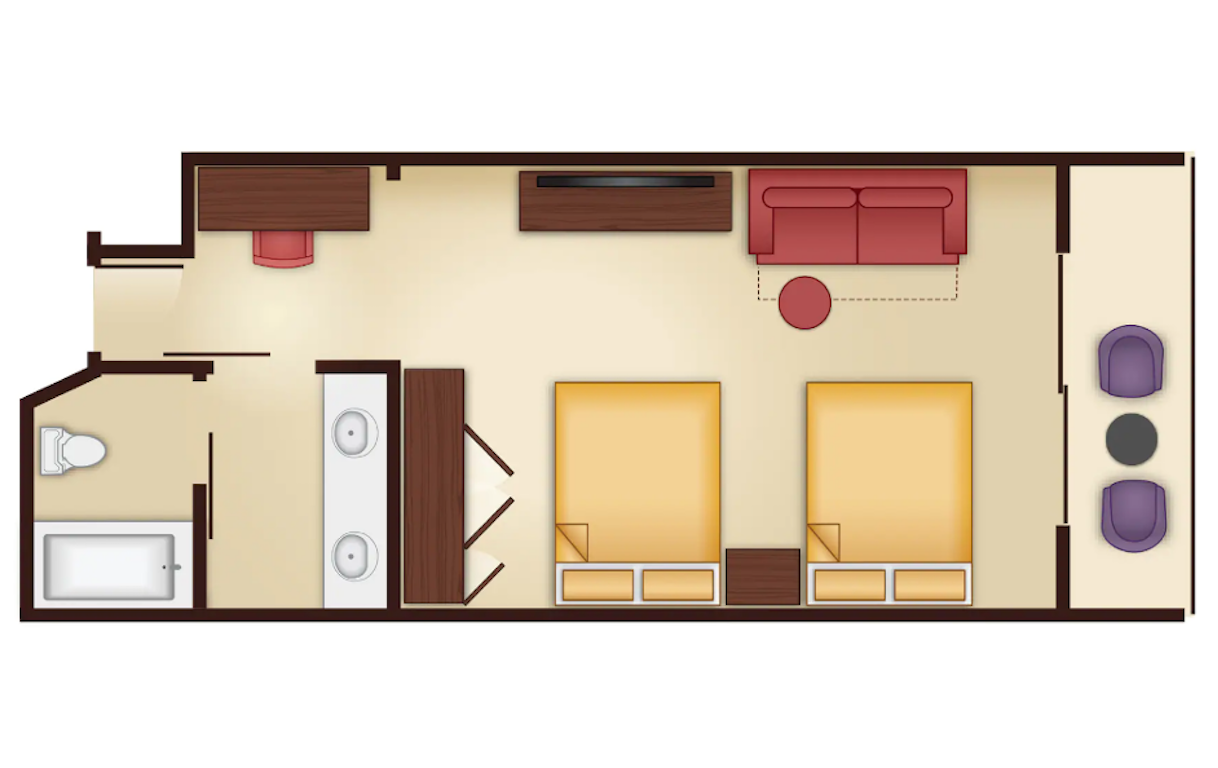 Resort Studio Floorplan
Noticably absent from Resort Studios is the kitchentte commonly found in DVC Deluxe Studio villas. The dedicated food preparation area is lacking, including its bar sink, microwave and toaster. The Resort Studio "beverage cooler" is a mini-fridge without the freezer compartment, a common modification applied to recent Disney resort updates.
DVC Contract
Ownership end date: January 31, 2064
The new villas being added as part of Phase 2 will be merged into the original Grand Floridian Condominium Assocation. Therefore, they will carry the same contract end date as the original points.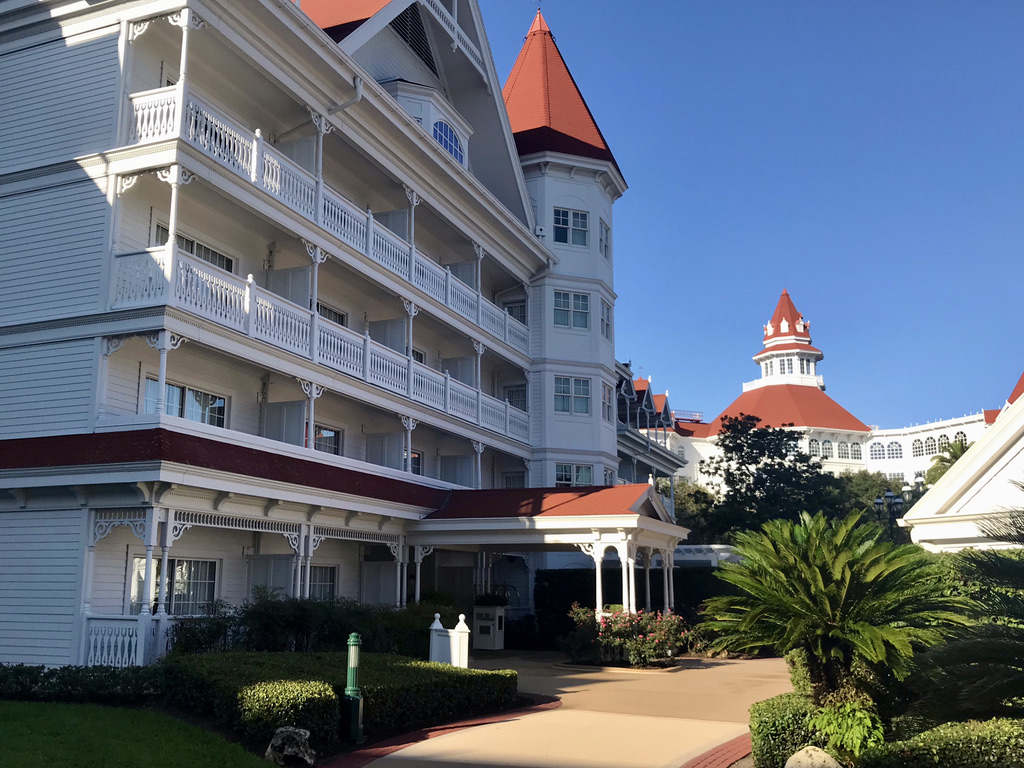 All Grand Floridian points--both Phase 1 and Phase 2--are exempt from the resale restrictions introduced with Disney's Riviera Resort. Contracts bought or sold on the resale market will be eligible for use at all current properties except Riviera. Points purchased direct from DVC are eligible for use at all current and future resorts.
Annual Dues (2022): $7.0077 per point
Given its status as a single condo association, dues will be calculated across all villas with both Phase 1 and Phase 2 buyers paying the same amount.
Points Charts
Points charts have been released for both 2022 and 2023 which include the new Resort Studio rooms. Nightly costs for Standard and Lake views are identical for Deluxe Studios and Resort Studios. Resort Studios also have a new Theme Park view with rates approximately 20-25% higher than the Lake View.
Of the 202 Resort Studios, 28 would appear to be Theme Park view while the rest will be rougly evenly split between Standard and Lake view. Standard view rooms will generally face to the north toward the Courtyard Pool. Lake View rooms will face to the south in the general direction of Disney's Polynesian Village Resort.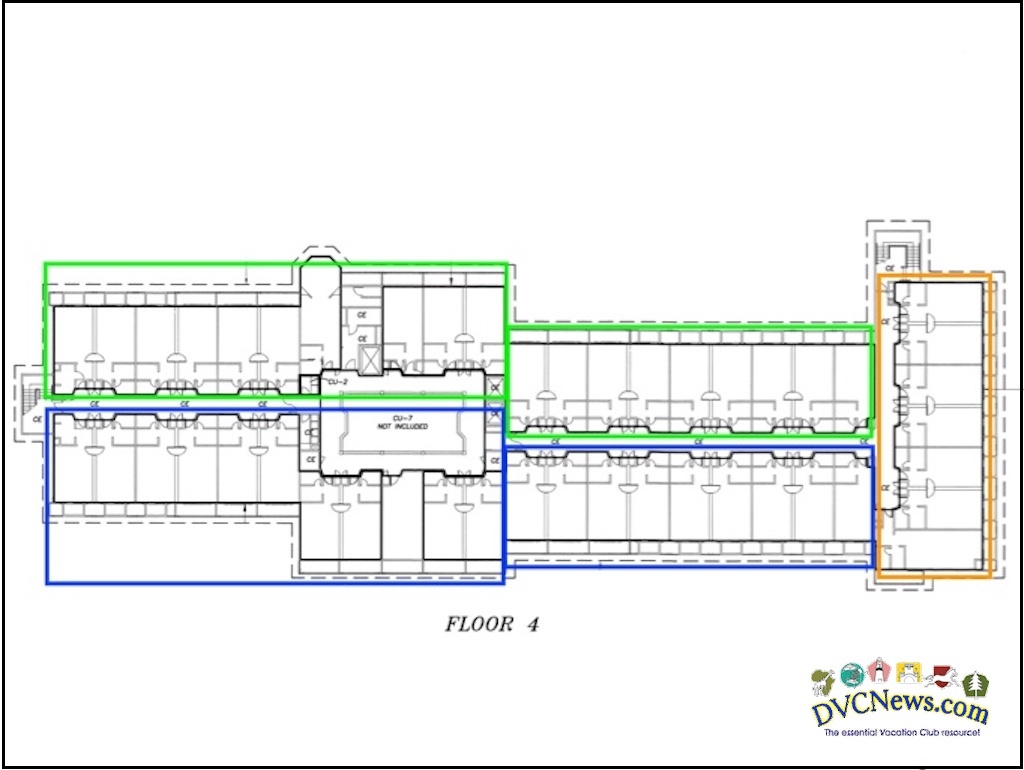 Views estimation (Standard = Green, Lake = Blue, Theme Park = Orange)
Deluxe Studios and Resort Studios will be separate booking categories, meaning that the specific type of room will be guaranteed at the time the reseration is made.
Purchase Details
Pricing and incentives: $207 per point with discounts of up to $33 each before March 30, 2022.
Sales open March 3 for existing DVC owners looking to add-on at the Grand Floridian. Early incentives are listed below, and are ONLY valid from March 3 - March 30, 2022:
125-149 points: $8 off per point
150-174 points: $10 off
175-199 points: $13 off
200-249 points: $21 off
250-299 points: $22 off
300-499 points: $28 off
500-999 points: $31 off
1000+ points: $33 off
Add-on incentives decline on March 31. Non-member pricing has not yet been revealed. Refer to more extensive price coverage here.
All early buyers will receive points beginning with their 2022 Use Year. Members with February, March, April and June Use Years can begin using their points at any DVC location for stays which begin after the opening of the Phase 2 villas. 2022 annual dues will be proated from the opening date through the end of the calendar year. Members with later Use Years will not receive points until the start of their 2022 Use Years. Dues will also be prorated from the start of the Use Year through the end of 2022 (e.g. a member with an October Use Year will pay 3 months of dues for 2022, and their first year's worth of points are valid for stays from 10/1/22 through 9/30/23 with current borrowing rules applied.)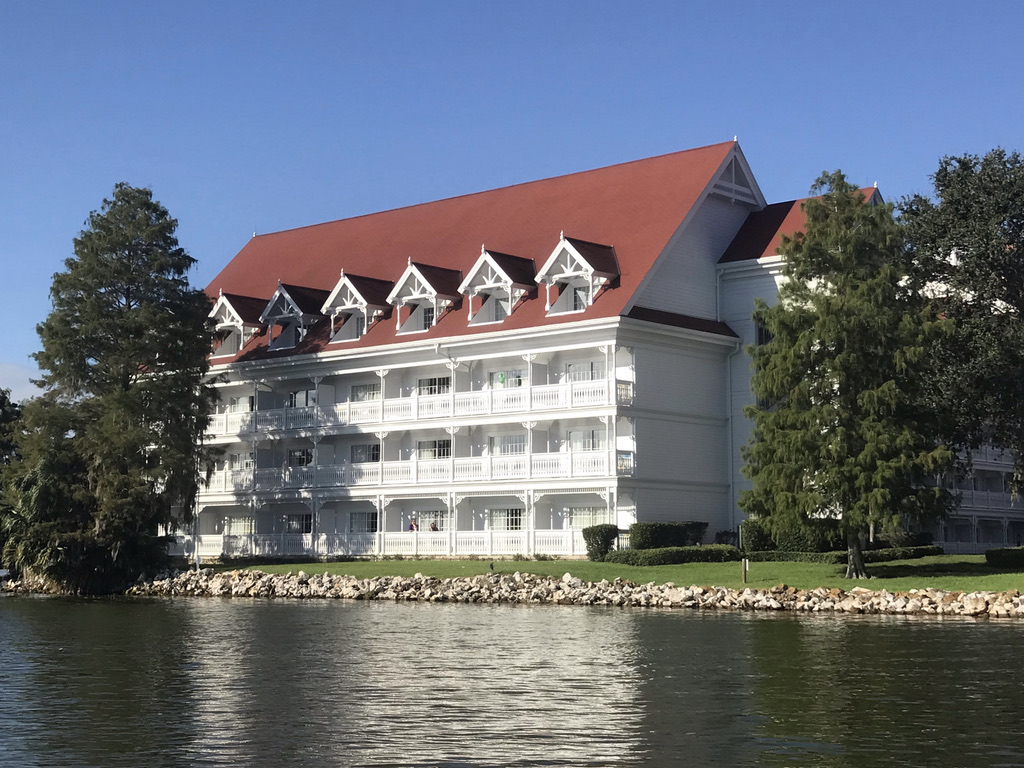 Theme Park view rooms in Big Pine Key
Guaranteed Week Option: Grand Floridian was one of the first locations to offer a Guaranteed Week purchase option, allowing buyers to lock-in a specific vacation period for each year of their ownership. Disney Vacation Club is limited to selling no more than 35% all villas as Guaranteed Weeks for each date + villa size/view combination. It is expected that the new Resort Studio rooms will be made available for purchase as Guaranteed Week, and other villa types may still be offered as well. Although some accommodations have proven popular for the Guaranteed Week option--including Standard View Deluxe Studio villas in early December--no accommodation has yet reached the maximum 35% threshold.
Conclusions
Individuals buying into this new Phase 2 of Villas at Disney's Grand Floridian Resort & Spa will have equal booking rights for all accommodations, including the Phase 1 rooms which opened in 2013. More than half of all rooms--and 80% of the resort's studios--will be the new Resort Studio configuration. This is likely to result in increased competition for Deluxe Studio, One Bedroom, Two Bedroom and Grand Villa units. However the seemingly endless rise in demand for lower-priced studio rooms may net little difficulty for owners booking the larger rooms, partciularly during the 11-month window.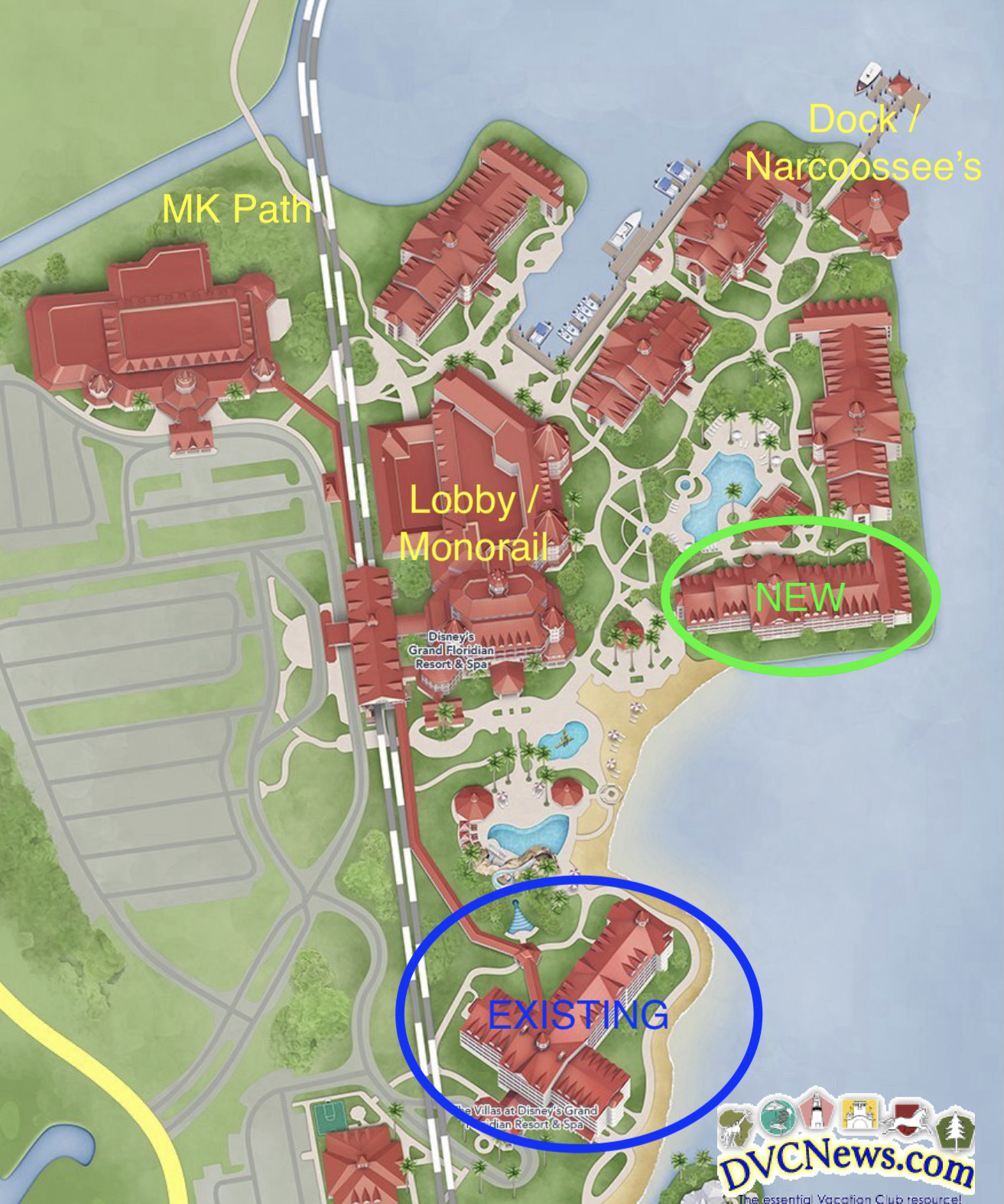 Original DVC bulding (blue) and Big Pine Key (green)
Big Pine Key is objectively in a superior location, closer to most resort amenities. While the layout changes and loss of kitchenette may be disappointing to long time DVC owners, Resort Studios have a familiar makeup for those accustomed to hotel stays.
Given the 2064 end date, Grand Floridian buyers will receive a maximum of 42-43 years worth of points depending upon whether 2021 points are offered. This is 6 years less than Disney's Riviera Resort at which ownership runs into 2070. Grand Floridian dues are the lowest in the program, due in part to its point charts which are the highest of all DVC locations at Walt Disney World.
BLOG COMMENTS POWERED BY DISQUS