Half of the new Resort Studios have been added to the condominium assocation for the Villas at Disney's Grand Floridian Resort & Spa, paving the way for point sales to soon begin.
In a series of filings with the Orange County Comptroller's office, Disney Vacation Club has amended the Ground Lease, Declaration of Condoninium and Membership Agreement to begin adding the "phase 2" units to its Grand Floridian timeshare development. A total of 101 Resort Studios were added to the program, representing half of the 202 rooms which make up the project. The rooms formally added include most of the 3rd floor, plus all of the 4th and 5th floors of the Big Pine Key building.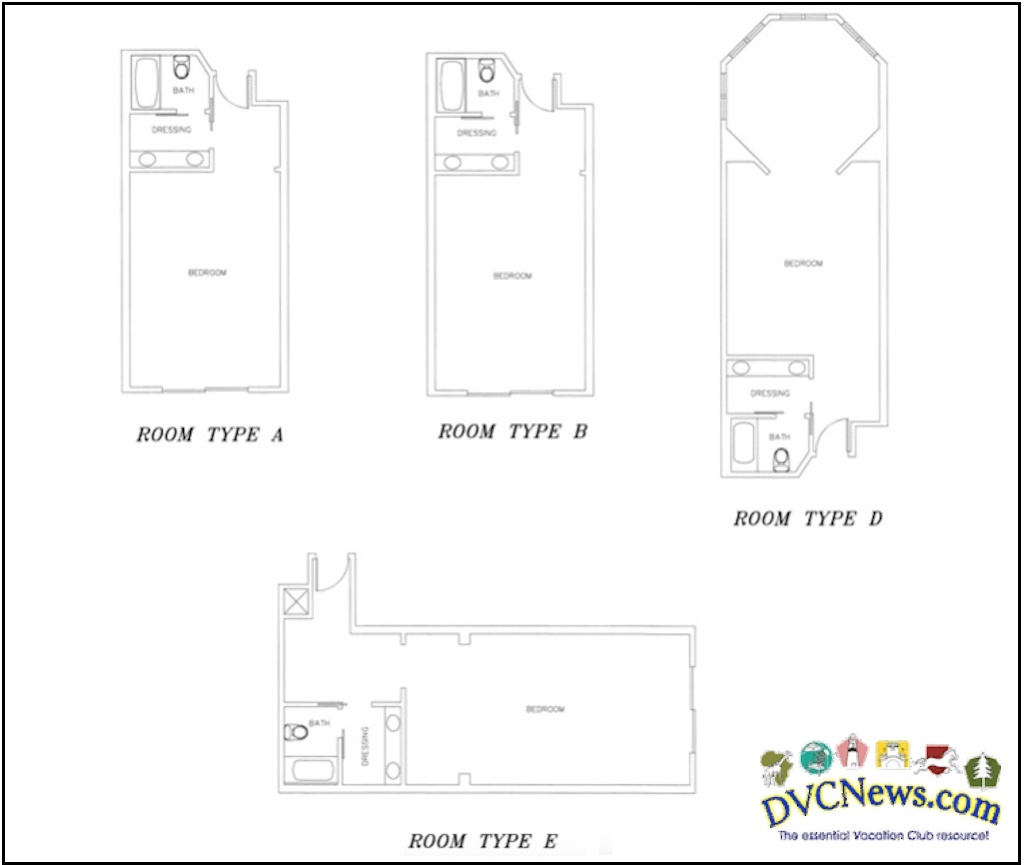 The filings include diagrams of four different room types as detailed above. Room Types "A" and "B" are indistinguishible based upon these renderings, and constitute the vast majority of the rooms in Big Pine Key. Room Type "D" is a tower room, of which there are 4, one per level on floors 2-5. As part of the hotel, the Towers were equipped with a small seating area in the circular portion of the room. Room Type "E" is a slightly larger room located on the endcap of floors 1-4. There are four total Type "E" rooms, of which two are part of this declaration.
Note there is no rendering for a Type "C" room, which is likely to be a style unique to floors 1-2 which are not included in this filing.
The fifth floor plan below helps illustrate some of the idiosyncracies of these converted rooms. Pictured in red is a Type "D" Tower room. While we can confirm that the Type "D" rooms on floors 2-4 have their own balcony, this fifth floor Tower does not appear to have a balcony. Highlighted in green are two rooms with bay windows which were previously part of multi-room hotel suites. When converted to DVC Resort Studios, these two fifth floor rooms will also not have balconies.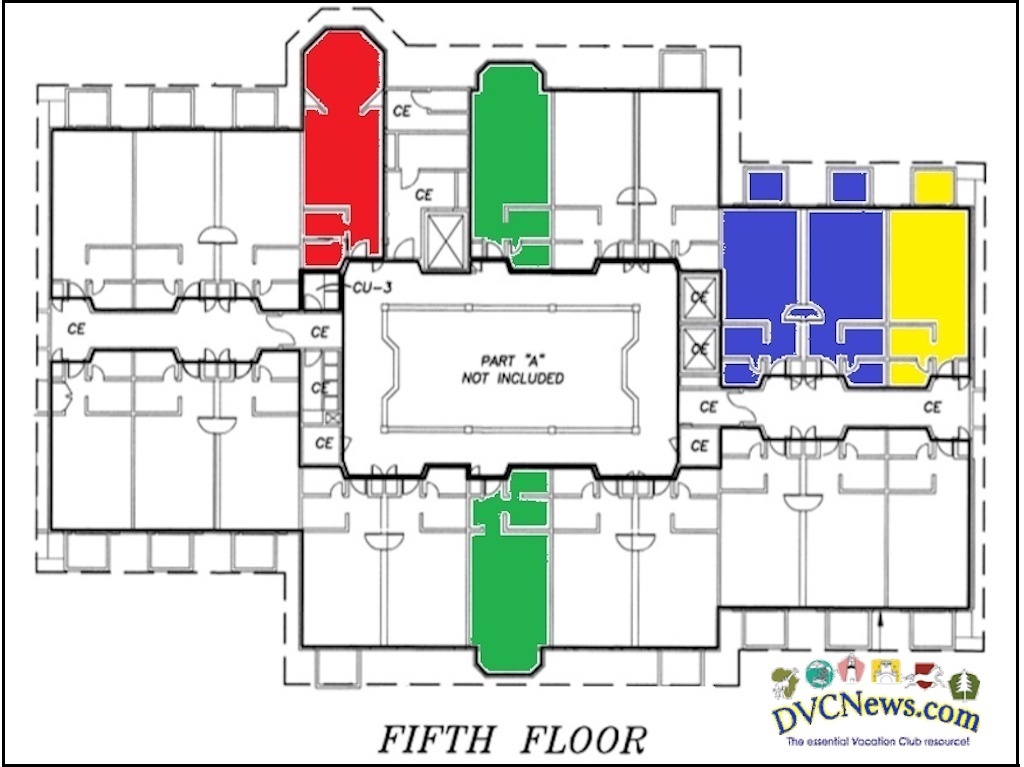 Other rooms on the fifth floor have only small, square balconies.
Of the 101 rooms declared, 82 have connecting doors allowing for up to 41 two-room pairs. An example is shaded in blue in the diagram above. This configuration is similar to Disney's Polynesian Village Resort which has a number of rooms with interior connecting doors. Members who concurrently book two Resort Studios may request connecting rooms, although DVC does not guarantee such a room assignment.
The remaining 19 declared rooms are stand-alone studios with no interior connecting door. The room in yellow represents one such individual studio.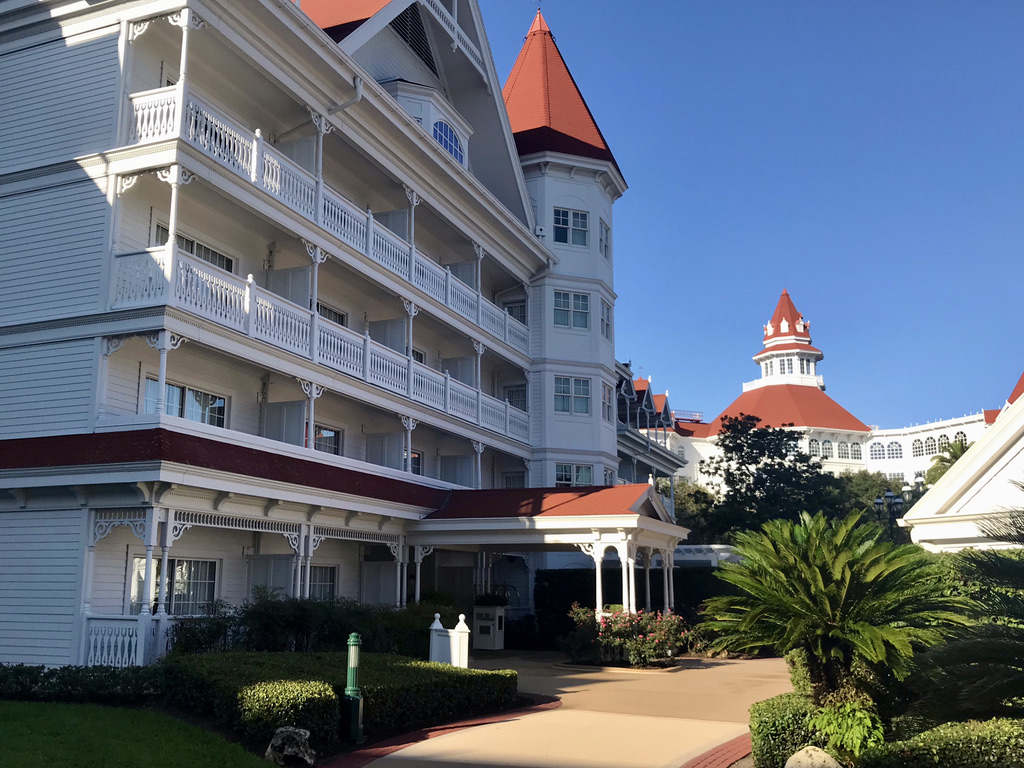 Note the circular Type "D" tower rooms, and the bay window just visible on the 5th floor
These filings do not provide enough information to determine view assignments of each room. The diagram below illustrates the approximate distribution, with rooms shaded green representing Standard View, blue to indicate Lake View and the orange for Theme Park View. However foliage and other obstructions may lead Disney to reclassify certain rooms.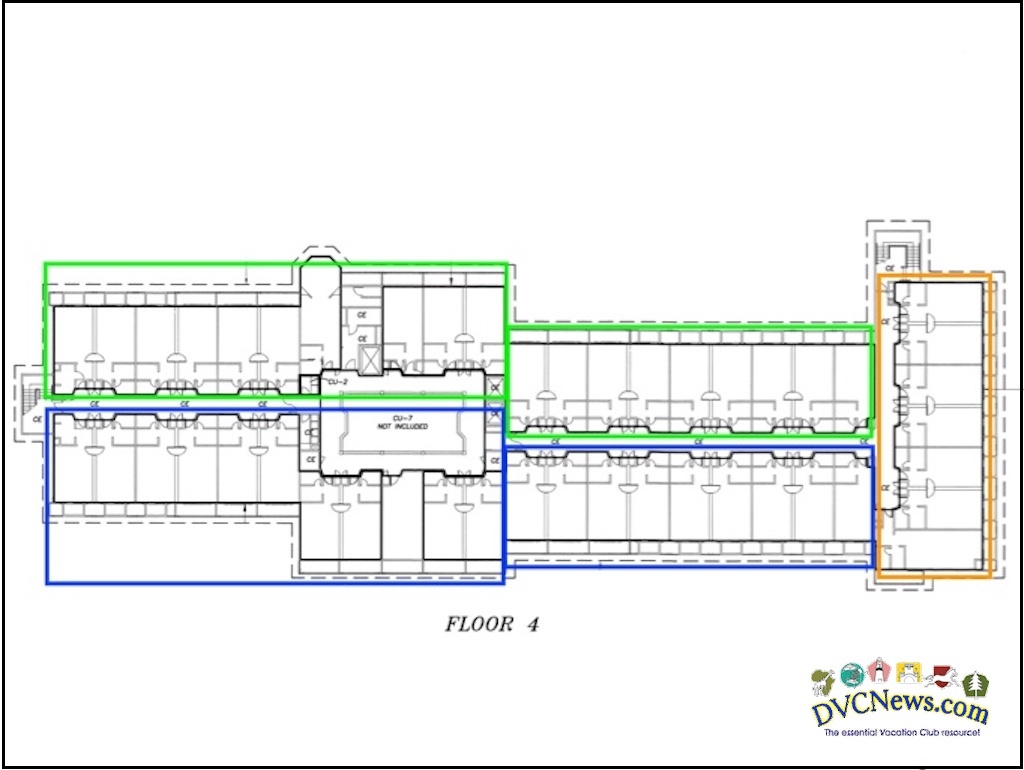 The 101 rooms added to the condo association have no bearing on room assignments once the building is open and available to guests. The declared rooms represents a nightly cap on the number of villas which can be booked with DVC points. However, DVC members staying on points may be assigned to any physical room on any floor of Big Pine Key.
While these filings move Disney Vacation Club closer to selling additional points at the Grand Floridian, no prices or sale dates have yet been disclosed. With Disney's Riviera Resort, sales began about one month after similar declarations were filed. Copper Creek Villas & Cabins at Disney's Wilderness Lodge opened sales just 15 days after such filings.
Disney recently filed a notice of commencement to begin construction work at Big Pine Key, and the rooms are expected to be available to members by summer 2022.
Thanks to Wil and Chris for their assistance!
BLOG COMMENTS POWERED BY DISQUS