Key to the Magic, and Other Disneyland Resort News
In anticipation of the Disney Vacation Club's arrival at the Grand Californian Resort, it appears Disneyland has finally adopted a perk familiar to members. Let's examine that perk, and take a look at construction progress on the first California DVC.
As DVC members we are all used to the freedom and convenience that the
Key to the World
card offers us when we are vacationing in
Walt Disney World
.
This little piece of plastic allows us to leave our wallets and purses at our villas while we spend the day enjoying
Walt Disney World
.
We can charge food, and merchandise to the card at all
Walt Disney World
Theme Parks and resort hotels, as well as many locations in
Downtown Disney
.
This card also contains your admission media, and functions as your room key.
I have always wondered why the Disneyland Resort does not employ the same technology at their Resort Hotels. Well this month, The Disneyland Resort rolled out the same system. Upon checking into The Disneyland Hotel Thursday night, I was please to receive a "Key to the Magic" card. I was told the card was good for charging goods and services throughout Disneyland Resort.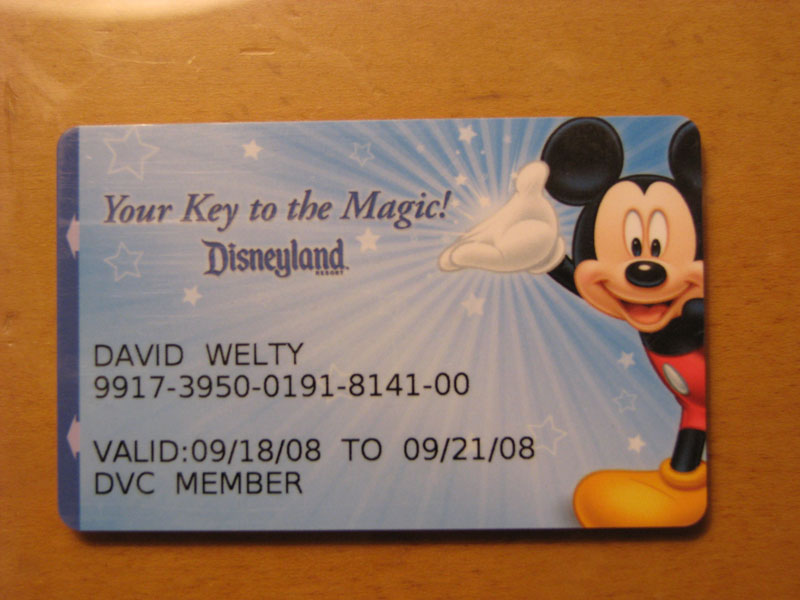 I spoke to one of the front desk manager who informed me that process for converting the computer systems started at the beginning of summer, and is now 75 percent complete.
Admission Media cannot be loaded on to the card yet, but in just a few weeks this will be fully functional as well.
We found it quite convenient to be able to charge our meals on our key, and settle our bill at the end of our stay.
Villas at Disney's Grand Californian Construction Update
The photos below show workmen building a temporary emergency exit onto the south wing of the Grand Californian. You can see that they have closed several rooms on each floor and converted them into temporary access points to the emergency fire escape. This was done to allow workers to begin connecting the new structure containing the villas to the existing hotel. This is a major milestone in the construction process, and reminds us that we are little more than a year away from the Villa's grand opening.