World of Color viewing tips for DVCers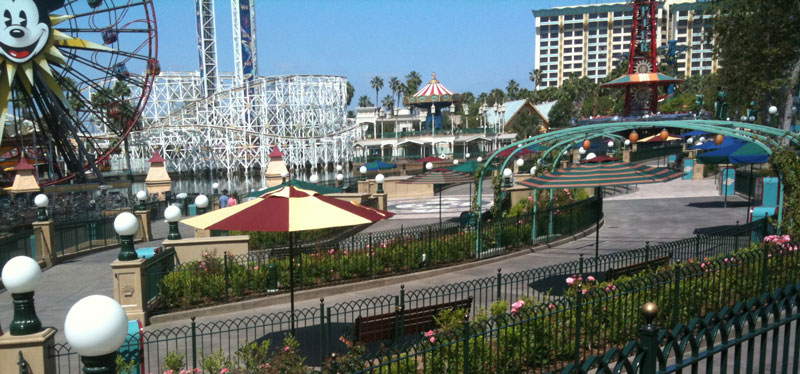 After spending a week at the Villas at Disney's Grand Californian Hotel, we have compiled a few tips for fellow Disney Vacation Club members planning upcoming stays at the newest DVC resort.
World of Color is currently being presented 2-3 times per night in the newly-constructed Paradise Park viewing area.  There is reportedly a viewing capacity of only 4000-5000 guests per show with advance reservations required in order to attend a given presentation.  Disney is offering a number of dining packages which guarantee a spot on the viewing platform, but most guests will make use of the Fast Pass system in order to secure a spot.
The Fast Pass machines for Grizzly River Run are being utilized to distribute World of Color Fast Passes during the morning and afternoon hours.  Disney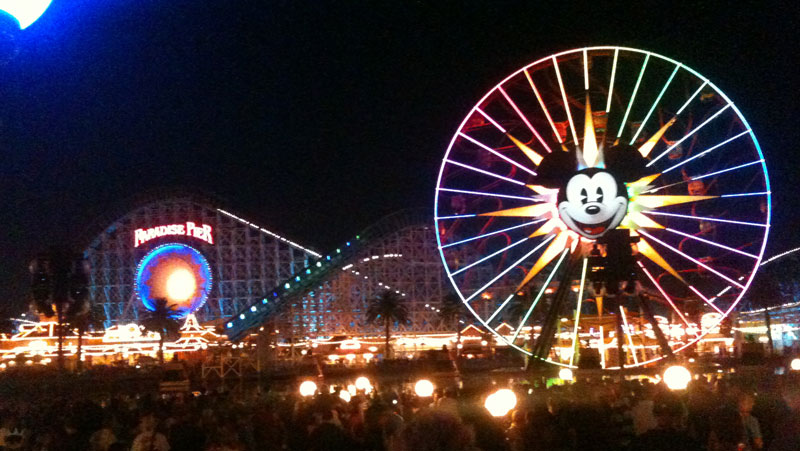 is allowing Grand Californian guests to enter the park through the resort's dedicated entrance approximately 30 minutes before opening--before guests queued up to enter at the main gate--in order to obtain World of Color Fast Passes.
Given the proximity of the park's side entry to Grizzly River Run, entering the park 30 minutes before opening via this gate is highly recommended.  Fast Pass lines are short and entry to the early showing of World of Color is all but guaranteed.
Fast Passes for World of Color are color coded to correspond to a specific viewing section.  All members of a given party must obtain their Fast Passes together in order to ensure that they are assigned to the same showing and same section.  The entire group does not need to wait in the Fast Pass line together, but individuals must enter the park prior to obtaining Fast Passes since tickets cannot be used for Fast Passes until they have been scanned at the gate.  Scanned tickets can then be handed to a group "runner" who will wait in the Fast Pass line.
Obtaining World of Color Fast Passes does not impact guests' ability to obtain attraction Fast Passes throught the day.
Crowd levels have proven to be very inconsistent in recent weeks.  As a general rule, attendance for World of Color shows has been much lighter during days in which Southern California Passholders are blacked-out and denied access to the parks.  On some recent Passholder blackout days, Fast Passes were still available at 8:00pm for the late showing of World of Color.  Demand will certainly change, though, as summer and holiday crowds increase.
Visit the Disneyland Passholder Blackout Calendar for a complete list of 2010 blackout dates.
Possession of a Fast Pass will guarantee admission to the viewing area but the quality of the view will vary depending upon the time of arrival.  Guests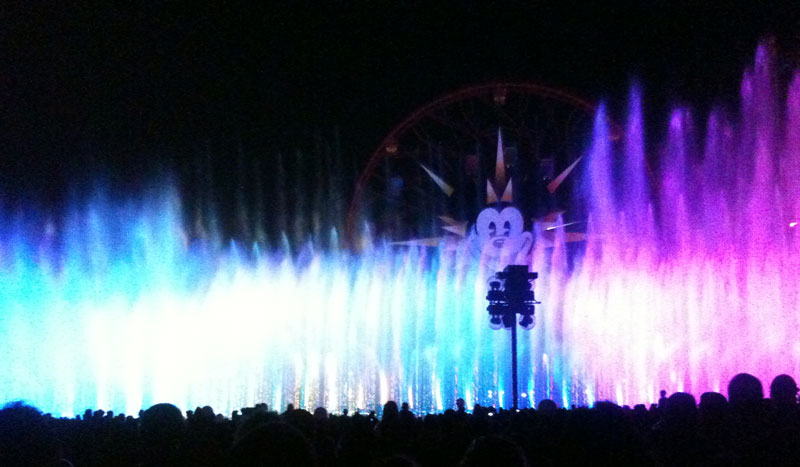 must report 30-90 minutes prior to show time.  The earliest arrivals will be posiitoned closest to the lagoon.
Another option for Grand Californian guests--including DVC members--is the sixth floor viewing deck.  Hotel guests can access the deck simply by swiping their room key. The full audio track from World of Color is piped into the deck during showtime.
Unfortunately the deck has proven to be a less-than-ideal location from which to view the show.  The deck's positioning provides a side angle view of the show with several attractions sitting in one's line of sight--most notably the Golden Zephyr. While disappointing, the mediocre view provided by the Grand Californian viewing deck is somewhat understandable given that the resort design was finalized more than 3 years before World of Color's debut.
Visitors should also dress appropriately given that the deck is an open-air forum.  It can get cold during those Southern California evenings.
Have any other World of Color viewing tips?  Share them in our Discussion Forum.
For your viewing pleasure a 2 minute clip of World of Color is available below: