A new rumor claims construction on the former River Country site will add about 300 Disney Vacation Club villas and 400 hotel rooms to Walt Disney World property.

River Country Construction Staging Area (purple)
Website GrowthSpotter.com has publised new details on Disney's "Project 89", a new resort adjacent to Disney's Ft. Wilderness Resort & Campgrounds. Citing its own industry sources, GrowthSpotter claims that the property will reportedly feature 1340 "bays", of which 940 are reserved for Disney Vacation Club villas. A "bay" is a slot in the superstructure about the size and dimensions of a hotel room.
The typical Two Bedroom DVC villa runs about 900-1000 sq ft and consists of three bays: one for the master bedroom, one for the kitchen and living space and the third for the Studio room or guest bedroom. Many Two Bedroom villas are configured as "lockoffs," meaning that the master bedroom + living space can be reserved as a One Bedroom villa while the second bedroom stands independently as a Deluxe Studio villa. The two rooms can also be booked together as a "lockoff Two Bedroom villa."
Three Bedroom Grand Villas can occupy six bays--often spread over two floors--running in the neighborhood of 2000 sq ft.
The remaining 400 bays would presumably be earmarked for hotel rooms.
GrowthSpotter claims that architecture firm WATG has been tapped to design the property. Its previous work includes Disney's Grand Floridian Resort & Spa as well as Disney hotels in Hong Kong, Paris and Tokyo. Balfour Beatty will serve as construction manager, the same role it currently plays in development of the 15-story tower at Disney's Coronado Springs Resort.
"Project 89" has gained steam in recent months due to a variety of permit filings with the South Florida Water Management District.
GrowthSpotter states that work on "Project 89" would follow the Star Wars-themed hotel to be constructed just south of Disney's Hollywood Studios. For additional details, visit GrowthSpotter.com.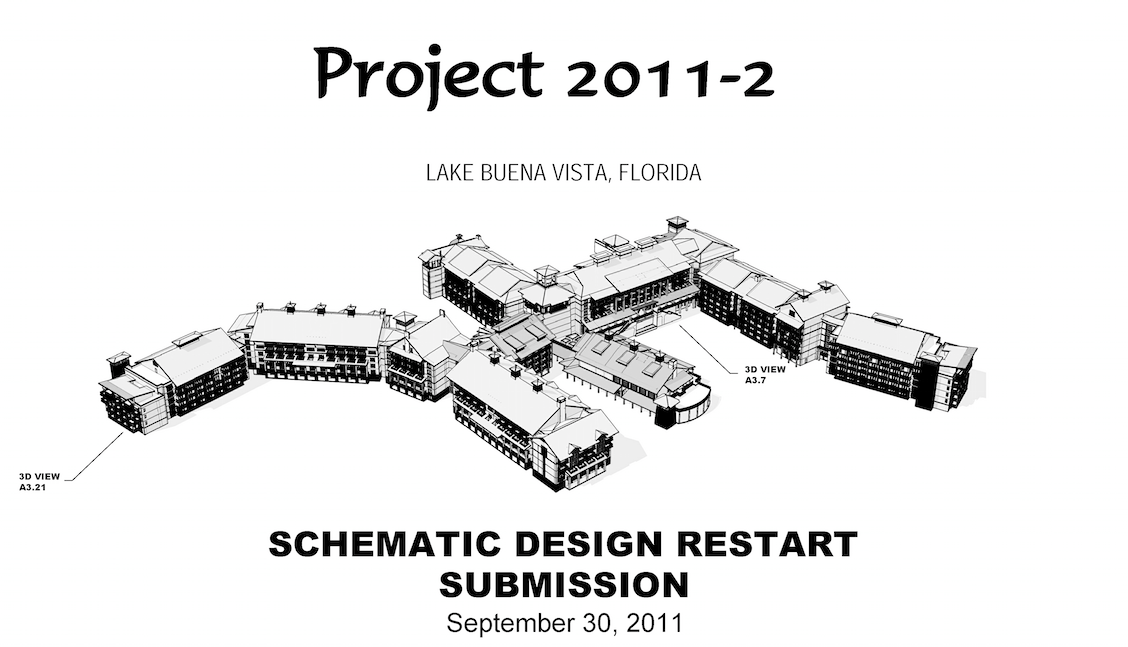 In 2010, Disney appeared to be on the cusp of developing this same plot of land. The project stalled, but designs were seemingly leaked several years later. It is not known if this revived River Country / Ft. Wilderness building will retain any elements of what was once "Project 2011-2." The abandoned plans were designed by firm GSB, Inc.
Disney is currently building Disney's Riviera Resort, another 300-room timeshare development. Located adjacent to Disney's Caribbean Beach Resort, Riviera will be the fifteenth DVC property. It is scheduled to open sometime in the fall of 2019.
h/t wdwinfo.com
BLOG COMMENTS POWERED BY DISQUS