It's been 10 years since Aulani, A Disney Resort & Spa, said "Aloha!" and "E Komo Mai" to its first guests.
On August 29, 2011, Aulani opened it doors in Ko Olina on the western shore of O'ahu, Hawaii. It was the 11th resort to be added to the Disney Vacation Club system and only the third, after Disney's Vero Beach Resort and Disney's Hilton Head Island Resort, not to be located adjacent to a Disney theme park.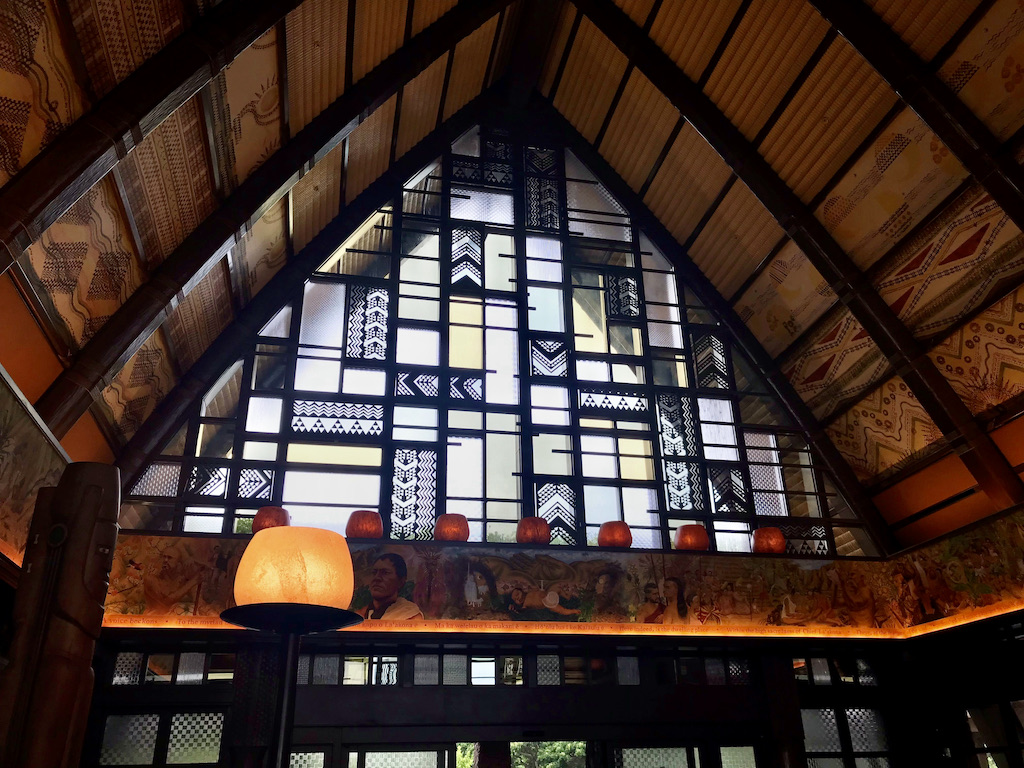 Aulani is a Disney resort with characters like Mickey, Minnie, Goofy, Stitch, and Moana popping up frequently at the resort. But it has a bigger emphasis on Hawaiian culture, traditions, history, and architecture. That is why, when DVC members arrive at the resort, they are greeted with the phrase "E Komo Mai", Hawaiian for "Welcome Home."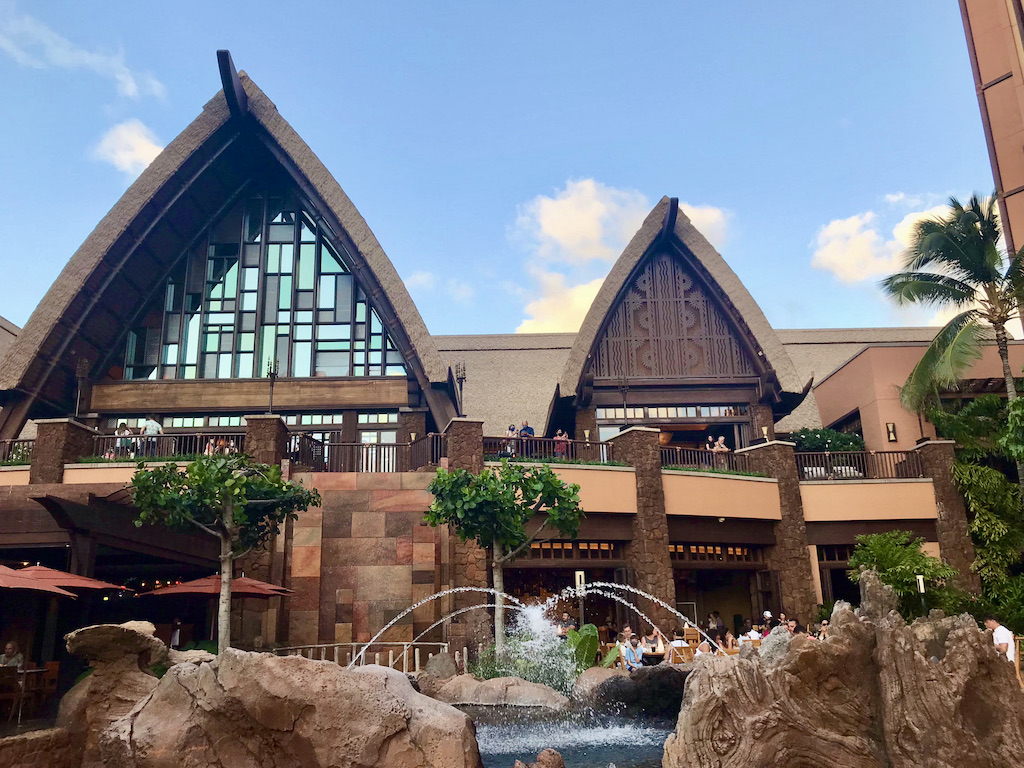 Aulani has seen several interesting developments in its lifetime. Sales started in July 2010, over a year before its planned opening date. About a year later, Disney realized that the annual dues charged to DVC owners for the maintenance and upkeep of the villas were set too low. It halted sales for Aulani for over three months in 2011 as it recalculated the correct annual dues amount. By the time sales resumed, three Disney executives, including the Vice President of DVC, were dismissed. Owners who bought Aulani points before July 27, 2011, were given a lifetime subsidy on their dues to cover the difference between the original dues formula and the revised dues formula. Today, that subsidy amounts to $2.0740 per point, reducing the dues paid by subsidized Aulani owners from $8.3539 to $6.2799 per point.
After it opened, Aulani proved to be very popular with guests staying at the resort. So much so that guests were not venturing much off property, choosing instead to spend their time enjoying the amenities at Aulani. Disney quickly realized that additional water features and a quick serve restaurant were needed.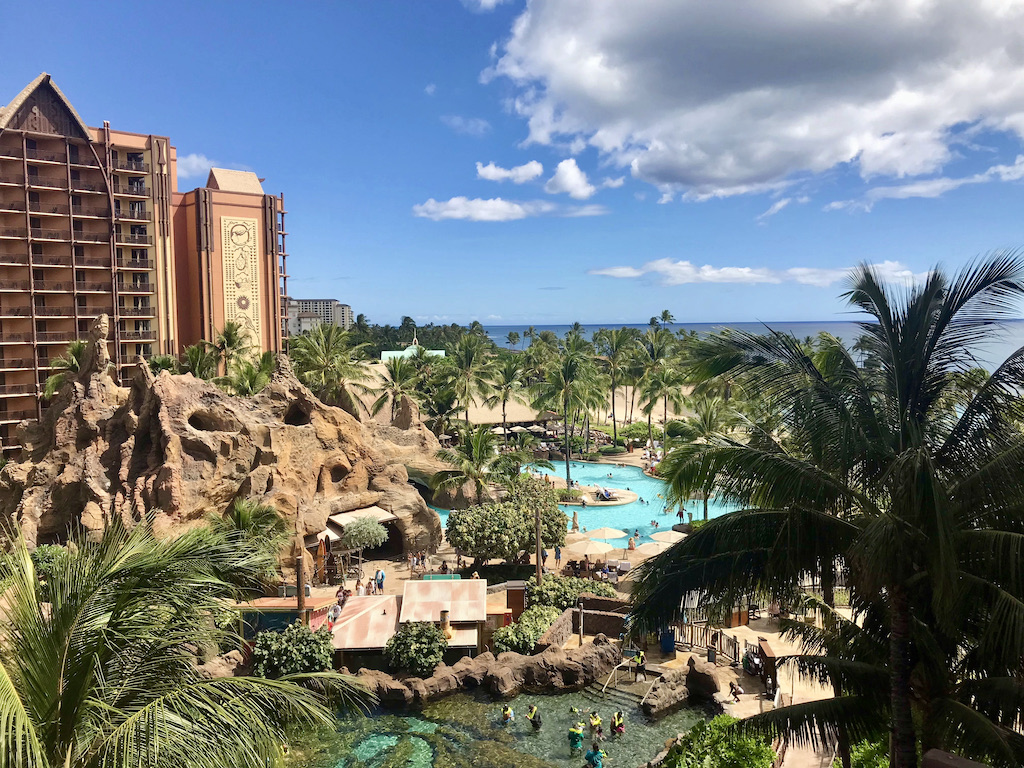 Beginning in 2012, Disney undertook a major renovation at Aulani. It converted a lawn that was originally designed to hold weddings and vow renewals into the Kamaka Landing play area. This project added another pool, a hot tub, and Keike Cove, a child's water splash zone. The decks around the pools were expanded to accommodate more lounge chairs and cabanas.
The photo below shows how the lawn area looked before the Kamaka Landing renovations. The sheltered area in the lower left portion of the photo was the home of a sting ray exhibit. The sting rays moved to another location in Hawaii to make room for the new splash area.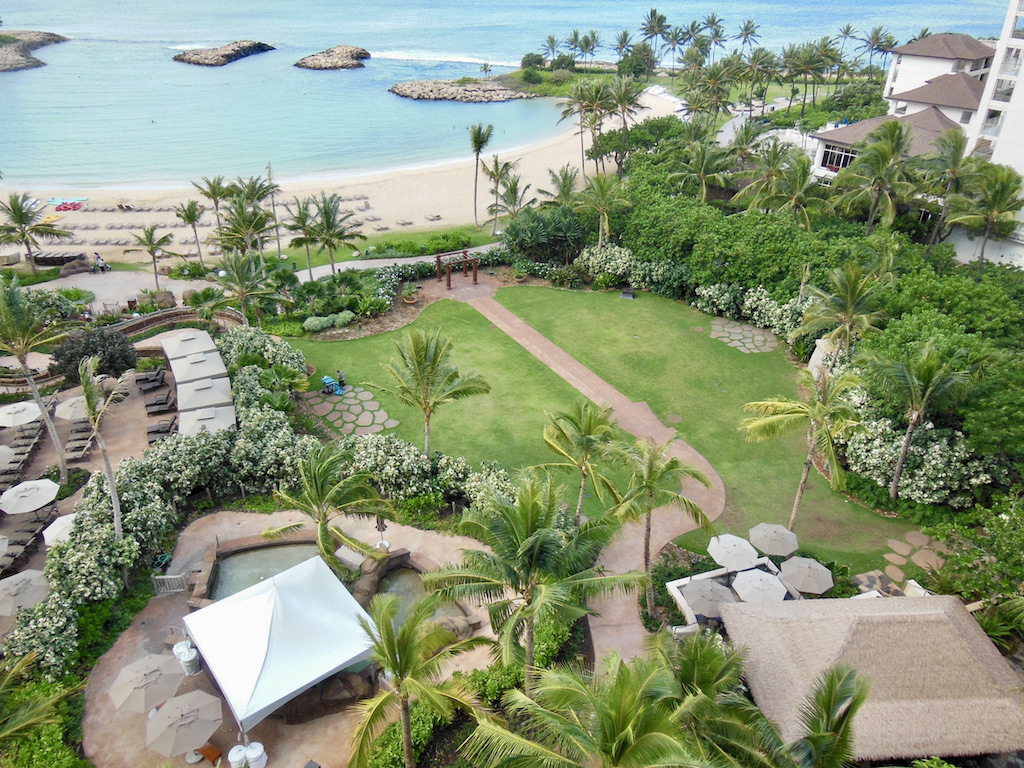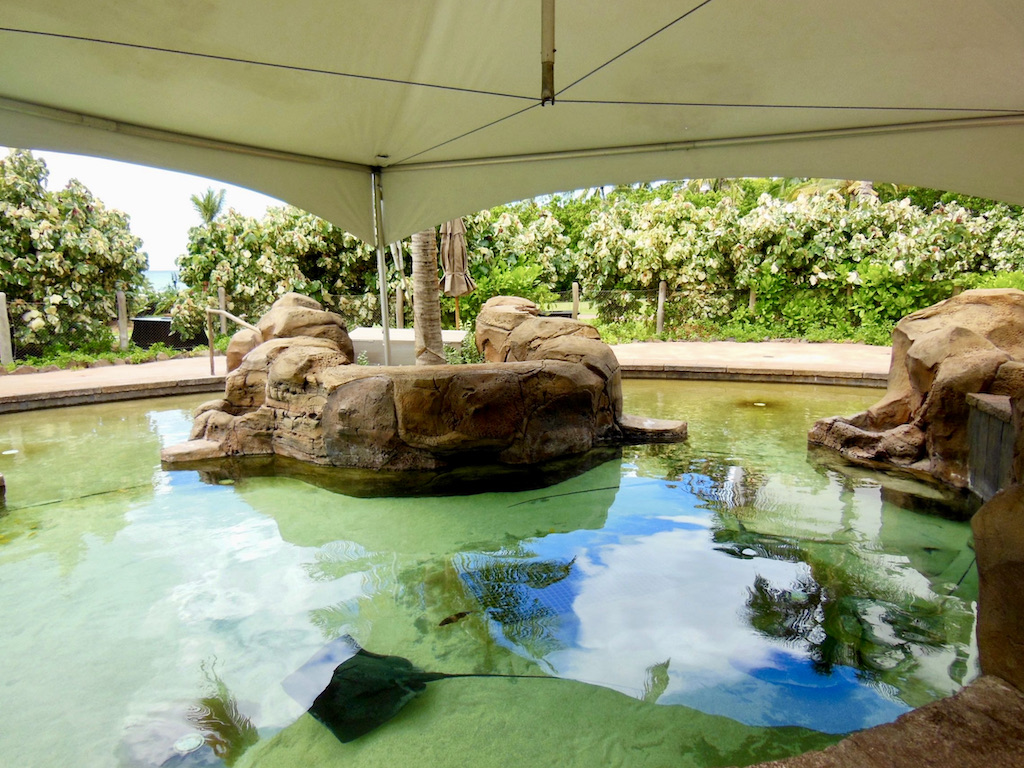 Here are some photos of what the Kamaka play area looks like after renovation: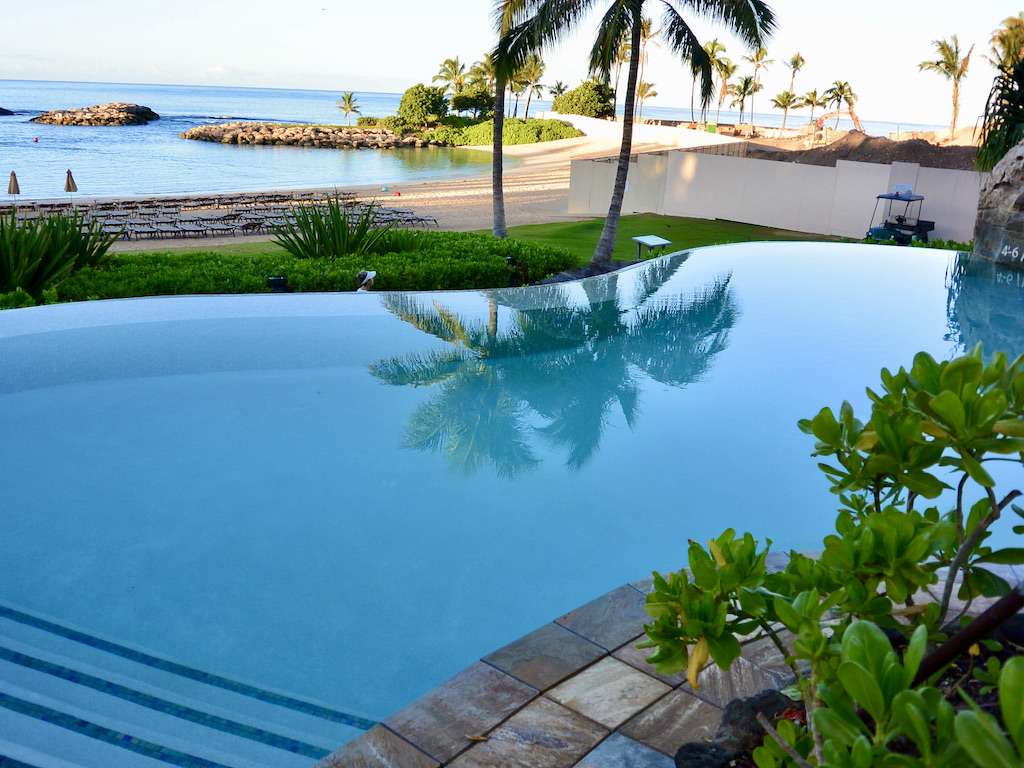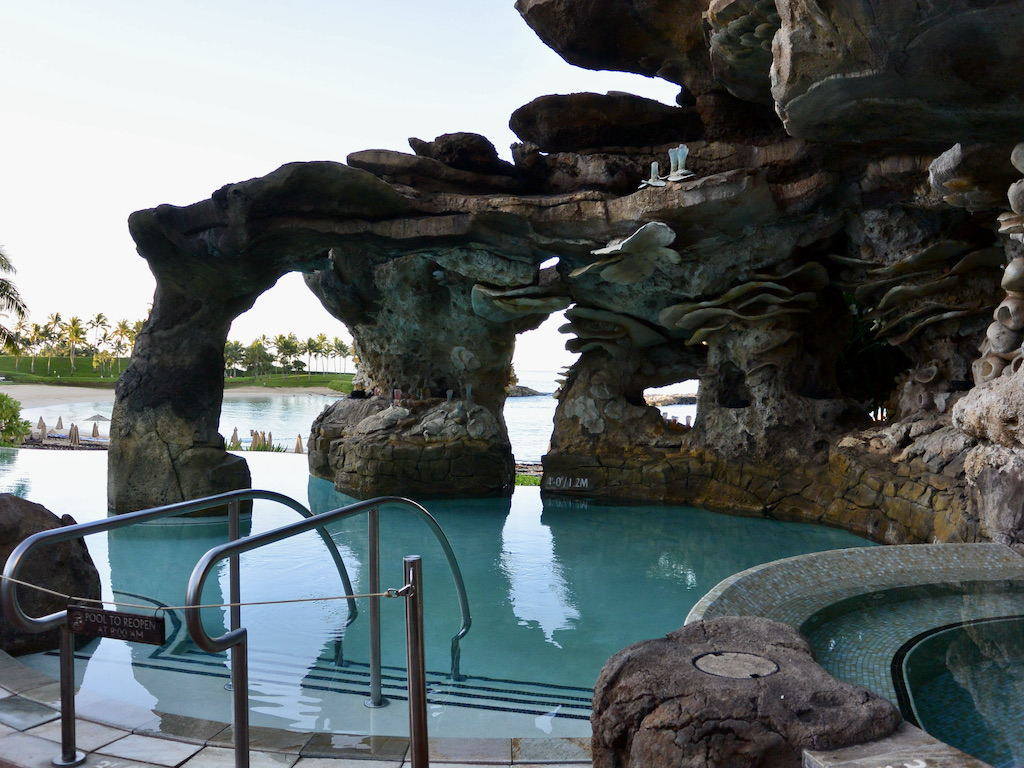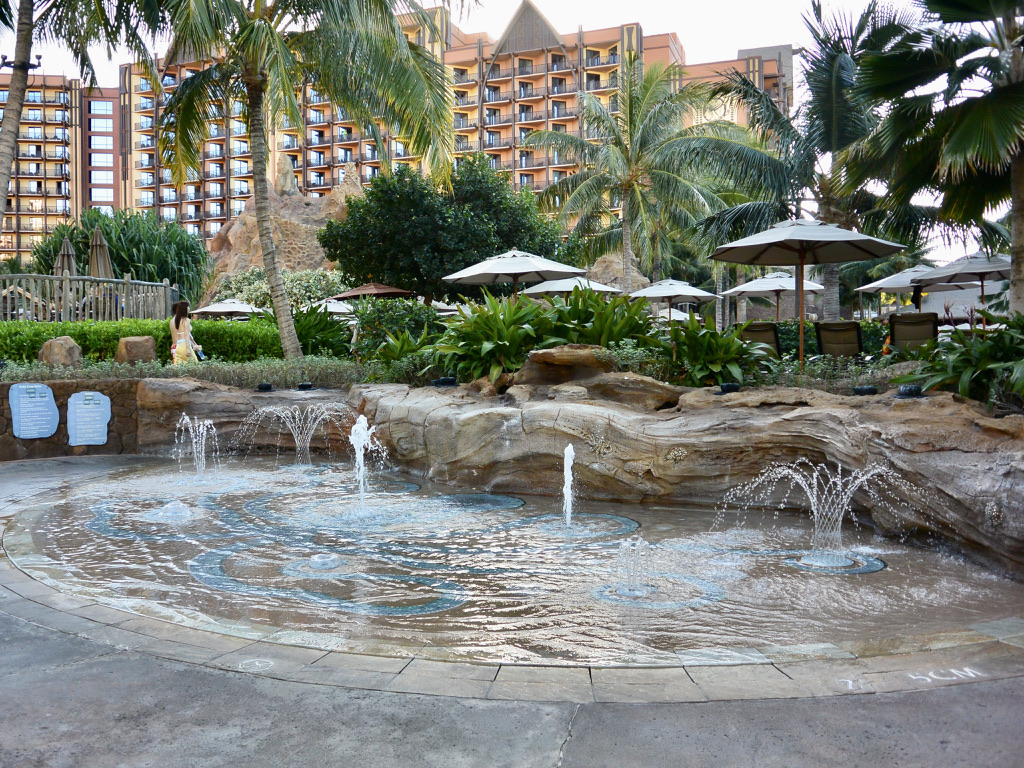 Originally, there was a grand villa on the first floor looking out toward the soon-to-be Kamaka area. Disney converted this villa into the Ulu Cafe which now offers grab-and-go items, as well as some hot items for breakfast, lunch, and dinner.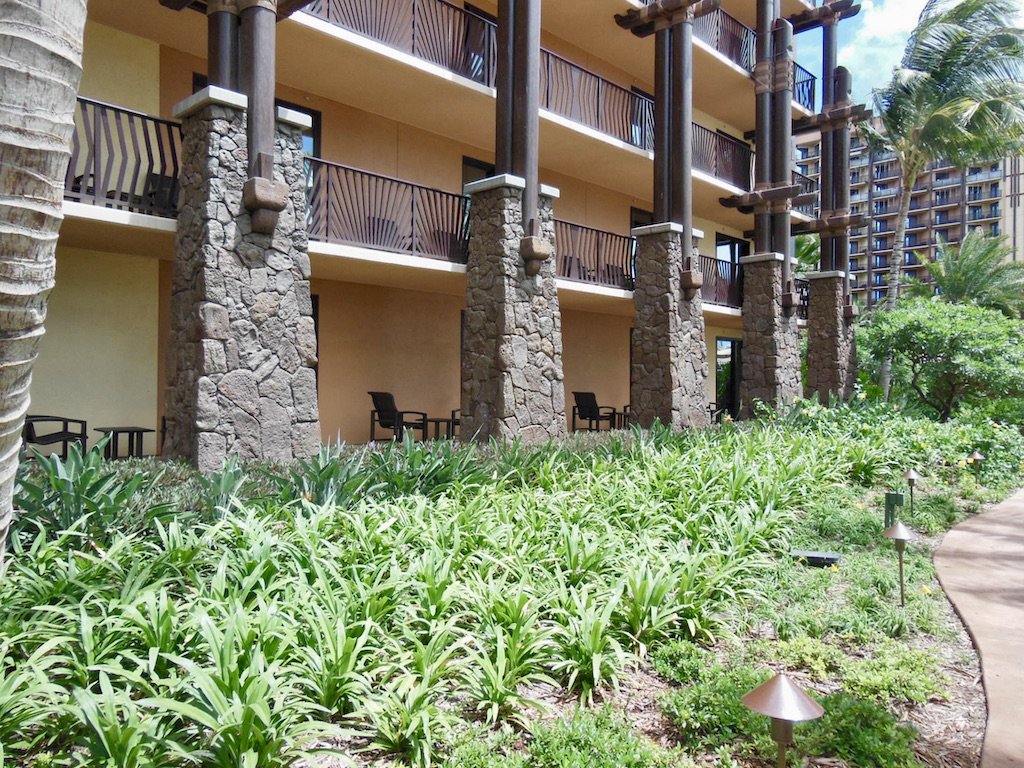 To compensate the Aulani Condominium Association for the loss of the grand villa, Disney modified its master declaration and added eight standard view hotel rooms to Aulani's DVC inventory.
Over the years there have been other changes at Aulani. In the early years, the Starlit Hui show was performed a few times each week and was free for Aulani guests. The show highlighted music, hula dancers, and Hawaiian story tellers, but no food. A few years ago the Star Hui show was replaced with the Ka Wa'a Luau, which offers both music and dance as well as a traditional Hawaiian luau dining experience.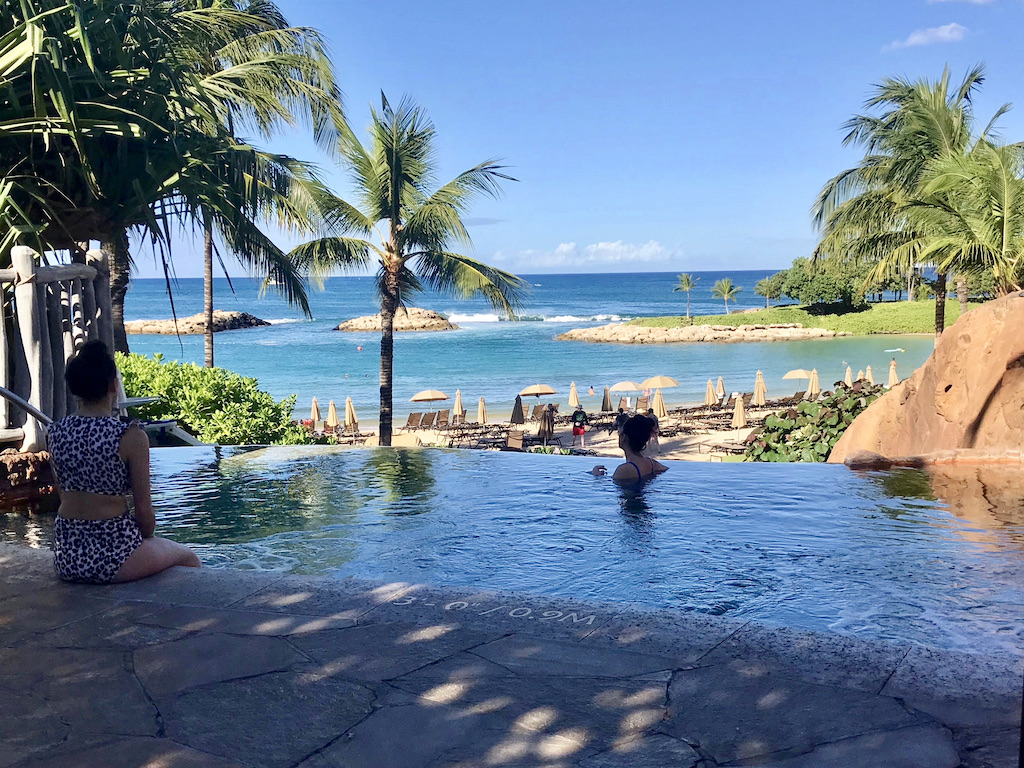 Aulani temporarily closed on March 24, 2020, due to the COVID pandemic and did not reopen until November 1, 2020. Not all amenities have reopened, including AMA AMA, its fine dining restaurant, and Aunty's Beach House, a very popular children's play area.
With 461 vacation homes, Aulani is one of the largest DVC resorts. It has been allotted 11,519,025 DVC points, making it second only to Disney's Saratoga Springs Resort & Spa in terms of points.
Sales at Aulani have been modest, at best. Whereas the Villas at Disney's Grand Floridian Resort & Spa, Disney's Polynesian Villas & Bungalows, and Copper Creek Villas & Cabins at Disney's Wilderness Lodge were all built and sold out after Aulani opened in August 2011, Disney is still actively marketing Aulani. Unlike the resorts at Walt Disney World, exact sales figures for Aulani are not publicly available. However, the 2021 budget for Aulani is based on only 298 of its 461 vacation homes being part of the DVC inventory. Thus, it appears that less than two-thirds of Aulani has been sold since sales began in July 2010.
---
Wil Lovato is a contributor to DVCNews.com and has been a Disney Vacation Club owner since 2009. His DVC Home Resorts include Bay Lake Tower, Animal Kingdom Villas, and Aulani. He can be found posting on many Disney discussion forums under the username of "wdrl."
BLOG COMMENTS POWERED BY DISQUS