Seasonal rates & price increases for Disney park tickets
Disney has introduced seasonal pricing for single-day admission to its theme parks, while raising prices on "Magic Your Way" ticket media.
Effective Sunday, February 28, 2016 Disney has introduced seasonal pricing for one day admission to its Florida theme parks. Three unique seasons--Value, Regular and Peak--have been established for pricing on theme park admission. Prices also vary depending upon the age of the guest (adult / child) and other features including park hopping and "water park, fun & more."
Single day admission to the Magic Kingdom continues to exceed the cost of other Walt Disney World parks in all scenarios.
The chart below from our friends at Allears.net outlines all single day ticket options available.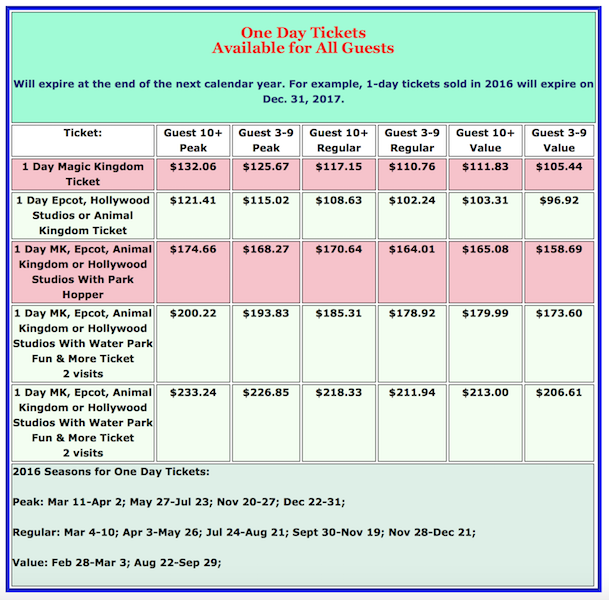 It is important to note that the seasonal pricing currently applies to only single-day admission.
Along with the structural changes to single-day passes, each ticket now includes a stated expiration date. Passes will expire at the end of the next calendar year following the purchase. For example, a ticket purchased any time in 2016 will expire on December 31, 2017.
The "season" designation is applied on the date the pass is used, not the date of purchase. Guests wishing to enter the Magic Kingdom on December 25 must use a Peak Season ticket, regardless of when the purchase is made.
Meanwhile, prices also increased on all varieties of multiday "Magic Your Way" passes. Allears.net has a complete rundown of each ticket by duration and option.
Multi-day passes are not currently subject to peak pricing, theme park rate variations or expiration dates.
Annual pass prices were not impacted by this wave of price increases. The last round of adjustments to the Disney annual pass program occurred back in October 2015.
Similar changes have also been implemented to ticket media for the Disneyland Resort in California.
DVCNews Reader Comments:
Use login box at upper left to comment