2017 Condo Meeting Recap
Disney Vacation Club recently held its annual Condominium Association Meeting, recapping 2017 and previewing the 2018 year. Among topics discussed are renovations at numerous resorts, future website enhancements and more Moonlight Magic dates.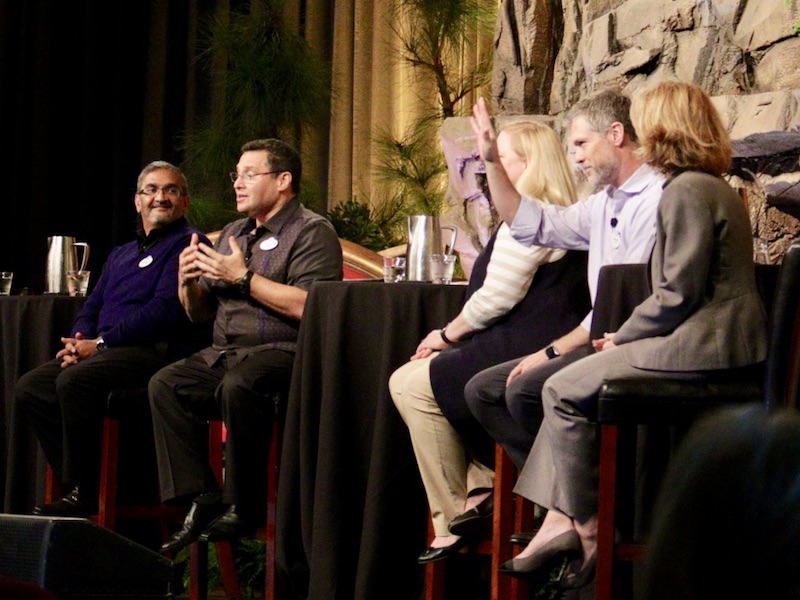 Ken Potrock (second from left) and members of the DVC board
The yearly Condo Assocation Meetings serve as a de facto state-of-the-union address for all fourteen Disney Vacation Club timeshare assocations. Hosted by DVC Senior Vice President Ken Potrock, the meetings are a vehicle for updating owners on many accomplishments over the past 12 months, along with a look toward the future of the program.
Copper Creek Villas & Cabins at Disney's Wilderness Lodge featured heavily in the opening remarks, with Potrock telling attendees that the resort is "recording some of the highest guest ratings" of all resorts at Walt Disney World.
The final piece of that resort-wide refurbishment--Reunion Station--is slated to open in 2018. Potrock confirmed recent reports that Reunion Station will offer concierge-type services to resort guests as a paid add-on. The facility will also host a variety of activities including wine tastings and photography sessions, available for a fee.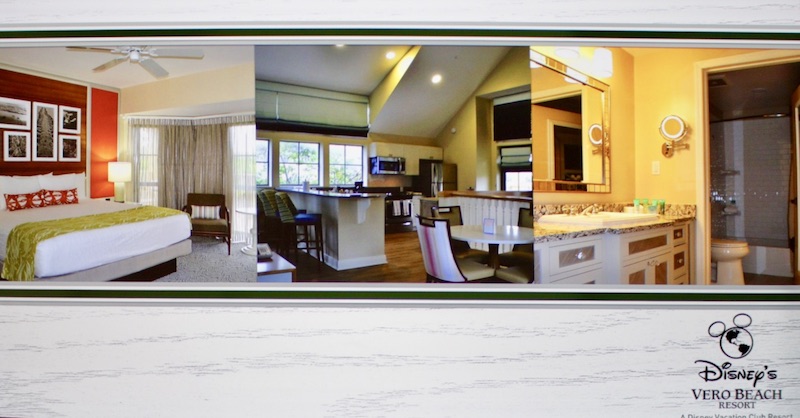 Vero Beach resort renovations
Disney's Riviera Resort, the fifteenth property, was briefly mentioned but with few new details offered. Potrock confirmed that a rooftop restaurant will provide views of nighttime entertainment at both Epcot and Disney's Hollywood Studios. The resort is currently under construction adjacent to Disney's Caribbean Beach Resort with an opening scheduled for fall 2019. Riviera includes a station connecting it to Disney's new Skyliner airborne transportation system.
The guest room refurbishment at Disney's Old Key West Resort is under way, and DVC presented the first public images of renovated villa interiors. The redesign is a result of many months of design work, including multiple revisions to model rooms which were previewed by both Disney executives and DVC members.
The villa refurbishment at Disney's Vero Beach Resort is complete with only the Beach Cottages left to be renovated. One of the Beach Cottages is currently updated.
Disney's Saratoga Springs Resort is the next property in line for guest room renovations. The process starts with an "inspiration room" to be developed in 2018 followed by a full-scale "model room", again with feedback sought from both execs and owners. If all goes according to plan, the full-scale refurbishment will begin in 2019.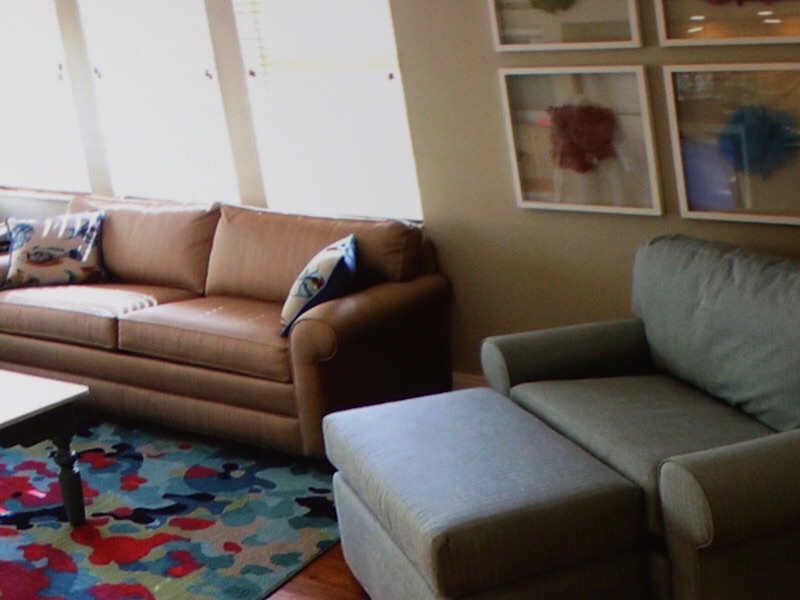 Old Key West room preview
The current renovation schedule for all resorts calls for a modest "refresh" every 7 years with a full "refurbishment" every 14 years. This timline nearly doubles the refurb frequencies from Disney's original plans which featured a refresh at about 12 years and refurb 25 years after a resort first opened.
Among the in-room changes DVC implemented in recent months are larger bottles of H2O bath products, larger bottles of dish soap and a mixture of firm and soft pillows in all rooms. They remain focused on "improving the sleep experience" by upgrading pillows, mattresses, bed toppers and linens.
Hosekeeping remains a focus with quality improved through new training methods, new standards, new tools and new technology. Resorts also continue to improve their wireless Internet service, particularly during refurbishments when hardware is more accessible.
Resort budgets are always a topic at the annual meeting, with the condo assocation Board of Directors meeting to approve numbers for the coming year.
In 2018, Disney's Vero Beach Resort, Disney's Hilton Head Island Resort and Saratoga Springs all had their dues impacted by Hurricane Irma storm damage. Property insurance features a $1 million deductible per named storm across all DVC resorts combined. All three of the condo associations above saw some charge to 2018 dues to cover a portion of that deductible.
Hurricane Irma had a secondary impact on member dues as it relates to the capital reserves budget. Due to demand for skilled trade workers across the state of Florida, labor rates have risen sharply. This has raised the cost of projects currently under way, including the Old Key West renovation. Capital reserves budgets were adjusted to account for the projected rise in labor costs.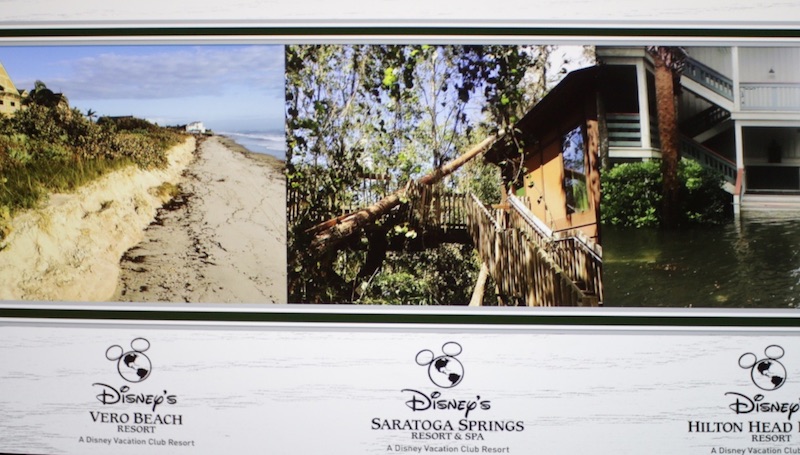 Hurricane Irma storm damage
Cast member wages and benefits also continue to drive up operating costs at all properties.
During a brief budget-focused Q&A session, one member asked if anything could be done to improve the design of roll-in showers in handicapped-accessible rooms so that they do not leak excessively. Potrock claimed they will try to gather more information and give the matter closer attention during the upcoming Saratoga Springs refurbishment.
Moving on to member perks, Moonlight Magic continues to be an extremely popular program among owners. Fourteen sessions are currently scheduled for 2018 with at least one per month through November. Shannon Sakaske, Vice President Member Experiences and Club Management for DVC, claims that "more [Moonlight Magic] dates are yet to come" in 2018.
Over 300,000 owners have visited the exclusive member lounge in Epcot over the last year. And the recent debut of customized member merchandise at shopDisney.com saw a five-fold increase in order volume.
In 2018, the DVC member website will be updated to allow existing reservations to be modified online. Until now, only new bookings or cancellations could be performed online while changes required a call to Member Services. No specifics were given as to how the feature will work or when it will go live.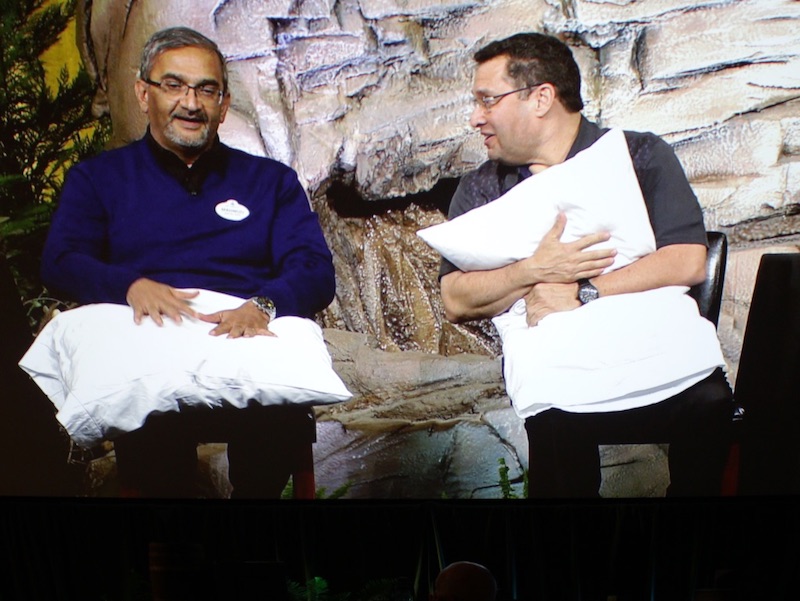 Better pillows? Yes, better pillows
Sakaske closed by stating that "many, many more" Membership Magic programs are in development, "none of which impact your member dues."
In his closing comments, Ken Potrock claimed that he is often asked why they provide the perks and benefits under the umbrella of Membership Magic. The answer is that happy memners are the best salespeople; "you are unequivocally our best advocates."
The next Condo Association Meeting is planned for December 13, 2018 with time and place to be determined.