The Walt Disney World area of central Florida along with Disney's Vero Beach Resort are expected to encounter wind and preciptiation associated with Tropical Depression Nine, but the impact does not appear to be significant enough to invoke Disney Vacation Club's hurricane policy.
As of early Friday morning, the storm was making its way through the Caribbean with the most direct impact expected in Aruba, Bonaire,
Curacao, Jamaica and the Cayman Islands. Current projections have the storm turning north toward central Florida early next week. Hurricane-force winds could develop, though the strongest system is expected to remain off the western short of Florida. Per the model below, the Disney and Vero Beach areas would see winds in the 20-30 MPH range. Significant rainfall may also accompany the storm system.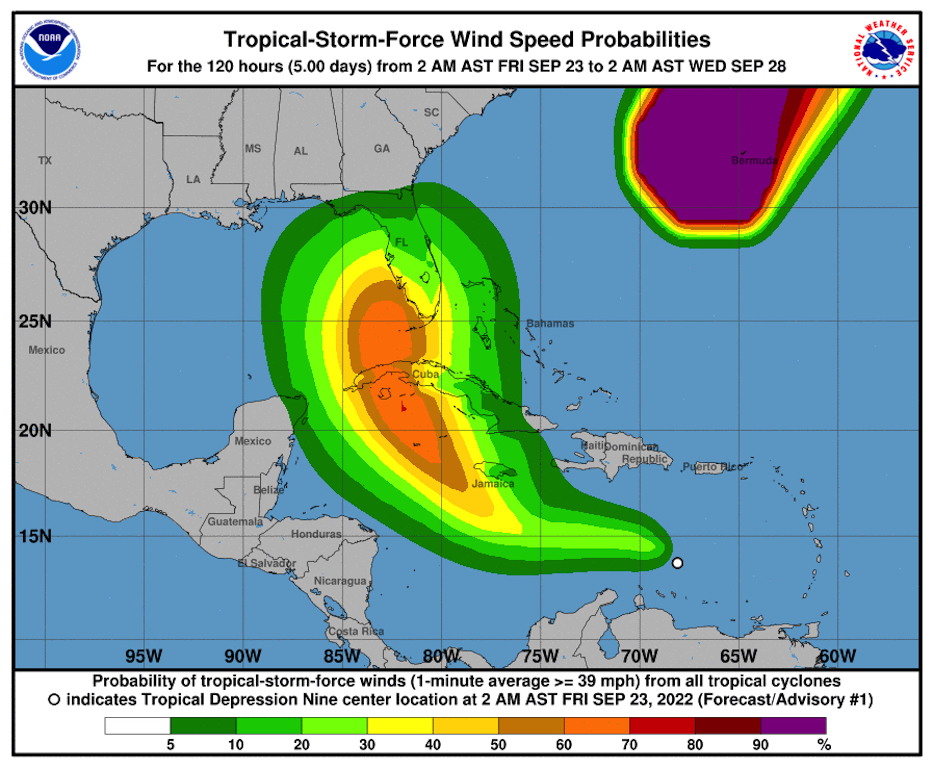 These projections could very well change before the storm approaches the Disney area 3-4 days from now.
Disney Vacation Club's hurricane policy allows penalty-free modifications to reservations, but only if a warning is issued by the National Hurricane Center for the area surrounding a DVC resort or the member's place of residence. The policy is as follows:
Annually, from June 1 to November 30, in the event a hurricane warning is issued by the National Hurricane Center of the Orlando area, Vero Beach area, Hilton Head Island, O'ahu or for the Member's place of residence within 7 days before the scheduled arrival date, the Member may call Member Services at (800) 800-9800† or (407) 566-3800† prior to Check-in to cancel or reschedule, based upon availability, their Disney Vacation Club Resort reservation without any cancellation or modification penalty.
Those with concerns should contact DVC Member Services to discuss their situation.
BLOG COMMENTS POWERED BY DISQUS