The Disney Vacation Club resorts at Walt Disney World have received their 2020 property tax notices. For most resorts, taxes are going up, but for two resorts property taxes are going down compared to the year before.

Copper Creek Villas & Cabins
Property tax amounts are based on two factors: appraisal values and the millage rates set by the taxing authorities.
In 2020, appraisal values increased for all resorts. Disney's Riviera Resort, which began operation in late 2019, is not included in these comparisons. Six of the other ten DVC resorts had their appraisal values increase 10.0%. Disney's Saratoga Springs Resort & Spa saw its value increase 6.5%, while Boulder Ridge Villas at Disney's Wilderness Lodge and Disney's Old Key West Resort had increases of only 2.5% and 2.0%, respectively. Copper Creek Villas & Cabins had the largest increase in its appraisal value, 17.5%, but this was due to the resort not being completely declared for part of 2019.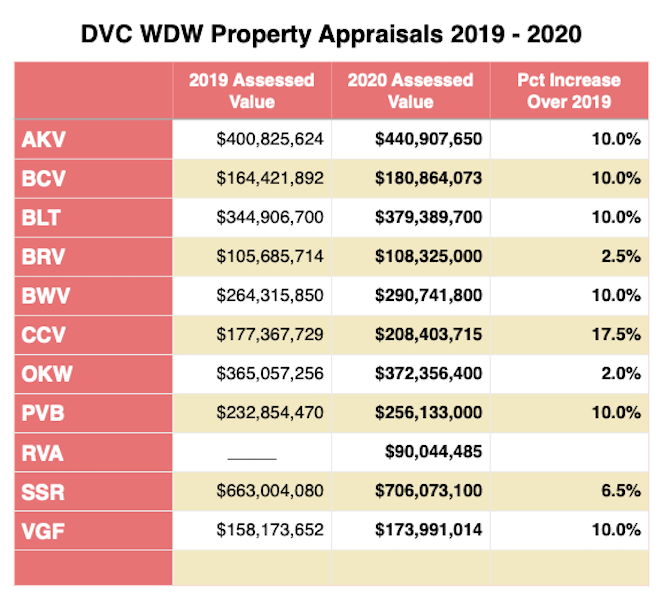 These increase are greater than the year before. In 2019, four resorts had virtually no change in their appraisals from 2018. Only two resorts, Disney's Beach Club Villas and the Villas at Disney's Grand Floridian Resort & Spa, saw their assessments increase by 10% from 2018 to 2019.
In addition to its property appraisal value, a resort's tax bill is dependent on the millage rates set by the taxing authorities in whose jurisdiction the resort resides. Each DVC resort is subject to taxes levied by seven taxing authorities, including a city property tax. Old Key West and Saratoga Springs are taxed by the City of Lake Buena Vista, while the other nine resorts are subject to taxation by the City of Bay Lake.
In 2020, all taxing authorities either reduced their millage rate or kept it unchanged from 2019. Three taxing authorities that levy taxes on DVC properties — School Local, Orange County, and Library — did not change their millage rates in 2020. School taxes set by the State of Florida is decreasing by 6.5% and the South Florida Water Management District is reducing its millage rate by 4.3%. The cities of Bay Lake and Lake Buena Vista are also reducing their millage rates by 5.9% and 4.6%, respectively. The Reedy Creek Improvement District, which has the single largest millage rate of the DVC taxing authorities, is lowering its rate by 5.7%.
Overall, in 2020 the millage rates are decreasing 5.7% for Old Key West and Saratoga Springs and 5.8% for the other nine resorts. In 2019, the millage rates for the two groups of resorts declined by only 1.3% and 1.6%.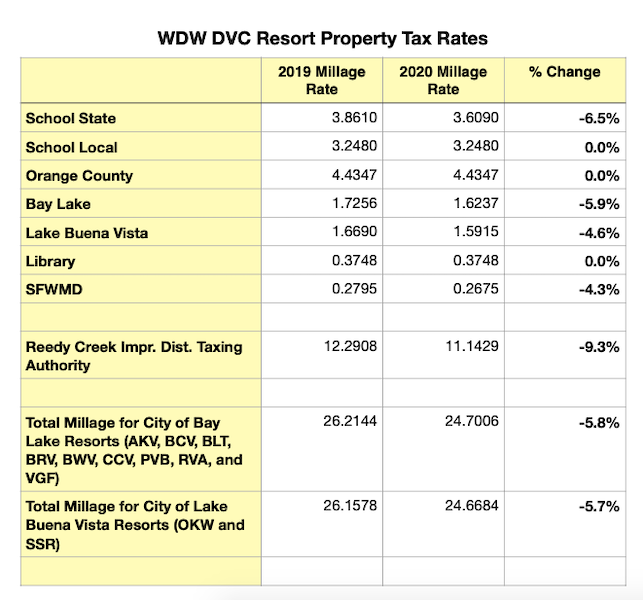 The combination of modest increases in property appraisals and lower millages has resulted in two resorts have lower tax bills in 2020 than in 2019. Boulder Ridge Villas' property taxes are going down 3.4%, or $0.0479 per point, while Old Key West's property taxes will drop 3.8%, or $0.0455 per point.
It is not surprising, given that it is now fully declared, Copper Creek Villas & Cabins has the largest increase in its tax amount in 2020 at 10.7%. Among the DVC resorts that have been in operation for some time, Beach Club Villas has the largest increase in its property taxes at 8.3%.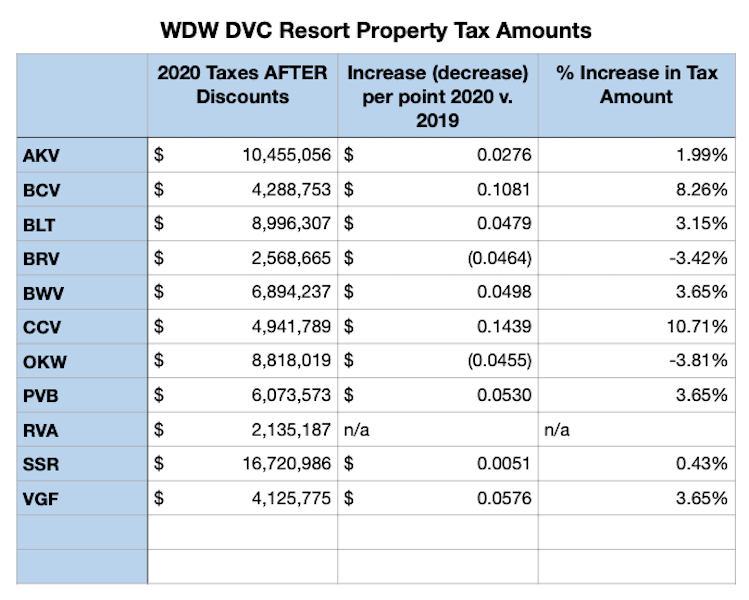 Based on these property appraisals and millage rates, the eleven DVC resorts have a cumulative tax bill of $76,018,347. This reflects the 4% discount given if the property taxes are paid by November 30.
Disney Vacation Club is expected to release full 2021 annual dues estimates by the end of November. The amounts will then be approved by the Board of Directors at the 2020 Condominium Assocation Meeting on Thursday, December 10.
---
Wil Lovato is a contributor to DVCNews.com and has been a Disney Vacation Club owner since 2009. His DVC Home Resorts include Copper Creek Villas, Bay Lake Tower, Animal Kingdom Villas, and Aulani. He can be found posting on many Disney discussion forums under the username of "wdrl."
BLOG COMMENTS POWERED BY DISQUS