A new Disney Vacation Club application is available for iPhone and iPod Touch owners.  The app is called "D Point" and it can assist owners with calculating the number of points needed for their DVC reservations.

UPDATE:  The D Point app was recently enhanced to include 2011 point values, saving of reservations and more!
The app allows users to select a resort, room size/view, arrival date and the length of the stay.  It will then display the number of points required for the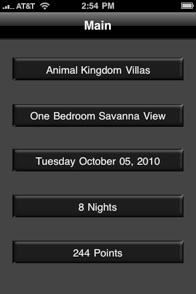 stay.
The program is particularly useful when comparing the point requirements for different resorts and views.  Changing any of the selections will immediately recalculate the point calculation.
In January 2010 D Point was updated to include the following new features:
Save reservations
90 and 180 day calculations
7 and 11 month calcuations
Save member ID and Use Year
Banking reminder
Organize and remove saved information
Email information
Countdown to arrival
Additional information, screenshots and a preview video can be found by visiting www.virtualmickey.com.  The program is currently available in the iTunes App Store for $1.99.  Upgrades are free to previous purchasers.
BLOG COMMENTS POWERED BY DISQUS