Disney is in the middle of its marketing efforts for Copper Creek Villas & Cabins at Disney's Wilderness Lodge, the newest Disney Vacation Club Resort. Nevertheless, Disney has already taken the preliminary steps to market the next DVC resort.
On July 17, 2018, Disney received a timeshare license from the Florida Department of Business and Professional Regulation to sell DVC points for Disney's Riviera Resort. The Riviera will become the 15th DVC resort in the system and the 11th located at Walt Disney World.
The license authorizes Disney to sell 17,391 timeshare weeks for the Riviera, which is the equivalent of 341 vacation homes. Although this tells us how many vacation homes the Riviera will have, we still don't know anything about the mix of accommodation types at the new resort. A vacation home can be anything as small as a dedicated studio or as large as a three-bedroom grand villa. For example, Copper Creek has 184 vacation homes, which includes a mix of dedicated studios, dedicated one-bedrooms, dedicated and lockoff two-bedrooms, grand villas, and cabins; Disney's Polynesian Villas & Bungalows has 380 vacation homes made up of only dedicated studios and bungalows.
The chart below shows the timelines for the last three DVC resorts that have opened at Walt Disney World. Disney received timeshare licenses for the Villas at Disney's Grand Floridian Resort & Spa, the Polynesian Villas and Copper Creek Villas & Cabins about 5 to 7 months before it began sales for each resort. In addition, those resorts opened their doors within 9 to 10 months after Disney received their respective timeshare license.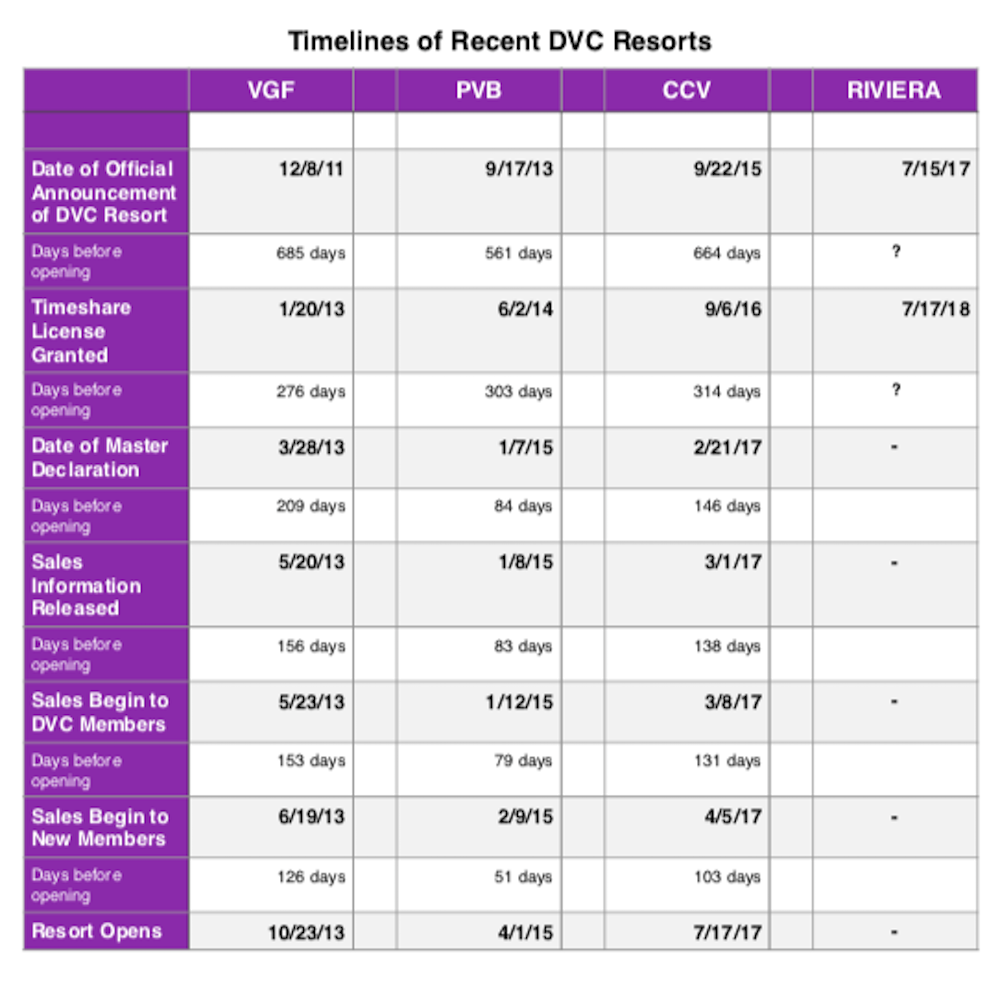 Now that it has a timeshare license for the Riviera, Disney can begin marketing the Riviera at any time. Does this mean that Disney will start selling the Riviera Resort soon, or that the Riviera is trending toward an opening in May 2019?
The simple answer is: we still don't know. Disney has previously stated that the Riviera Resort will open in the Fall 2019, which is between 14-16 months away. If Disney followed the timelines of the last three DVC resorts, Riviera sales would begin around January 2019 with a grand opening around May 2019. However, Disney could follow an entirely different timeline for the Riviera.
Back in 2008, sales for Bay Lake Tower at Disney's Contemporary Resort started about 11 months before the resort opened. Aulani, Disney Vacation Club Villas began selling almost 14 months befor the resort welcomed its first guest. So almost anything is possible.
More than half of the 3.2 million points at Copper Creek currently remain unsold. Our most aggressive estimates suggest Disney could begin to exhaust its supply of Copper Creek points around June 2019. The early filing may be Disney Vacation Club's way of keeping its options open. If demand for Copper Creek remains strong over the next 6-9 months, an early launch for Riviera sales would not be out of the question regardless of construction progress.
---
Wil Lovato is a contributor to DVCNews.com and has been a Disney Vacation Club owner since 2009. His DVC Home Resorts include Bay Lake Tower, Animal Kingdom Villas, and Aulani. He can be found posting on many Disney discussion forums under the username of "wdrl."
BLOG COMMENTS POWERED BY DISQUS