Star Wars Village Name, Opening Timeframe Revealed
This weekend brought some new information regarding Star Wars: Galaxy's Edge at both Disneyland and Walt Disney World Resort.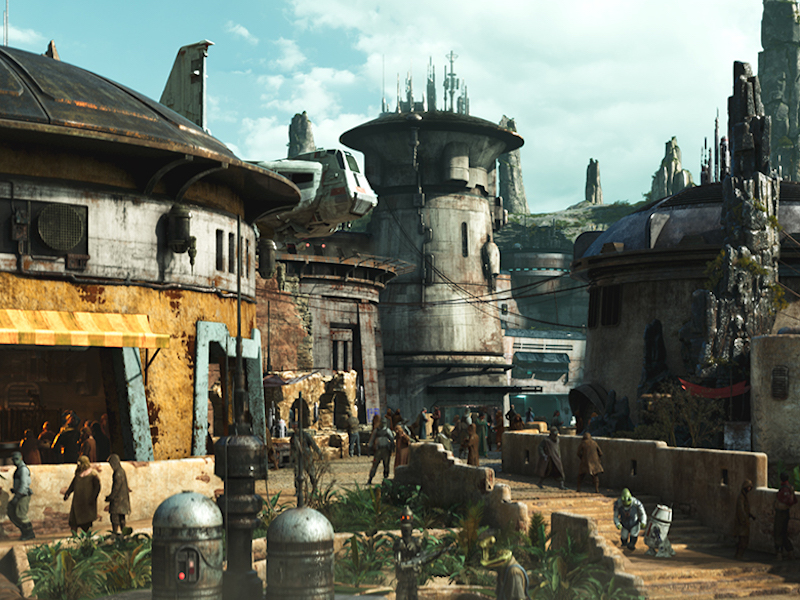 Black Spire Outpost Concept
Disney has revealed the opening timeframe for its new Star Wars projects at on both coasts. The 14-acre expansion at Disneyland is now slated to open sometime in the summer of 2019. Meanwhile its east coast counterpart at Disney's Hollywood Studios will debut in the late fall 2019.
Anecdotally, it seems reasonable to conclude that Disney executives would love to have the Disneyland expansion open before July 4th while the Florida twin would go a long way toward absorbing the Thanksgiving and Christmas crowds. Of course this is purely speculation and any number of construction or start-up delays, particularly involving the lands' two new attractions, could contribute to a later opening.
Opening Announcement Video
Even with the uncertainties, fall 2019 is likely to see even higher demand from Disney Vacation Club members than is currently the case.
Meanwhile, during the fan events at Star Wars: Galactic Nights, Disney Imagineers revealed that the village featured in Galaxy's Edge is known as Black Spire Outpost. Located on the planet of Batuu, Black Spire Outpost is "an infamous stop for traders, adventurers, and smugglers traveling around the Outer Rim and Wild Space."
Galaxy's Edge represents the largest single expansion for any Disney theme park. Both the east coast and west coast versions are expected to feature two new attractions--including a Millennium Falcon flight simulator--along with themed dining and shopping venues. A Star Wars-themed hotel was announced for the Florida destination but few details have been revealed thus far.