Although Disney filed a new permit application for the site of the proposed Disney Vacation Club resort, it likely does not signal construction is about to resume.
On September 15, 2020, Walt Disney World filed a new permit application for work to take place at 4500 Big Pine Road. This site is the address of the proposed DVC resort Reflections, a Disney Lakeside Lodge. The description of the project is simply described as "General Construction", leaving us to speculate about the nature of the work. The site is remained dormant since March 2020 and rumors have spread that the resort project is either delayed indefinitely or cancelled.
This permit could portend the resumption of active construction. Or it could represent work to further wrap-up any near-term activity at the site. The fact that the permit is scheduled to expire on November 30, 2020 suggests the latter. Whatever work is tied to this specific permit will be completed in about 75 days.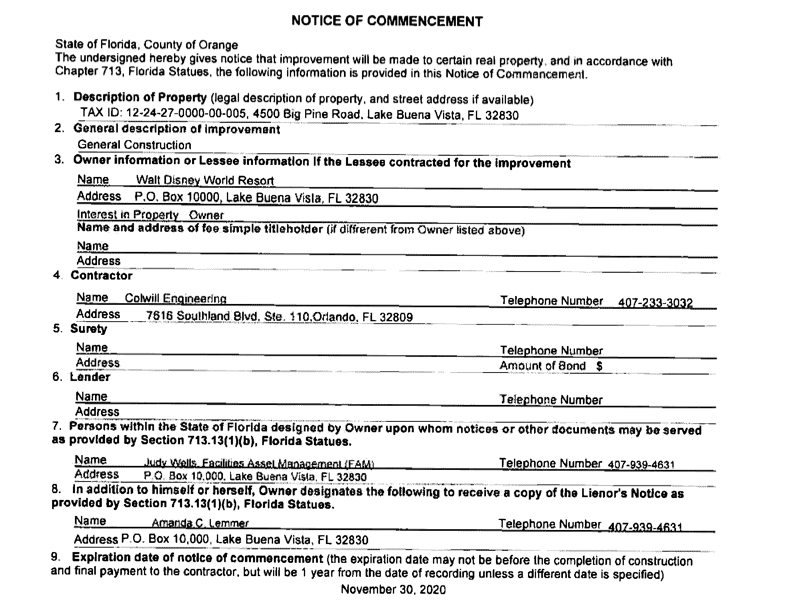 Reflections was to be a combination resort hotel and Disney Vacation Club timeshare, located on the former site of the River Country waterpark. COVID-19 has slowed the pace of DVC point sales, delaying the need for an additional resort. Meanwhile, Disney is pressing forward with a new DVC resort on the grounds of Disneyland Hotel. This could give them 3 separate properties to market, along with Disney's Riviera Resort and Aulani, Disney Vacation Club Villas.
Disney has not publicly commented on the future of Reflections, however they seemingly removed all mentions of it from various Disney and DVC websites.
BLOG COMMENTS POWERED BY DISQUS