Vero, Treehouses Close as Irma Heads for Central Florida
Operations at two Disney Vacation Club resorts will be directly impacted by Hurricane Irma with other Walt Disney World events and services likely to join the list.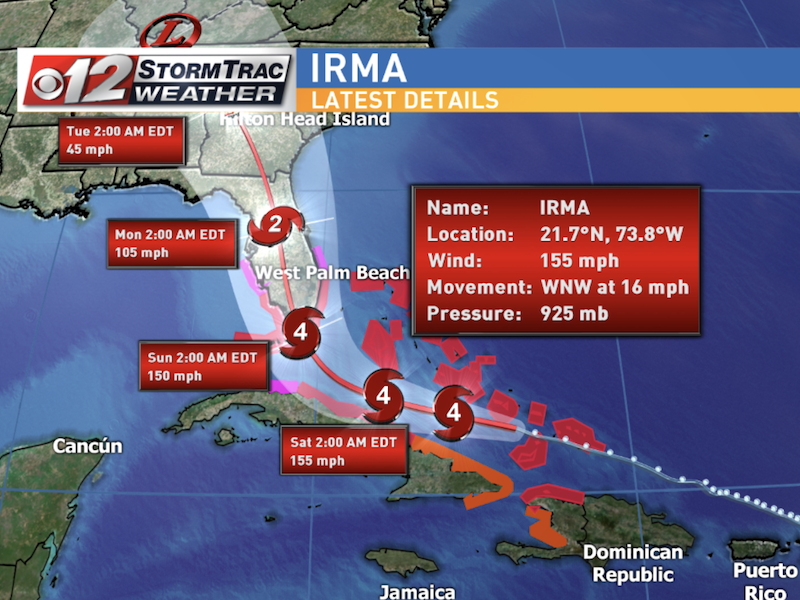 Hurricane Irma projected track, 9/8/17, 5:00am (courtesy CBS12.com)
The State of Florida has begun massive plans to cope with a storm track which may take Hurricane Irma right up the center of the state. Among the closures and cancellations which have already been announced are the following:
Disney's Vero Beach Resort will close at 2pm on Friday, September 8.
The Treehouse Villas at Disney's Saratoga Springs Resort & Spa are being evacuated with guests offered alternate accommodations on property.
Disney's Fort Wilderness Resort & Campground will close on Saturday, September 9. All vacationers must remove their vehicles from campsites by 2pm. Additionally, resort events including Mickey's Backyard BBQ and the Hoop-Dee-Doo Musical Review have been cancelled through Monday, September 11.
Night of Joy events scheduled for Saturday, September 9 have been cancelled.
Mickey's Not So Scary Halloween Party scheduled for Sunday, September 10 has been cancelled.
The Orlando International Airport will close at 5pm on Saturday, September 9.
Orlando Sanford International Airport will close at 5:30pm on Saturday, September 9.
At this time, Walt Disney World has not announced any adjustments to theme park operations. However, current and incoming guests would be advised to keep tabs on the situation.
South Carolina leaders are expected to make a decision on any mandatory evacuations by Friday afternoon. The current storm track leaves Disney's Hilton Head Island Resort on the fringes of the impact area.
Hurricane Irma has weakened to a Category 4 storm with winds in the range of 131-155 miles per hour. If current weather models hold true, the storm may head right for the Orlando area but will do so as a weakened Category 2 hurricane with winds up to 110 mph. Disney Vacation Club's hurricane policy remains in force with no-penalty cancellations offered to all incoming guests. Cash reservations may also be cancelled with no penalty.
Third-party storage provider Owner's Locker is asking all guests to keep them appraised of changes to vacation plans so they can manage guest needs appropriately.
Source: Orlando Sentinel, Post and Courier