2022 Disney Vacation Club Condo Association Meeting Recap
The super-sized Disney Vacation Club Condominium Association Meeting offered owners a recap of 2022, a look ahead to 2023 and a lively member Q&A session.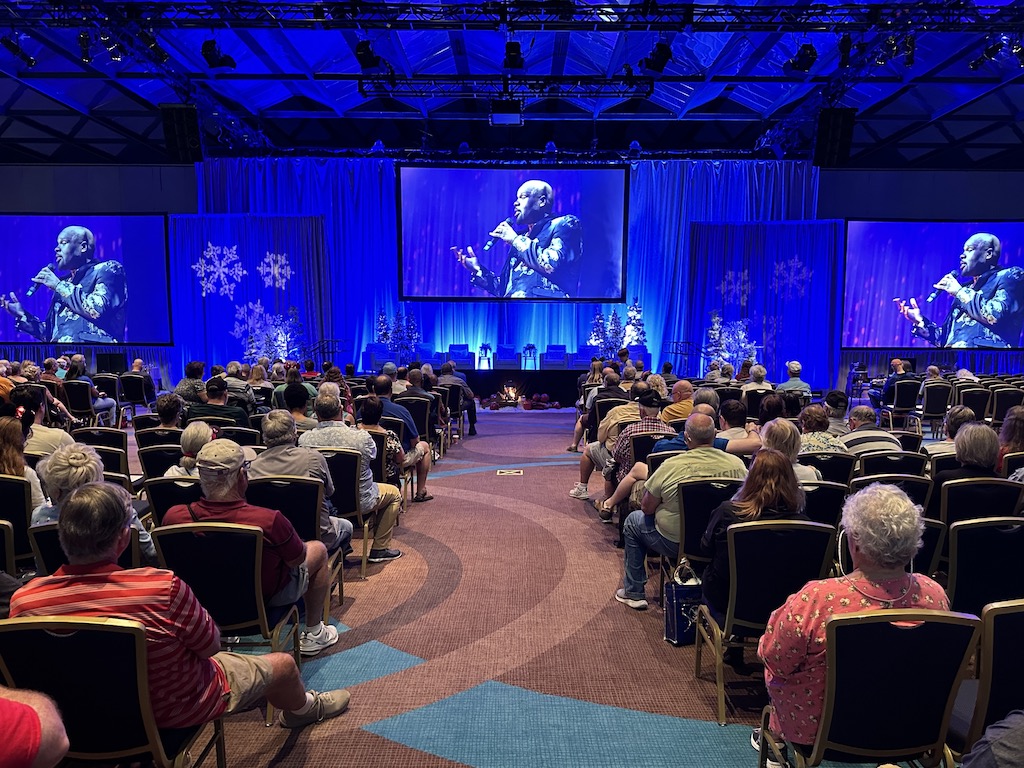 The 2022 Condo Meeting recapped a lot of what members already knew--especially if they follow sites like DVCNews.com--and offered a few previews for 2023. But ultimately the content came up short on specifics. Clocking in at two hours, it was the longest condo meeting in memory with recent affairs seeminly hard capped at just one hour.
Yolanda Cade, VP of Public Affairs, Disney Signature Services was brought in to act as M.C. for the event. Cade injected a dose of levity into what is typically a very dry--and occasionally contentious--affair. Additionally, the agenda for the event was flipped, placing the member-friendly discussion of 2022 successes and 2023 plans at the beginning of the session rather than at the end.
DVC paid a lot of lip service to the challenges faced during the COVID-19 pandemic, and how happy they are to see the continued return to normalcy. In the words of DVC Senior VP and General Manager Bill Diercksen "As the impact of the pandemic is lessening, we're excited about offering more of the programs you all enjoy."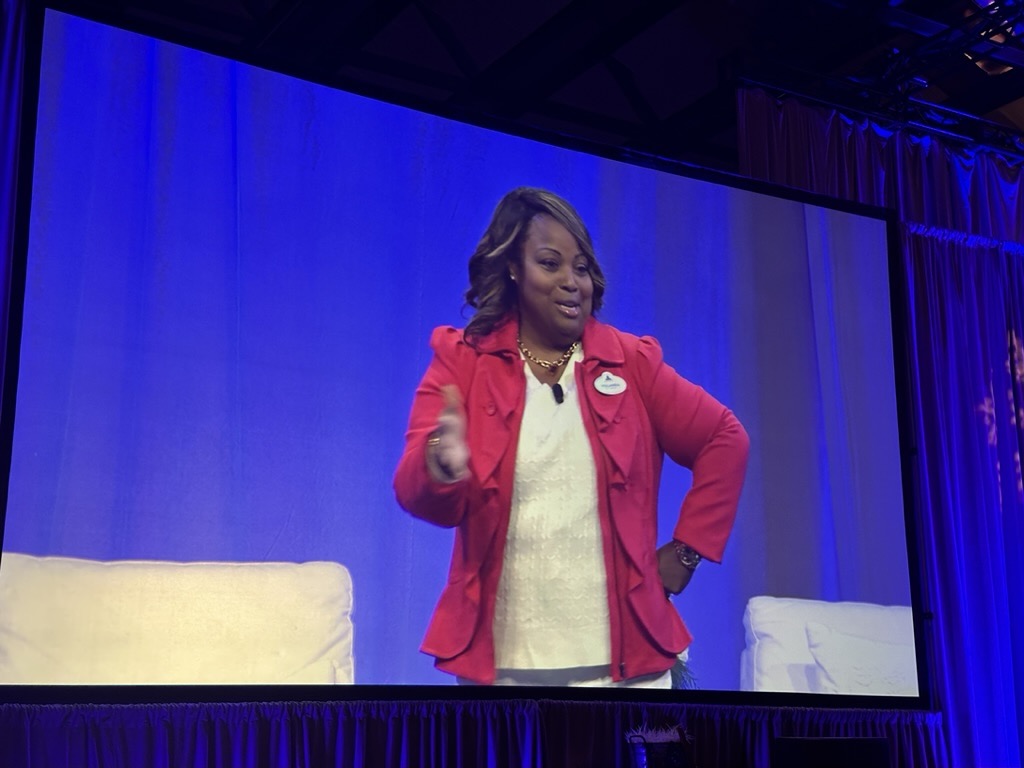 Yolanda Cade
DVC recapped many of its perks and exclusives from 2022 which included:
11 nights of Moonlight Magic
Reopening of Top of the World Lounge - A Villain's Lair
Member Cruise to Alaska and 2nd ever voyage of Disney Wish
Attraction preview of Guardians of the Galaxy: Cosmic Rewind
Multiple theatrical film previews
Halloween Meet and Treat at Atlantic Dance Hall
Change in trading company from RCI to Interval International
For 2023 VP of Member Experiences Shannon Sakaske confirmed that Moonlight Magic will return. An event is planned for Disney California Adventure in early 2023 with other dates throughout the year. No specifics were revealed.
Brief mention was given to the new Villas at Disneyland Hotel--which is scheduled to open in 2023--and the new tower under construction at Disney's Polynesian Village Resort. No new details were provided for either project. Also Star View Station will open in the first half of 2023 as the members-only private lounge in Disneyland's Tomorrowland. Similar to the existing lounge at EPCOT, Star View Station will provide qualifying members with a space to relax and recharge electronic devices while enjoying complimentary snacks and drinks.
A detailed room refurbishment schedule was provided, listing 6 resorts scheduled for updates over the next 24 months.
Four resorts are earmarked for a full renovation. Those include Boulder Ridge Villas at Disney's Wilderness Lodge (currently in progress), Disney's Hilton Head Island Resort, Disney's BoardWalk Villas and Bay Lake Tower at Disney's Contemporary Resort.
Disney's Beach Club Villas and Disney's Vero Beach Resort will both receive a lighter "refresh" in 2023.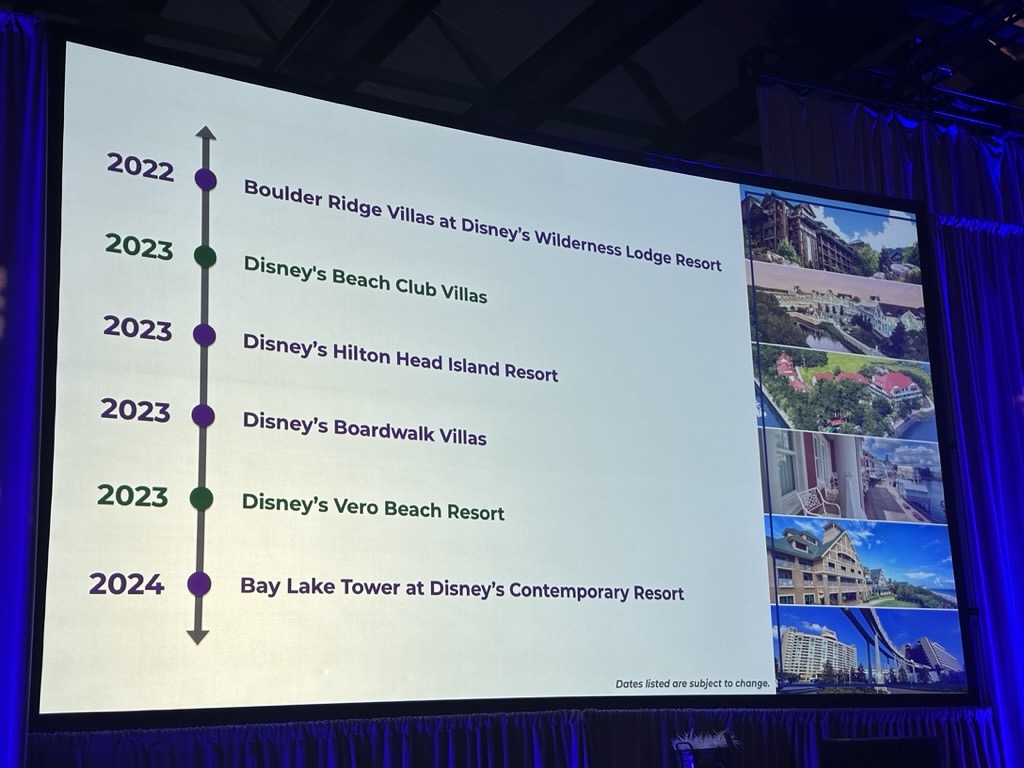 DVC had previously cited a 2024 renovation of Villas at Disney's Grand Californian Hotel & Spa. That project was not included in the more recent update and its status remains unclear. With 4 resorts scheduled for refurbishment in 2023 and only one confirmed for 2024, it is conceivable that the list of 2024 projects will be expanded as plans are finalized.
We have updated our DVCNews Refurbishment Tracker to reflect this latest information. Note that dates in yellow have been officially confirmed by Disney Vacation Club while all dates in red are simply estimates based upon established timelines. All of this information is subject to change.
Among changes to the in-room guest experience are conversion to the new digital TV service--which has currently been added to about 60% of Disney guest rooms--expansion of the Character Caravan program and pending roll-out of the "Hey, Disney!" digital voice assistant.
2023 annual dues for all resort were reviewed and approved. Increases in costs were largely driven by factors like higher occupancy level of DVC villas, rising insurance costs and "return to normalcy" of some resort services post-COVID.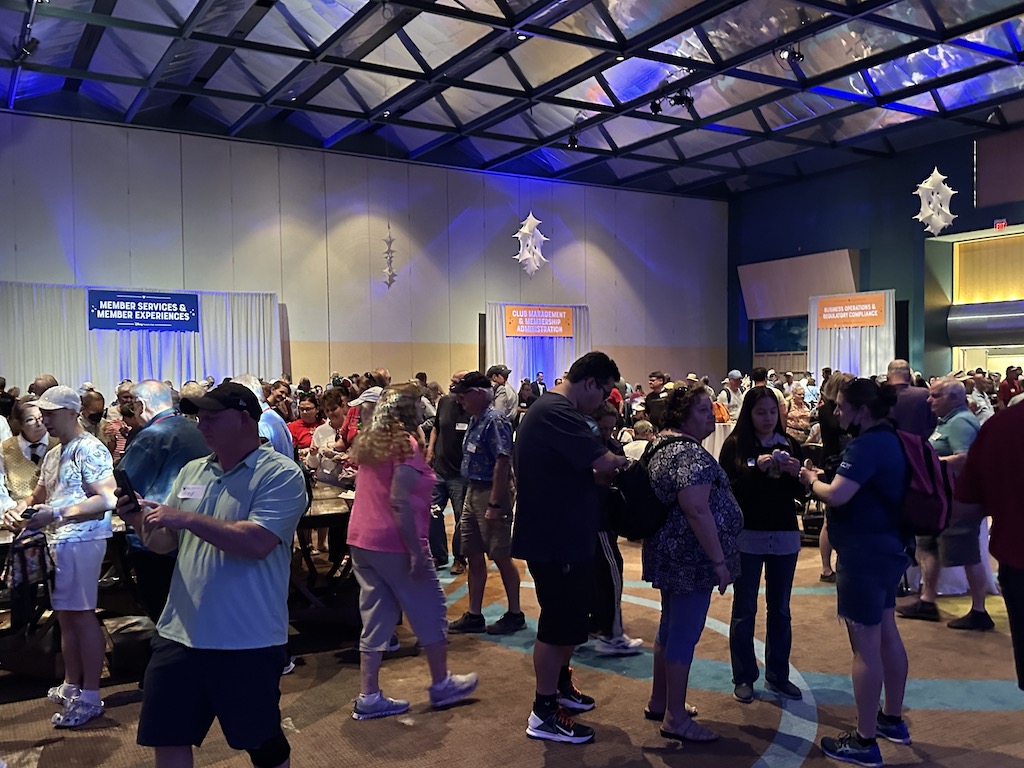 Finally attendees were given the opportunity to ask questions during a Q&A session that was doubled in time from prior years. Some of the questions were difficult-to-impossible for this audience to address. Unfortunately Bill Diercksen and other members of the DVC board can offer little insight regarding Annual Pass availablity, struggles with the Park Pass reservation system or the future of the Reedy Creek Improvement District. Beyond those topics, other feedback included:
Excessive telephone wait times of 90+ minutes for Member Services, particularly when booking a cruise using points
Member who insisted it is written into contract that "the point charts will never change"
Concerns that DVC funds are being used to pay down debt of The Walt Disney Company
Lack of Handicapped Accessible accommodations at Disney's Old Key West Resort
Inability of non-guests to visit / park at Disney's Riviera Resort
One member was frustrated with the fact that the Moonlight Magic lottery system favors hotel guests over members who live locally, also that so many non-members are apparently being allowed to attend based upon social media posts. Shannon Sakaske responded that they feel it is appropriate to give priority non-locals who have fewer opportunities to attend the events throughout the year. Qualifying members can reserve attendace equal to the maximum occupancy of their villa room. This does lead to many non-members attending, but DVC feels this is a better approach than potentially excluding members' traveling companions.
Finally, the topic of member apprecation was raised a number of times, with several commenters suggesting DVC owners should have better perks and benefits.
Sakaske offered a frank response to that criticsm, pointing out that the value of DVC ownership lies in the discounted accommodations. Paraphrasing, he stated that the rates DVC members have locked-in are far below nightly rental rates for comparable Disney hotels and villas. However, he and his team are constantly looking for creative ways to bring discounts and unique experiences to Disney Vacation Club members.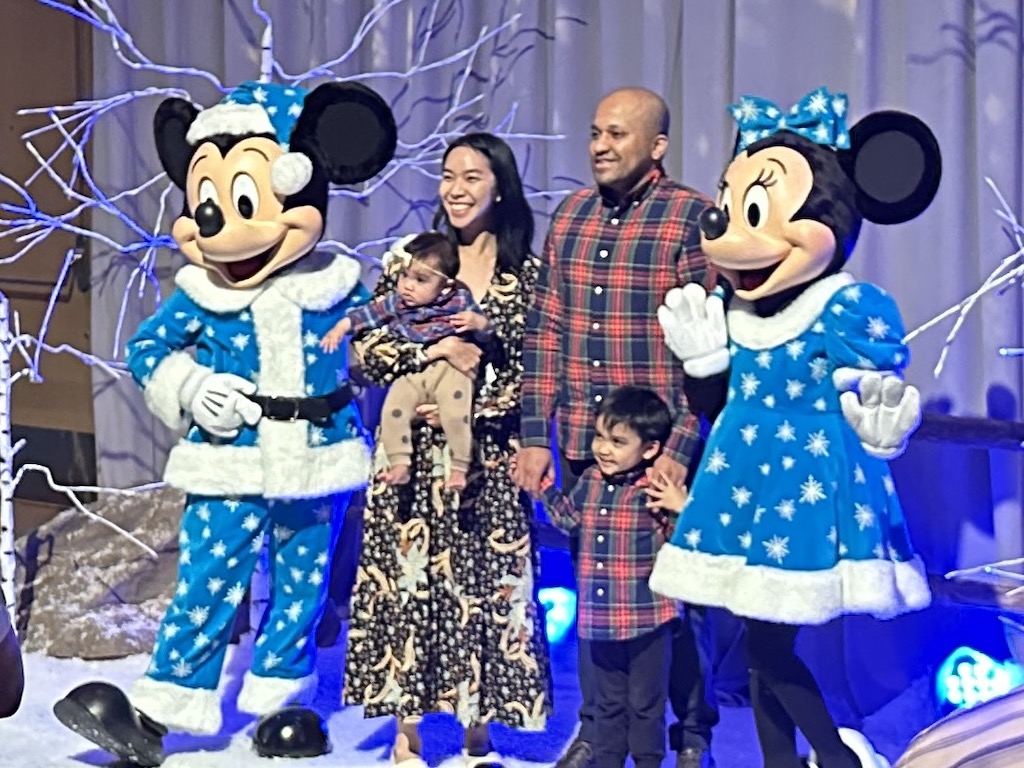 As the meeting concluded, members were invited to move to an adjoining ball room where DVC executives and resort managers made themselves available to meet owners. Complimentary cookies, trail mix and beverages were provided. Mickey and Minnie Mouse were on-hand posing for photographs.
The next annual Condo Associaton Meeting is scheduled for Thursday, December 7, 2023.