2019 Condo Association Meeting Recap
During the 2019 Condominium Association Meeting, Disney Vacation Club leadership provided an overview of upcoming program changes including a resort refurbishment schedule, insight on the updated points charts, a few new perks and more.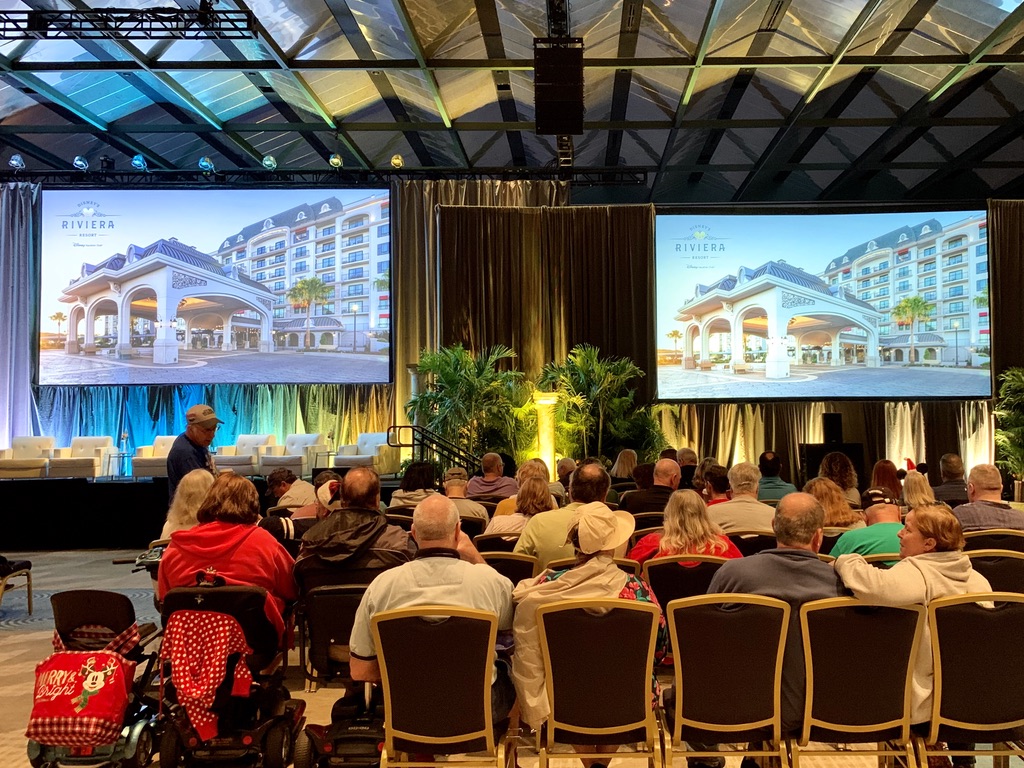 The meeting, held at Disney's Contemporary Resort on Thursday, December 12--which is part regulatory obligation and part feel-good touchstone for members--provided some noteworthy information regarding the future of the program.
Terri Schultz, Senior Vice President of Disney Vacation Club opened the session with a series of remarks stressing the importance of member satisfaction, stating that members are "what makes Disney Vacation Club such a special part of our company."
Schultz introduced Disney's Riviera Resort, the 15th DVC property which is scheduled to open on Monday, December 16th. Also mentioned were two other proposed resorts: Reflections, a Disney Lakeside Lodge which has a planned 2022 opening at Walt Disney World, as well as a forthcoming 300-unit propery on the grounds of Disneyland Hotel in California. Both resorts are in early stages and no new details or concept artwork were revealed.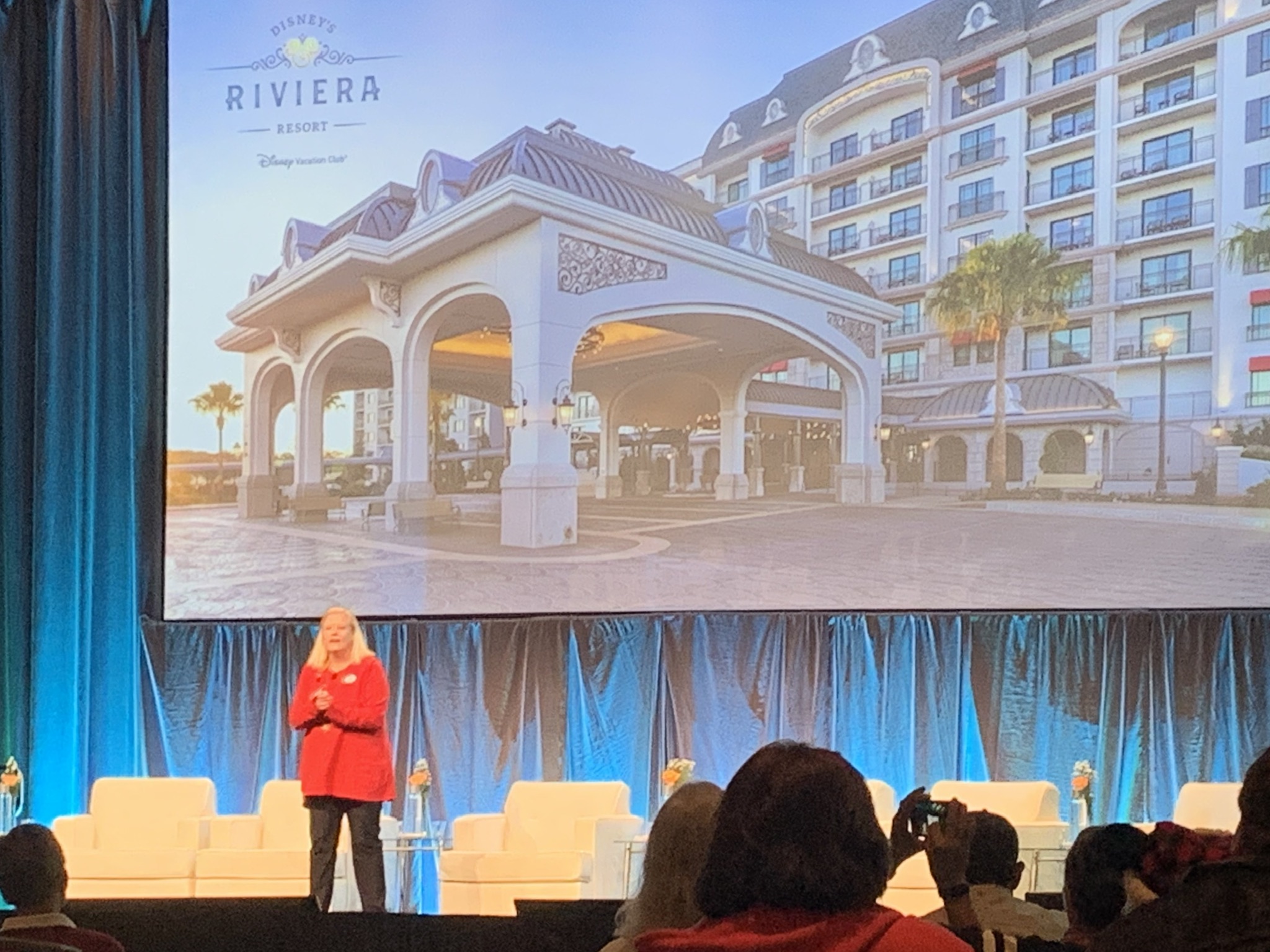 Mahmud Dhanani, Vice President of Resorts highlighted several key achievements throughout the past year. Following the completion of the in-room refurbishment at Disney's Old Key West Resort, guest satisfaction increased in 12 of 13 key measures while response to the 13th was unchanged. Overall, satisfaction scores across all resorts have been on the rise for 19 straight months with some categories reaching all-time highs.
Disney's Saratoga Springs Resort & Spa is currently in the midst of a full refurbishment which is scheduled to run through 2021. Changes include the addition of the pull-down Murphy bed style sofas in all villas. Several buildings have completed their refurbishment and guest response to the updated villas has been very favorable.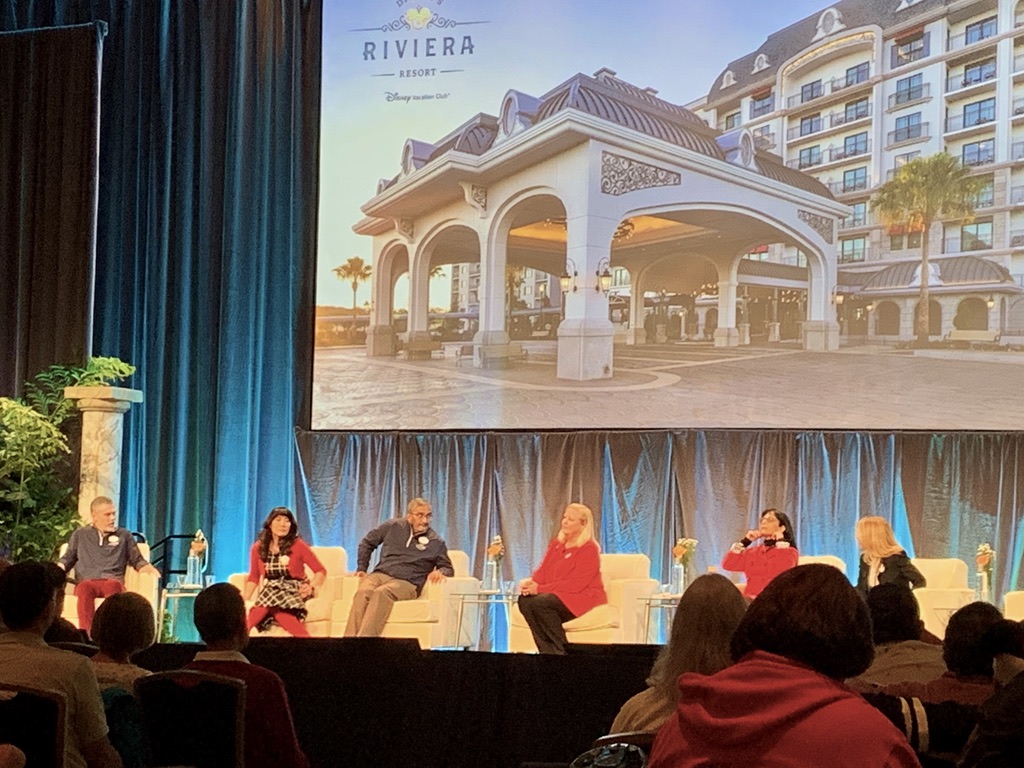 Four resorts are schedule for an upcoming "refresh", which includes modest changes to wall and floor coverings, linens and other decor. Included are:
Aulani, Disney Vacation Club Villas (2020)
Villas at Disney's Grand Floridian Resort & Spa (2021)
Disney's Polynesian Villas & Bungalows (2022)
Disney's Beach Club Villas (2022)
Two other resorts will have a full refurbishment during the next three years:
Boulder Ridge Villas at Disney's Wilderness Lodge (2020)
Disney's Hilton Head Island Resort (2022)
The full refurbishment is a complete update to the villa interior which may include new cabinets, countertops, appliances, moldings, bathroom tile, plumbing fixtures and more.
The current schedule calls for resorts to receive a refresh every 7 years and a full refurbishment every 14 years.
Dhanani claims that transitioning resorts to the refillable, wall-mounted shampoo and soap dispensers has already eliminated 33 tons of plastic waste. Laundry detergent and dish soap supplied in DVC villas has been changed to an environmentally-friendly brand called Ecos.
During the Board of Directors Meeting and subsequent Members Meeting, the proposed Annual Dues for 2020 were formally presented and approved. The slides below provide a brief summary of the changes which were previously distributed to members.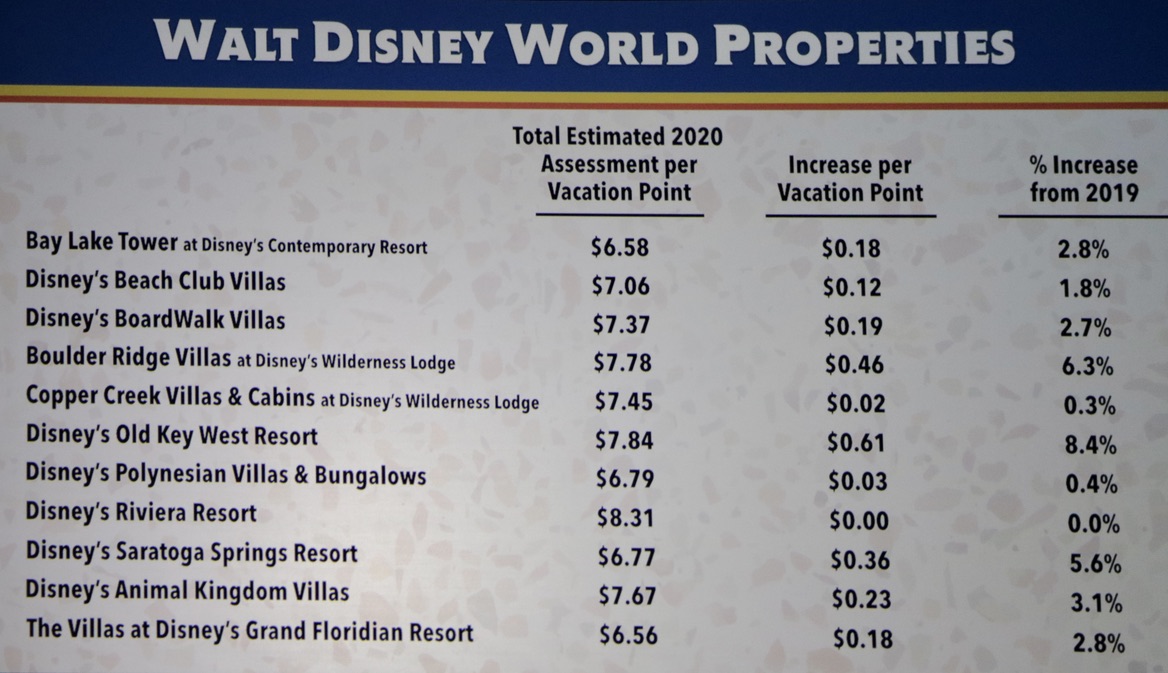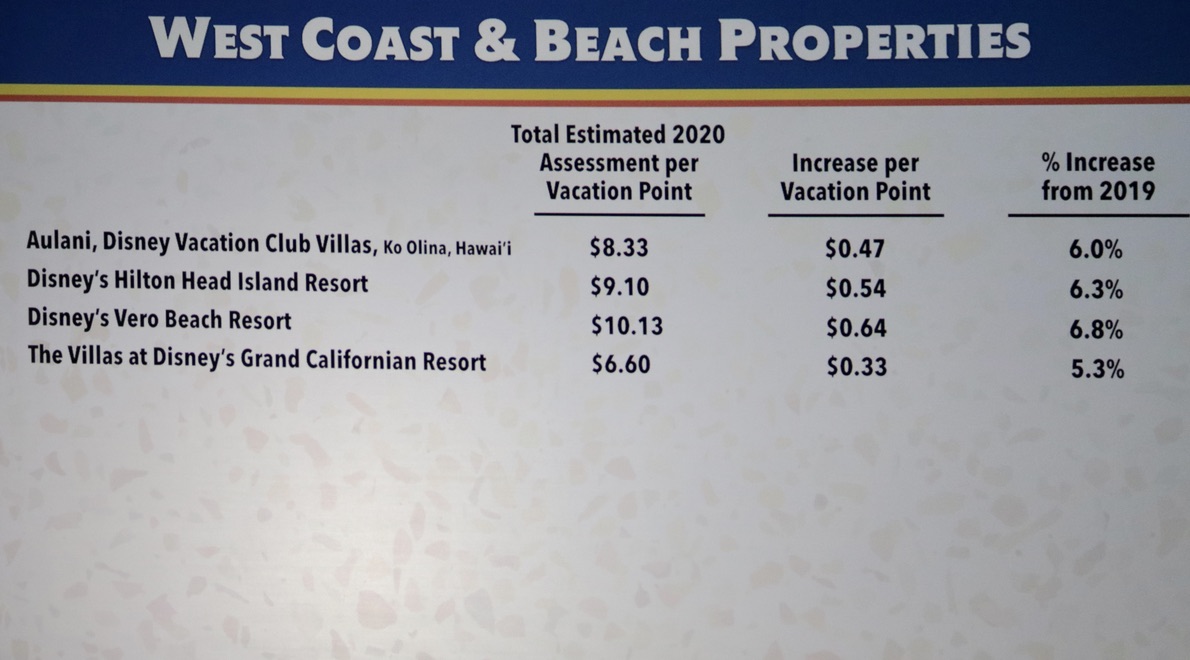 Cast Member salaries continue to be a driving source behind the cost increases. Disneyland Cast Members were increased to a $15 minimum wage in 2019. Florida Cast Members are on a gradually-increasing minimum wage scale, with rates reaching $15 per hour by 2021. These increases apply to most Disney Cast Members, not just those employed by Disney Vacation Club and its resorts. Transportation was one area highlighted for its cost increases, particularly resorts which rely heavily on buses. This is reportedly due to the increase in driver wages, later hours at the theme parks and improved service between select hotels and destinations like Disney Springs and Disney's Typhoon Lagoon.
Riviera is the only resort whose budget includes charges for the operation of Disney's Skyliner.
Property taxes have been relatively stable, particularly at the Florida-based resorts. Increases to capital reserves were noted, due to the accelerated refurbishment schedules and planned enhancements to resort wifi and cell phone infrastructure.
A question-and-answer session was permitted following presentation of the budgets. Among the noteworthy topics addressed were:
Members do not have direct input into the DVC program or resort operations. Terri Schultz noted that there is a member representative on the board of directors, and they would look at ways to improve member access to the rep. Phone calls, emails, survey results and all other feedback received from owners is collectively used to shape the direction of the program. However Schultz will investigate possibility of forming some sort of member adivsory committee to work with DVC.
Multiple owners at Old Key West voiced concerns over the 8% dues increase. It was attributed to factors like transportation costs and the need to replenish capital reserves post-refurb. While guest room refurbishment is complete, they are still working on building exteriors and have an upcoming refurb planned for the Hospitality House facilities. One owner stated that while he was disappointed with the increase, the impressive condition of his renovated villa and high-quality Cast Member interactions helped alleviate many concerns.
An owner, pleased with the performance of Disney's Skyliner, asked if there were any plans to extend service to Old Key West. Schultz stated that additional Skyliner service is not planned at this time, but she would share feedback with transportation.
A member reported getting scam phone calls related to Disney Vacation Club ownership. Member Services did an excellent job of recognize the fact that it was a scam and helping the owner to avoid. Schultz reminded owners that deeds are a matter of public record, and there are limits to what DVC can to do keep unscrupulous individuals from getting ahold of member names and addresses.
The topic of rooms being available to book for cash but not points was raised, with applause signaling agreement among many in attendance. Schultz explained that cash reservations are the commodity used to facilitate member exchanges to destinations outside of the DVC program. When a member books a cruise using their DVC points, those points are used to set aside villas which are rented for the cash used to pay for the cruise. Unfortunately this is a necessary evil of the trade program. Even if external trades were eliminated, it would yield no overall change since demand for DVC villas would also rise.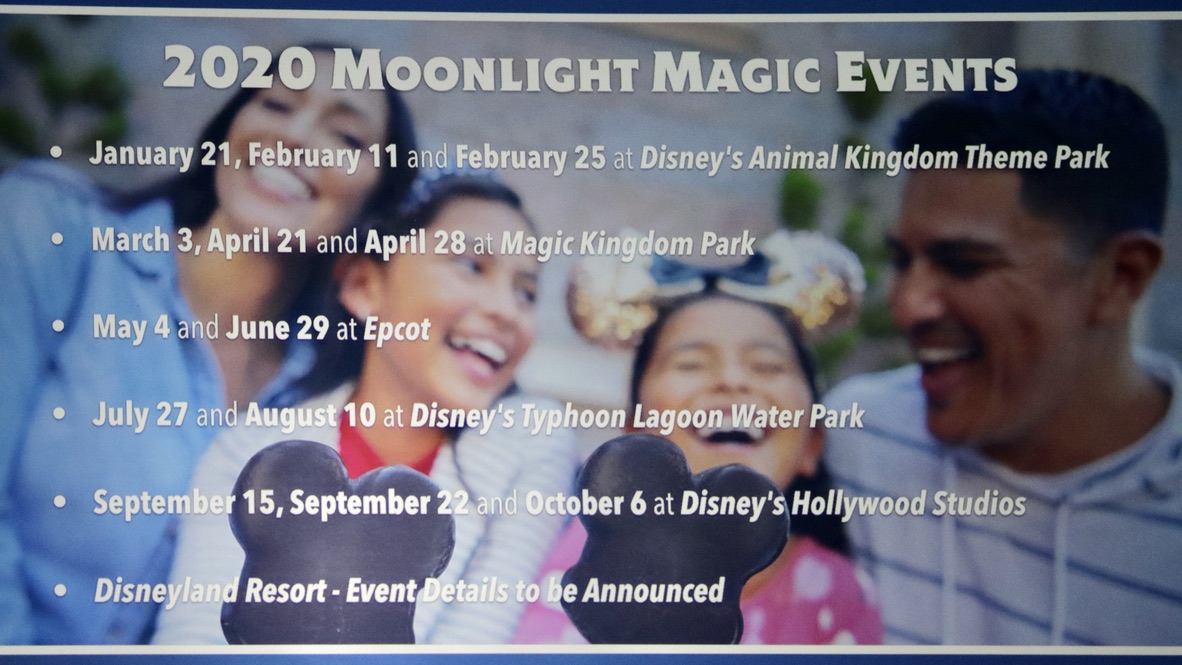 Shannon Sakaske, Vice President Member Experiences and Club Management took the microphone to discuss some of the member perks in 2019 and looking forward to 2020.
This year was the first time DVC's Moonlight Magic events were held at all six Disney theme parks in the U.S., along with Typhoon Lagoon. More than 100,00 members and their guest attended the events scattered throughout 2019.
The 2020 Moonlight Magic schedule currently features events on 13 nights (see above) with details for Disneyland Resort to be published at a later date.
Sakaske touted the popularity of the member-exclusive presentation of Frozen on Broadway, and suggested similar events are being investigated. Aulani will be getting its own mixology program sometime in 2020.
The popular member lounge at Epcot will remain available throughout 2020. More than 1000 members and guests visit the lounge daily for free refreshments and snacks.
Finally, Sakaske spent a few minutes providing insight on the recently-announced point chart changes for 2021. Slides help illustrate historical demand for Disney resort accommodations, with peaks in the spring and summer and declining occupancy in the winter and fall. These patterns formed the foundation of the points charts, charging lower rates for slower periods to encouarge travel and more points during the popular periods.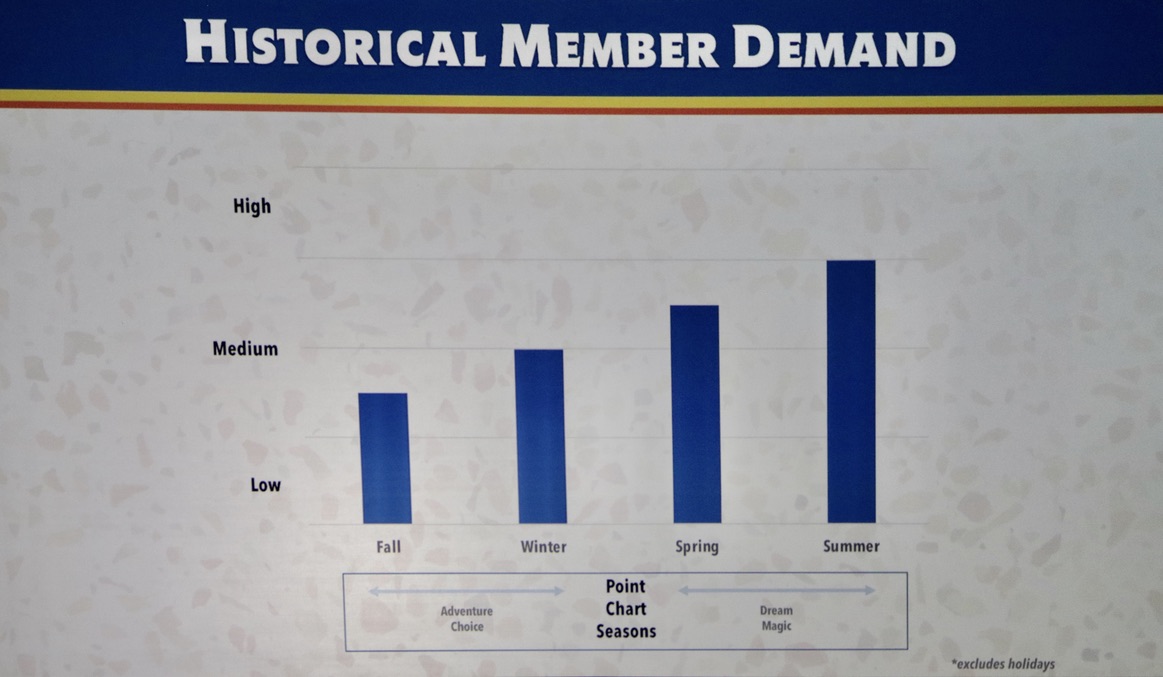 However, current member trends paint a different picture, with declining interest in the summer months and rising demand across many fall and winter dates. With that in mind, the point charts were expanded from 5 to 7 seasons with corresponding increases and decreases to help better reflect member demand. These changes should help improve villa availbility, by charging more points-per-night for periods with higher demand and fewer points during slower periods to encouarge more to travel.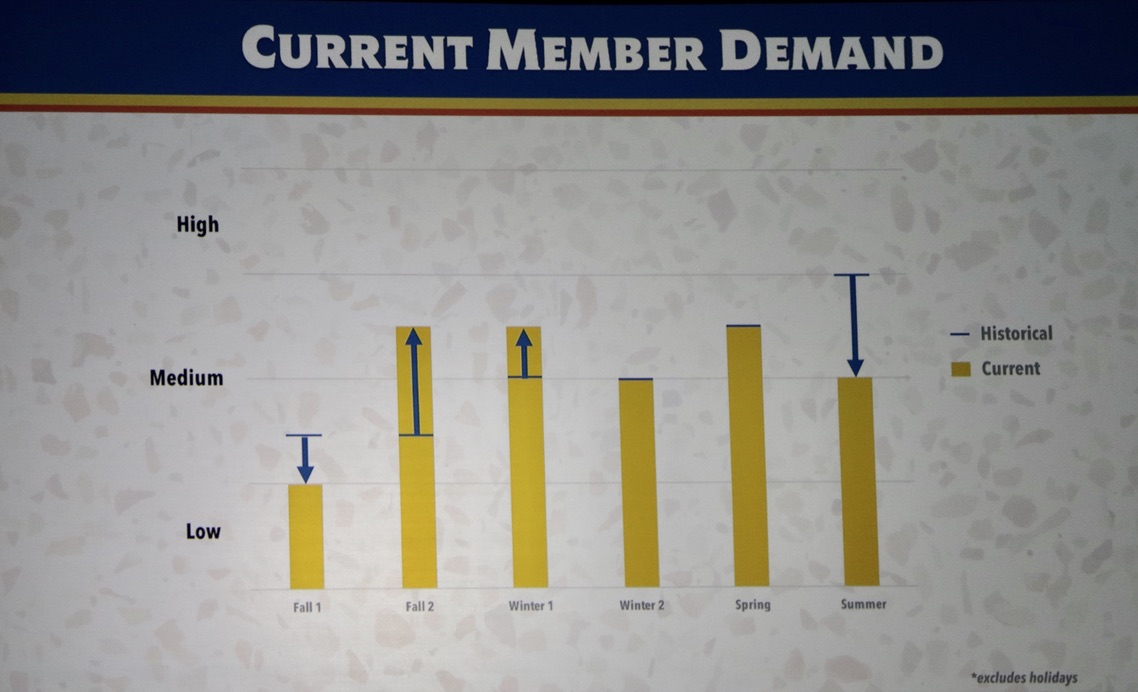 At the conclusion of the formal meeting, members were treated to a reception with refreshments and an opportunity to meet one-on-one with DVC and resort executives in attendance.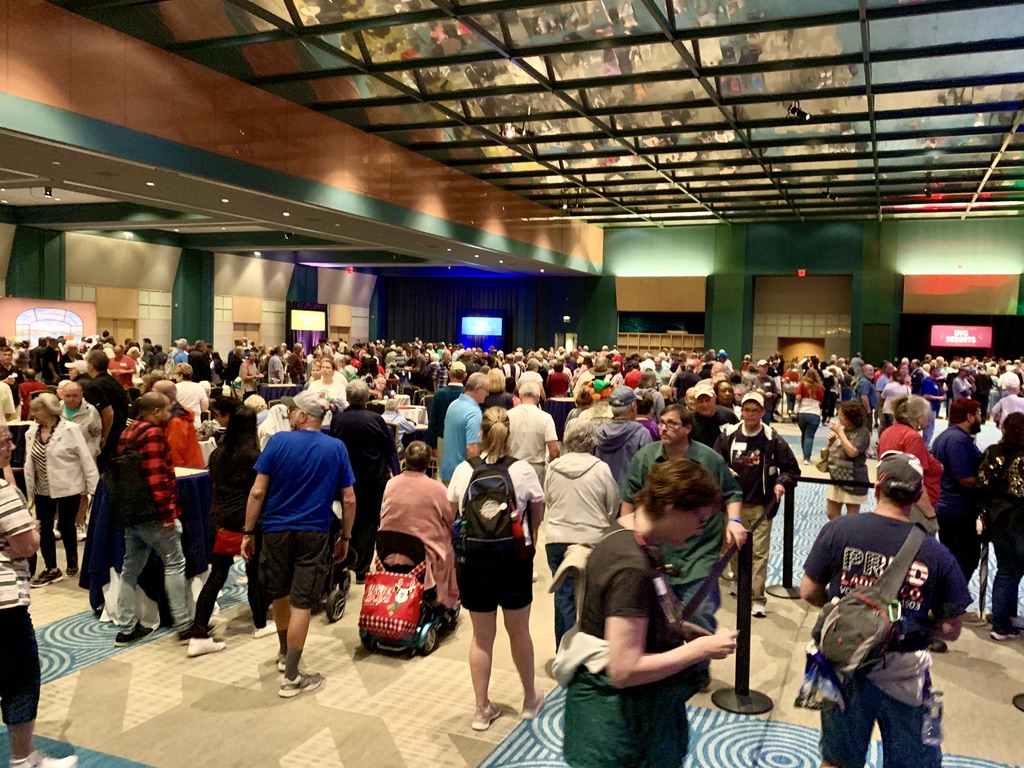 Mickey Mouse and Minnie Mouse were on hand for photos, sporting their Riviera Resort garb.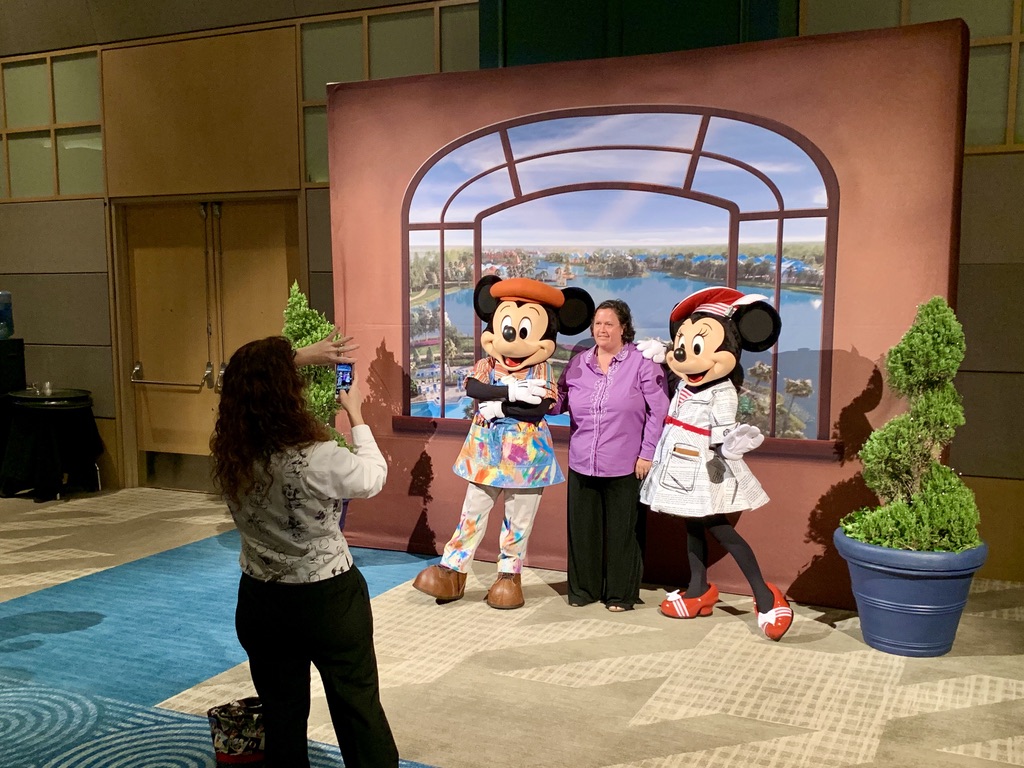 Schultz surprised owners by revealing that an open house was being hosted at Riviera immediately following the Condo Association meeting. A fleet of buses waited curbside to provide round-trip transportation to-and-from the resort, where guests were able to walk freely among all of the public areas, visit the restaurants including Topolino's Terrace and Primo Piatto, and tour all of the unique villa designs.
The 2020 DVC Condominium Association Meeting is planned for December 10.