Artist Point Storybook Dining Returns in December 2021
The popular character dining experience at Disney's Wilderness Lodge will return later this month, along with Boatwright's Dining Hall at Disney's Port Orleans Riverside Resort.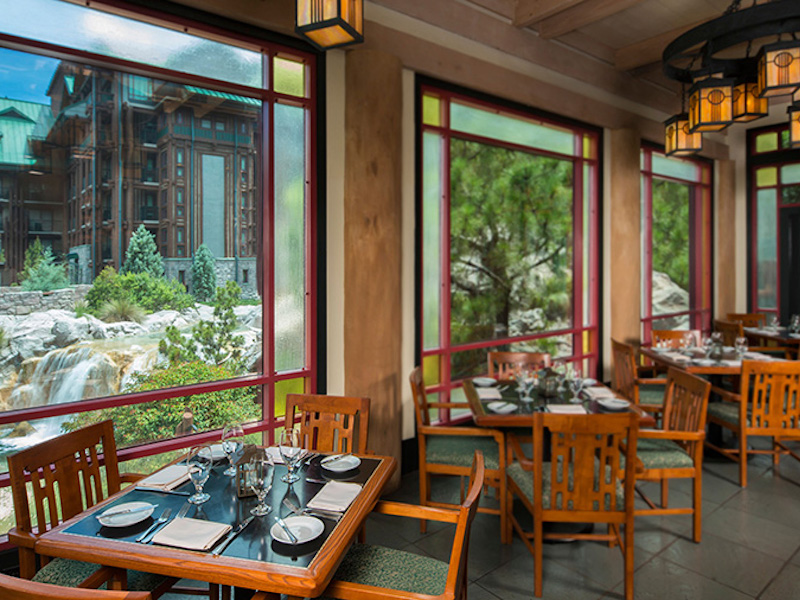 Walt Disney World has revealed that Storybook Dining at Artist Point is set to reopen on Thursday, December 16, 2021. Advance Dining Reservations will be available beginning on December 2.
The meal will include appearances by Snow White, Dopey, Grumpy and The Queen. However, interaction between characters and guests is likely to be minimal, staying in line with health and safety protocol which remain in force throughout the property. Upon reopening, the restaurant will present a prix fixe dinner. The meal begins with shared appetzers and a choice of entress which includes the popular Prime Rib Roast. Dessert options include the "Poison" Apple dessert with dark chocolate-apple mousse.
The complete menu can be found HERE.
The reopening comes exactly three years after Storybook Dining made its regular debut at Artist Point in December 2018.
Also reopening this month is Boatwright's Dining Hall at Port Orleans Riverside. Dinner reservations are available on December 2 for service beginning on December 14, 2021.
Despite these openings, many noteworthy restaurants remain closed including Flying Fish and ESPN Club on Disney's BoardWalk, Turf Club Bar & Grill at Disney's Saratoga Springs Resort & Spa and Jiko - The Cooking Place at Disney's Animal Kingdom Lodge. Disney has cited staffing woes as a primary reason for the slow resumption from COVID-19.