DVC Quietly Updates 2021 Grand Californian Points
Back in December 2019, Disney Vacation Club published the 2021 points charts for all fifteen resorts. Many of them saw significant changes to the point structure, but one has now been amended again.
The Walt Disney World-based resorts experienced major changes to the point alignment for 2021. The number of seasons throughout the year was expanded from 5 to 7 and many dates were shifted among those seasons.
One resort that saw only minor changes was the Villas at Disney's Grand Californian Hotel. In the original 2021 release, many dates and room types were listed as being a point or two cheaper per night. Oddly, there did not appear to be sufficient offsetting increases elsewhere on the chart.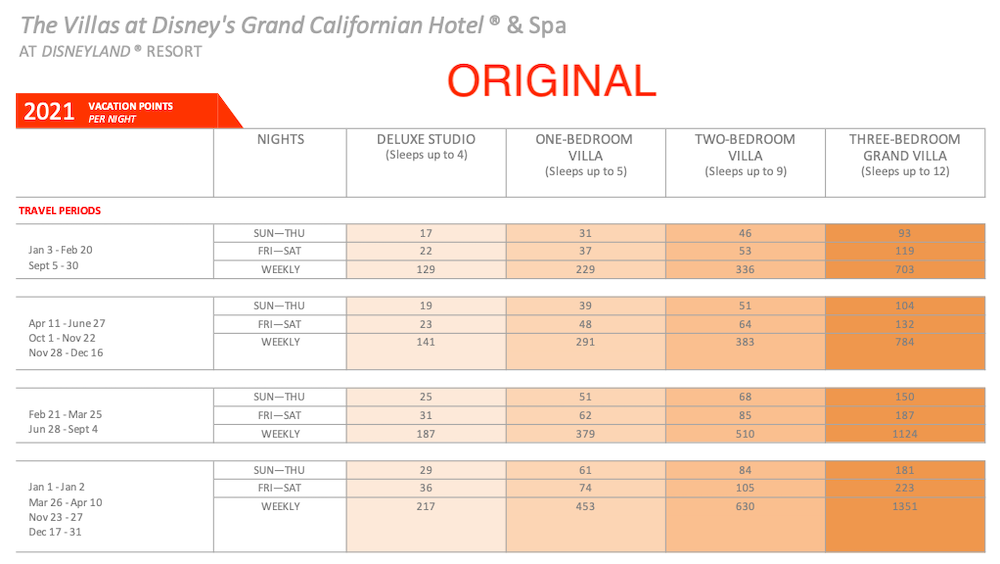 Grand Californian 2021 Points - Original
Disney Vacation Club--acting in its role as the timeshare manager--reserves the right to adjust the charts annually in response to changes in member demand trends. However, the total number of points represented by all villas and all nights of the year must remain relatively unchanged. For every decrease in the nightly cost of a room, the should be an offsetting increase elsewhere on the resort's chart. In this case, such an increase was not readily apparent.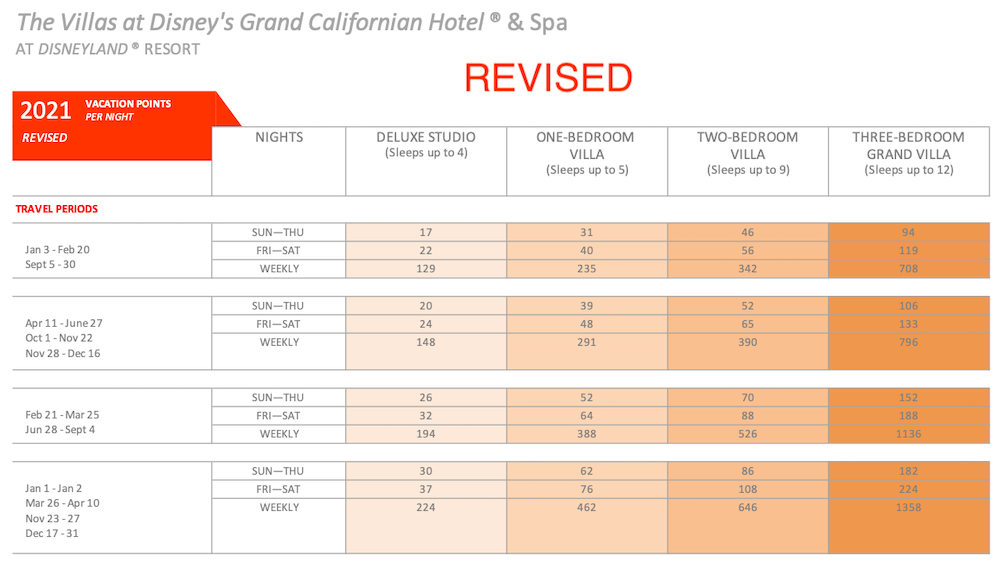 Grand Californian 2021 Points - Revised
Several days ago, DVC published a revised points chart for 2021 with nightly values that match 2020. Images of the two charts are displayed above. A note published to the DVC member website states that 2021 reservations made through January 30, 2020 would be honored with the lower, incorrect point values.
While there was an unknown delay in identifying and fixing the error, exposure was relatively modest. Beginning on January 25, 2020, owners at the Grand Californian could begin making 11-month reservations which included the night of January 1, 2021. The problem was resolved 5 days later.