After spending several days in a renovated One Bedroom Villa at Disney's Saratoga Springs Resort & Spa, here are some thoughts on the updated room design.
Saratoga Springs will always be a sentimental favorite for our family. It was our first Disney Vacation Club purchase. We did not choose that location primarily because of the low buy-in cost, low points chart or low annual dues, rather because we actually liked the resort. It is not a location we visit every single time as we enjoy sampling the variety that DVC has to offer. Still, it's our second most frequented destination after Disney's BoardWalk Villas where we also own points.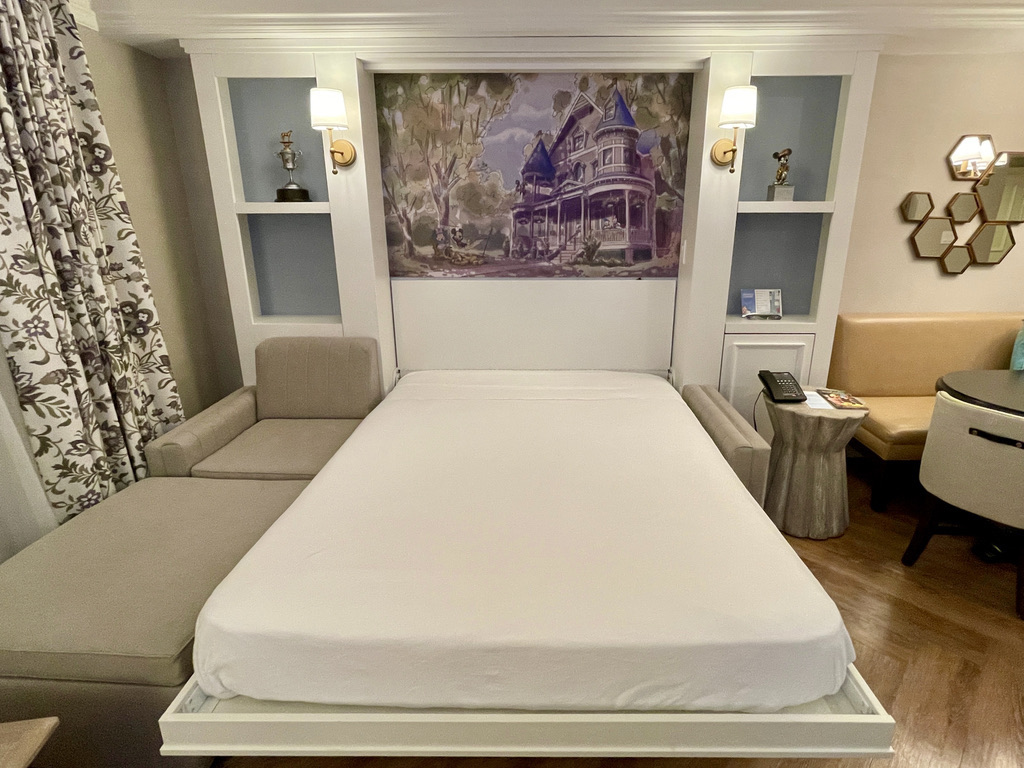 Saratoga Springs Murphy Bed
That said, the resort was getting a little long in the tooth and many of the updates to the rooms are very welcome.
The pull down Murphy Bed and addition of the twin sleeper in One and Two Bedroom Villas are massive upgrades. Those two features played a major role in why we made our recent visit to Saratoga Springs. Given that our family now features two high school graduates, sharing a bed really isn't an option.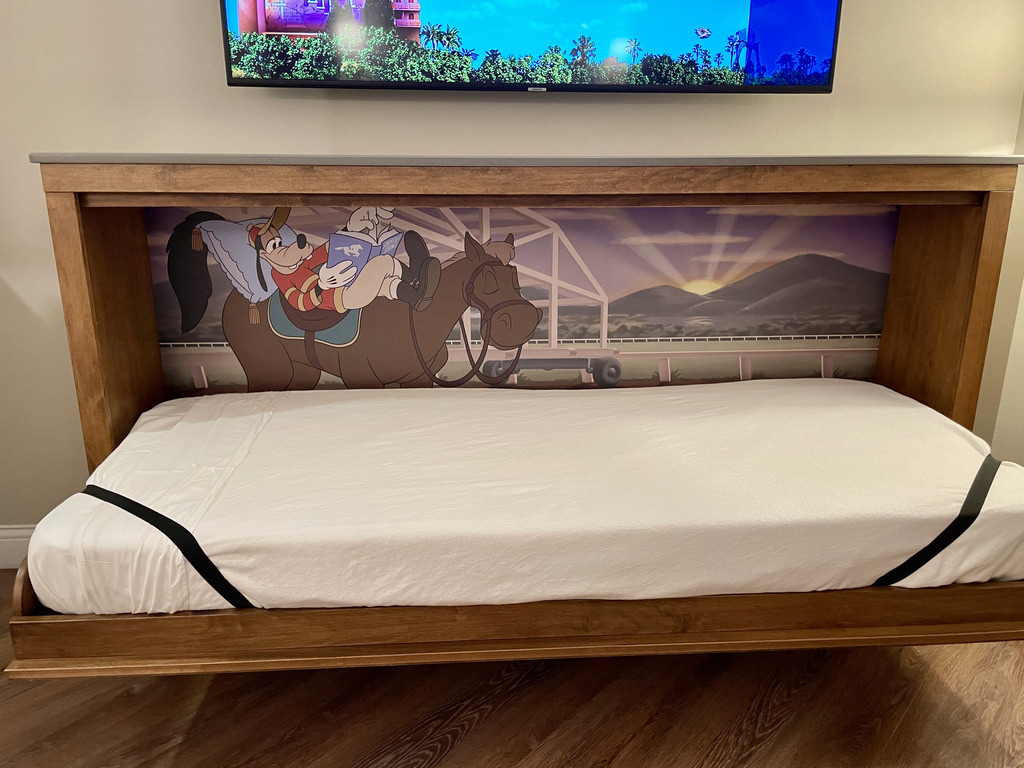 New twin sleeper added during 2019-2021 renovation
Sadly the breafast bar outside of the kitchen was discarded in favor of the under-TV pull down. Overall it is a net gain for the room. But it leaves the villa without dinner seating for the full capacity of a two bedroom villa. The new dining table with bench and two chairs will only accommodate a maximum of 5 adult guests. Larger groups will either be eating in shifts or balancing their plates in the living room. Although it is not pictured, the coffee table features armiture which allows it to be raised to waist-high for use as a desk or added dining space.
Former breakfast bar / ledge has been removed
Speaking of desks, the master bedroom no longer features one. The king size bed that was formerly flanked by one night stand and a desk is now home to two nightstands. Those who are obligated to work while on vacation may notice the loss but our family will not.
The desk is gone...
The large TV armoires have finally been ditched, in favor of more efficient dressers with integrated electrical outlets and USB charging ports for all of those electronic devices.
,,,as are the massive TV cabinets
The bathroom is still a somewhat confusing maze of doors, though it ultimately works well for granting at least two people some degree of privacy while getting dressed. The oval jetted tub has been replaced with a rectangular soaking tub. The wall opening--which always struck me as an odd impediment to privacy--has been permanently removed.
As for the design of the villa, personal preference will undoubtedly come into play. Some DVC owners have complained that villa designs have gotten more and more generic over time. While that is true, Disney has largely followed trends in the hospitality industry as a whole. Looking back at room photos from the late 1990s and early 2000s, the bright colors, bold prints and painted ceramic tile were prevalent at Disney resorts. These had grown stale and dated. Today the expectation is a cleaner look with lighter colors and easier to clean surfaces like the laminate floors throughout most of the villa.
Early-2000s BoardWalk Villa room
The renovation 4-5 years ago at the BoardWalk is one of my personal favorites. The villa went from multi-colored walls featuring bright pink, orange and green to more muted shades with white accents. Artwork scattered throughout the room helps add Disney touches without beating guests over the head with Mickey Mouse and the rest of the Fab Five.
2016 BoardWalk refurbishment
That said, the interior decorators went a little too sublime with the Saratoga Springs refurbshment. The Saratoga Springs, New York theme is one that often does not resonate with guests. The horse racing element is most prevalent. But even that is limited to a few pieces of art including some faux trophies in the living room. The dining area light fixture, adorned with bridle-like straps, is arguably the most horse-like feature in the room.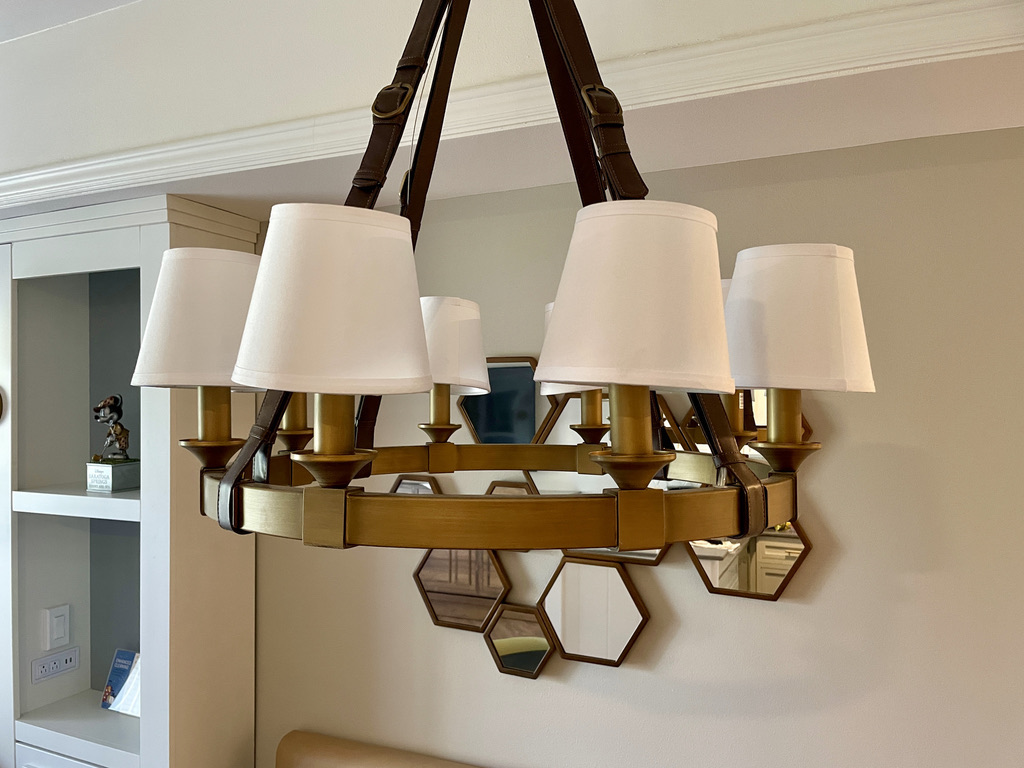 Dining area light fixture
Some of the artwork is very generic, like these three framed leaves in the bathroom. While the wall behind the tub is completely bare.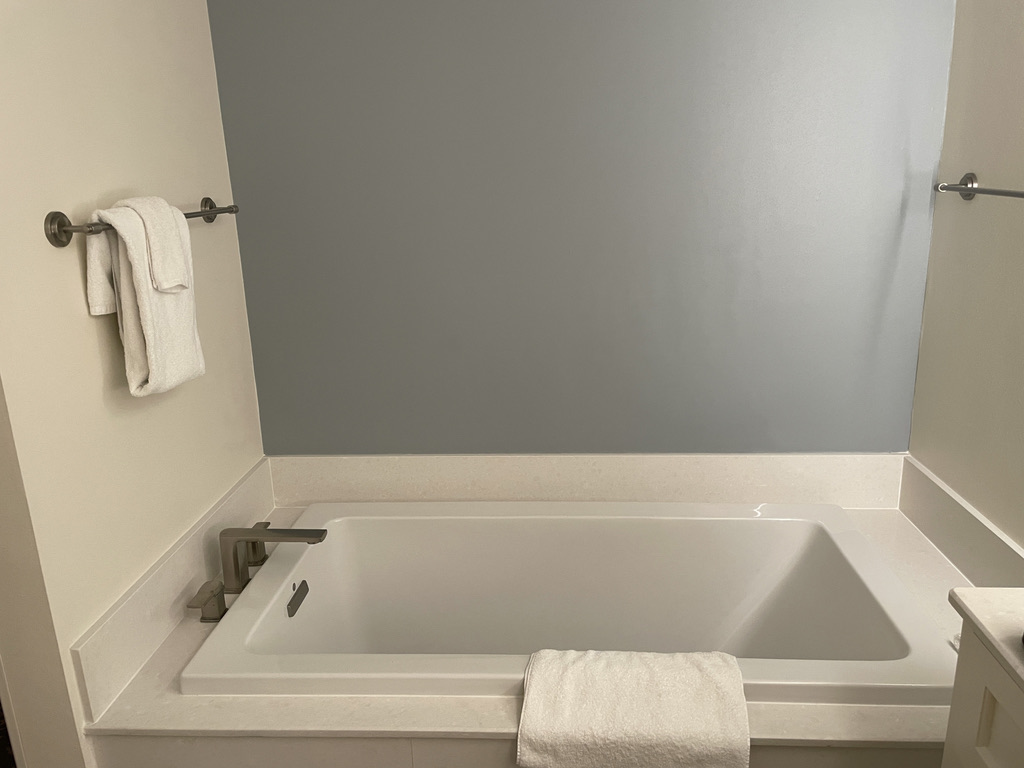 Master bathroom tub
Saratoga Springs is still a lovely resort which provides the type of accommodations guests should expect from Deluxe and Disney Vacation Club accommodations at Walt Disney World. Still, a few more extras could have raised it to another level.
Check out our Saratoga Springs photo library which features renovated room images of all room types, from Deluxe Studios up to the Three Bedroom Grand Villas.
BLOG COMMENTS POWERED BY DISQUS