Somewhat abruptly, nearly all availablity at Disney's Riviera Resort from mid-July through the end of 2020 is gone.
It is not unusal for the newest Disney Vacation Club resort to be popular among members. Disney's Riviera Resort also happens to be one of the smallest properties on-site at Walt Disney World.
Nevertheless, it is rather odd for a resort to have all of its guest rooms booked for months at a stretch. Even among popular resorts, it is commonplace for odd nights to be available, often mid-week as space occurs between departing guests and new arrivals.
With the odd exception of a handful of nights in early October, Riviera currently has almost no availability from mid-July through December 31, 2020. For example, from July 8 through December 31, there are exactly 2 nights available in a Standard View Deluxe Studio. From July 13 to the end of December, there is only 1 night open in a Preferred View Studio.
One Bedroom and Two Bedroom villas exhibit very similar results with only a handful of nights available over a 6-month span. Even the expensive Three Bedroom Grand Villas--which range from 108 to 170 points per night--only have scattered availablity with 6 nights open in August and 3 in October.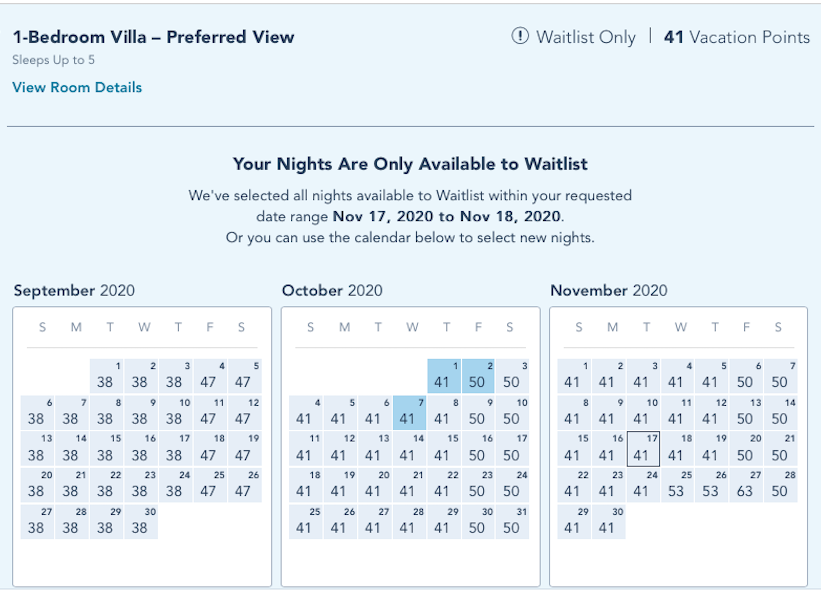 By comparison, Disney's Beach Club Villas has 20 nights available in a Deluxe Studio between July 8 and December 31. Many of those are single nights, which is what we normally see when a resort is operating at a high occupancy level. Beach Club One Bedroom villas are available for more than 60 nights over that span, including long stretches in July and August after the theme parks will have reopened. Two Bedroom villas are open for about 30 nights, including durations of 7 nights or more in July and August.
The Riviera phenomenon is similar to what members currently see at Disney's Animal Kingdom Jambo House where no availability remains through the end of 2020.
A little over 1/3 of Riviera's 341 vacation homes are current part of the condominium assocation and available for member booking.
This may or may not be related to talks between Disney and the National Basketball Association to host the remainder of the league's 2019-2020 season at Disney's Wide World of Sports complex. Rumors indicate that Disney's Coronado Springs Resort is the favorite to host league and team staff, however there are also reports that multiple resorts will be involved.
The NBA is expected to present its plans to league owners for a vote on Thursday.
On Wednesday, Major League Soccer announced it had reached an agreement to bring its 26 teams to Walt Disney World to resume its season. No details have yet been released regarding their plans.
BLOG COMMENTS POWERED BY DISQUS