Early Look at Polynesian Villas Expansion
Disney Vacation Club was short on details in announcing its expansion at Disney's Polynesian Village Resort. Nevertheless, here are some thoughts on what we know to be true, what we believe to be true and a necessary dose of idle speculation.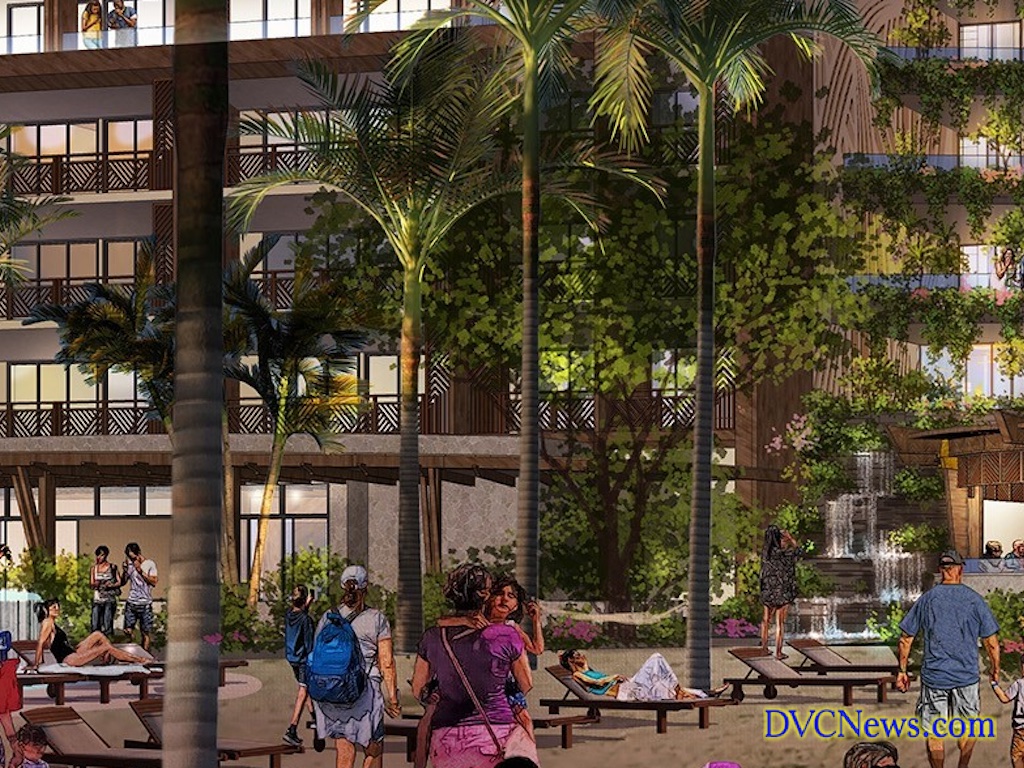 On March 15, 2022, Disney Vacation Club announced plans to expand its presence at the Polynesian. At this point, all we have to work from are a short press release and one piece of concept art. However, we can glean a few important details from this information.
Is Disney converting more Polynesian longhouses to DVC villas?
No. This is all new construction and does not impact the existing hotel rooms or villas.
Where is the new building be located?
It will be situated on the western side of the existing resort, roughly where Luau Cove is currently, between the Polynesian and Disney's Wedding Pavilion.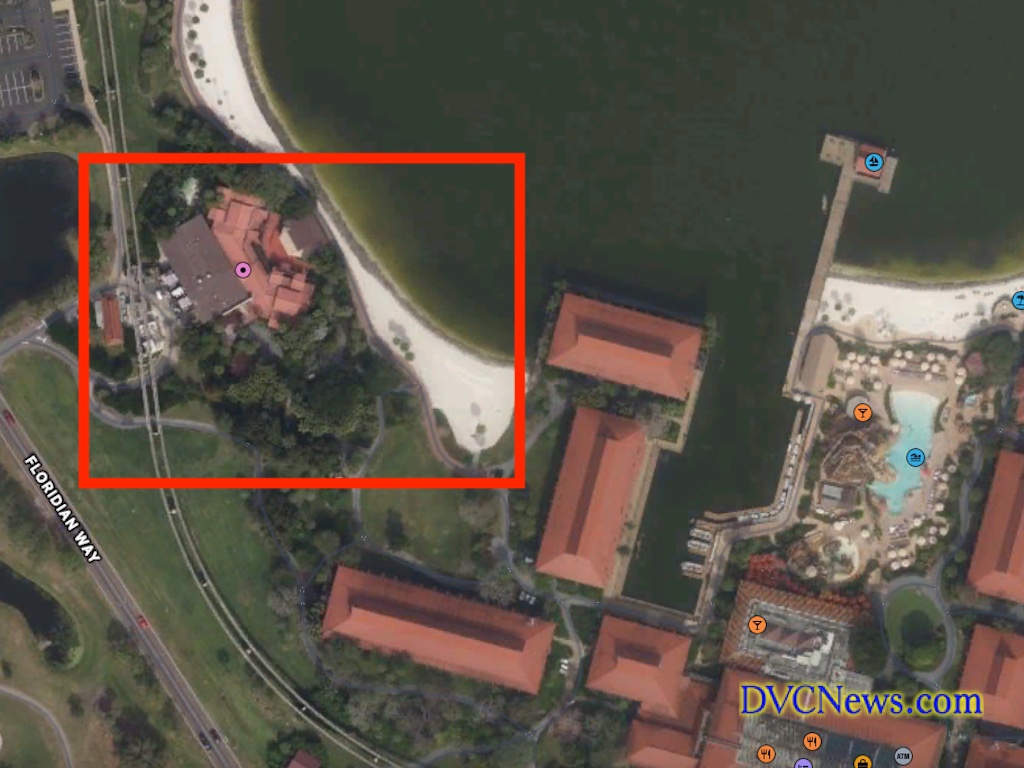 What does that mean for Luau Cove and the Spirit of Aloha show?
Sadly, multiple sources have reported that Spirit of Aloha is being permanently retired. This project doesn't preclude Disney from finding another venue for a Polynesian dinner show, but there is currently no information suggesting such a move is imminent.
The current Polynesian Villas only consists of Deluxe Studio rooms and the Bungalows. Will there be other room types in this building?
Yes. The concept art indicates a mix of Studio, One Bedroom, Two Bedroom and Three Bedroom Villas.
How many rooms will there be in the new building?
Disney was not specific, which leaves us to study the artwork for clues. Balcony layouts and configurations are really the only tool we have available to judge. In the artwork below, our educated guess is that the rooms highlighted in red are dedicated Deluxe Studio Villas, the yellow represents dedicated One Bedroom Villas and the green is Two Bedroom Villas, either lockoff or dedicated.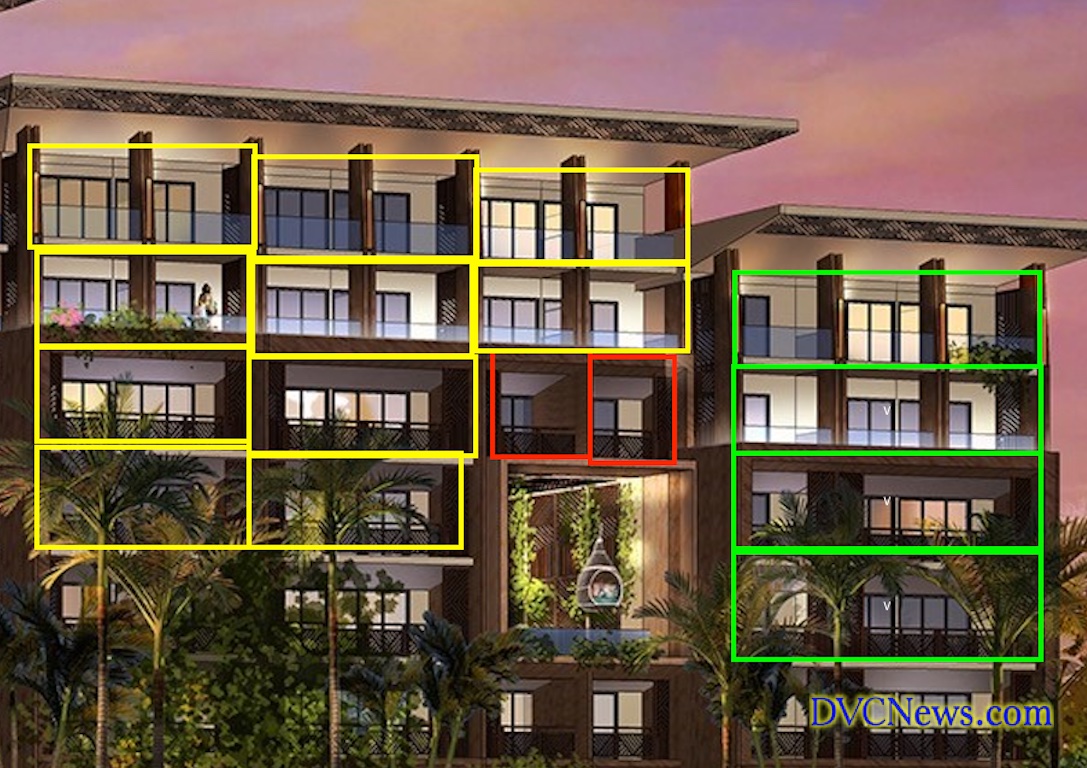 Applying this logic to the full artwork--which is difficult in some areas due to building angles and obstructions--we estimate the following:
Dedicated Studio: 42
Dedicated One Bedroom: 24
Two Bedroom (type undetermined): 40
We are also guessing there are three Grand Villas on the top floor, one facing directly at Seven Seas Lagoon with two others bracketing it on either side.
That gives us a total of 109 villas visible in the concept. That represents only one side of the bulding, most of which could be labeled Theme Park View. There are almost certainly some rooms on the other side of the building, perhaps with wings which extend perpendicular to this structure more than doubling the room count.
Our educated guess is that there will be about 200-250 villas in the new building.
Are there any small rooms similar to the Tower Studios at Disney's Riviera Resort?
Interpreting room sizes from the balconies is an imprecise exercise but no, we do not see any evidence of smaller 2-person rooms.
What are the diagonal balconies located on several floors?
Good question. Given that they are located where separate wings of the buildings connect, it does not appear that they are guest room balconies. There doesn't seem to be any space for a room behind the door. They may simply be public balconies, accessible from the resort hallway. Perhaps intended as fireworks viewing platforms for guests staying in standard view rooms on the other side.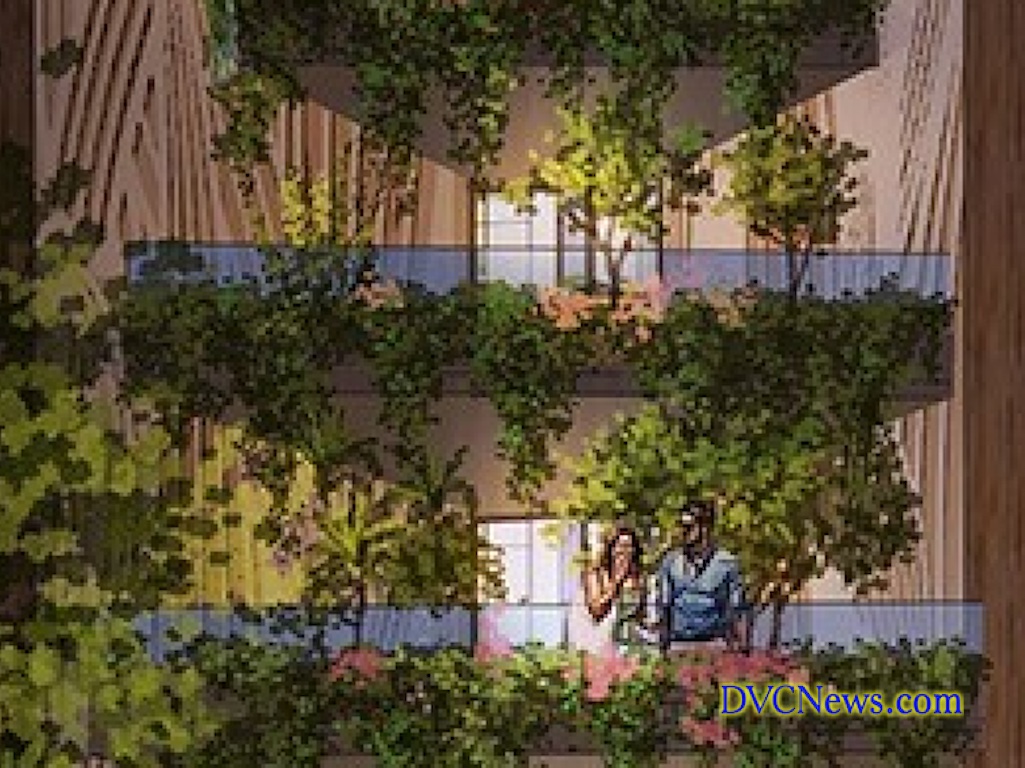 What are these square / rectangular cutouts in the building?
Your guess is as good as mine. There are at least 3 of these visible in the concept. They do not appear to be guest rooms. They may simply be accents, intended to break up the monotony of the building. It is unclear whether they serve any functional purpose.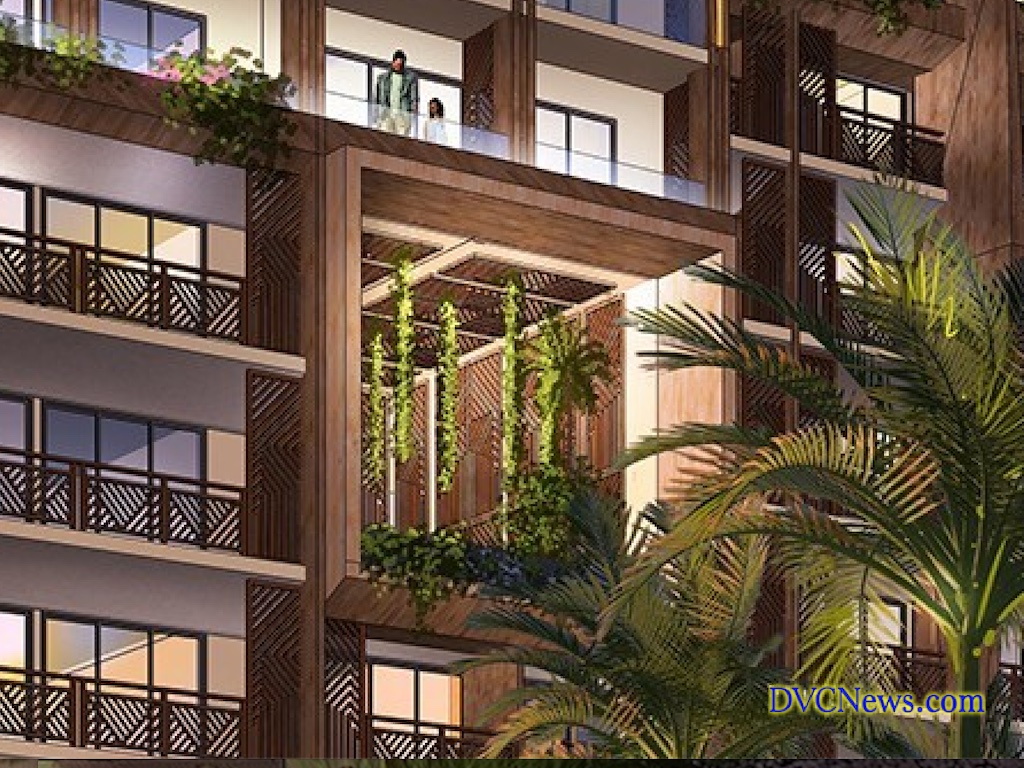 How tall is the building?
At its highest point, the building appears to rise up to 10 stories with 2 floors of commercial space followed by 8 floors of villas including the 2-story Grand Villas at the very top. The 2 wings furthest from the middle are only 6 stories tall.
Will there be any dining options in this building?
Yes. The concept art clearly shows a restaurant just left of center. It appears to be open-air style, perhaps similar to Geyser Point at Disney's Wilderness Lodge. At a minimum it should offer table service dining, but may feature a carry out window like Geyser Point.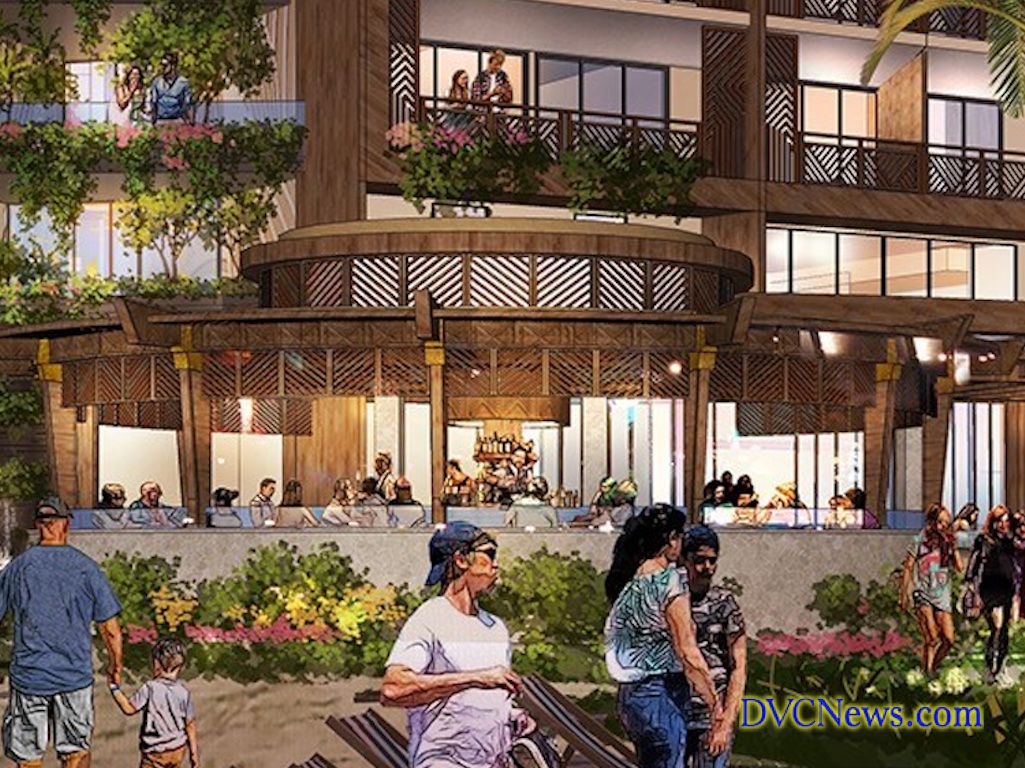 There is also a curious structure in the center of the resort which appears to show people sitting at tables on a 2nd story platform (see below.) This could be part of a new bar or lounge.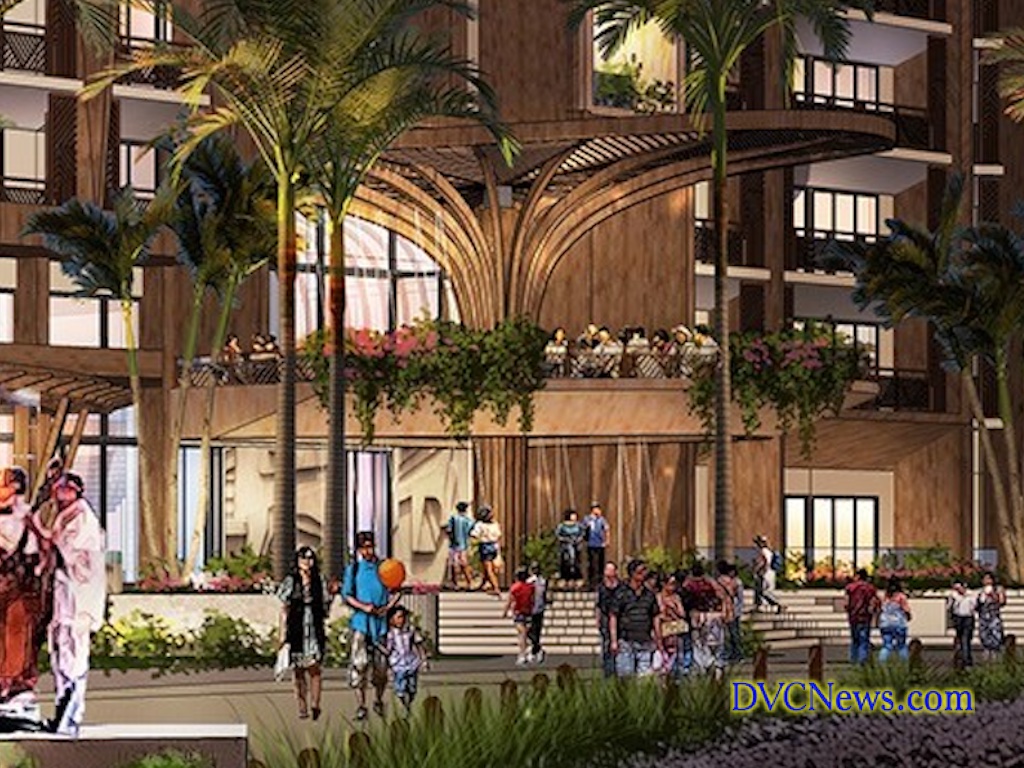 What about a new pool?
Yes, the new facility includes a pool, sporting what appears to be an infinity edge design. (Note the swimmers in the raised, lighter blue section below.) There is also a lower pool section, depicting water that is at least waist deep.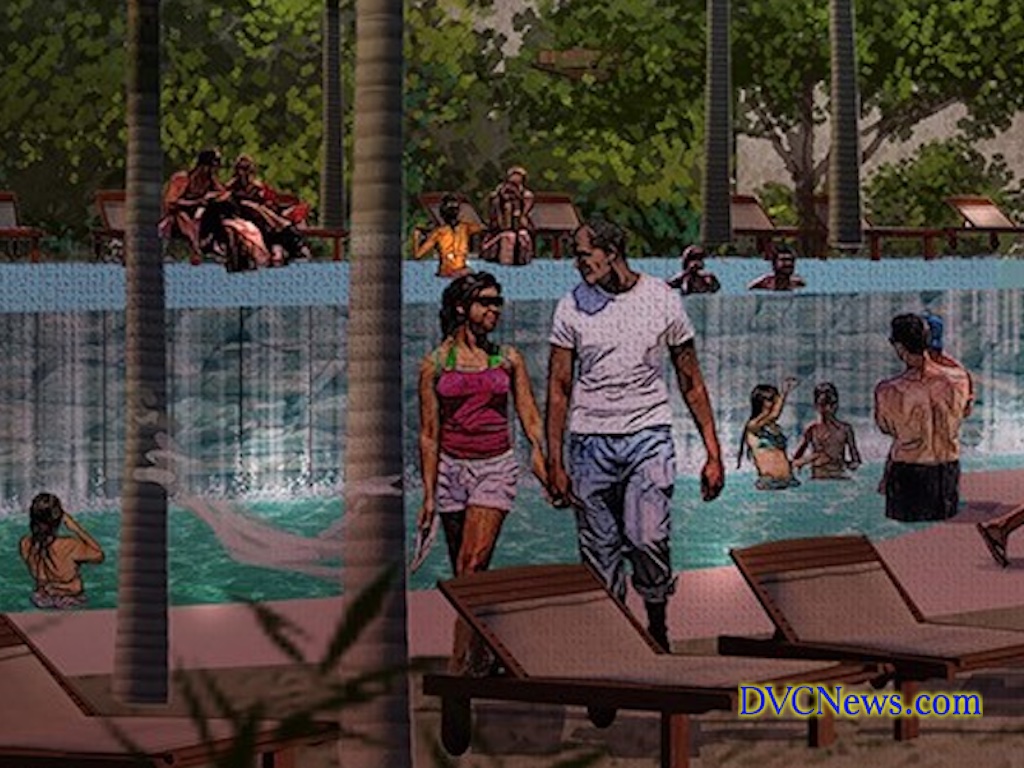 What theme park transportation will be offered?
No details were provided so we can only speculate. Based upon satellite images, the resort will be situated very close to the monorail line. In theory, this building could be constructed with its own monorail station. But that would add cost--both one time and ongoing--along with modifications to the monorail operating parameters, specifically another stop less than 1000' from the Great Ceremonial House. It seems more likely that guests will be asked to walk over to the Great Ceremonial House to board the monorail.
Bus service will be provided to Disney's Hollywood Studios, Disney's Animal Kingdom and Disney Springs. Disney may choose to add stops to this new Polynesian building, with buses visiting both DVC and the Great Ceremonial House before proceeding to their destination. But that certainly is not guaranteed.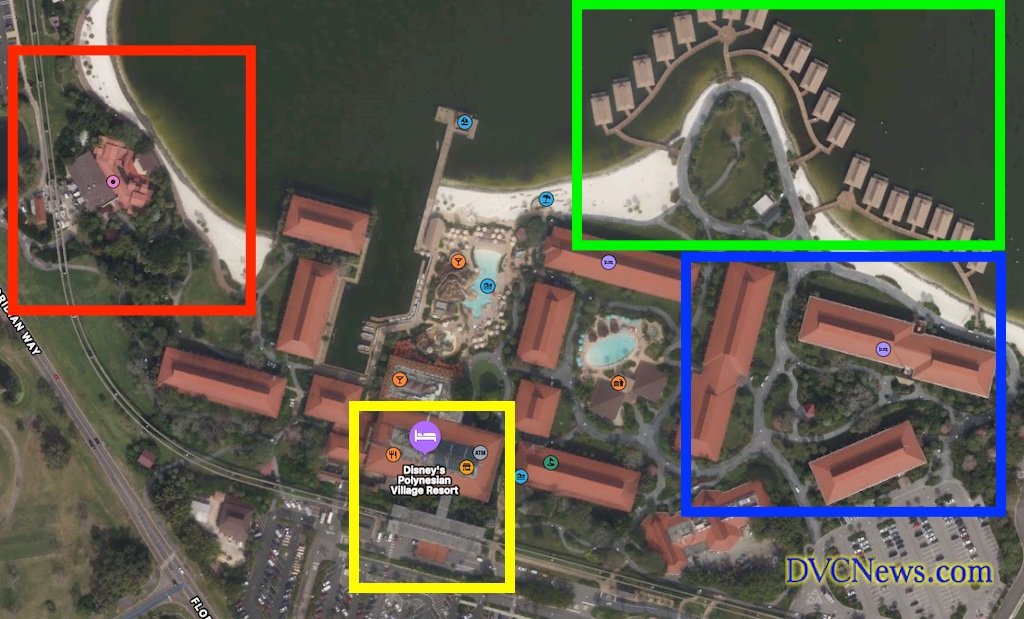 The image above depicts the new DVC site in red, the Great Ceremonial House with monorail and bus stops in yellow, the DVC studios in blue and bungalows in green.
Will this addition be part of the existing Polynesian Condominium Association or separate like Boulder Ridge and Copper Creek at Wilderness Lodge?
That's the $64,000 question. In many ways, this mirrors DVC's recent expansion to Villas at Disney's Grand Floridian Resort & Spa. The Resort Studio rooms in Big Pine Key are being added to the original condo association, with new buyers receiving about 42 years of ownership maximum. Owners will have booking rights to all rooms, and all owners will pay the same annual dues.
A projected 2024 opening for the Polynesian expansion would result in the same 42 years of ownership. Original owners would benefit from 11-month booking access to One, Two and Three Bedroom villas. Contracts would expire in 2066, rather than a presumed 2074 if they create a separate condo association and offer new 50 year contracts. It would expose more owners to the bungalows, which often seem to do more harm than good due to their high nightly costs.
However, in the case of Grand Floridian, DVC came right out and said the new rooms would join the existing condo association. Here they did not, leaving readers to apply their own interpretation to language in the press release. Phrases like "proposed vacation ownership property"--as opposed to calling it an addition to the current property--suggest more of a stand alone approach.
Frankly DVC itself may not have made a decision at this point.
It may hinge on whether DVC wishes to introduce resale restrictions simiar to Disney's Riviera Resort as an inducement to buy direct. A separate Polynesian condo assocation would allow them to add such restrictions. Merging the new villas into the existing condo assocation would leave all owners without such restrictions. Stay tuned.
What do the point charts look like?
We're about 2 years too early to know that. Current Deluxe Studio rooms at the Polynesian are comparable in price to Grand Floridian. One and Two Bedroom Villas at the Polynesian may also be similar. However it's worth noting that Grand Floridian does not have any theme park view One or Two Bedroom Villas, while many of these Polynesian rooms will face directly at Magic Kingdom. Some premium pricing may be in order. As for Grand Villas, if we use Copper Creek's cabins and grand villas as a model, they could be about 8-10% higher than the Polynesian bungalows which start at 112 points per night.
Has construction commenced on the new building?
No. There are no signs of visible construction as of mid-March 2022, nor can we find any references to work permits at this time.
When will these new rooms open?
The press release cited "late 2024." The last DVC project to cite a late-year opening was Riviera which debuted on December 16, 2019. The new Polynesian rooms could be 33 months away from opening, or nearly 3 years.