Connecting Studio Option Added at Polynesian (or Maybe Not)
Addressing a lingering issue since the resort's debut, Disney Vacation Club appears to be adding a connecting studio booking option for Disney's Polynesian Villas & Bungalows.
UPDATE 10:10am: One DVC Member Services rep claims the appearance of this Connecting Studio option in the Resort Availability Tool is a system glitch and they do NOT plan to add such an option for members. We have reached out to a DVC representative for comment. Stay tuned.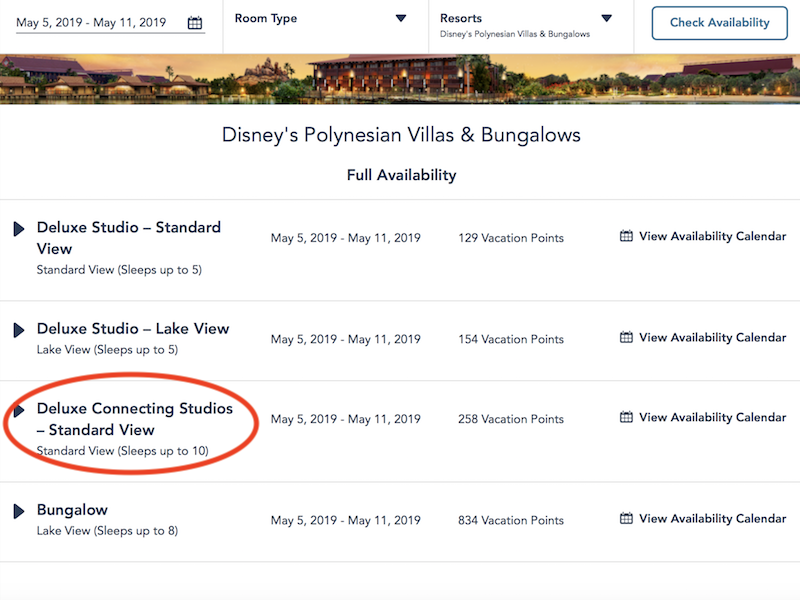 The Resort Availability Tool at DVCMember.com has been updated to include a "Deluxe Connecting Studios" option for the the Polynesian. Most villas at the resort contain an internal connecting door, allowing guests to move between two Studios without exiting to the main hallway. Until now, those who had booked two rooms could only request that the villas be side-by-side with the connecting door--such an option was not guaranteed. However this modification indicates that the connecting guarantee will soon be in place.
As highlighted in the screen shot above, the "Connecting Studio" option actually books two rooms at double the point cost of a single villa.
The connecting option is currently displayed in the Resort Availability Tool only for Standard View rooms--not the Lake View category--and it is not reflected on the actual booking screens. This feature remains a work in progress with additional integration required before it is fully implemented.
Thanks to Tim D. for the tip!