Are Permits a Precursor to New Epcot DVC?
New permit applications suggest Disney has big plans for the area surrounding Epcot...big enough to accommodate a hotel overlooking Future World which has been subject of rumors for the last couple of years.
At last year's D23 Expo, Disney confirmed numerous projects for all the Disney Parks, including new "Ratatouille" and "Guardians of the Galaxy" inspired attractions for Epcot. A new permit filed last month by Disney for major stormwater modifications at Epcot hints that more changes are coming, possibly including a new resort that might have access to Epcot.
Before Disney can begin construction, it must consider how changes in the terrain may impact stormwater management, retention and flow. On January 24, 2018, Disney filed a permit request with the South Florida Management District to upgrade the water basin that includes Epcot and the surrounding area. In the introduction and project background for the permit, Disney states:
The Owner is proposing to upgrade the 403 Basin of the Reedy Creek Improvement District (RCID) master drainage system. Portions of the 403 Basin were developed prior to implementation of water quality treatment requirements and are now proposed for improvements; other areas within the basin that are currently undeveloped, may be proposed for future development. The purpose of this application is to develop a Master Concept Plan for the 403 Basin by identifying water quality requirements for the basin and developing a concept & template for permitting future construction within that Basin. The application requests approval for the Master Concept Plan and Permitting Template as well as authorization to construct the first phase of the proposed Master Concept Plan (pond and weir as outlined below) and certain improvements within the Basin.
The permit includes a map that shows the entire 403 Basin, which includes all of Epcot, Crescent Lake, and the waterway to Disney's Hollywood Studios. The area covers to total of 748.6 acres.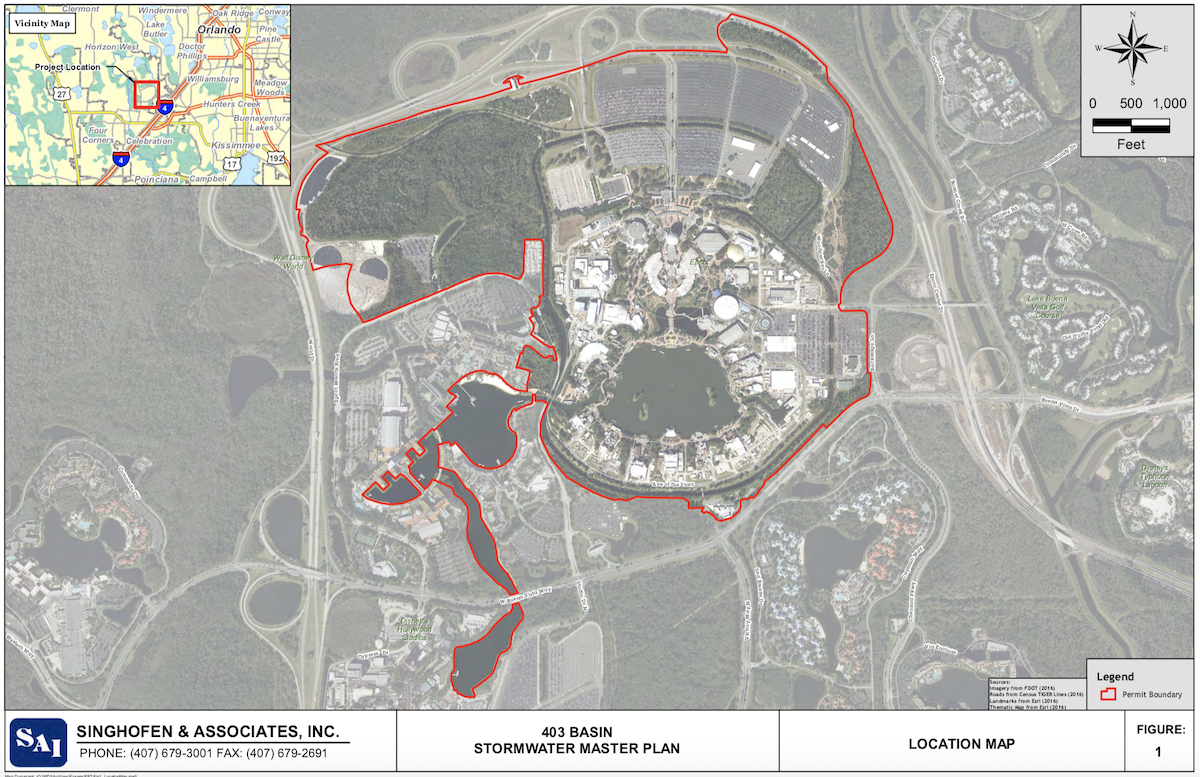 Since the permit application deals only with stormwater management issues, Disney does not have to document what structures it intends to build in the basin area or when they might be built. However, details in the permit request gives hints of some major changes in the area immediately north of Epcot.
If the proposed changes are approved, the amount of impervious area in the 403 Basin increases 175.43 acres from 296.24 to 471.67 acres. Impervious land means that it has buildings, roadways, parking lots, or other man-made structures that do not absorb stormwater. To accommodate the additional water runoff, Disney plans on increasing the size of retention ponds from 111.38 acres to 150.48 acres.
Of particular interest is what Disney intends to do with section L403-370, a parcel of land just west of the Soarin' attraction at Epcot and north of the parking lot for Disney's Beach Club Resort. It is currently a wooded pervious area. However, the permit shows that Disney intends to make the entire 23.42 acres impervious, meaning it will build something in this entire section.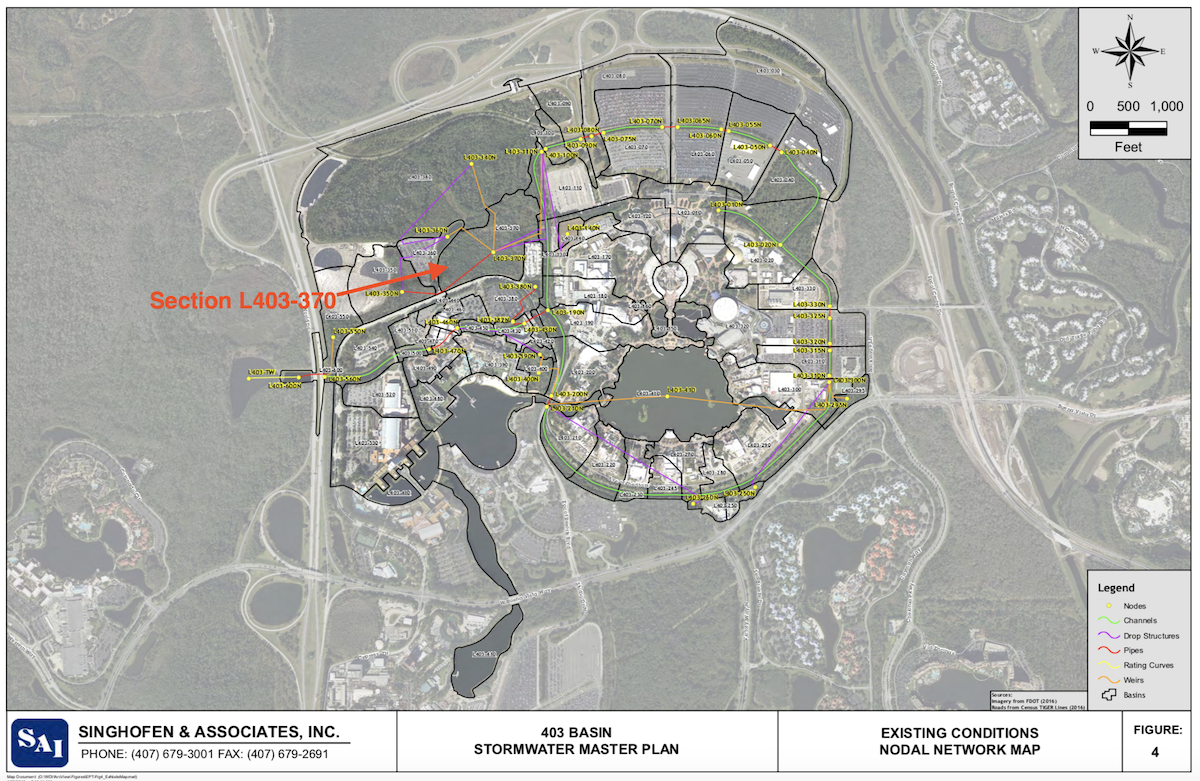 Could this be the home of a new Disney Epcot resort? Or could it be an expansion of Epcot itself, perhaps the future home of a new attraction or "Land?" Well, its too early to tell. If Disney intends to place a new resort in this location, guests would have direct access to Epcot by walking by the existing Epcot bus loop and to the main entrance for the Park. If Disney intends to increase the size of Epcot, it could easily accommodate two or three new attractions. Section L303-370's 23 acres is larger than Star Wars: Galaxy's Edge which, at 14 acres, was touted as the largest Disney theme park expansion ever.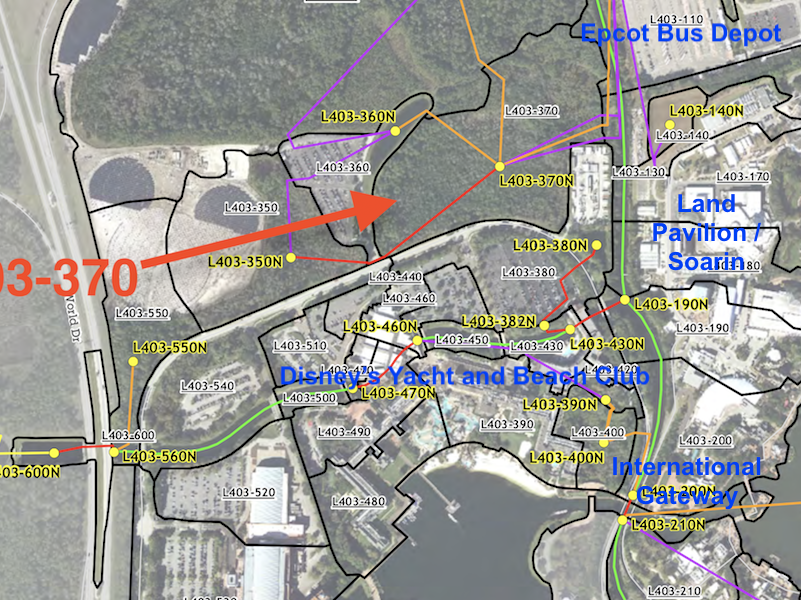 When will all things changes occur? Disney certainly hasn't released a timeline for any of these changes. Furthermore, just because Disney gets authorization to make these stormwater management changes doesn't mean that it has to follow through on any improvements in Basin 403 in the foreseeable future. We will just have to wait and see happens.
---
Wil Lovato is a contributor to DVCNews.com and has been a Disney Vacation Club owner since 2009. His DVC Home Resorts include Bay Lake Tower, Animal Kingdom Villas, and Aulani. He can be found posting on many Disney discussion forums under the username of "wdrl."