Aulani occupancy tax continues to rise
Like most popular tourist areas, the State of Hawaii uses a series of fees and taxes imposed on travelers to increase its revenues. One of those fees--Hawaii's Transient Accommodations Tax--is up more than 27% over the last two years.
For all stays at Aulani, Diseny Vacation Club Villas the State of Hawaii imposes a daily Transient Accommodations Tax based on the number of vacation points required for the stay. The State requires that the tax be collected from the guest occupying the timeshare and is collected only if the accommodation is used. Thus, the transient accommodation tax cannot be included in the yearly maintenance fee paid by Aulani owners.
The tax is computed by taking one-half of the yearly maintenance fee, multiplied by the number of vacation points for the length of stay, multiplied by the Time Share Occupancy tax rate.
The rate of the Time Share Occupancy tax was 7.25% prior to December 31, 2015; 8.25% for the period beginning January 1, 2016 to December 31, 2016; and 9.25% for the period beginning January 1, 2017 and thereafter.
For 2017, Aulani's yearly Maintenance Fee is $7.0297 per point. The Transient Accommodations Tax on Time Share Occupancy is calculated as such:
$3.51485 (1/2 of the 2017 MF of $7.0297) * 1 (a single point) * 0.0925 (tax rate) = $0.3251 per point
A 7-night stay in an Ocean View studio during the Magic Season at Aulani requires 29 points a night, or 203 points for a week. The transient accommodations tax is $9.43 per night, or $66.01 for an entire week.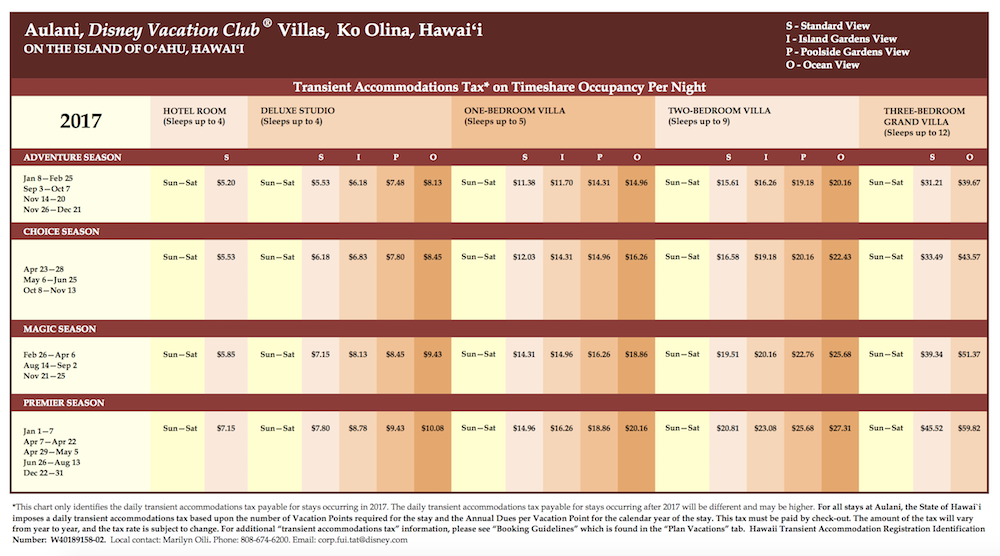 The tax must be paid at or before check-out. The amount of the tax will vary from year to year and is subject to change.
The State of California imposes a similar Transient Occupancy Tax for the Villas at Disney's Grand Californian Hotel & Spa. However, California law allows the tax to be collected from Grand Californian owners rather than being paid at the time of the stay, allowing Disney Vacation Club to bundle the fee with owners' Annual Dues. For 2017, the California fee amounts to $.46 per point.
---
Wil Lovato is a contributor to DVCNews.com and has been a Disney Vacation Club owner since 2009. His DVC Home Resorts include Bay Lake Tower, Animal Kingdom Villas, and Aulani. He can be found posting on many Disney discussion forums under the username of "wdrl."