Train operator Brightline has reached a deal with Walt Disney World to construct a station at the Disney Springs shopping complex.
Brightline currently provides train service in southern Florida with stations in Miami, Fort Lauderdale and West Palm Beach. Work is currently under way to extend the route north to the Orlando International Airport by the year 2022. This new deal would expand the line from the airport to Disney Springs on Walt Disney World property.
In a statement, Jeff Vahle, president of Walt Disney World Resort expressed enthusiasm for the deal, saying "we're excited to work with Brightline as they pursue the potential development of a train station at Walt Disney World Resort, a project that would support our local economy and offer a bold, forward-looking transportation solution for our community and guests."
The station concept features a lobby and passenger facilities on the ground level, along with the upper level train platform.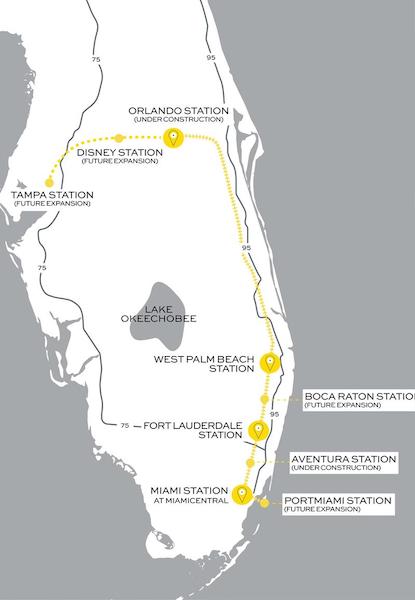 The deal comes despite COVID-19's impact on Brightline operations. Its trains have been mothballed since March 2020. Still, Brightline continues to look toward the future with this Florida deal and a planned route from Los Angeles, CA to Las Vegas, NV.
Brightline has a deal in place to eventually link Orlando International Airport to Tampa. The Disney Springs station would fall along this route as shown in the image above.
No other details have been revealed regarding the Disney Springs project including its location or estimated completion date.
Thanks to Denise for the tip!
BLOG COMMENTS POWERED BY DISQUS