Friday Feature: Vero Beach Dining and Recreation
Continuing with the second part of my Vero Beach Resort summertime series we will visit the many area dining locations and look at some interesting recreational activities.
I had the pleasure in speaking with Capt. Mike Dworek (MadCoco aka ShipwreckedWretch), an airline captain by day and volunteer as an artifact conservator at Mel Fishers Treasure Museum at Sebastian/Key West, recently. We spoke about the many popular places to eat near Vero Beach resort. Mike will take us from the resort up thru US1 as we follow him to the more popular "local", and somewhat unknown, establishments.
Leaving the resort, we will pass the very popular Orchid Island Pizzeria (http://www.orchidislandpizzeria.com) and Boppy's Beachside market. Boppy's is a great spot for picking up a sandwich, burritos, and renting a metal detector. Orchid Island will also deliver to the resort. Next, we are headed into Sebastian.
Take a right onto US1 off the Wabasso Causeway, heading north, and you will first find Hale Groves (a must stop for fresh orange juice, citrus products and produce), Larry's Roadside Restaurant (great spot for breakfast, breakfast buffet, and homemade icecream), and Vic's Italian Restaurant (hidden in a little corner of a strip mall on US1 that sports very casual attire but fantastic Italian food). Continuing on US1 and Indian River Drive, you will find the Red Onion Grill (Thai Asian influence with sushi) and Earl's Hideaway. A little note about Earl's….it is a locals/Harley crowd spot with open outdoor bar in the back and a Tiki bar in the front. They have live rockbands and make a mean breakfast. As Mike put it "Where else can you get a beer with your bacon and eggs looking out over the Indian River wearing your Jimmy Buffet wear?" Not your typical family tourist attraction! http://www.earlshideaway.com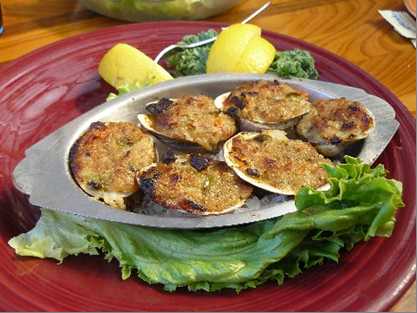 Stuffed Clams at Captain Hirams
Lastly, we continue on Indian River Drive to Captain Hiram's Resort and Restaurant (http://www.hirams.com) and Squid Lips at Fin's Marina (http://www.squidlipsgrill.com). Captain Hirams is a sprawling complex of indoor/outdoor dining, sand bar, hotel and marina. Squid Lips features oak grilled food with great seafood and steaks.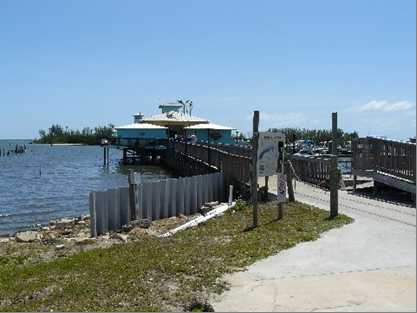 Squid Lips Restaurant
We will now move onto the many recreational activities to do outside of Vero Beach Resort. Before we discuss a few of the area attractions, I must take this moment to mention the sea turtle nesting season at Vero Beach Resort. The season runs May-October, with most of the nesting taking place from June-August. The resort participates in the protection of the hatchlings of these turtles, and has a number of daytime and night time walks organized to view the nesting phase. The resort offers a turtle walk lottery on Wednesdays and Thursdays. On Tuesdays, the Caribbean Conservation Corporation hosts a free turtle walk through Sebastian Inlet State Park. Reservations are necessary as only 20 people can participate at a time.
Three museums to see are McLarty Treasure Museum (http://atocha1622.com/mclarty.htm ), located at the Sebastian State Park; Vero Beach Citrus Museum (http://veroheritage.org/CitrusMuseum.html); and Mel Fisher's Treasure Museum (http://www.melfisher.com/default.asp). These will give history buffs plenty of exploring to do.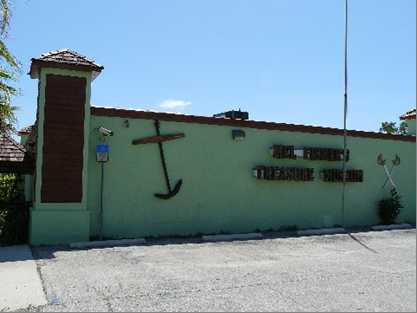 Mel Fisher's Treasure Museum (don't let the outside fool you!)
Other places to put on your must see list are Pelican Island National Wildlife Refuge (http://www.fws.gov/Refuges/profiles/index.cfm?id=41572), Manatee Observation and Education Center (http://www.manateecenter.com), McKee Botonical Garden (http://www.mckeegarden.org) and Kennedy Space Center (http://www.kennedyspacecenter.com).
Next month concludes with part three of my Vero Beach summertime series….my trip report!