Friday Feature: A Trip to the Real Wilderness Lodge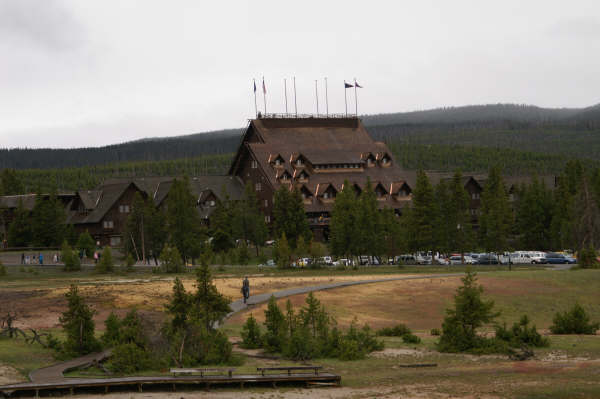 I had heard that Disney's Wilderness Lodge was patterned after the Old Faithful Inn in Yellowstone National Park. So while planning a trip to Yellowstone, of course we had to include a stay at the Old Faithful Lodge.
When we walked into the lobby, I was surprised at how much smaller the lobby there was than the lobby at Disney's Wilderness Lodge. Dare I say I was actually disappointed after the huge grandeur of Wilderness Lodge? However, I wasn't disappointed at the numbers of real buffalo. Although Wilderness Lodge has one big topiary of a buffalo out front, around the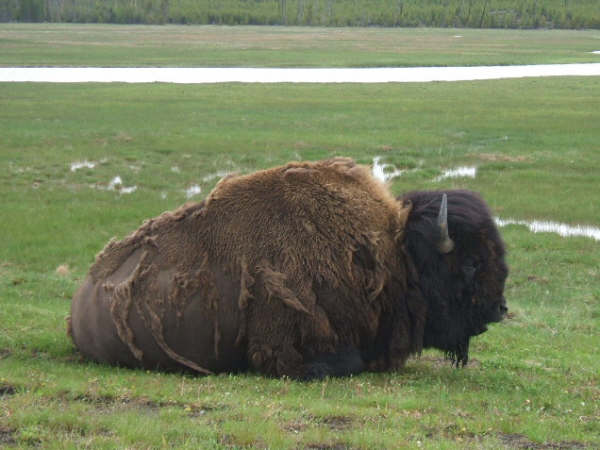 Old Faithful Inn area and in all of Yellowstone National Park, there were probably hundreds of buffalo.
The rooms of the Inn, at least in the area we were in, were quite different from the Wilderness Lodge rooms.
Do you wish the TVs at Walt Disney World had more channels to choose from? Old Faithful Inn doesn't have any channels because it doesn't have any in-room TVs. The theory is that they want you to concentrate on the natural beauty of the park, and frankly, I think their theory is an excellent one. You won't be getting any wake up calls from Mickey Mouse at the Old Faithful Inn either because...well...they don't have in-room phones. There is a common phone in the hall for emergencies or to reach the front desk.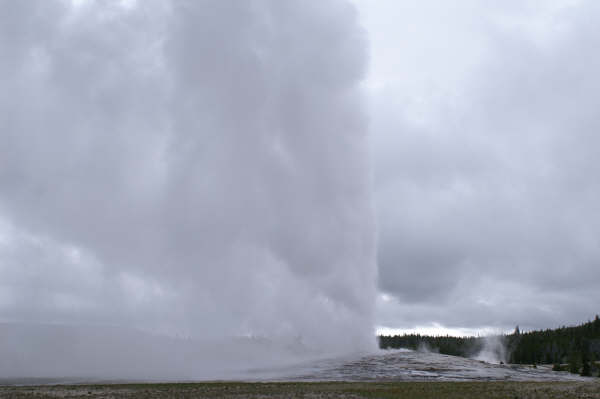 While we were there, we went over to see Old Faithful Inn's namesake, Old Faithful geyser.
I had to smile when the geyser erupted and some of the people watching were lightly misted with water in the wind. Did you know that Disney's Wilderness Lodge had its own erupting geyser for the first few months after opening? When the winds were right (or wrong, depending on your viewpoint), the mist would get the guests quite wet. But then,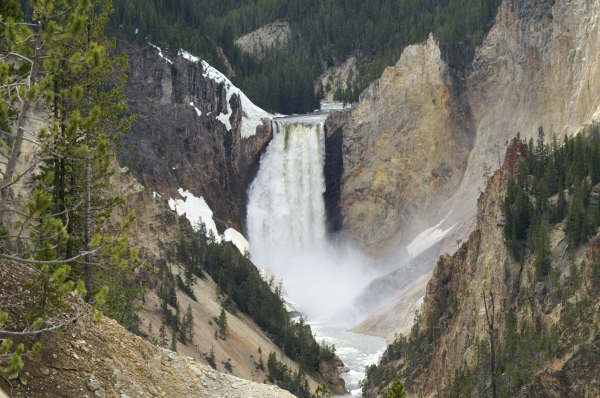 Disney adjusted the geyser so that (heaven forbid) no one got wet. Nature doesn't necessarily have that ability to be adjusted by humans.
Since Artist Point is Guy's favorite restaurant, our trip included a drive over to that area. Although it doesn't have any food or service, the atmosphere can't be beat. Only Mother Nature could make a place so beautiful.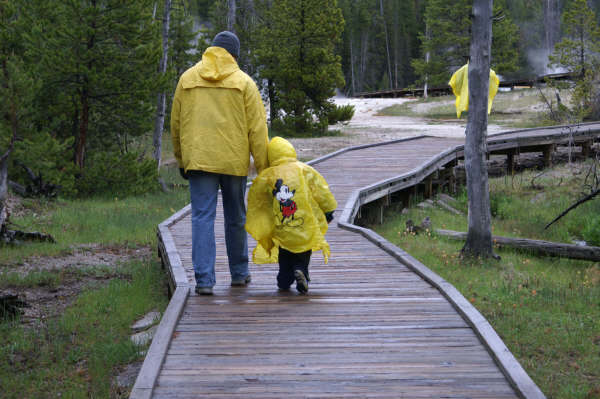 On one of the trails near Old Faithful Inn, I was reminded that we're not the only ones partial to both Walt Disney World and also Yellowstone.
A trip to Yellowstone National Park is a very different trip that a trip to Walt Disney World. Although there are no attractions to see, the bears, buffalo, moose, big-horn sheep and beauty of nature make it all worthwhile. Did I forget the wolves? No, Guy reminded me that we didn't see any wolves on this trip so we have to go back next year-after our trip to Walt Disney World.