Friday Feature: Visiting Disney's Vero Beach Resort
Summertime is the perfect occasion to talk about Disney's Vero Beach Resort. This is the first of three summer articles showcasing Vero Beach Resort, area restaurants and attractions, and lastly an August trip report.
Disney's Vero Beach Resort is located oceanfront in the town of Vero Beach . The resort and town is known for its protection of the sea turtle. It is approximately an hour and a half drive from Orlando International Airport (map).
The resort consists of the Inn, which houses all 112 of the inn rooms (garden and ocean view); three buildings that contain the one-bedrooms, two bedrooms, and studios; and six stand-alone beach cottages. There are three restaurants onsite (Sonya's, Shutters, and the Green Cabin room), along with a pool bar (Bleachers). There is mini-golf, tennis, bike paths, fishing at the onsite pond, turtle tours and many other activities both organized and not. Of course, the main attractions are the beach and the pool with its great lighthouse slide.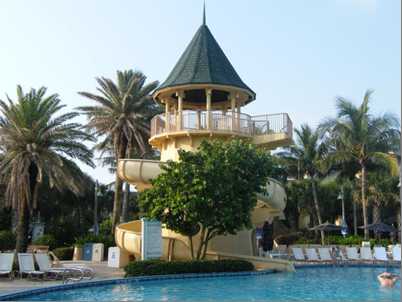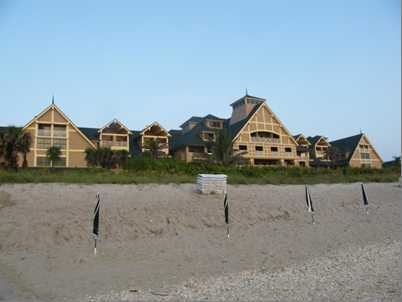 Popular restaurants close to the resort are Squid Lips, Captain Hiram's, and Ocean Grill just to name a few.
The following are some frequently asked questions concerning the resort:
What is the difference between an Inn Room and a Studio?
With an Inn room you will get an approximately 360-square-foot room with two queen beds. You also will have a small refrigerator, wet bar, and microwave. All rooms will have a balcony. Select corner Inn rooms are slightly larger and L-shaped and a couple others have a king bed instead of two queens. The Inn rooms are divided up into two booking categories, Ocean View Inn Rooms (OVIR) and Garden View Inn Rooms (GVIR). The OVIRs will all have an ocean view but some will be on the north or south (pool) side of the building as well as the east (ocean). The GVIR are all on the westerly side of the Inn

A studio is about 375-square feet and also has a mini-fridge, wet bar and microwave. The difference is that you will get one queen bed and one double sleeper sofa. So, if only two people are staying in the room and sharing the bed, you can keep the sofa closed and allows more floor space. The Vero Beach studio room is the same shape as the OKW studio so the floor space is optimized in my opinion. Studios (particularly ground and 2nd floor), don't offer much of a view. There is a lot of very lush tropical foliage surrounding the ground floor studios and larger villas.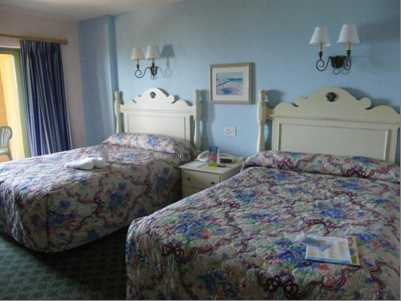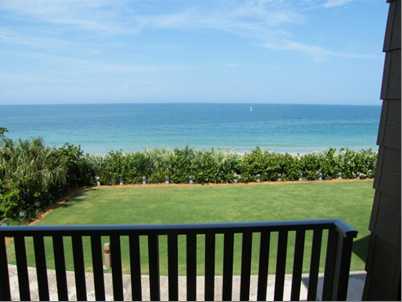 What is the beach like?
The beach is on the "wild" side, with lots of waves and a pretty sharp drop off. Children should be closely supervised. DisDaydreamer describes it here:
"It is not a big beach, but it is never crowded so size, in this case, doesn't matter. Vero Beach is an ocean playground. The waves on most days are formidable and great for boogie or surf boarding. The sand is brown and coarse, and gets hot in the summer. I love the ocean waves. VB receives the gulf stream flow so the water temps are pretty steady for much of the year. There is never a problem finding a spot to set up beach camp at VB. One real nice thing about the beach is the proximity to the Pool bar & grill, and your room. "
What is available for rental at the resort?

There are a number of items available for rent. Prices are as follows (DVC Member/Non-Member)

2 Chairs and Umbrella: $24.00/30.00
Umbrella: $10.00/12.00
Beach Chair: $7.00/9.00
Cushioned Lounge Chair: $9.00/12.00
2 Lounges and Umbrella: $28.00/36.00
Body Board: $9.00/12.00
Cabanas: $12.00/15.00
Bikes (hourly): $5.00/7.00
Bikes: $14.00/17.00
Tennis Racket: Complimentary/$5.00
Miniature Golf Rental Equipment
Hourly: $1.00/2.00
Entire Stay: $5.00/7.00
Kayak (30 minutes): $20.00/25.00
Jet Ski (30 minutes): $55.00/60.00
What sort of amenities and activities does the resort offer? Is there a fee?

In addition to Anchors A Weigh Fitness Center, Rub Dub's Massage, Blinker's Arcade, Nightly Live Music in the Green cabin Room, Hair Beading and Hair Wraps, Valet, Video Rentals, BBQ Grills, and Steamer's Sauna, there are a number of planned recreational activities. Some have age-limits and/or fees. These include (but are not limited to):
Fishing Fundamentals (age 7+): $30.00/35.00
Lagoon Adventure (age 7-17): fee ???
Kayak Adventure (age 8+): $40.00/45.00
Pelican Island Bike Tour (age 12+) $8.00/10.00
Seaside Chefs (age 4+) fee?????
Unbirthday Parties (age 4-12): No fee
Campfire (all ages): No fee - Monday/Wed/Fri/Sat nights
Snorkel Ears: $30.00/35.00
Turtle Troop Adventure: $20.00/25.00
Discovery Scuba: $30.00/35.00
Cel Painting: $10.00/15.00
Faux Gyataku Craft: $7.00/10.00
Sand Casting: $3.00/5.00
Tennis Lessons
30 min: $27.00/30.00
60 min: $50.00/55.00
Garden and Museum Tour: $15.00/20.00
Beginning Birding (seasonal): $8.00/10.00
Surf School: $90.00/95.00
There is a 3-hour 3DC Discovery Club for kids age 4-12 on Monday, Wednesday, Friday, and Saturday. Price is $35.00 per child for non-members and $30.00 for DVC members. Dinner and supervised activities are included and advance reservations are required.
Later this summer a follow-up article will explore some great area restaurants, local attractions, and my secret for obtaining free Kennedy Space Center passes!
---
Author's Note: I would like to take this moment to mention and thank the following Disboard members who contributed all of the facts and figures mentioned in following article (starbox, MiaSRN62, mbhoxie, DisDaydreamer, Lisareniff (Lisa here on DVCnews.com), DVCconvert, Sorcerer's Dad, floridaFam, nzdisneymom) and tomandrobin.