6 Reasons to Love Disney's Animal Kingdom Villas
All of the participants in the Disney Vacation Club are amazing resorts with plenty of positives. None of them offers the pure showiness of Disney's Animal Kingdom Villas, though. These twin resorts, Kidani Village and Jambo House, provide a singularly unique visitor experience.
Once you stay here, you'll remember it for the rest of your life. That's because of the inimitable scenery. Disney has crafted a pair of hotels that double as natural habitats for several animal species. When you stay at Animal Kingdom Villas, you're also staying at the world's coolest zoo. You can watch animals play from the balcony of your hotel room. There's simply nothing else like it, especially not while you're so close to the wonderful theme parks at Walt Disney World. The zoo factor explains why DVC members are so passionate about the resort, but plenty of other reasons exist, too. Here are six more reasons to love Animal Kingdom Villas (beyond the obvious one).
Two great hotel choices at a single resort complex
Describing the individual options at Disney's Animal Kingdom Villas – Kidani Village and Disney's Animal Kingdom Villas – Jambo House comes with a few pitfalls. They're technically two separate resorts that share close proximity and similar amenities. The hotels share so much that distinguishing between them borders on pointless in most ways.
The sole exception is the most important one, though. You'll have to decide where to book, and a subtle distinction exists. When choosing where you'd like to stay, your decision should depend on your traveling party. Disney didn't name Kidani Village by accident. It has that title to reinforce the idea that it caters to a younger crowd than Jambo House. If you're traveling with children, they'll delight in their surroundings at either property.
Since animals roam the lands at both resorts, your choice isn't a huge deal. So, please don't feel stressed about the decision. I generally suggest that guests traveling with children stay at Kidani Village while a party of adults should choose Jambo House. It's a lot quieter at the latter hotel, although it's also missing the raucous laughter of children that you'll find at the former resort. Your mileage may vary about a preferred locale. Either way, you'll enjoy a novel vacation at either property.
You'll enjoy a rare number of room options
Due to the odd nature of the twin villas plus the accompanying animal habitats, Disney's Animal Kingdom Villas includes plentiful room options. DVC connoisseurs have as much control at these two properties as they do anywhere.
Let's start with the most economical of them. Few DVC points charts entries include a number in the single digits. That's exactly what you'll find if you travel to either of these resorts in January, September, or October (plus a few other weeks). The Value Accommodation is the most reasonably priced of all DVC offerings, sometimes costing only nine points per night. You can spend an entire week here for 69 points. That's tremendous bang for the buck for a DVC member, and it also explains why these rooms rent quickly. They're not the fastest sellers, though.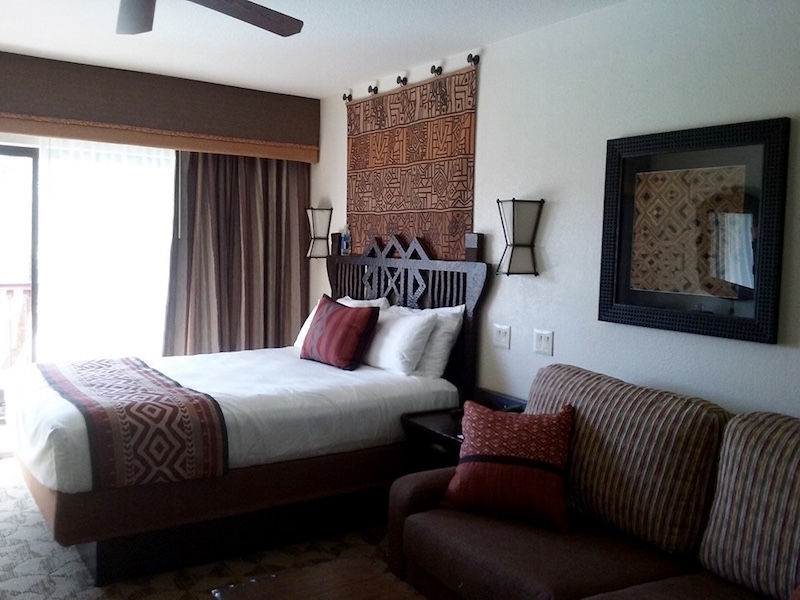 Another novel option at Disney's Animal Kingdom Villas is the Kilimanjaro Club Concierge room. It'll provide DVC members with access to the Kilimanjaro Club Lounge, which offers free food and drinks in a lovely lounge setting. You can click here to learn about all the various foods available in the concierge lounge. The guava juice is of particular note since it has a glowing reputation among Disney fans.
The other room type you should consider is the Savanna View. Booking one of these rooms positions your party on the side of the hotel overlooking the animal habitats. Each time you look out your window, you'll have a chance (but no guarantees) to see playful animals interacting. These resorts are where they live, and they fill their days the same way that you and I do. They eat, they drink, they socialize, and they sleep. From your balcony, you can watch all of it, which is amazing.
The lone complaint for this booking type is that the animals are mercurial. Some days, you may see a lot of them while they might seem invisible on others. For this reason, the extra cost of a Savanna View room, generally three or four more points per day, may not feel worthwhile. You can always just exit the back of the hotel lobby and walk around the savannas to enjoy the same sights.
Great if you're not traveling far…
The logistics of a vacation stay at Disney's Animal Kingdom Villas are a case of feast or famine. Guests planning to spend most of their time at Disney's Animal Kingdom will enjoy a rare level of convenience at the twin properties. A direct bus route will take visitors of each hotel straight to the park. The drop-off and pickup location for Jambo House is located on the side of the hotel entrance. When you exit the lobby, it's on your left. At Kidani Village, the path is the same. From the lobby, turn left and walk under a covered area until you reach the applicable bus stop for Disney's Animal Kingdom. The trip takes only a few minutes. It's one of the shortest bus rides at all of Walt Disney World.
That's the good news.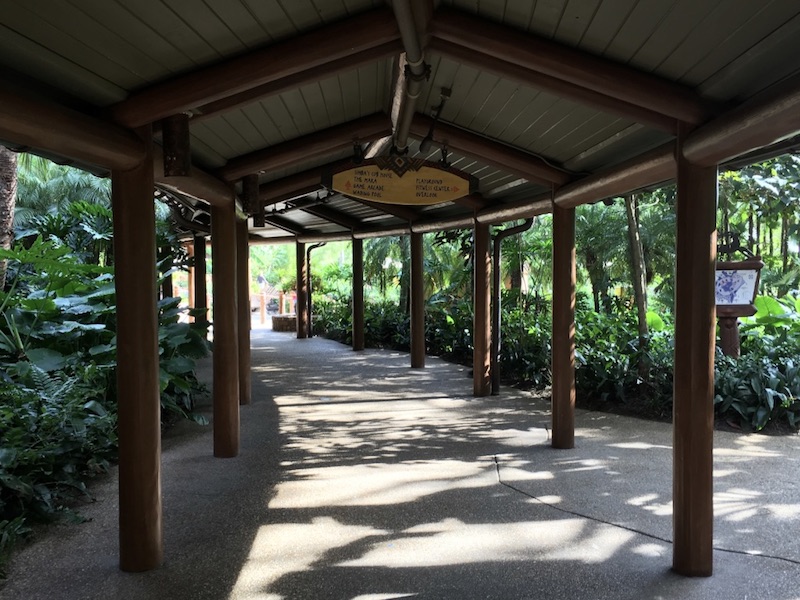 The bad news about transportation from these hotels is that everywhere else is kind of a haul. Due to its relatively remote location, the entirety of Disney's Animal Kingdom is a fair distance away from the rest of Walt Disney World. Your only options to go anywhere else are via car, bus, or Uber. A car rental will give you control over the transportation process, but Uber's a dicey proposition. The last time we attempted it, the driver told us in no uncertain terms that few Uber contract workers hang out in the area. They choose to prioritize the more popular areas of Orlando, which means the Universal Orlando Resort, Magic Kingdom Park, and Epcot. Now, that situation may change moving forward due to the changing circumstances at Disney's Animal Kingdom.
Right next door to Pandora
In 2017, the fourth gate at Walt Disney World will expand with a new themed land. Pandora – The World of Avatar is the first entirely new expansion in what feels like forever (remember that Fantasyland was a reboot of an existing themed land). It'll instantly become one of the most popular draws in the entirety of Walt Disney World. And guests of the two hotels nearby will enjoy convenient access to the delights of Pandora. In the short term, that negates a lot of the complaints about the inconvenience of Disney's Animal Kingdom Villas.
You won't have to leave your hotel for exotic cuisine!
Foodies will have a smile on their face the entire time they're staying onsite. In fact, the food at the twin hotels is so delicious and unusual that guests from other hotels head here to eat a meal or two. Kidani Village only has one true restaurant onsite, but it's a great one.
Many of the flavors you'll find at the two hotels are African by design. Sanaa blends these tastes with Indian flair to craft impeccable dishes that are equal parts tasty and refined. The meal begins with Indian Bread Service (assuming you're willing to pay the $13 fee…this bread isn't complimentary). Guests then have the opportunity to order off the menu, and picky eaters don't need to live in fear. When all else fails, a steak is available if you're lacking in culinary ambition like me. Guests with more advanced palates will savor the sosatie, biryani, and braaivleis. That's a lamb dish, a vegetable dish, and an assortment of meats, none of which you'd find at the average American restaurant. That's part of the reason why Sanaa is so beloved. It's a novel meal.
The same is true of Boma. Positioned down a flight of stairs from the lobby of Jambo House, you'll smell the fragrant aroma of the restaurant as you carry your luggage into the building. Unlike Sanaa, which is a relatively cheap, menu-based restaurant, Boma is a buffet featuring African flavors that you can watch as they're prepared. The open kitchen adds to the entertainment. And you can finish your meal with Zebra Domes, one of the best desserts in all of Walt Disney World.
If you prefer a quick service meal, only one decent option exists. That's The Mara, whose food is much more American in flavor and style than the other restaurants. It does have a killer app, though. You can sit outside here and enjoy the lush foliage at the resort. Alternately, you can upgrade to signature dining at Jiko – The Cooking Place positioned across from Boma. Here, you'll enjoy African, Indian, and Mediterranean cuisine, all while looking out over the fountains outside or at the giant ovens inside. It's a homey setup that's convivial and inviting. The restaurant also offers an extremely popular wine tasting event. Overall, the food at these two hotels is the most unique of any DVC property. No, the flavors aren't for everyone, but a lot of guests are absolutely fanatical about them. Personally, I live in a Boma family.
Uzima versus the quiet pool
Both properties feature a pool, but one's a lot better…or at least a lot more popular. The quiet pool resides at Kidani Village. It's called Samawati Springs, and the reference to it as a quiet pool shouldn't confuse you. As far as DVC pools go, this is a large one that will please the young and old alike. Since this hotel has a focus on families with young children, the pool area is obviously entertainment-centric. Samawati Springs has a zero-entry access point and two slides, one of which is fairly long. It also features a pair of hot tubs for parents seeking to soak their feet after a long day of Disney park hopping.
The showier pool is at Jambo House. Named Uzima Springs, it's arguably the most active pool of any DVC resort. Part of the explanation for this is that it can literally hold more people. This pool is absolutely massive, with 11,000 square feet of space. It too is zero-entry, a great feature for nervous children working up the courage to tiptoe to deeper waters; it's also great for parents who just want to get their feet wet. With foliage everywhere, you'll feel like you're on an island while swimming at Uzima Springs. The only thing that will disrupt your revelry is the knowledge that hundreds of children have already peed that in that pool that day. It's the downside of having the most active pool at Walt Disney World.
If you're wondering, pool hopping is allowed for guests of both resorts. You cannot, however, pool hop to Uzima Springs if you're not a guest of one of the twin Animal Kingdom Villas. Since it's so popular with its own guests, it couldn't accommodate any outside visitors.
Look, both Animal Kingdom Villas offer a tremendous amount of amenities and options for DVC members. Historically, the primary selling point to either property is proximity to Disney's Animal Kingdom. That positive will only increase in value once Pandora – The World of Avatar debuts. Still, the best thing about a stay here is the obvious one. You can look out from your window or the hotel lobby and see animals playing in the background. Where else on the planet can you enjoy that opportunity? Those hotels are special, and you'll gain memories that will last a lifetime when you stay here.
---
Disney Vacation Club member David Mumpower first visited Walt Disney World when he was six years old. The little brat promptly threw a tantrum because he couldn't find a comfortable shirt to wear around the park. Fortunately Disney shirts got a lot less itchy over the years. David currently writes for a number of websites including "Theme Park Tourist", "Box Office Prophets" and "How Well Do You Know." He's also the author of the Disney Demystified book series, which you can buy here.