6 Reasons to Love Disney's Polynesian Village Resort
The newest DVC resort at Walt Disney World is, perhaps incongruously, the oldest five-star Disney hotel in Orlando. I'm speaking, of course, of Disney's Polynesian Village Resort, the gorgeous tribute to the Pacific Islands.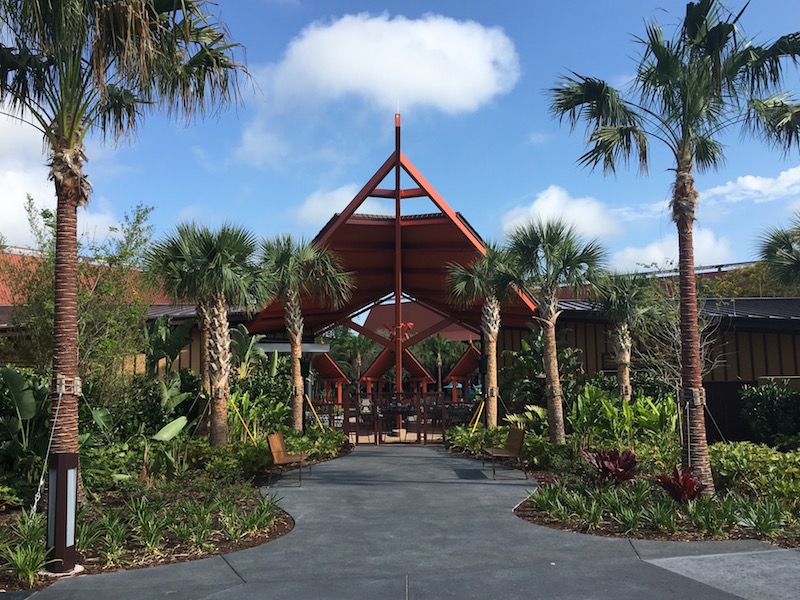 The property debuted on October 1, 1971, the same day that Walt Disney World opened to the public for the first time. It was joined by The Contemporary Resort Hotel, which we now know as Disney's Contemporary Resort. These two hotels embody the heritage of Walt Disney World in the greater Orlando community. And that's exactly why Disney Vacation Club members begged them to become a part of the program for more than 20 years. Eventually, Disney relented, first with Bay Lake Tower at Disney's Contemporary Resort in 2009, and most recently with Disney's Polynesian Village Resort, which became a program participant in 2015.
I'm going to acknowledge author bias upfront on this subject. Having stayed in most of the DVC properties over the years, I have a favorite. The words, "Welcome home!" never ring truer for me than when I check in at the iconic hotel. No, it's not my home resort (yet), but I feel like I'm walking through history when I stay here. The hotel is even where John Lennon famously signed the documents that broke up the Beatles! Yes, I'm totally in the tank for the island vibes here to the point that I've purchased candles that smell like the hotel. Admitting my bias upfront, here are seven things to love about Disney's Polynesian Village Resort.
A hotel room that's more of a studio apartment
Room options at this DVC facility are all wonderful. I say that because the studios at Disney's Polynesian Village Resort are THE largest of any DVC site, stretching 465 square feet. For me, there's no larger disconnect than when I switch from Bay Lake Tower at Disney's Contemporary Resort to here or vice versa. I've done so three times, and moving from the former to the latter feels like upgrading to a one-bedroom villa.
The explanation for this sensation is the size discrepancy of 339 square feet to 465. 126 square feet might not sound like a lot, but it's everything when you've been feeling a little claustrophobic. If you switch the other way, the situation reverses. You go from a spacious studio to a cleverly designed but tight room. The moral of the story – don't make my mistake. Stay at Disney's Polynesian Village Resort last if you're doing both on the same trip.
The design of the studios at Disney's Polynesian Village Resort is a bit odd, and that's important since they don't have any one-bedroom villas. Instead, the studio tries to offer plenty of space for five guests. It has 1 ½ baths, one of which includes a relaxing, romantic rain shower. In the master bedroom area, the Lilo & Stitch themed pullout is decorative as well as functional. In addition, the "living room" portion is as spacious as anything this side of Disney's Old Key West Resort. Suffice to say that if you like studio rooms, you'll love your stay.
Oceanfront bungalows and the pros and cons of the Lake View debate
Meanwhile, DVC members who prefer larger villas are in trouble, at least unless you own a LOT of points. The only other option is the two-bedroom bungalow located out in the shallow waters of Seven Seas Lagoon. You've likely drooled over the blueprints, the pictures, and the videos taken of them. The only thing keeping you from staying is the points cost.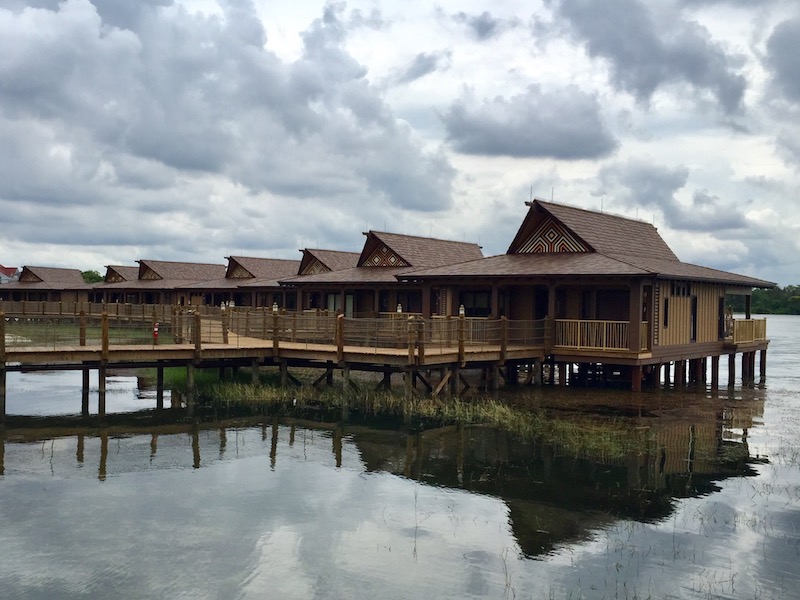 A week's stay in a Disney's Polynesian Village Resort studio is between 118 and 269 points, depending on whether you want a Lake View or not. A single night in one of the bungalows costs between 115 and 227 DVC points. Yes, your choices are effectively a week in a studio or a day in a bungalow for the same number of points at this property.
As for the Lake View, that comes down to personal preference. Some guests do complain about the noise coming from the Electrical Water Pageant that sails by each evening. Others love the breathtaking view of Magic Kingdom across the water. So, you'll find good and bad with a Lake View. The basic studios can also have a view, or they can share a parking lot with the Disney Transportation and Ticket Center. You can use the DVCNews RoomFinder to identify the best places to stay.
Guests who prefer a view should splurge for the cost of Lake View. Alternately, lean into the advantage of standard view. I enjoy the short walks from Tokelau and Pago Pago to the Epcot monorail. I feel equidistant between the two most popular gates at Walt Disney World.
Buying the island lifestyle
The shops at the hotel aren't as amazing as the ones I discussed with Disney's Contemporary Resort, but that's because I consider that resort to have the finest in-house options at Walt Disney World. For its part, Disney's Polynesian Village Resort offers plenty of upside, at least as long as you enjoy Lilo & Stitch.
The iconic characters from Disney's 2002 masterpiece have a huge presence in the gift shop, Moana Mercantile. It resides on the second floor of the main lobby of the Great Ceremonial House. Here, you'll find Stitch dolls of all sizes…and that's not an exaggeration.
The smaller left half of the store sells snacks and beverages, making it a default stop for DVC members. The larger right half is a Disney merchandise factory disguised as a store. My wallet lives in fear of that place. As if it weren't enough, another store also sits just outside Moana Mercantile. It's a pop-up business positioned where the pin store once was.
The bottom floor features the showstopper store at the Great Ceremonial House. Where several shops once existed, Disney has now consolidated them into a master shop called BouTiki. Here, you'll find all the Polynesian shirts you could ever need, even if you're Jimmy Buffett. Pacific fashion is everywhere, as is the accompanying art and jewelry. This is one of the largest stores as any Disney resort, at least in terms of square footage. Should you be in search of the perfect gift for a loved one, you're likely to find it here. Note that this is one of the three priciest gift shops among official Walt Disney World resorts, though. As you might expect, Disney's Grand Floridian Resort & Spa offers the third.
A Park Hopper's dream
As I mentioned above, the location of Disney's Polynesian Village Resort is ideal. Using the monorail, you're never more than three stops away from Magic Kingdom. The monorail route starts there then heads to Disney's Contemporary Resort, the Disney Transportation and Ticket Center, Disney's Polynesian Village Resort, and then Disney's Grand Floridian Resort & Spa. From there, it goes to Magic Kingdom, and the process repeats itself again. So, you're only two stops away when you're traveling to the park and three stops away during your return. But that's only the Magic Kingdom side.
The glory of staying at this particular monorail resort is that you're also sharing the same parking lot as the Disney Transportation and Ticket Center. That means you're only a few hundred steps away from direct access to Epcot. Out of all three amazing monorail resorts, Disney's Polynesian Village Resort provides the most convenience for Park Hoppers. If you're not a fan of the monorail system, you can always take a boat to Magic Kingdom. As for Disney's Hollywood Studios and Disney's Animal Kingdom, the bus is your primary option, although I maintain that Uber has become the best Orlando transportation solution.
All the meats a chef can slice, dice, and grill
A stomach will never go hungry at this property. Disney's Polynesian Village Resort features two table service restaurants, a couple of quick service establishments, a Dole Whip counter, and an insanely cool bar. Prepare to lick your lips. I consider this hotel's overall depth of food offerings to be the finest of any DVC property.
The most popular restaurant onsite is 'Ohana, which serves breakfast and dinner. The latter is the one everyone knows and adores. It's an All You Care to Eat (AYCE) system wherein servers bring out giant platters of meat. Each course features a different type of skewer. While the menu options change on occasion, the current offerings are sweet-n-sour chicken, Szechuan sirloin steak, and spicy grilled peel-n-eat shrimp. The pork is also so legendary that Disney fanatics grouse when it's not on the menu.
Before I circle back to breakfast at 'Ohana, I want to note that Disney's Spirit of Aloha is the resident show at the hotel. That's important because it features all of the same foods as 'Ohana plus adult/regular beverages as part of the package. So, if you like the food at 'Ohana but also want to watch an adorable show plus some fire dancing, choose Spirit of Aloha.
As for breakfast at 'Ohana, it's a character meal featuring Lilo and Stitch (natch). Some other characters including Mickey Mouse also make appearances, but it's Stitch's party. The breakfast is also AYCE, and it's highlighted by lots of bacon, sausage, Mickey Mouse-shaped waffles, and tasty fried potatoes. While most DVC members rave about 'Ohana's dinner, we've had breakfast there six times in a row. We're that addicted to the food (and the characters).
The other table service meal is at Kona Café, as is the first quick service establishment. I'll explain. One side of this area is called Kona Island. It's a small sitting space where guests can enjoy coffee and pastries for breakfast. Then, when they're ready for something more substantial, the menu switches to sushi and sashimi. It's quietly one of the best sushi bars in Orlando.
The rest of the restaurant area is Kona Café. Here, you'll find one of the top three steaks at Walt Disney World plus a rich menu of other options, including sushi, of course. The star of the meal comes in the form of the sweet bread, though. This precursor combined with the accompanying Macadamia Nut butter is the purest ambrosia. I actually purchased a Disney cookbook to replicate the recipe, but you can easily find it online.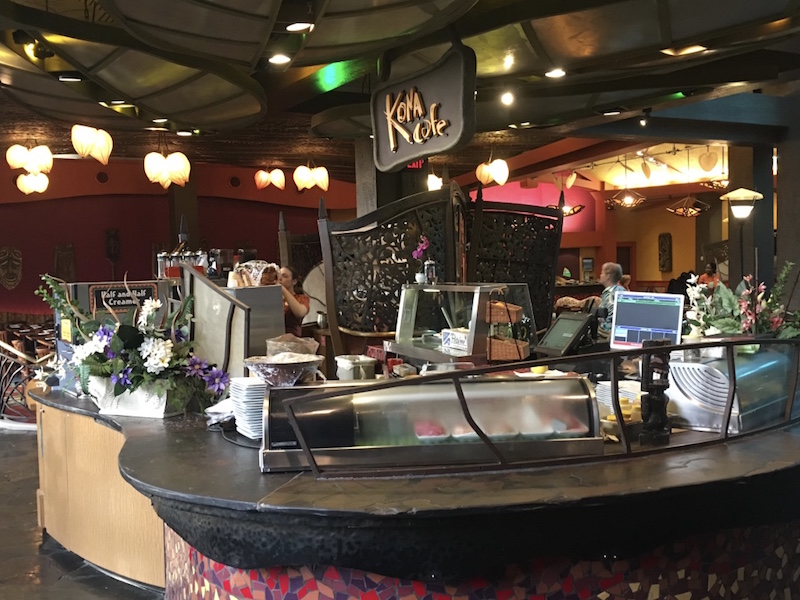 The final quick service business is Capt. Cook's, and you shouldn't overlook it. The food here is rather daring for a resort, and it's actually the place that turned me on to pesto. They add a bit of it to the ham and cheese sandwich to provide that extra oomph. In the morning, you can also enjoy the world-renowned Tonga Toast that's so good you'll wind up wanting it every day you're there.
The odd touches that put Disney's Polynesian Village Resort over the top as the best DVC resort for food and drink involve ice cream and illuminated beverages. Just off to the side of the rear exit of the Great Ceremonial House is Pineapple Lanai. They only serve two items here, shaved ice and something better. Sure, you can get shaved ice anywhere in Orlando, but the second item is Dole Whip, the most recognizable dessert at Magic Kingdom. The hotel offers a stand that sells this appropriately themed tasty treat.
Similarly, the South Seas wouldn't feel complete without a grog bar. Disney obliges with Trader Sam's Grog Grotto, featuring tasting island delicacies such as kalua pork tacos, pan-fried dumplings, a "Hawaiian Poke," and a headhunter sushi roll. More importantly, they serve alcoholic beverages that light up. These specialty drinks have colorful names like the Tiki Tankard, the Tahitian Torch, and the Tiki Tiki Tiki Tiki Tiki Rum. DVC guests looking to have some fun while taking the edge off will find their happy place in a room full of illuminated grog.
What's an island getaway without swimming?
The hotel's amenities include two terrific pools. One has a storied reputation among Disney fanatics, but the other is a hidden gem for DVC members. The most popular pool is, of course, the Lava Pool. It's unmistakable and easily viewable from a distance due to its novel design. It's shaped in the form of a volcano, an eye-grabbing detail that's wonderfully appropriate for the Pacific Islands theme.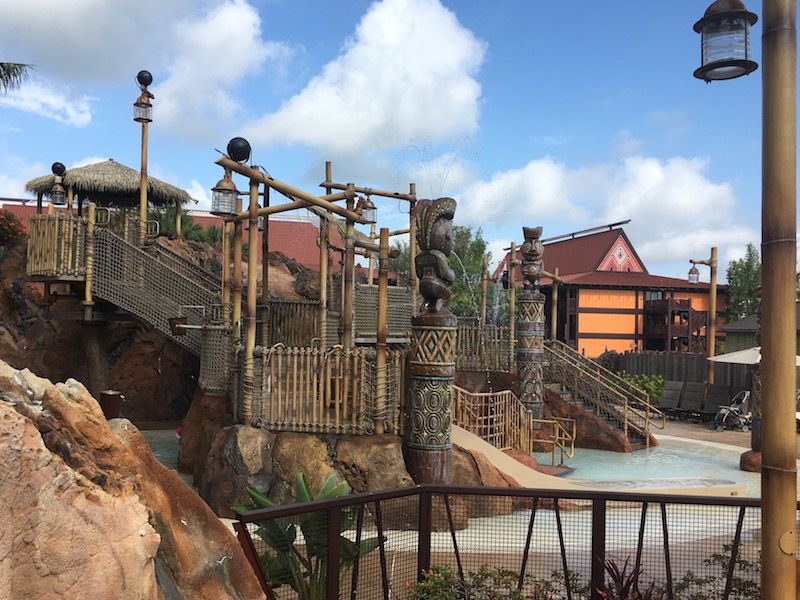 The Lava Pool is exclusive to guests staying onsite, yet it's still wildly crowded during most operating hours. The explanation is not just that it's a wonderful pool. It's also right next to the Great Ceremonial House, creating a bit of a buzz when guests first arrive and check in. It's impossible to miss the giant volcano, and it makes people want to take a dip when they have some downtime.
Less overt but equally relaxing is the aptly named Oasis Pool. Known as the Quiet Pool among resort aficionados, it was completely redesigned in 2015, timed with the DVC addition of the hotel itself. The most interesting feature of this pool is that it's saltwater rather than chlorine. Your eyes won't sting while you're swimming, which is refreshing.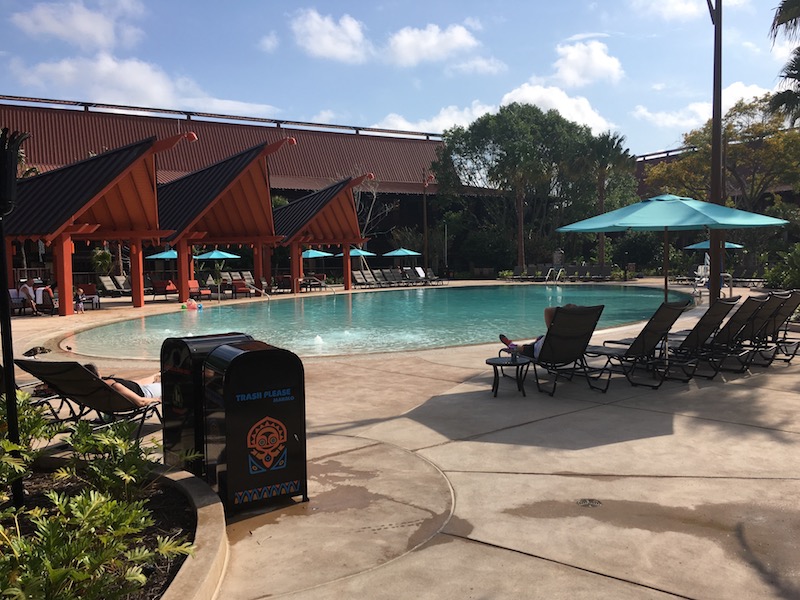 If you're a bigger fan of sitting by the pool rather than getting wet, Disney also recently added some rentable poolside patios at the Oasis Pool for guests who want a guaranteed cabana. Finally and most important, the location of the Oasis Pool is such that it's relatively equidistant between three different DVC buildings at the hotel. You're much more likely to stay near it than the Lava Pool, so embrace the upside of convenient access. In fact, there's even a drink refill station right by the pool!
Finally, DVC members seeking to learn more about Disney's Polynesian Village Resort should read (and bookmark) Tikiman Pages. This fansite was the first to leak details about the hotel's DVC conversion, and it continues to offer pertinent details about available and upcoming amenities.
---
Disney Vacation Club member David Mumpower first visited Walt Disney World when he was six years old. The little brat promptly threw a tantrum because he couldn't find a comfortable shirt to wear around the park. Fortunately Disney shirts got a lot less itchy over the years. David currently writes for a number of websites including "Theme Park Tourist", "Box Office Prophets" and "How Well Do You Know." He's also the author of the Disney Demystified book series, which you can buy here.