Enchanted Rose Menu Revealed
The food and beverage menu has been published for the new lounge opening this fall at Disney's Grand Floridian Resort & Spa.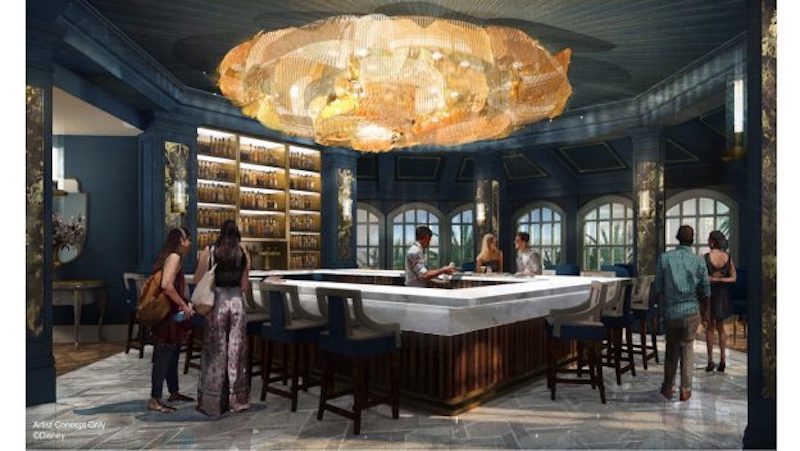 Later this year, Enchanted Rose will replace Mizner's Lounge at the Walt Disney World flagship hotel. The dining location is themed to reflect the Disney animated film "Beauty and the Beast" with a library, gardens, grand chandellier and more. Complete hours for the lounge are unavailable but food service will be available between the hours of 5:00 - 10:00pm.
Following is the lounge's debut menu (subject to change):
Crab and Gnocchetti Gratin (Jumbo Lump Crab, Gnocchetti Sardi, Robiola Bosina Mornay, Citrus Breadcrumbs) $16.00
Artisinal Cheese Selection (Artisanal Cheeses, Pine Nut Bread, Raisins on the Vine) $19.00
Espelette Pepper-spiced Shrimp (Lime Gelée, Piquillo Pepper Purée, Serrano Ham) $19.00
House-made Flatbread (Charred Broccolini, Seasonal Mushrooms, Fennel Sausage, Ricotta Salata, Tomato Confit) $18.00
Truffle Fries (Shaved Black Truffles and 18-Month Aged Parmesan) $14.00
Octopus à la Plancha (Black Olives, Blistered Tomatoes, Fingerling Potatoes) $18.00
Mini Smoked Short-Rib Sliders (Glacier Blue Cheese and Onion Marmalade on Split-top Buns) $16.00
White Sturgeon Caviar (Egg Timbale, Crème Fraîche, Chives) $95.00
A list of featured cocktails, martinis, beer and hard cider options can be found on the Disney Dining website.