Preliminary 2019 Property Appraisals and Tax Rates for Select DVC Resorts
In October, the Orange County Tax Collector will issue the 2019 property tax bills for the 10 Disney Vacation Club resorts located at Walt Disney World. Although the final tax values have not yet been certified, preliminary 2019 property appraisals and millage rates for the DVC resorts have been posted by the Orange County Property Appraiser.
Disney's BoardWalk Villas
Four of the ten DVC resorts have virtually no change in their property assessments in 2019. Disney's Animal Kingdom Villas and Disney's Polynesian Villas & Bungalows have the same property appraisals as in 2018, while Disney's BoardWalk Villas and Disney's Saratoga Springs Resort & Spa have negligible increases in 2019 of only $1,230 and $3,390, respectively.
Disney's Old Key West Resort and Bay Lake Tower at Disney's Contemporary Resort have increases in their assessments of about three percent and Boulder Ridge Villas at Disney's Wilderness Lodge has an increase of about eight percent. Disney's Beach Club Villas and the Villas at Disney's Grand Floridian Resort & Spa will have larger increases in assessments in 2019 of ten percent.
Not surprisingly, Copper Creek Villas & Cabins has the largest property appraisal increase in 2019. The resort was not fully declared for the Disney Vacation Club until this year and received only partial assessments in 2017 and 2018. Now that it is fully declared, Copper Creek's assessment reflects that fact. Its assessment is increasing almost 150% from $71,103,186 to $177,367,729 in 2019.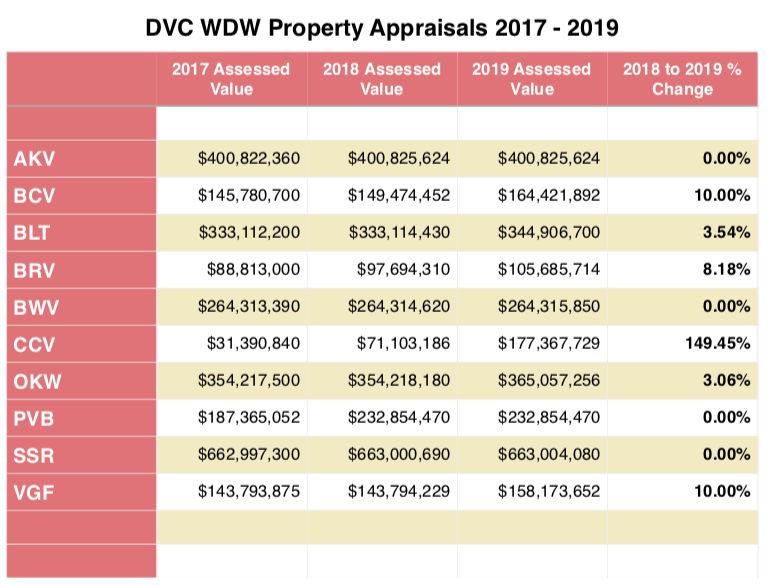 In addition to its property appraisal value, a resort's tax bill is dependent on the millage rates set by the relevant taxing authorities. Each DVC resort is subject to taxes levied by seven taxing authorities, including a city property tax. Old Key West and Saratoga Springs are taxed by the City of Lake Buena Vista, while the other eight resorts are subject to taxation by the City of Bay Lake.
In 2019, all taxing authorities either reduced their millage rate or kept it unchanged from 2018. The State of Florida School tax rate is decreasing from $4.0510 per $1,000 assessed value to $3.8610, a change of 4.7%. The cities of Bay Lake and Lake Buena Vista are also reducing their millage rates by 6.1% and 1.9% and the South Florida Water Management District and the Reedy Creek Improvement District are lowering their respective tax rates by 4.8% and 0.9%. The other three taxing authorities that levy taxes on DVC properties — School Local, Orange County, and Library — did not change their millage rates in 2019.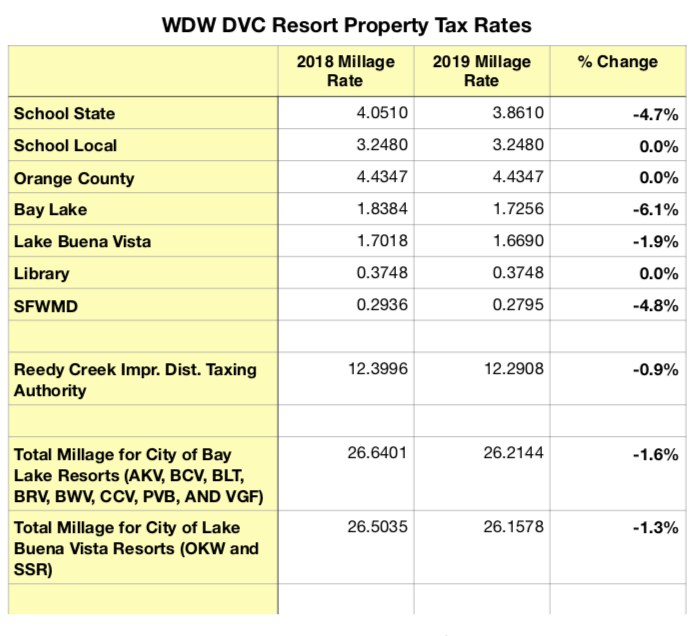 Overall, the tax rates for the two DVC resorts within the boundaries of the City of Lake Buena Vista should see their millage rates decrease by 1.3% in 2019. The eight DVC resorts located within the City of Bay Lake will see a drop of 1.6%.
When the 2019 annual budgets were approved at the DVC Annual Meeting in December 2018, the Board of Directors could only estimate what the final 2019 ad valorem taxes would be for each resort. If, once the final tax values are certified, a resort's estimated tax amount is higher than the actual 2019 tax bill, DVC owners will receive a credit on their 2020 annual dues. It the estimated tax amount is lower than the actual amount, DVC owners will be charged the difference on their 2020 annual dues.
Once the final 2019 tax bills are released by Orange County, DVCNews will share the information with our readers.
---
Wil Lovato is a contributor to DVCNews.com and has been a Disney Vacation Club owner since 2009. His DVC Home Resorts include Bay Lake Tower, Animal Kingdom Villas, and Aulani. He can be found posting on many Disney discussion forums under the username of "wdrl."