DVC Webpage Using Virtual Queue for Login
New traffic control measures may impact those hoping to secure early morning reservations on the Disney Vacation Club member website.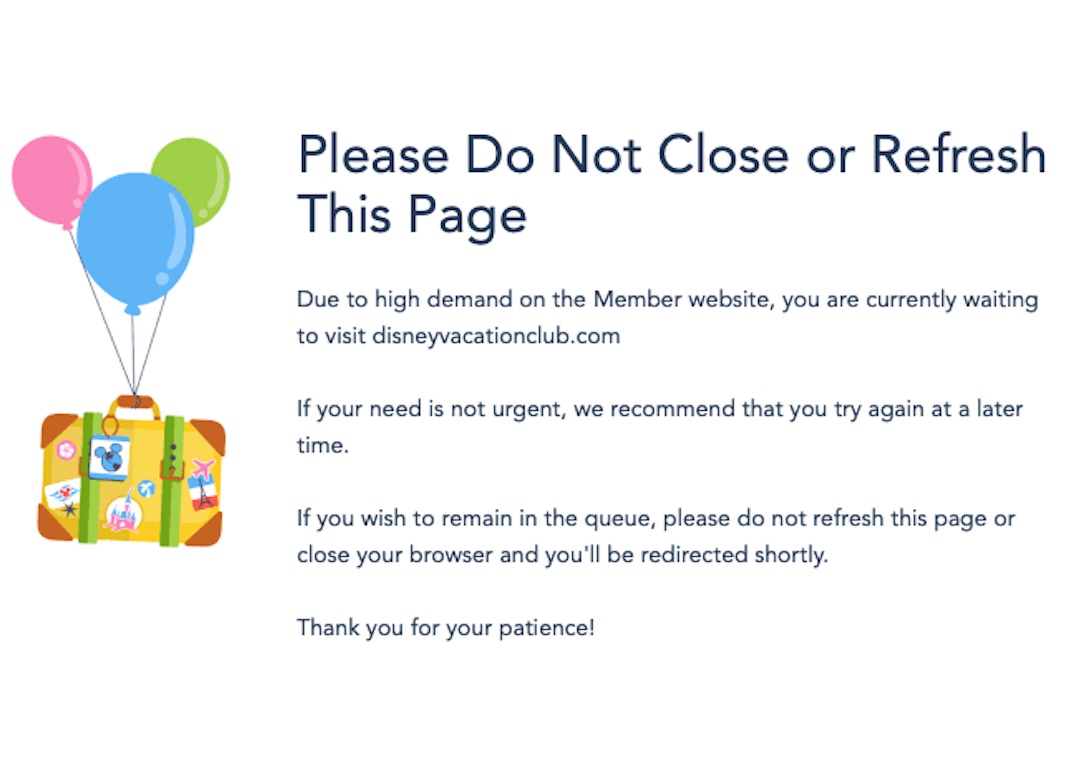 Within the last several days, the DVC members-only website has added a queuing system to control the volume of traffic. When the virtual queue is in place, visitors will not be able to immediately log in. Instead, they will be presented with the following message:
Due to high demand on the Member website, you are currently waiting to visit disneyvacationclub.com.
If your need is not urgent, we recommend that you try again at a later time.
If you wish to remain in the queue, please do not refrest this page or close your browser and you'll be redirected shortly.
Thank you for your patience.
This queuing process could present issues for members looking to make reservations early in the morning when the 11 or 7 month booking windows come into play. Reservations open daily at 8:00am eastern, with some resorts and room types filling within minutes, in accordance with high member demand. Owners who are stuck in the virtual queue will be unable to complete the login process and being to check villa availability. Several recent late-morning login attempts saw our access delayed by approximately 60 seconds.
The change comes as 11-month reservations are being accepted for popular dates in the fall of 2022, with Thanksgiving and Christmas periods rapidly approaching.
For many years, the members-only website has been routinely plagued by unexpected downtime. In recent months, the site has experimented with email verification codes as a form of two-factor authentication. However their use has proved to be rather inconsistent.