DVC Points Charts Revised for September 2022
Disney Vacation Club has released a revised set of points charts for calendar year 2022 which corrects inflated annualized figures.
Disney's Polynesian Villas & Bungalows
Disney Vacation Club retains the right to adjust resort point charts from year to year, ostensibly in the interest of balancing member demand with the cost of accommodations. Ideally, periods which have proven less desirable among members will see their costs decline to encourage additional traffic while periods of high demand see an offsetting increase in costs. Such adjustments have been implemented during the last several years, a process which included adding two new seasons to the point charts of most resorts.
When these changes are complete, the full year cost for booking all villas for all nights at a single DVC resort should remain largely unchanged.
Back in May 2021, DVCNews.com published an overview of such changes in the initial points charts for 2022. Our conclusion was that reallocated charts for Walt Disney World resorts for calendar year 2022 reflected an overall increase of about 205,000 points or 0.40% more than if the 2021 charts had been maintained.
On August 4, 2021, Disney Vacation Club published revised charts for the 2022 year which largely correct this imbalance. The 11 days from September 20 to 30 were moved back down to the lowest-cost season (from the second lowest) while nightly costs for that season were adjusted as necessary.
In the case of Disney's Polynesian Villas & Bungalows, the cost of a Standard View Deluxe Studio villa from September 1-30 was reduced from 15 to 14 points per weeknight and 18 to 17 points per weekend. On those same dates, the resort's Bungalow cost was reduced from 115 to 113 points per weeknight and 133 to 132 points per weekend.
The impact on Polynesian costs is illustrated in the chart below.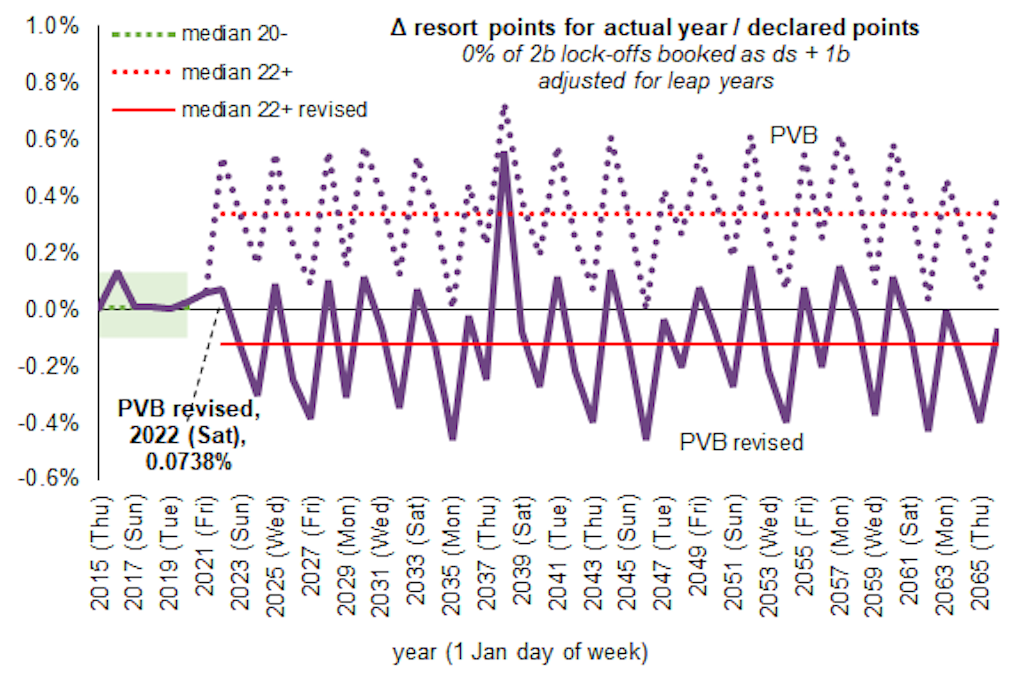 (Chart courtesy Chris of DVC.market)
The initial 2022 Polynesian charts reflected inflation of +.53% for the single year of 2022, and long-term median increase of 0.33% (illustrated by dotted red line) if that chart had been maintained indefinitely. Under the new chart, the 2022 effect has been reduced to just 0.07% greater than the prior year's chart. If maintained, the long-term impact of the revised chart would be a -0.13% decline (illustrated by solid red line) in total points compared to the 2021 chart.
Similar trends are evident at all Walt Disney World DVC resorts.
A note posted to the members-only website has this to say about the adjustments:
Disney Vacation Club Management, LLC is adjusting the 2022 Vacation Points Charts with the goal of balancing demand and improving availability for Members. The adjustment includes the following modifications:
September 20th - 30th, moving from the second travel period to the first.
Additional point reductions to the month of September, based upon specific Resort demand patterns.
The adjustments only affect Disney Vacation Club Resorts at Walt Disney World Resort. They do not impact Disney's Vero Beach Resort, Disney's Hilton Head Island resort, The Villas at Disney's Grand Californian Hotel & Spa and Aulani, Disney Vacation Club Villas, Ko Olina, Hawaii.
Links to the revised points charts are available below:
It is expected that the point charts will be subject to additional changes for the 2023 calendar year. 2023 charts will likely be published no later than December 2021 or January 2022 in advance of 11-month reservations for 2023 dates.