2022 Points Charts Continue Adjustments Started with 2021
Disney Vacation Club has published the points charts for 2022, continuing with the seven distinct seasons introduced for 2021 and further adjusting rates for fall and summer dates.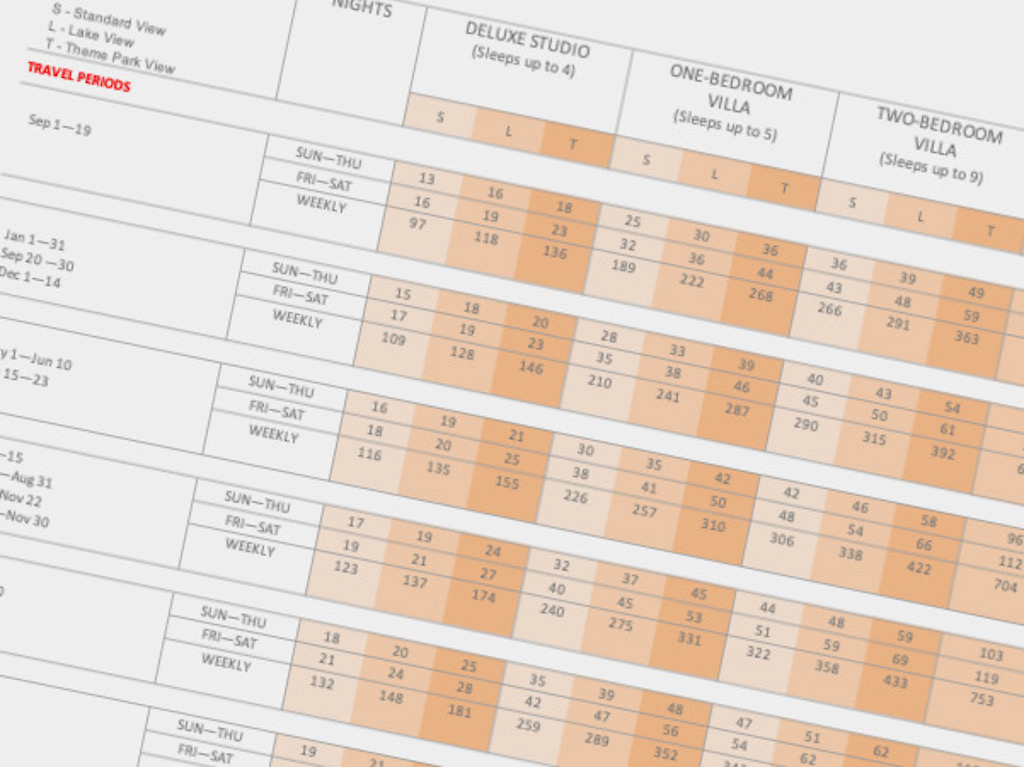 Disney Vacation Club continues what is apparently viewed as a multi-year effort to rebalance the Walt Disney World charts to better correspond with demand. 2021 saw the introduction of two new seasons, expanding from the orignal five to seven. Rate changes illustrated a desire to make popular fall dates more expensive while reducing the cost to visit during the warm summer months.
DVC retains the right to adjust the point charts periodically so they better correspond to member demand. More popular periods may be increased in cost while slower periods are made cheaper. However, there is a stated limit that the cost of a single night may not increase more than 20% from year-to-year. As such, more radical adjustments require a multi-year process of making smaller changes which comply with the 20% annual cap.
As recently as 2020, the summer months were priced considerably higher than fall dates. The bulk of June, July and August fell into "Magic" season--with the second highest rates of the year--along with Thanksgiving and much of the Spring Break period. Meanwhile most of October and November were placed in "Dream" season as the second cheapest dates of the year.
As of 2022, these two periods are now priced identically with June 11 through August 31 and October 1 to November 22 falling in the same season.
To illustrate, following is a summary of the weekly point cost of a Deluxe Studio Villa at Disney's Beach Club Villas over the last 3 years:
| | | |
| --- | --- | --- |
| BCV Studio (Weekly) | July | October |
| 2020 | 134 | 107 |
| 2021 | 127 | 114 |
| 2022 | 121 | 121 |
Other Walt Disney World resorts and unit types experienced similar adjustments.
September 1-19 continues to be the cheapest days of the year to visit Walt Disney World, followed by a close approximation of the old "Adventure" season which inlcudes the remainder of September, all of January and the first two weeks of September. December 15-23, which had been lowered to the same cost as early December for 2021 is now priced moderately higher.
The week before Easter and period between Christmas Eve and New Year's Eve remain the most expensive nights of the year.
Disney Vacation Club's official statement and links to the 2022 charts can be found below:
After a thorough analysis of Member travel patterns and Resort demand, the 2022 Disney Vacation Club Vacation Points Charts were adjusted to continue to encourage travel throughout the year with the goal of improving availability.
The 2022 Vacation Points Charts will again feature 7 seasons with modified travel options. Similar to the 2021 reallocation, travel periods with greater demand will require more Points and travel periods with less demand will require fewer Points. For example, Members can enjoy stays for fewer Points than the year before when traveling during the summer period. On the other hand, Members who wish to travel in certain weeks in October, November and December will require more Points than the year before.
The 2022 changes only affect Disney Vacation Club Resorts at Walt Disney World Resort. They do not impact Disney's Vero Beach Resort, Disney's Hilton Head Island Resort, The Villas at Disney's Grand Californian Hotel & Spa and Aulani, Disney Vacation Club Villas.