Elsa Not Expected to Severely Impact DVC, Disney Destinations
Tropical Storm Elsa is preparing to make landfall along the Florida panhandle, and should not bring significant impact to any Disney Vacation Club destination.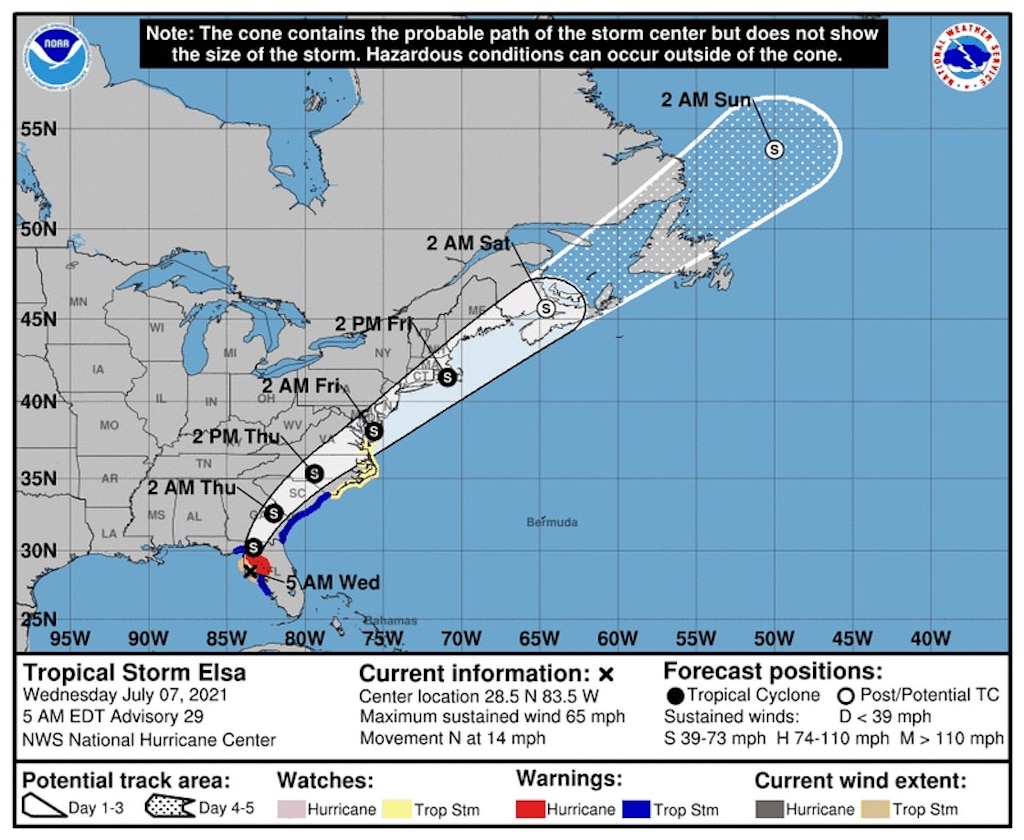 Elsa is slowly making its way up the gulf side of Florida, alternating between tropical storm and category 1 hurricane winds. The storm is expected to make landfall late morning or early afternoon Wednesday. Hurricane warnings are in effect for the Cedar Key area, with sustained winds expected in the 60-70 mph range.
Rainfall and sustained winds of 20-30 mph are expected in central Florida, an area which includes Walt Disney World. At this time, Disney has not announced any major changes to its operational schedule. On Tuesday night, EPCOT's fireworks presentation was cancelled while minor adjustments were made to the Magic Kingdom fireworks. Officials are also monitoring conditions for the possibility of tornado formation.
Orlando International Airport remains open, however they anticipate a variety of flight delays and cancellations prompted by the storm's effect.
The storm is expected to track in a north easterly direction along the Atlantic coast, bringing wind and rain to the area surrounding Disney's Hilton Head Island Resort. The storm did not approach Disney's Vero Beach Resort located on the eastern side of Florida.
Disney Vacation Club's hurricane policy allows for last-minute changes to travel plans in the event of a hurricane warning. None of the DVC resort destinations are currently under such an advisory, however guests traveling from an area covered by a warning would be eligible for some relief. Contact DVC Member Services for assistance.
Guests currently in, or traveling to, Central Florida or South Carolina are advised to monitor local media to stay appraised of the storm sitaution. Refer to the Disney Parks smartphone app, in-room TV or the resort front desk for the latest on theme park operating status.