Western Development Named: Flamingo Crossings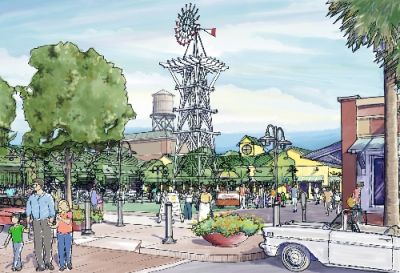 Back in March Disney announced its intention to create a value-oriented retail / lodging complex near the new Western Way access road from State Route 429. Recently additional details about this project have been revealed...including its name: Flamingo Crossings.
The idea behind Flamingo Crossings is fairly simple: To allow Disney to leverage its extensive real estate holdings by creating a project to compete with other so-called "off site" developments. Many Walt Disney World guests do not hesitate to shop, dine and reside outside of Disney property to take advantage of the dramatic cost reduction.
Flamingo Crossings is not designed to house additional Disney-branded hotels and shops, nor does Disney anticipate any direct competition with its existing business. The 450 acres in Flamingo Crossings is being marketed to retail merchants, hotel and timeshare developers to compete with similar developments outside of Walt Disney World. Disney has the marketing advantage of being able to place these vendors closer to Disney World than other off site competition.
This is not exactly a unique concept for Disney--they own the "Crossroads" shopping center east of Downtown Disney. They also have long-term lease agreements with the operators of Downtown Disney-area resorts as well as the Dolphin and Swan hotels.
However, Flamingo Crossings will differ from these prior developments in at least one way: Disney isn't leasing the land in Flamingo Crossings--it's selling the land.
For some the mere thought of Disney selling land to outside developers is akin to blasphemy. Walt Disney himself once stated that a driving force behind his Florida land acquision was a desire to keep the real world at arm's length. Walt's landlocked Disneyland Resort complex in Anaheim was for years surrounded by tacky merchants and sleazy hotels looking to cash-in on the theme park's popularity. Walt didn't want to see the same thing happen in Florida.
Fortunately there is little chance of Lake Buena Vista turning into a clone of 1950s Anaheim. The Walt Disney Company may be selling the land in quesion but they will retain the one thing that Walt lacked 50 years ago--control. As Scott Powers states in his Orlando Sentinel article:
All of the private development would be developed under Disney's watchful eye, fitting into the project's master plan and aligning with Disney's restrictions and prior developments, [Buena Vista spokeswoman Andrea] Finger said. That is one reason Flamingo Crossings land will remain within the Reedy Creek district, rather than subjecting it to Orange County's development oversight.
Owners would even receive voting rights in the Reedy Creek Improvement District, but the combined votes of 450 acres pales in comparison to the other +/- 30,000 owned by Disney.
Flamingo Crossings is slated to remain under development over the next 8-10 years.