The new virtual queuing system is now online to assist Disney Vacation Club members registering for one of two Moonlight Magic sessions at the Magic Kingdom in February 2019.
On February 5 and 12, 2019, Disney Vacation Club will host after-hours Moonlight Magic parties at Walt Disney World's Magic Kingdom.
Online registration is now available for owners with confirmed hotel reservations on the night of the event. To register visit THIS PAGE (click for link) and be prepared with your Disney Vacation Club ID number and hotel reservation number.
The event runs from 9pm to midnight on both nights. Attendees can expect earlier access to the theme park on event nights, typically around 6:00pm. Members will be treated to exclusive attraction access after the park has closed to day guests, along with free refreshments, entertainment, unique character encounters and more.
Members with hotel reservations can register for themselves and their entire traveling party (i.e. a member staying in a Two Bedroom villa with a total of nine guests can register all nine for Moonlight Magic.) Event registration for those without a confirmed hotel stay will open on Wednesday, January 16 at 9am eastern. Members not staying at a hotel can secure reservations for themselves and up to 3 guests, pending availability.
To help address technical issues which have been known to plague the registration process, Disney is now utilizing a virtual queue system. The registration landing page will display the number of guests waiting to register, and present live updates while progressing through the queue. Upon reaching the registration form, members have 5 minutes to enter their information, completing the process. However, waiting in this virtual queue does not guarantee successful enrollment for the event.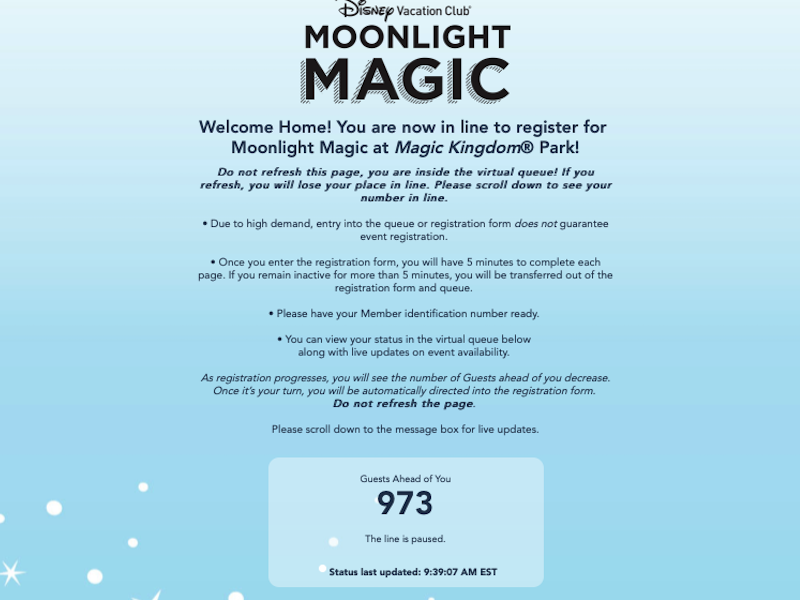 In order to be eligible for Moonlight Magic and other Membership Magic programs, individuals most own Disney Vacation Club points which were purchased directly from DVC or points acquired via the resale market prior to April 4, 2016. A DVC member ID card and photo ID must be provided at check-in.
Registration for the next series of events at Disney's Hollywood Studios--scheculed for March 20 & 27--opens on February 14, 2019. Be sure to check out the current list of Moonlight Magic events planned for 2019.
BLOG COMMENTS POWERED BY DISQUS