Inside 2017 Animal Kingdom Moonlight Magic
For the benefit of those of us (myself included!) who will not be at Disney's Animal Kingdom tonight, here's a look at what the latest Membership Magic exclusive has to offer.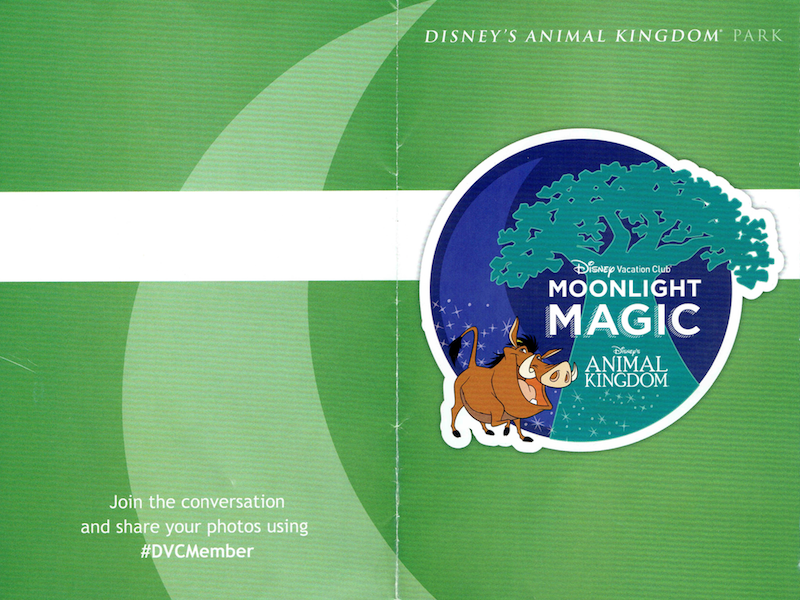 On eleven nights throughout 2017, Disney Vacation Club is hosting events exclusively for its members at one of the Disney theme parks or water parks. The latest takes place at Disney's Animal Kingdom located at Walt Disney World Resort.
DVC members receive complimentary admission to the park, along with free refreshments and other unique experiences which are not part of the normal theme park routine. DVC member John B. from Texas was kind enough to share a copy of the event guidemap, along with some comments regarding the event.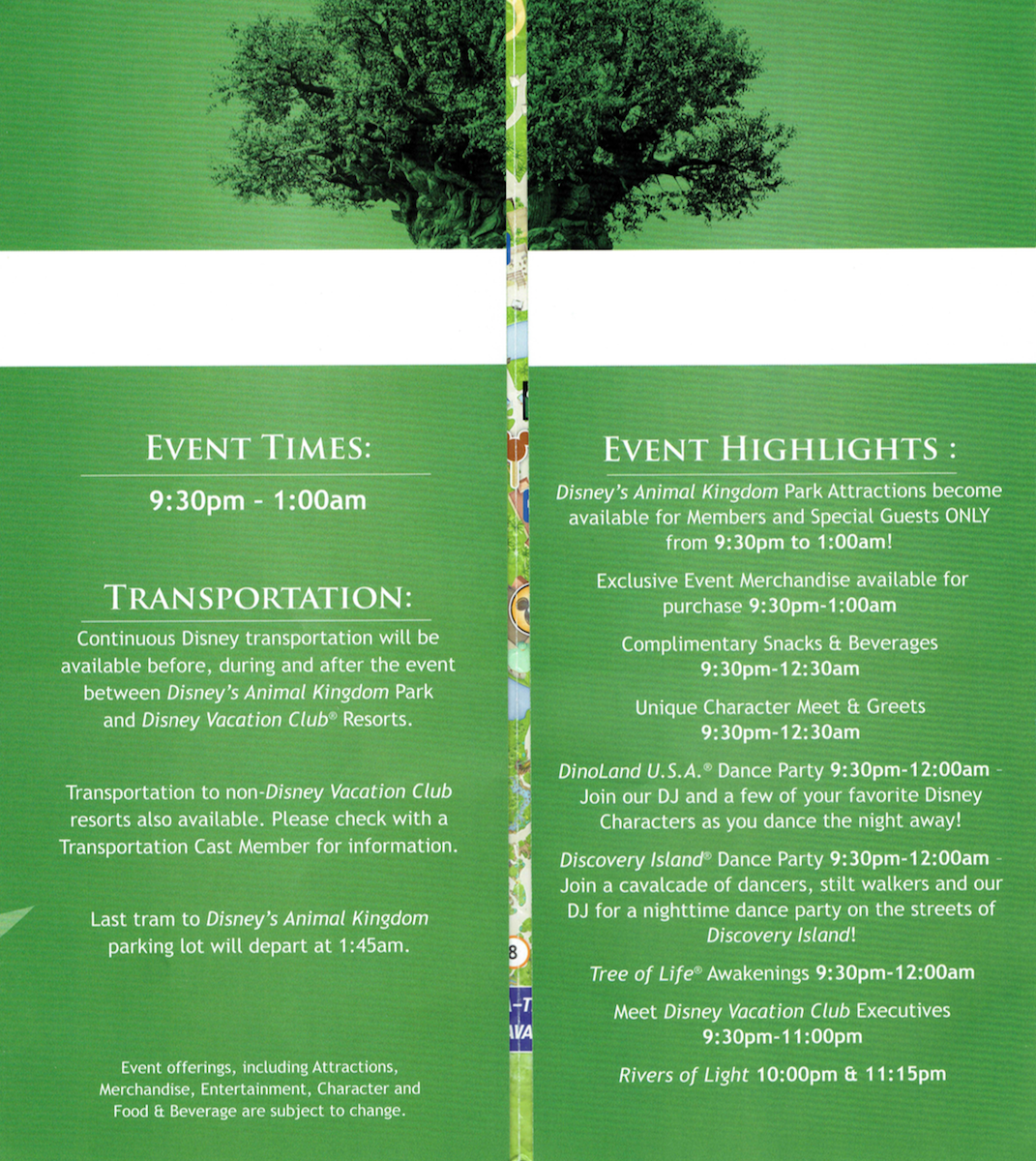 Apparently Pandora continues to be popular, even during a DVC exclusive. After arriving at approximately 8pm, John and his party made their way over to Pandora and faced a wait of about 90 minutes for the Flight of Passage attraction. Later in the evening following the 11:15pm Rivers of Light show, they returned to Pandora and waited another 50 minutes for a second ride on the popular flight sim.
Two showings of Rivers of Light are planned with the second (later) showing attracting fewer members. At the conclusion of Rivers of Light, all attendees were presented with a free "glowing drink lantern."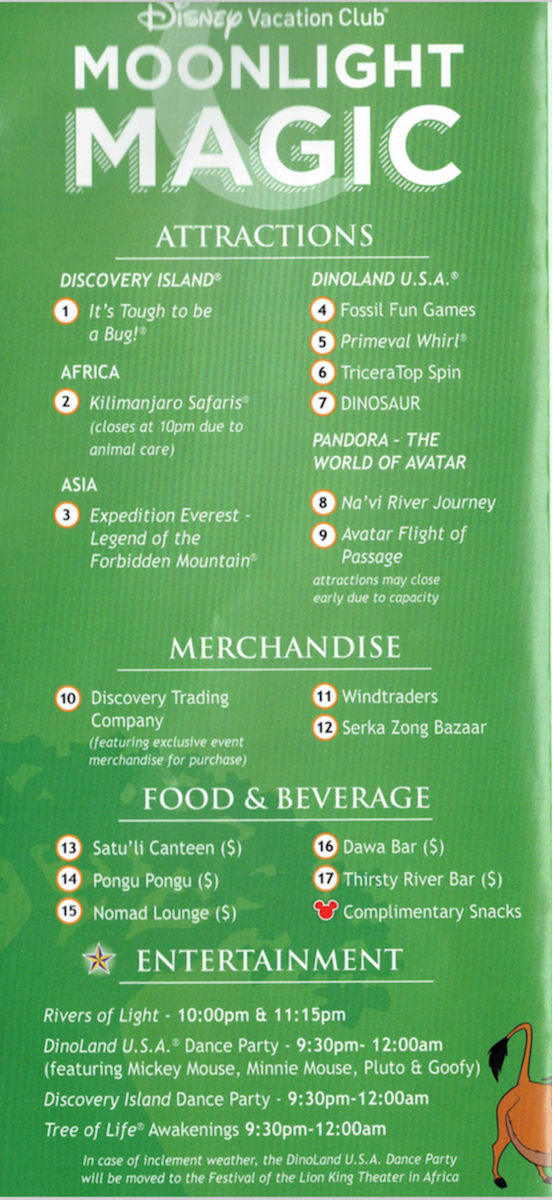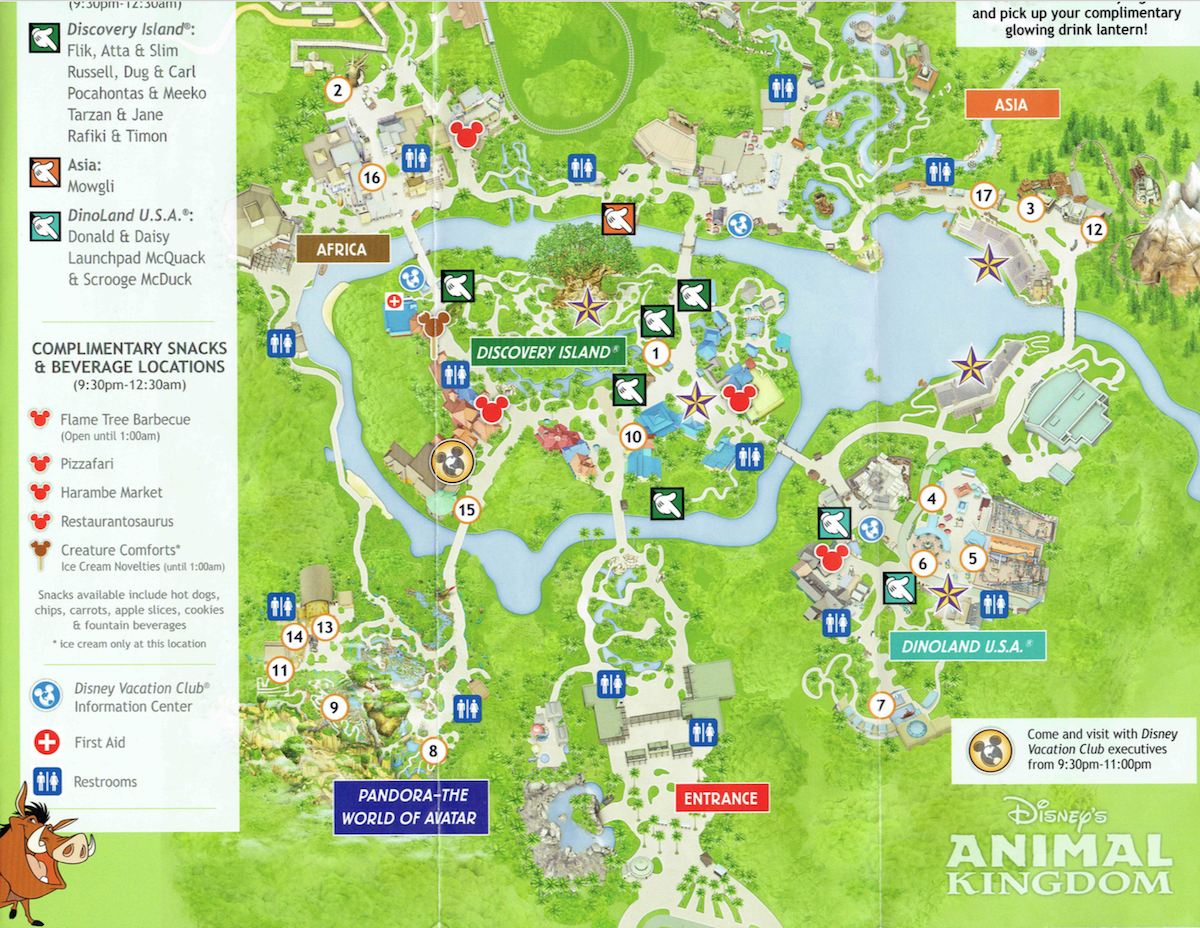 Complimentary snacks are served at several locations including Flame Tree Barbecue, Pizzafari, Harambe Market and Restaurantosaurus. Free selections include hot dogs, chips, cookies and beverages. Ice cream novelties are also distributed at Creature Comforts near Africa. Other food and beverages are available for purchase throughout the park.
A few hard-to-find Disney characters are around for photos and autographs at set locations. Included are Russell, Carl and Dug from Disney/Pixar's "Up", Tarzan & Jane, Pocahontas & Meeko and Launchpad McQuack & Scrooge McDuck.
Dance parties and an executive meet-and-greet were among the other activities planned, weather permitting.
Two nights of Moonlight Magic were scheduled for Disney's Animal Kingdom in 2017--the first on September 6 and again on September 13. Other member exclusives will are planned for Disneyland in November and Epcot in December. No word on whether or not the activities will return for 2018.
Thanks to John for sharing his experience!