Summer 2014 Disney Files Magazine
{multithumb thumb_width=200 thumb_height=300 thumb_proportions=bestfit}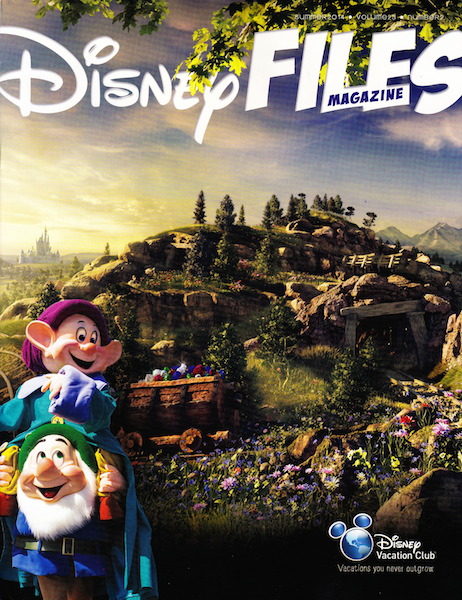 A brand new issue of Disney Files Magazine is on its way to members. This summer issue features a cover story on the Seven Dwarfs Mine Train, along with a look at room renovations at two Disney Vacation Club resorts.
Among the topics covered in this quarterly edition are:
Membership (bonding) Magic - VP Ken Potrock's shares member feedback on the Membership Magic program
'Deer' to your heart - A look at the renovated rooms in the Villas at Disney's Wilderness Lodge
High style in the Lowcountry - renovations at Disney's Hilton Head Island Resort
One on One - Grand Floridian greeter Richard Gerth
Disney Community - Aulani excursions
Best trip ever - members recapping their most memorable experiences
Special Offers - Disneyland Mandara Spa offers, Sunrise Safari
My Disney Home - a look at members' Disney-themed home decor
Disney Dish - Big Thunder Ribs courtesy of Big Thunder Ranch
Neighborhood Notes - larger pillows at Bay Lake Tower; new logo for Aulani; new food at Kidani Village
Disney Destinations - Seven Dwarfs Mine Train
Buzzworthy - Recent updates to Disney theme parks & destinations worldwide
Disney Diversions - the Disney Movies Anywhere app / service
Disney Heritage - Disney Legend Marty Sklar shares "Memories of the '64 World's Fair."
Disney Files Magazine is a quarterly publication offered exclusively to Disney Vacation Club members. Print copies are mailed to members' homes. Several years worth of back issues are available for download in PDF format at DVCMember.com.