Riviera Direct Sales Edge Up, Grand Floridian Sales Dip Down in October 2022
Direct sales of Disney Vacation Club points in October 2022 followed a pattern seen in recent months: Disney's Riviera Resort leading the way, Villas at Disney's Grand Floridian Resort & Spa slipping further behind, and the other resorts contributing only marginally to the monthly sales total.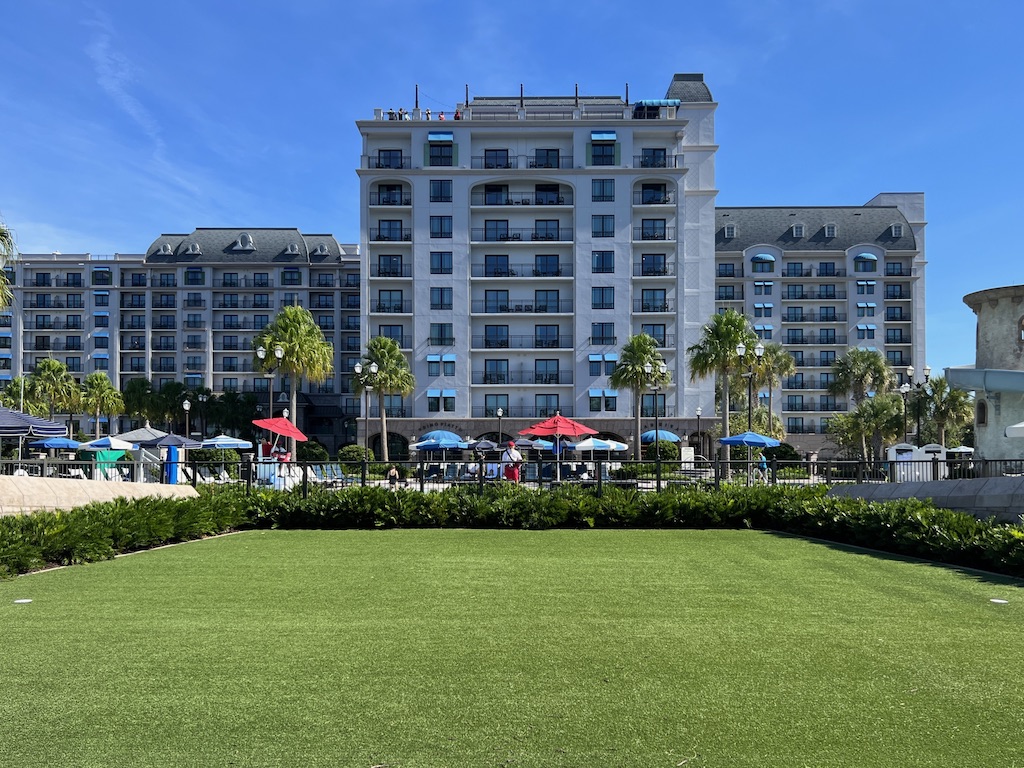 In October 2022, 144,373 Disney Vacation Club points were sold for the 11 DVC resorts at Walt Disney World, a slight improvement over the 139,015 points sold in September and well above the 99,766 points sold a year ago in October 2021. Riviera accounted for 59.5% of October sales and Grand Floridian contributed 32.5% to the monthly total.
For the calendar year 2022, 1,767,631 points have been sold, an average of 176,763 points a month. That number is inflated by sales in March, April, and May which averaged over 244,000 points per month with the debut of the Resort Studios at Grand Floridian.

The nine "sold-out" resorts at Walt Disney World combined to sell 11,644 points, 8.1% of the total for the month. Copper Creek Villas & Cabins at Disney's Wilderness Lodge was a distant third to Riviera and Grand Floridian with 2,210 points.
The largest deeds sold in October were a 600-point deed for Riviera and a 575-point deed for Grand Floridian. In terms of total points purchased over multiple deeds, one buyer bought two 500-point deeds for Grand Floridian, while another buyer purchased three 215-point Grand Floridian deeds.
Villas at Disney's Grand Floridian Resort — Sales for Grand Floridian continued to drop since achieving a high of 177,819 points in April 2022. Only 46,867 points were sold in October, the fewest since sales resumed.
Disney has now sold 708,561 points, or 39.8% of the 1,779,822 points that have been assigned to the 202 Resort Studios located in the Big Pine Key building.
Since Grand Floridian sales resumed, all of the points sold have been drawn from Residential Unit #11, which makes up half of Big Pine Key. Disney has not sold any deeds that were drawn from the residential units located in the original DVC building, nor from Residential Unit #12 - the other half of the Big Pine Key building - which was declared in June 2022.
No Fixed Week deeds for Grand Floridian were sold in October 2022. So far, Disney has sold 37 Fixed Week deeds for the new Resort Studios. Ten of the Fixed Week deeds are for standard view Resort Studios, 22 are for lake view Resort Studios, and five are for theme park view Resort Studios. Since sales resumed, Disney has not sold any Fixed Week deeds for the Deluxe Studios or larger accommodations at the original Grand Floridian DVC building.
On June 10, 2022, Disney declared the remaining 101 Resort Studios for the DVC inventory. All 202 resort studios in Big Pine Key are declared and can be booked using DVC points on any given Use Day.
Disney's Riviera Resort — In October 2022, 85,862 points were sold for Riviera, a slight 2.2% increase over September's total of 84,010 and 35.0% more than the 63,604 points sold in October 2021. This is the fourth consecutive month that Riviera has led all resorts in sales.
Disney has now sold 3,334,527 Riviera points, or 49.5%, of the resort's 6.7 million points. Since Disney must retain at least 2% of the Riviera's points for itself, it has sold more than half — 50.5% to be exact — of the points that can be sold to the general public. It took Riviera 43 months to reach that milestone, a span which was heavily influenced by the COVID-19 pandemic.
Two Fixed Week deeds were sold for Riviera in October 2022: a standard view Deluxe Studio for week #44; and a preferred view Deluxe Studio for week #40. Disney has sold 111 Fixed Week deeds for the resort. 93 Fixed Week deeds have been sold for Deluxe Studios, eight for one-bedroom villas, eight for two-bedroom villas, and two for three-bedroom grand villas.
Disney has declared 199 of Riviera's 341 vacation homes for DVC members to book using points. The declared inventory accounts for about 3,935,177 points, or 58.4% of the resort's total points.
The sales data includes all 11 DVC resorts at Walt Disney World, as well as Disney's Vero Beach Resort, and Disney's Hilton Head Island Resort. Point sales data is not available for the Villas at Disney's Grand Californian Hotel. The data is compiled from deeds filed by Disney Vacation Development and recorded with the Orange County (FL) Comptroller, the Indian River County (FL) Clerk of Court, and the Beaufort County (SC) Register of Deeds. Thanks to Chris for assisting in the compilation of the sales data.
---
Wil Lovato is a contributor to DVCNews.com and has been a Disney Vacation Club owner since 2009. His DVC Home Resorts include Copper Creek Villas, Bay Lake Tower, Animal Kingdom Villas, and Aulani. He can be found posting on many Disney discussion forums under the username of "wdrl."