Few Liens Filed Against DVC Owners--So Far--in 2020
One unexpected byproduct of the COVID-19 panedmic is that Disney Vacation Club has filed far fewer leins against its members in 2020 than in recent years.
Disney's Wilderness Lodge
Disney Vacation Club has not been immune from the economic downturn in 2020 caused by the COVID-19. Discretionary spending on items such as vacations has been cut back, or reduced entirely, by many families. Even for those who have not experienced much of an impact on their incomes, travel restrictions prevent some from flying, cruising, or using their timeshare vacations.
Many DVC owners have been unwilling or unable to use their points since the pandemic started. Although Walt Disney World has reopened, many have questioned whether there will be good time in the near future to visit Disney. The restrictions and safety protocols introduced by Disney, including cutbacks in entertainment and fireworks, reductions in character interactions, and limited availability of restaurants, have caused some DVC members to question when, if ever, they have another Disney vacation.
Given the current state of the economy, Disney may see more owners defaulting on their DVC mortgages or annual dues. However, so far in 2020, Disney has filed very few liens against DVC owners for nonpayment. Only 100 liens have been filed calendar year 2020 and all were filed before Walt Disney World closed in March. In 2019, Disney filed 2,406 liens with the Orange County Comptroller. Here is a chart showing the lien filings for the Walt Disney World DVC resorts for the last five years: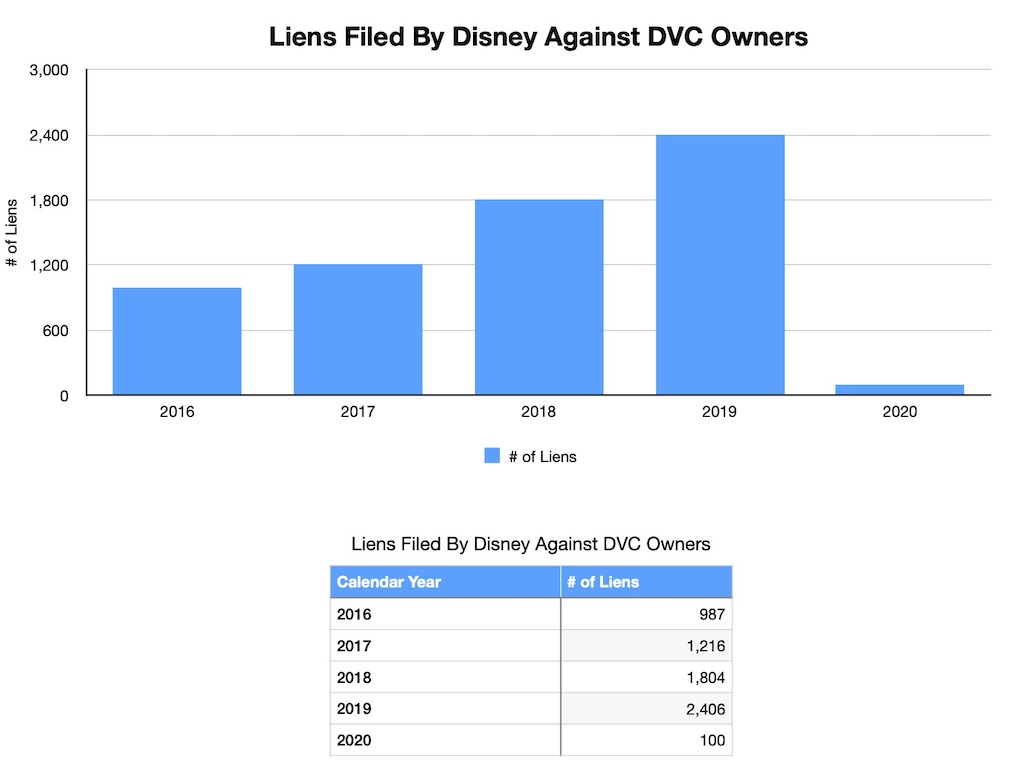 In the past, Disney batched the majority of its lien filings during a few short weeks during the year. Last year, 2,096 of the 2,406 liens were filed in May and June 2019; in 2018, 1,426 of the 1,804 liens were filed in June.
Having filed only 100 liens so far in 2020 may be more indicative of Disney Vacation Club Management Company having staffing issues rather than owners not being in arrears with their mortgages or annual dues. DVCMC has normally processed most of its liens no later than August each year and it may be that it does not have that staffing available to process liens at this time.
---
Wil Lovato is a contributor to DVCNews.com and has been a Disney Vacation Club owner since 2009. His DVC Home Resorts include Copper Creek Villas, Bay Lake Tower, Animal Kingdom Villas, and Aulani. He can be found posting on many Disney discussion forums under the username of "wdrl."