Direct Sales: 2010 Decade Recap
There is the old saying that the only certainties in life are death and taxes. Throughout the 2010s, it appeared that Disney's ability to sell Disney Vacation Club points deserved be added to that list of certainties.
Copper Creek Villas & Cabins
At the start of the decade the U.S. economy was recovering from a major recession and Disney was still actively marketing two DVC resorts (Bay Lake Tower at Disney's Contemporary Resort and the Villas at Disney's Grand Californian Hotel) as well as expansions at two existing DVC resorts (Disney's Animal Kingdom Villas and Disney's Saratoga Springs Resort & Spa). By the end of the decade it had opened five new resorts and had two more in different construction and planning stages . . . and it had sold over 20,000,000 DVC points for the resorts located at Walt Disney World.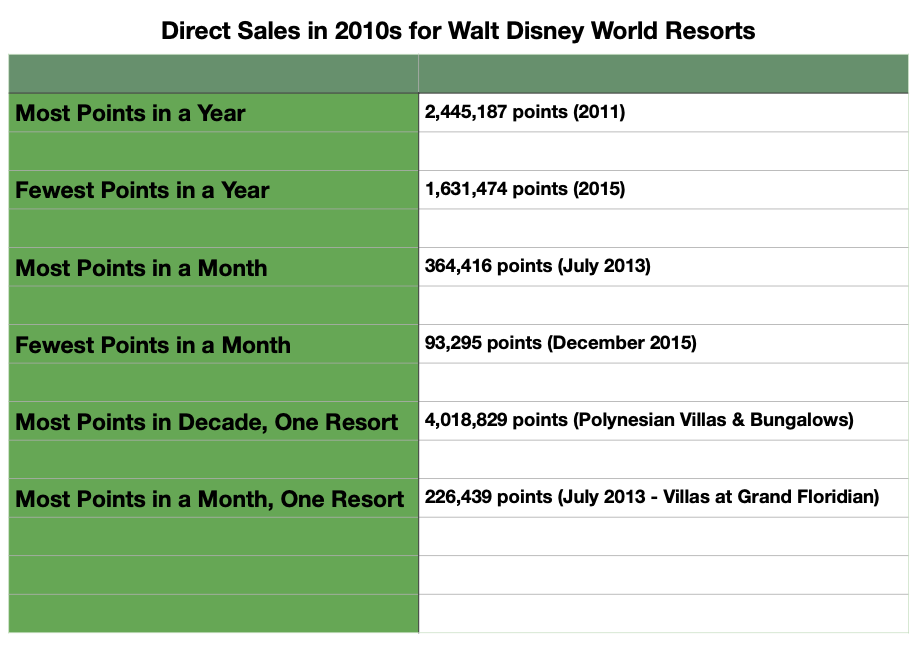 Let's look at some the events in the past decade involving direct sales of DVC points.
New Resorts
To sell DVC points to the public, Disney has to have an ongoing supply of points to sell. In the last 10 years Disney has opened five new DVC resorts: Aulani, Disney Vacation Club Villas; the Villas at Disney's Grand Floridian Resort & Spa; Disney's Polynesian Villas & Bungalows; Copper Creek Villas & Cabins at Disney's Wilderness Lodge; and Disney's Riviera Resort. These five resorts contributed about 28.1 million points to the DVC system, which currently totals about 75 million points.
Ever Rising Prices
At the start of the decade the most anyone would have to pay for a DVC point was $112. By the end of the decade, the two resorts being actively marketed were priced at $188 a point, a jump of 68%. In addition, by 2019 Disney had priced six resorts over $200 a point with the Grand Californian commanding the highest price of $260 a point.
Resale Restrictions
In the 2010s Disney introduced restrictions on the usage of DVC points that were acquired via the resale market. The first set of restrictions, imposed in March 2011, precluded use of resale points for some exchanges, including the Disney Collection and the Disney Cruise Line. In April 2016, Disney imposed another restriction, requiring that to be eligible for Membership Extras, such as discounts on Annual Passes, a member must have a minimum number of points purchased directly from Disney. By the end of the decade that minimum point requirement was up to 100 points. In January 2019, a third restriction was introduced, barring points purchased on the resale market from being used to book stays at Riviera, the newest DVC resort.
It's too soon to determine if the latest resale restriction will impact direct sales, but the resale restrictions in 2011 and 2016 did not seem to negatively impact direct sales. Disney recorded its best year of sales in 2011 and 2018 saw members buying a large number of small 25-point deeds that allowed them to qualify for Membership Extras.
Fixed Week Sales
DVC has always been known for offering a flexible point system in which an owner's usage was not tied to a specific time period and villa type. However, beginning with sales for Aulani, Disney offered a Fixed Week option for buyers who wanted a guaranteed booking for the same week for the life of the resort.
In order to encourage Fixed Week sales, in January 2018 Disney tweaked its offer to give greater flexibility for Members who participate in runDisney events. Then, in July 2019, Fixed Week purchases qualified for the same sales incentives offered on traditional DVC point purchases. However, demand for Fixed Week deeds has been very weak. Disney can sell up to 35% of each accommodation type for each week as Fixed Weeks. Sales data is not available for Aulani, but Disney has not reached the 35% cap for any accommodation type at the Walt Disney World resorts. The Grand Floridian has sold the most deeds — 275 — but those deeds only account for 3.9% of the resort's total points. The other resorts have sold far fewer Fixed Week deeds.
Closing Costs on Add-On Deeds
When the Disney Vacation Club started in 1991, Disney did not impose closing costs or other fees for existing members who purchased additional points. In early 2011, that policy changed, resulting in members being liable for closing costs on add-on deeds. At the time of the policy change, it meant that 100-point add-on deed at Bay Lake Tower resulted in $117 in fees for a cash buyer and $191 in fees for a financed purchase.
---
Wil Lovato is a contributor to DVCNews.com and has been a Disney Vacation Club owner since 2009. His DVC Home Resorts include Copper Creek Villas, Bay Lake Tower, Animal Kingdom Villas, and Aulani. He can be found posting on many Disney discussion forums under the username of "wdrl."