Strong Copper Creek Demand Drives February 2018 Sales
Fears that Copper Creek Villas & Cabins may prove an unworthy follow-up to Disney's Polynesian Villas appear to be unfounded as Disney Vacation Club sales numbers continue to reach new highs.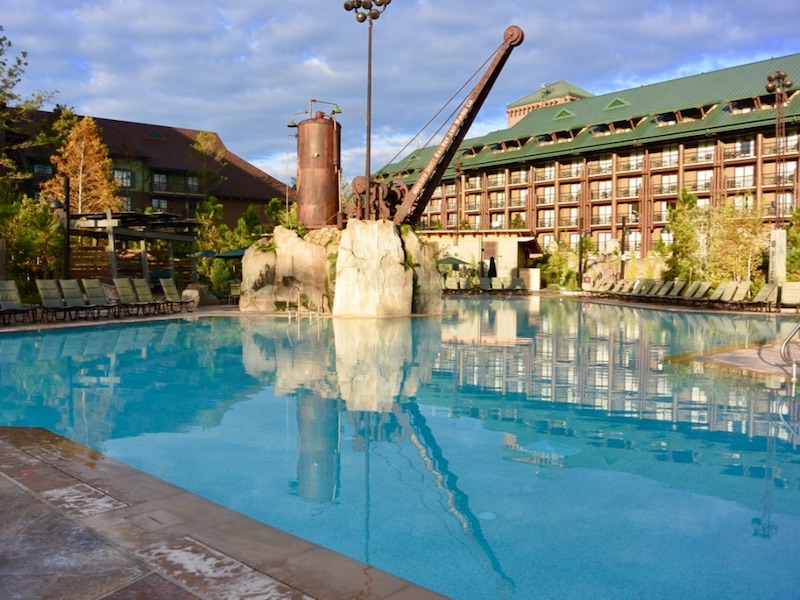 Now that Copper Creek Villas & Cabins at Disney's Wilderness Lodge has become the focus of Disney's marketing at Walt Disney World, it accounts for almost two-thirds of all Disney Vacation Club points sold in February 2018. For the month, 214,378 points were sold for the ten DVC resorts at Walt Disney World, an increase of 42.1% same month in 2017 and the best sales total for a February since we began tracking direct sales in July 2010.
In February 2018, 117 deeds were sold for 25 points or less. These small point deeds accounted for 6.5% of all deeds sold in the month but only 1.3% of the total points sold. Disney announced that beginning February 25, 2018, new DVC members will need to own at least 75 points that were purchased directly from Disney to qualify for Membership Extras. Since these sales figures are based upon the date deeds are filed with their respective counties, this mid-February announcement likely came too late to have a significant impact on February sales.
Copper Creek Villas & Cabins at Disney's Wilderness Lodge — Copper Creek set an all-time high for the resort with 141,452 points sold in February 2018, besting its previous high of 109,442 set the previous month. The resort has now sold 764,119 points, or 23.0% of its 3,321,220 total points. Disney still has about 2.49 million Copper Creek points it can sell to the general public.
Year-over-year, Copper Creek is performing strongly in comparison to Disney's Polynesian Villas & Bungalows. As the primary destination being marketed to buyers, the 141K Copper Creek points sold in Feburary 2018 bested the Polynesian's totals of 129,884 points sold in February 2017 and 72,137 in February 2016.

Since sales started in March 2017, Copper Creek has averaged 69,465 points a month. But since Disney stopped actively marketing the Polynesian, Copper Creek's average has risen to 106,248 points per month over last three months. This is similar to what the Polynesian (107,353 points/month) and the Villas at Disney's Grand Floridian Resort & Spa (105,440 points/month) averaged throughout their active lifetimes.
If Copper Creek continues to average about 106,248 points in month sales, it will take about 24 months, or until February 2020, before it is completely sold out. Disney's Riviera Resort, the next Disney Vacation Club property, is scheduled to open in the Fall of 2019. This would follow Disney's recent past practice of having sales at one resort at Walt Disney World winding down as another is gearing up.
On February 12, 2018, Disney declared 12 more vacation homes at Copper Creek for the DVC inventory. Disney has now declared 60 of the resort's 184 vacation homes. In terms of points, Disney has now declared 1,231,330 points, or 37.1% of Copper Creek's total points. This means that on any given Use Day Members can book up to 37.1% of the resort using points. As Disney sells more points for Copper Creek, it will declare more vacation homes for the DVC inventory.
Five Guaranteed Week deeds were sold for Copper Creek, including three deeds that have the new Special Event feature that was introduced by Disney in January 2018. Sales began for Copper Creek, only 17 Guaranteed Week deeds have been sold, accounting for only 0.27% of the points sold so far.
Disney's Polynesian Villas & Bungalows — The Polynesian sold 51,880 points in February 2018. Although Disney still has about 38,000 unsold Polynesian points in its inventory, the majority of these points have probably already been committed to sales and are awaiting closing.
One Guaranteed Week deed was sold for the Polynesian in February 2018, bringing to 97 the number of such deeds sold at the resort. These 97 deeds only account for 0.72% of the Polynesian's total points, well below the 35% maximum permitted in the Master Declaration. The breakout of the deeds by accommodation type is:
Standard View Studio — 31
Lake View Studio — 53
Bungalow — 13
55 of the 97 Guaranteed Week deeds were sold for the last six weeks of the year. The most popular week is Week #52 with 19 deeds, which usually includes New Year's Eve, followed by Week #49 with 15 deeds, which is usually the first full week in December. Exactly half of the 52 weeks do not have any Guaranteed Weeks.
The sales data includes all 10 DVC resorts at Walt Disney World, as well as Disney's Vero Beach Resort, Disney's Hilton Head Island Resort, and Aulani, Disney Vacation Club Villas. Point sales data is not available for the Villas at Disney's Grand Californian Hotel. The data is compiled from deeds filed by Disney Vacation Development and recorded with the Orange County (FL) Comptroller, the Indian River County (FL) Clerk of Court, and the Beaufort County (SC) Register of Deeds.
---
Wil Lovato is a contributor to DVCNews.com and has been a Disney Vacation Club owner since 2009. His DVC Home Resorts include Bay Lake Tower, Animal Kingdom Villas, and Aulani. He can be found posting on many Disney discussion forums under the username of "wdrl."