Polynesian Continues to Drive Direct Sales in May 2017
Sales for Copper Creek Villas & Cabins at Disney's Wilderness Lodge started in March 2017 but Disney's Polynesian Villas & Bungalows continues to outsell the newest Disney Vacation Club resort by better than four to one.
In the last 12 months, Disney has sold 1,956,298 points for the DVC resorts located at Walt Disney World, an average of 163,025 points a month. With the introduction of Copper Creek, sales are trending upward, improving 24.2% to 202,449 points a month over the last three months. However, Copper Creek represents only a small portion of the total sales with 34,269 points sold in May 2017 compared to 150,335 at the Polynesian Villas.
Copper Creek Villas & Cabins at Disney's Wilderness Lodge — The first deeds for Copper Creek were recorded beginning April 14, 2017, and 362 deeds containing 51,675 points were sold for the month. In May 2017, sales for the newest DVC resort dropped to 218 deeds and 34,269 points. By comparison, the Polynesian's sales climbed from 13,148 points to 61,050 points in its first two calendar months and the Villas at Disney's Grand Floridian jumped from 85,994 points to 226,439 points by its second month of sales.
Included in May's sales for Copper Creek were three Fixed Week deeds. So far, six Fixed Week deeds have been sold for the resort: Five for studios with walk-in shower and one for a one-bedroom villa.
Disney has declared 48 of Copper Creek's 184 vacation homes for the DVC inventory. In terms of points, the 48 declared vacation homes account for about 1,021,430 (30.7%) of the resort's 3,321,966 points. As Disney sells more points for Copper Creek, it will declare more vacation homes for the DVC inventory.
Disney's Polynesian Villas & Bungalows — Sales for the Polynesian have not suffered despite it having to share the marketing spotlight with Copper Creek. In May 2017, the Polynesian sold 150,335 points, slightly more than the 148,219 points a month the resort has averaged in 2017 and well above the 109,654 points it has averaged in its 28-month history.
Disney has sold about 76.3% of the Polynesian's total points and has about 875,000 points left to sell to the general public. In the past, Disney has considered a resort to the "sold out" when 92% to 95% of the resort has been sold and the Polynesian should reach that status in the next four or five months.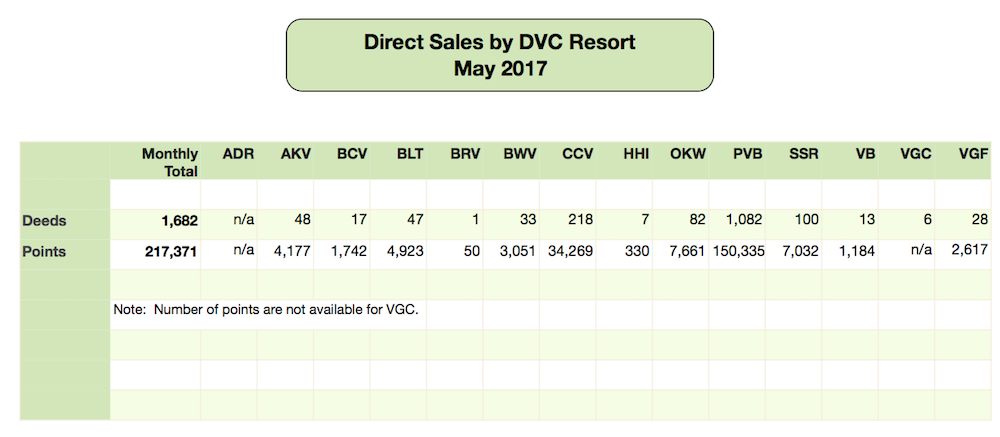 On May 22, 2017, Disney declared 32 more studios at the Polynesian for the DVC inventory. Including this latest declaration, 16 bungalows and 344 studios have now been added to the DVC inventory. This accounts for 3,778,448 points, or 93.7% of the Polynesian's 4,032,720 total points. There are four bungalows and 16 studios that have not yet been declared for the DVC inventory.
Aulani, Disney Vacation Club Villas — Sales data for Aulani is only available through February 2017. In February, 22,979 points were sold, marking the fourth consecutive month that Aulani sales have failed to break 30,000 points. February's point total is the fewest number of points sold in a month since we started tracking Aulani sales in May 2014.
The sales data includes all nine DVC resorts at Walt Disney World, as well as Disney's Vero Beach Resort, Disney's Hilton Head Island Resort, and Aulani, a Disney Resort and Spa. Point sales data is not available for the Villas at Disney's Grand Californian Hotel. The data is compiled from deeds filed by Disney Vacation Development and recorded with the Orange County (FL) Comptroller, the Indian River County (FL) Clerk of Court, the Beaufort County (SC) Register of Deeds, and the Hawaii Bureau of Conveyances.
Thanks to Imdizfan for helping compile sales data!
---
Wil Lovato is a contributor to DVCNews.com and has been a Disney Vacation Club owner since 2009. His DVC Home Resorts include Bay Lake Tower, Animal Kingdom Villas, and Aulani. He can be found posting on many Disney discussion forums under the username of "wdrl."