Points Chart, Pricing Revealed for Disney's Riviera Resort
Disney Vacation Club has published the points chart, pricing and other details for Disney's Riviera Resort as it prepares to launch sales later this week.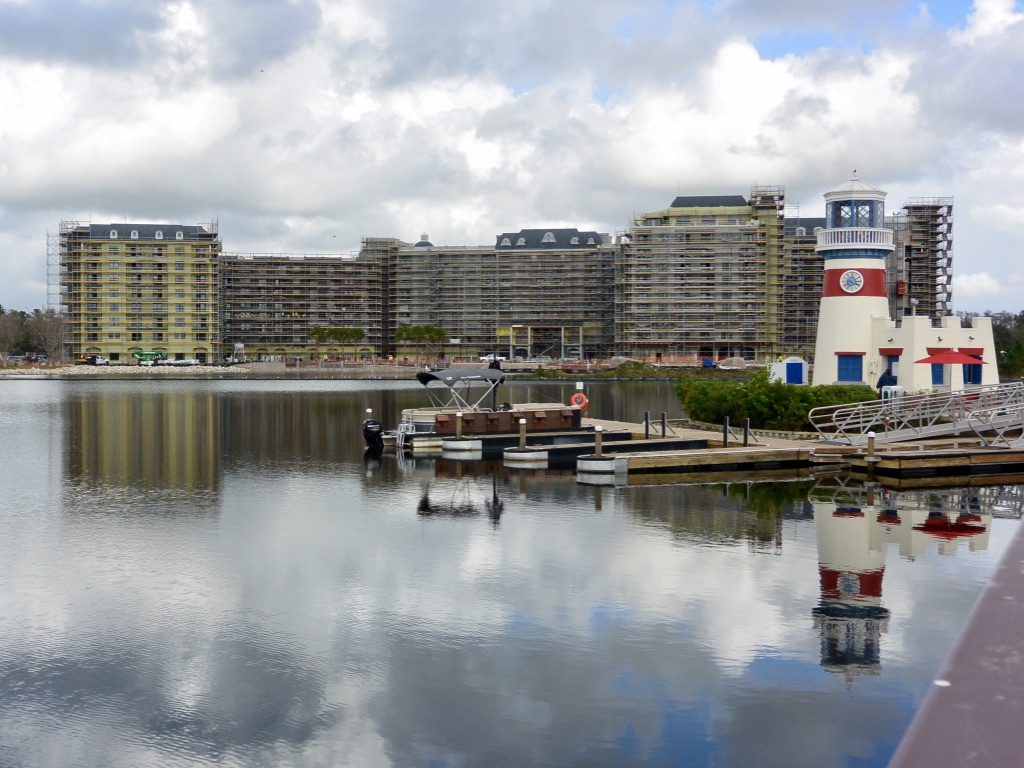 Disney has updated many of its web resources to include new details regarding the fifteenth Disney Vacation Club resort. During Adventure Season, the cheapest period of the year, rates start at 11 points per weeknight for the 2-person Tower Studio, 15 and 18 points per night for Standard or Preferred Deluxe Studio, 31/38 for a One Bedroom Villa, 40/49 for a Two Bedroom Villa and 104 points for a Three Bedroom Grand Villa.
The 2020 points chart for Disney's Riviera Resort is displayed below. Click HERE for a larger PDF version.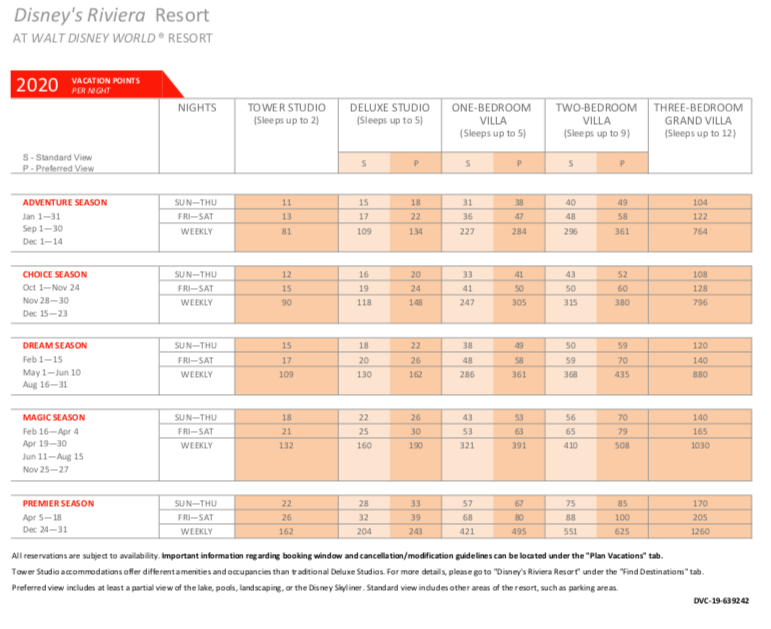 Point values for 2019 have not been published. The resort opening is still projected for some unspecified date in "fall 2019." Should villas be available to members during 2019, expect values to mirror these 2020 rates.
Preferred views are described as having some partial view of the lake, pools, landscaping, or the Disney Skyliner. Standard views overlook other areas including the resort parking lots.
Initial pricing for Riviera features the same $188 per point base price as Copper Creek Villas & Cabins and Aulani, Disney Vacation Club Villas with some attractive early incentives for current owners adding-on.
| | | |
| --- | --- | --- |
| Riviera Points | New Buyer Credit | Existing Member Credit |
| 125 | $0 | $500 |
| 150 | $750 | $1750 |
| 175 | $2250 | $3150 |
| 250 | $4500 | $5500 |
| 300 | $6000 | $6750 |
| 1000 | $27500 | $30,500 |
The discounts for current owners can exceed $22 per point depending upon the amount purchased. For a 250-point add-on, a $22 promotional incentive takes the price down to $166 per point. These rates are more attractive than current Copper Creek pricing which discounts 250 points by just $11 each.
Annual dues for Riviera are set at $8.31 per point for 2019, a rate which should be pro-rated for the first calendar year.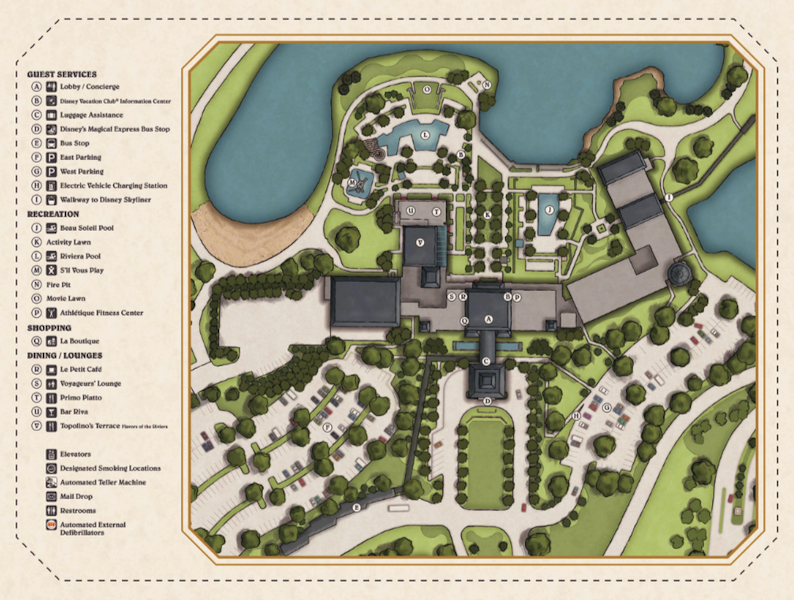 A new map of the resort grounds (pictured above) is also available, showing the layout which features two swimming pools, two parking lots, five dining venues and more. Click HERE for a higher quality version.
Interested buyers should note that Disney's Riviera Resort is the first Disney Vacation Club location which places heavy restrictions on usage for points purchased on the secondary market. Buyers must acquire their points direct from DVC is order to use them at any of the prior fourteen timeshare properties, or resorts in the Disney Collection and Concierge Collection. Riviera points purchased via a resale broker or other third party can only be used for stays at Disney's Riviera Resort or trades through RCI.
Contracts for Disney's Riviera Resort will expire on January 31, 2070, giving early buyers the typical 50 years of ownership.
Details regarding room sizes, layouts and decor (LINK) and resort amenities (LINK) can be found in our prior coverage.